Packing for a trip can be seriously stressful. After all, whether you're going away for a week or a month, it can be so difficult to decide which pieces you're going to need and how to make them last for the entire duration.
That's where travel fashion staples come in.
Much like wardrobe staples, these are the wondrous pieces that you can mix and match to create multiple looks on one trip. They are as versatile as they are timeless, and can be easily updated according to the latest trends with fresh fabrics, colours and details.
In fact, you can wear them for seasons to come and they will never lose their style appeal. (In other words, get them in your suitcase pronto!)
Travel Fashion Staples You Can Mix and Match
Whether you already own them or you want to substitute similar options, here are some key pieces that you may want to consider for your travel capsule wardrobe all year round.
1. The Basic White T-Shirt
Travel fashion staples 101: the basic white tee.
Regardless of whether it has short or long sleeves, this piece is perfect for pairing with practically any outfit colour palette. It can sit alone on a particularly warm sunny day with denim and flats, or be layered underneath a cover-up in cooler temperatures. 
Because it's soft, you can even wear a white tee to travel in with equally-as-comfy-bottoms. Either way, the versatility of a basic white t-shirt is endless!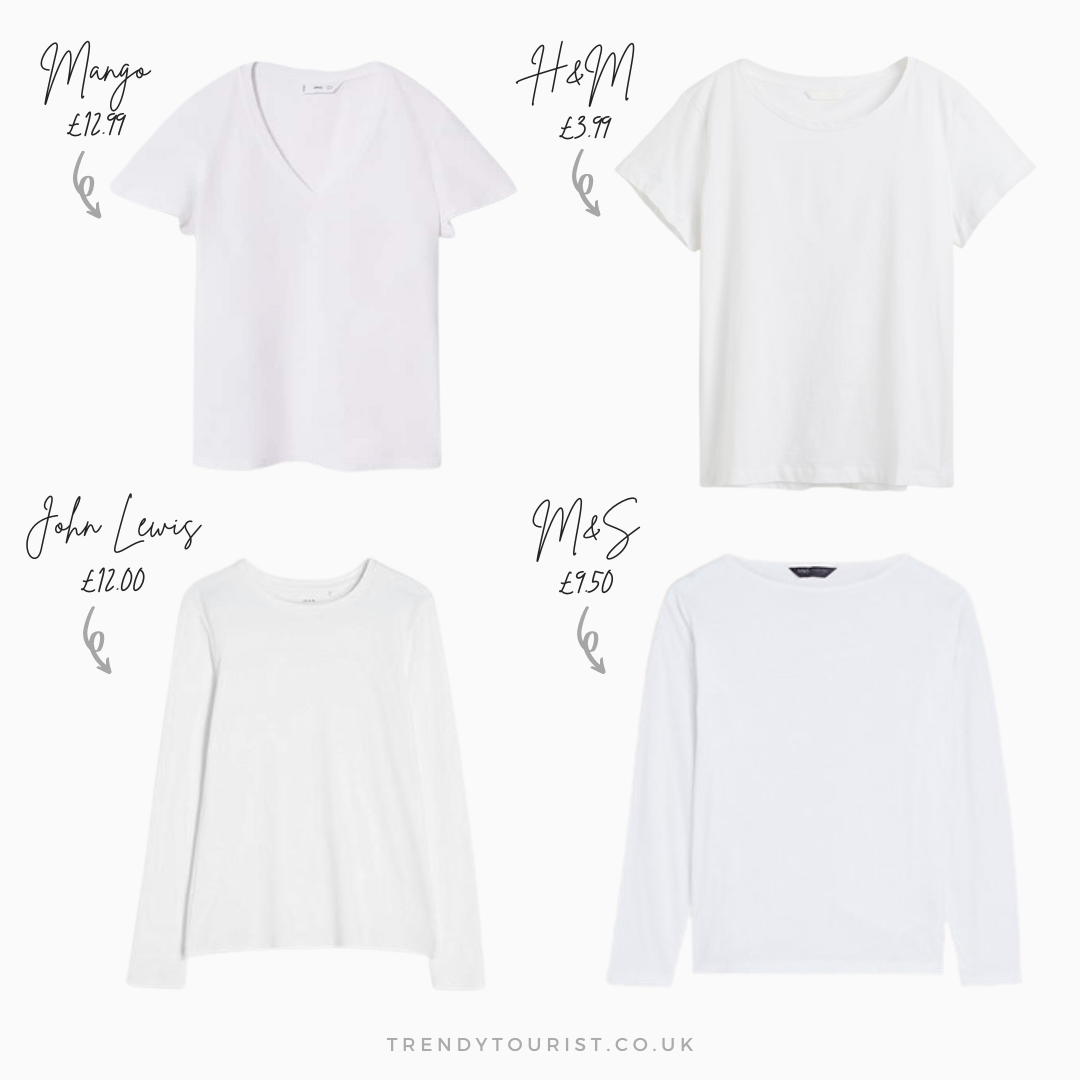 I love these high-quality yet affordable variations:
2. The Comfy Walking Shoes
One of my must-have travel fashion staples is a shoe that you can wear for long days of walking, hiking and exploring a new city that's especially hilly. Enter: the comfy trainers or walking shoes.
While a trusty pair of flip flops or sliders will do the job for the more relaxed summer holidayer, some comfy walking sandals are an absolute must if you plan on doing any sightseeing or longer walks during your trip. With a contoured footbed featuring plenty of cushioning, a hardy rubber outsole and a huge range of colourways on offer, we think these Teva Tirra Sandals* are a no-brainer.
On the other hand, if you're planning a winter holiday, you'll need to invest in a reliable pair of sturdy walking boots. For lightweight, all-weather boots with good grip and a flexible sole, we suggest a pair of these Lightwave Futurelight Boots.
For any time of year, I love to take chunky trainers with a flexible sole for optimal comfort. Other travelistas find that Converse* or Vans* can also do the trick quite nicely!
3. The Mom Jeans or Shorts
Blue denim is a perfect clothing partner for your classic white tee.
I always find that a pair of relaxed-fit Mom Jeans or shorts work best when you're on the move or sat down experiencing the local cuisine. They don't cling and allow movement, which is ideal for when you're on the go (or eating more than usual).
Plus, did I mention that Mom-style denim looks seriously stylish when you wear it high-waisted and tuck in your top? Add a belt to cinch your waist even further for effortless cool.
Product details:
4. The Multi-Compartment Backpack
Every gal needs a trusty backpack whether she's heading to a different destination via a plane, train, bus or car. This is one of those travel fashion staples that needs to be secure enough to hold all of your belongings but also coordinate with your travel outfits.
Personally, I like the neutral options, such as black, white, nude, grey, beige or even navy*. Sure, a plain backpack will go with more pieces. However, sometimes I just can't resist a fun print to add some personality to my outfits.
Even if you have a plain front, you can still have a party on your back, people. But at the end of the day, you have to consider the clothing pieces in your travel capsule wardrobe and what will go better.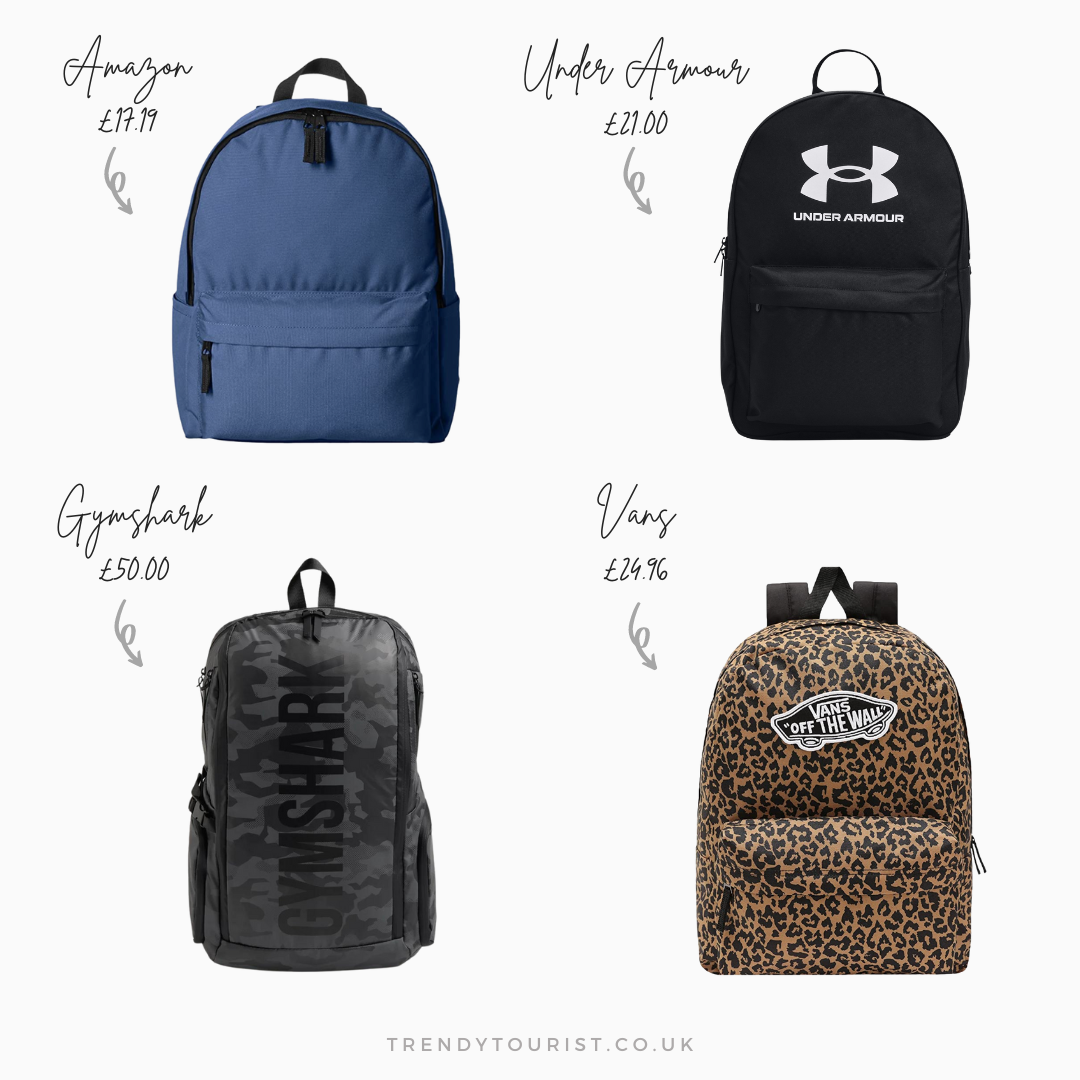 Other options:
5. The Rain Jacket
A functional rain jacket is another one of my essential travel fashion staples. You just never know when there might be an unexpected downpour – especially if you plan to go on a UK staycation.
I prefer a neutral, high-quality wind and rain jacket 2-in-1 combo that offers optimal protection against the elements when you're hiking or exploring, like this Inlux Triclimate Jacket* from TheNorthFace. 
Although these types of jackets seem expensive, it's worth investing so that you can keep dry and warm when the weather isn't on your side.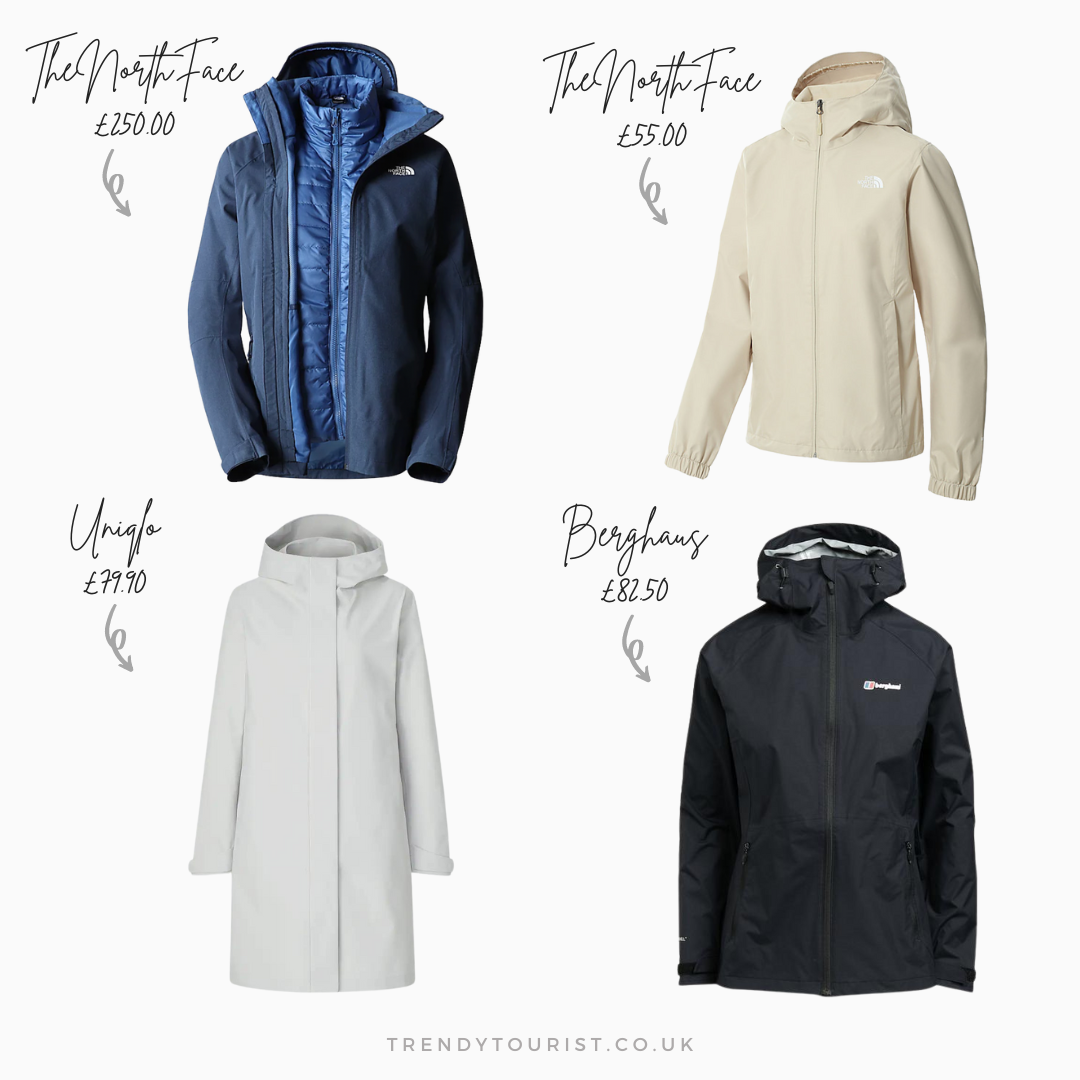 Product details:
6. The Smart Jacket
Next up, a smart jacket like this H&M black blazer* or faux leather jacket like this M&S Biker Jacket* can come in handy for trips where you plan to go OUT out on an evening, whether it's for dinner or to experience the local clubbing scene.
If it's the heart of summer, you can always swap a black jacket for an oversized white shirt* or denim jacket* both from H&M. Similarly, if it's freezing cold in a certain city, you might want to take your warmest, woolliest teddy coat like this Monki one*.
Either way, every travelling fashionista needs a dressier jacket option — and do not underestimate its ability to elevate any casual outfit.
7. The Fancy Shoe
If you're all set with a dressy cover-up as part of your travel fashion staples, you're also going to need a dressy shoe. Naturally.
Let's face it, trainers don't exactly scream smart-casual chic for a night out on the town, right? Instead, try some ASOS patterned boots that liven up any Autumn/Winter outfit or some simple yet elegant SHEIN heeled court shoes*. On the other hand, these Schuh metallic strappy heels* or New Look block heels* are ideal for Spring/Summer.
Then there's the whole matter of the heel height – do you go high heel, low heel or mid-heel? I tend to go for block heels because I always end up walking everywhere when I'm travelling to save money. But you do you, hun.
8. The Nicer Dress or Top
So you've got your nicer shoes and jacket packed. Now all you need is a fancier dress or top and you're good to go for any evening or fancier occasions.
When dressing for warmer nights, strappy tops or dresses will be your new bestie, like this MANGO Satin Top* or Pull&Bear's Strappy Mini Dress*. (Just don't forget your jacket if you think it might get chilly later!)
Alternatively, drop the cover-up and show off that tan with this H&M Linen-Blend Shirt Dress*. All you need to do is style it up with a cute bag, strappy shoes and some simple accessories. 
For the colder months, nothing can beat a good knitted jumper dress like this H&M cream beauty*. Team yours with tights, your favourite chunky heeled boots and a faux leather jacket for a look that's as snugly as it is glamorous.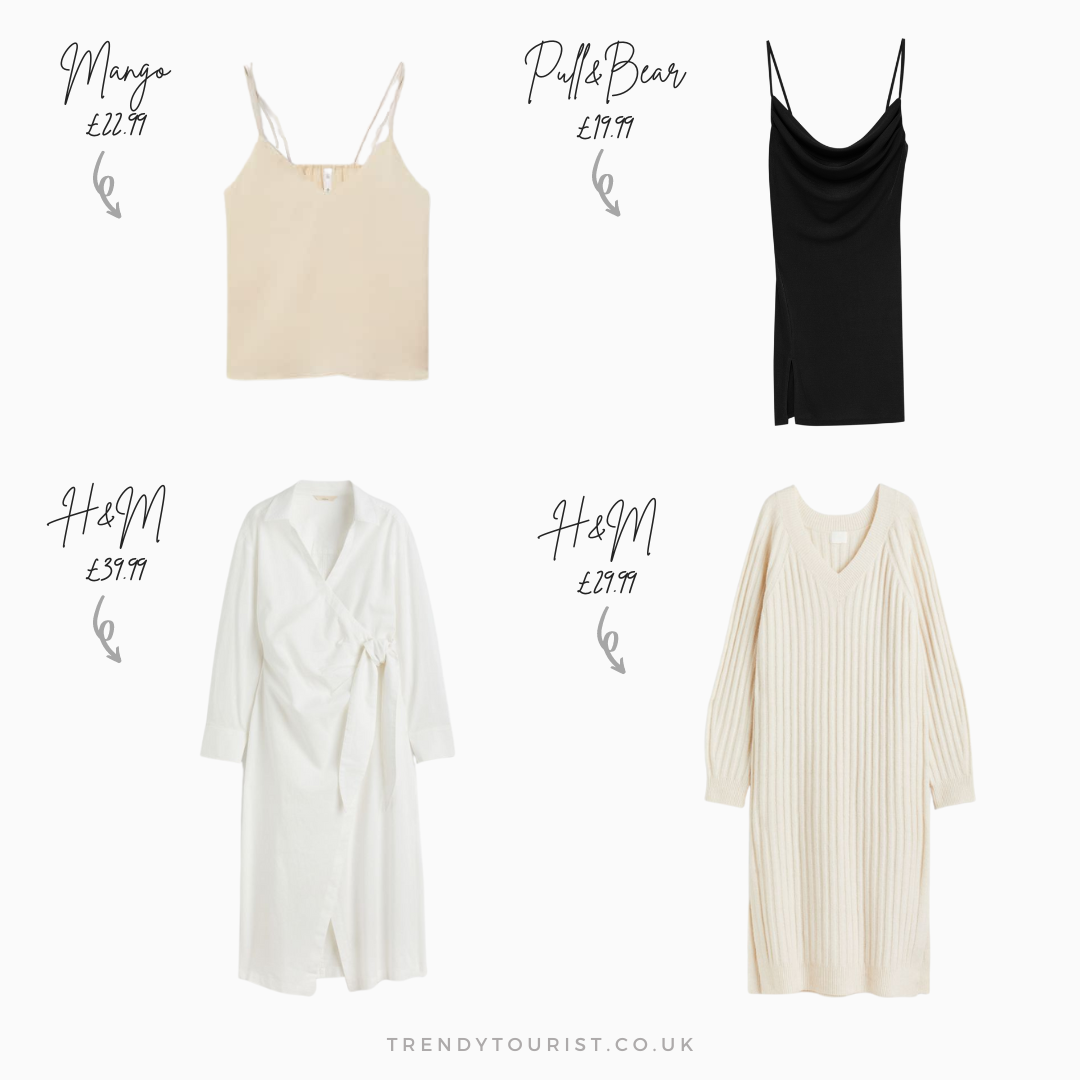 9. The Lightweight Leggings or Shorts
One of my fave travel fashion staples for the actual travelling part is lightweight leggings. Needless to say, they work especially well for long plane journeys or overnight train rides.
Or maybe you're planning to go to the gym or work out at some point in your destination so it makes sense for you to take bike or sweat shorts. (In this case, don't forget your workout bra too to support your chest!)
Adidas' classic Three Stripe Leggings* never fail me. Even so, you may prefer these M&S High Waisted Jeggings* or even jogging bottoms for maximum comfort. Just make sure that whatever you pick is practical for long periods of sitting and you're laughing.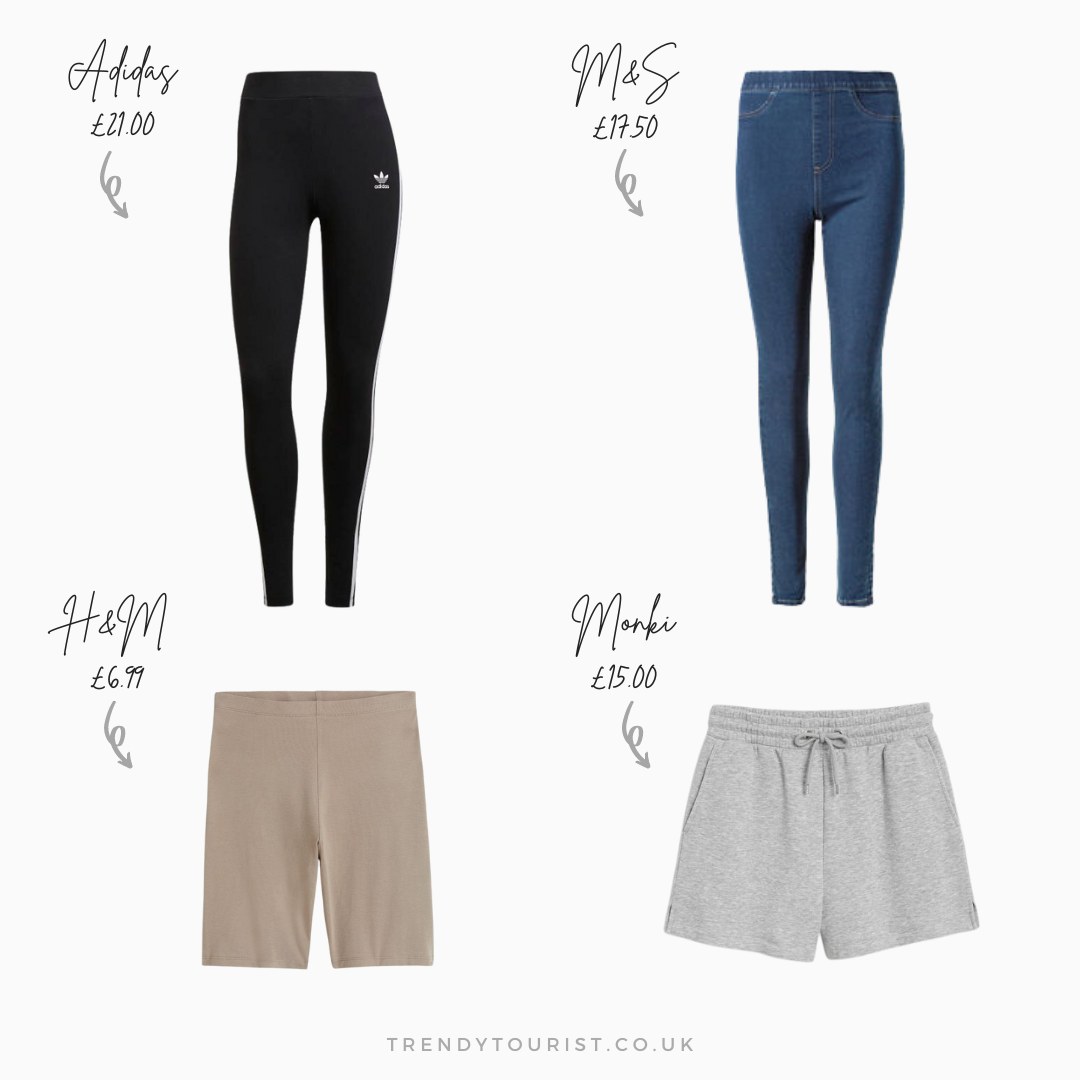 Other short options:
10. The Neutral Cover-Up
Another suitcase must-have come rain or shine is a neutral cover-up for when it's a little chilly (which may just be on a night in a warmer climate), is an oversized hoodie* or lounge sweatshirt*, chunky knit* or thin cardigan*.
If you're heading to a colder climate, this everyday piece can be layered up with winter woollies to help you feel cosy while looking fashionable for exploring. You can also wear it with leggings and trainers for those lazy travel days.
Either way, the neutral cover-up is a surefire winner. Wouldn't you agree?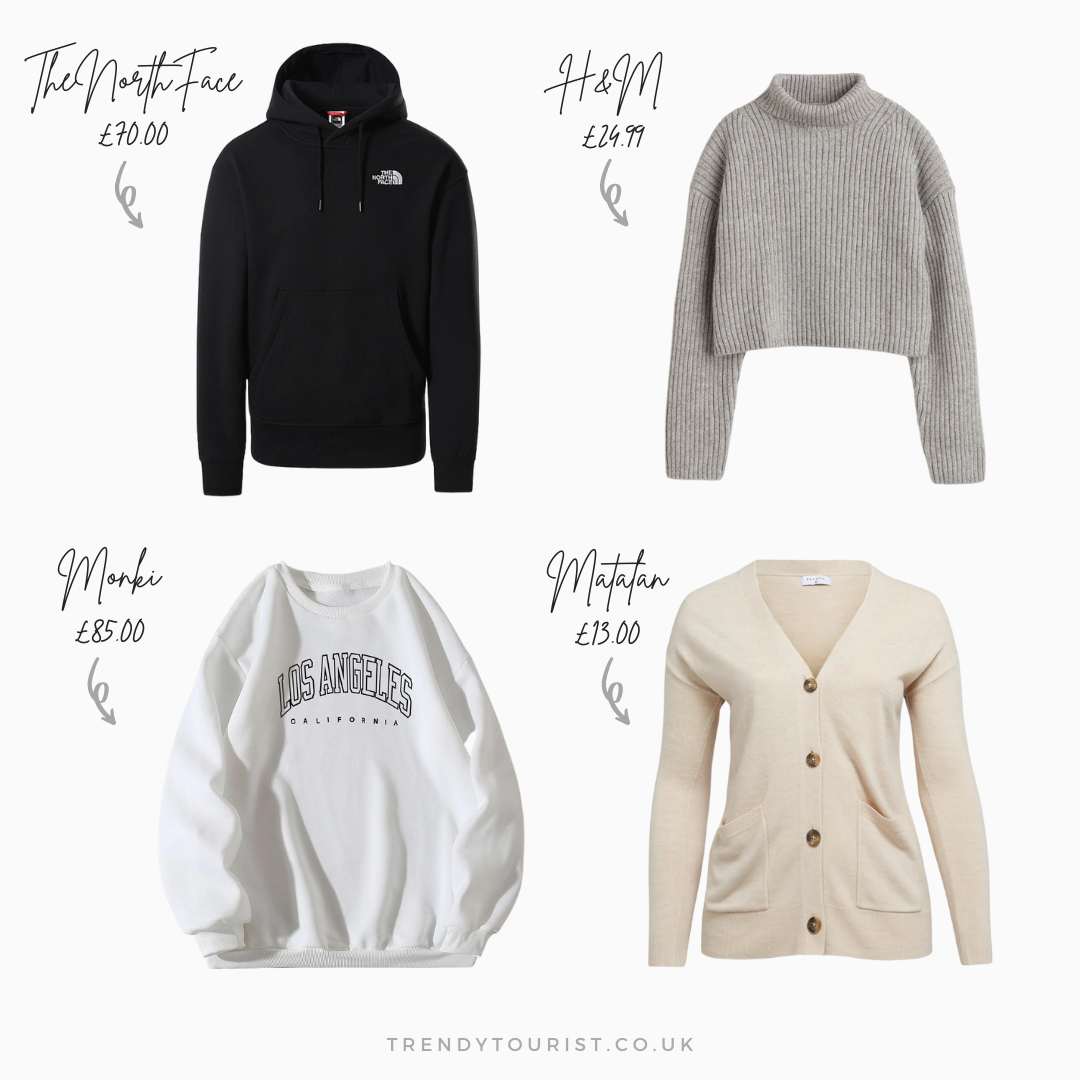 11. The Cute Crossbody Bag
Full disclosure: wearing a heavy backpack all the time on your trip is just not going to be feasible. Especially during those long days out and about where you need to take minimal belongings, or the nights on the town when you want to wear something a little more sophisticated.
Know what I'm saying?
That's why you also need to pack a cute crossbody bag that will take your outfits from day to night in a fashion heartbeat. Pro tip: I usually opt for black or white depending on the season so that it complements the majority of my outfit colour palettes.
Product options:
12. The Classic Sunglasses
Another of my must-have travel fashion staples to protect your peepers against summer or winter sun is some classic-shaped sunglasses. I'm talking about aviator, wayfarer-inspired or cat-eye frames that make you look like the baddie you are.
Choose an ageless design that suits your face shape to take everywhere that you go. It also helps if the hue is never-changing, like black, tan, silver or gold.
If you wear glasses on a daily basis, you're going to need to include those on your packing list too. Do you have multiple pairs? No problem – just pick the style that will go with the most outfits.
And do you know what the best part is when it comes to packing sunglasses and glasses? They don't count towards your travel capsule wardrobe total number — rejoice!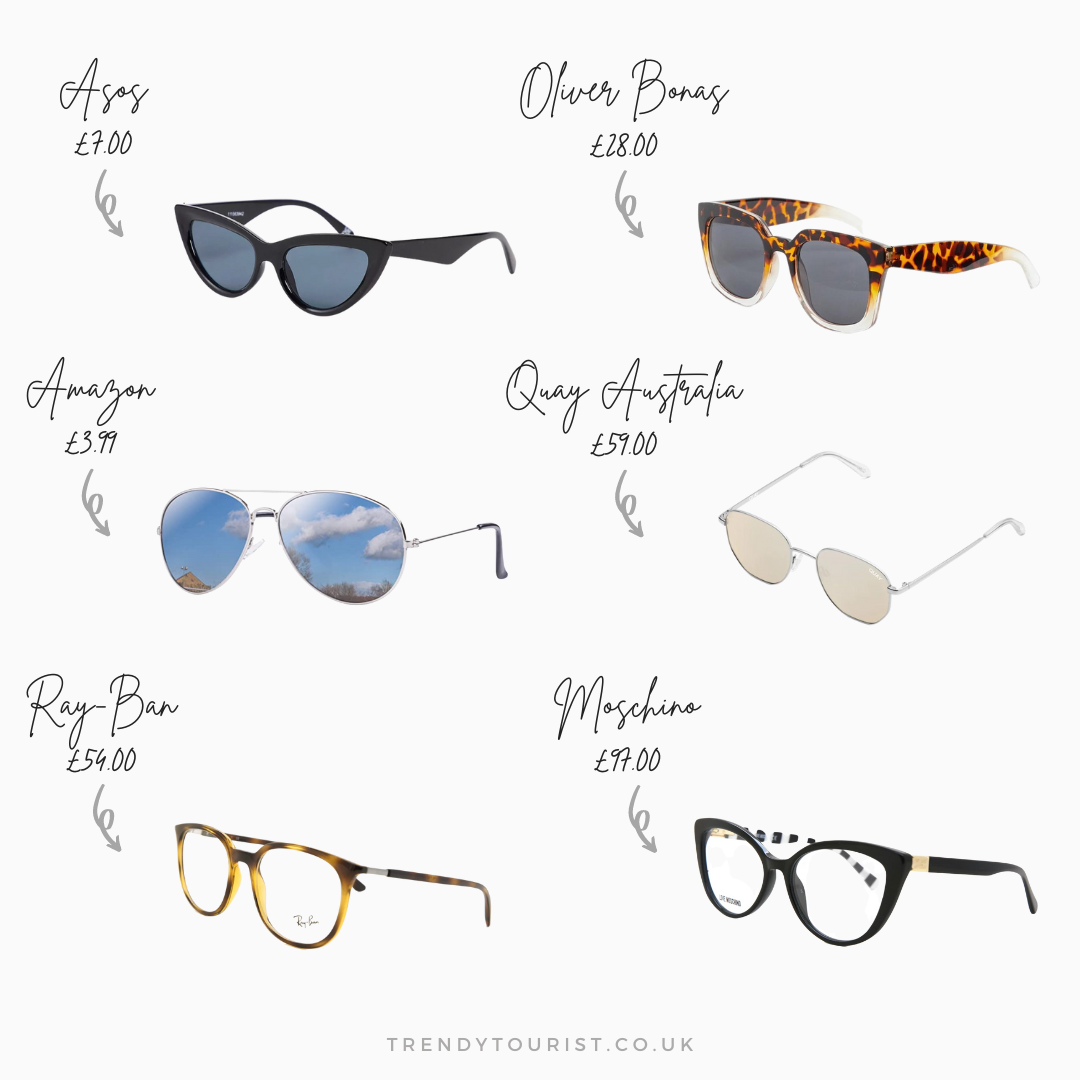 Product options:
13. Sassy Swimwear
Planning a full week of lounging in the sun abroad or just an afternoon of sipping cocktails at a spa? Regardless, you're going to need some seriously sassy swimwear that makes you feel like you could conquer the world, whether that's a fun triangle bikini* for a week in the Mediterranean or a classic one-piece* for your spa weekend.
Not sure what type of swimwear is best for your body shape? Not to worry – check out my handy guide to help you pick out your ideal fit.
Oh, and consider how many days that you plan to be in swimwear to decide how many options you take.
Other products:
14. The Protective Face Mask
It might feel like the world is slowly starting to return to normal, but it's worth remembering that rules surrounding mask-wearing vary wildly depending on where in the world you're travelling to.
Play it safe and make sure to carry a breathable face covering with you at all times, especially if you plan to use planes or public transport.
Patterned fabric masks* may be the most visually appealing option. However, a good stock of disposable face masks is your best bet if you want to minimise your chance of picking up any unwanted germs on the go. At just £7.99, this Amazon pack of 200* allows you to simply throw away any used masks at the end of the day — without breaking your budget.
Extra Travel Fashion Staples for Winter
If you're travelling in the winter, you'll need to make some room in your suitcase for a few extra staples.
Being outside in the cold for long periods can actually cause you to get ill. So, as tempting as it is to pack that extra pair of shoes you might wear (but probably won't), it's far more important to use the space to fit in some extra layers. 
With that in mind, here are some key travel fashion staples to keep you toasty in the colder months.
15. The Trusty Thermals
For those wintry weather destinations, the first rule of staying warm is layering up, so what better place to start than with a high-quality set of thermals?
Luckily, there are more than enough options on the market to keep you wrapped up from head to toe – from thermal vests to insulated knickers! For the perfect bottom layer, I recommend pairing some thermal leggings* with a long-sleeved base top. Here's a white scoop neck* and also a black crew neck* both from UNIQLO's HeatTech range.
In fact, you never know when the weather might suddenly shift, so be sure to pack a couple of pieces that are versatile and you can easily layer up with your base layer, such as a t-shirt, jumper, button-up shirt, etc. Then you just need these M&S Sumptuously Soft Thermal Socks* to keep those toes toasty whether you're in or out of your accommodation.
16. Woolly Accessories
When it comes to adding the finishing touches to your winter holiday outfits, it's a good idea to pack some additional fail-safe woolly accessories.
I recommend opting for a full hat, scarf and gloves set to stay feeling cosy and chic all day long. It's easy to de-layer later in the day if you get too warm and it's always better to be safe than sorry.
For starters, this Amazon Five-Piece Grey Winter Set* will see you right. Alternatively, you can invest in separates to mix and match, such as this ASOS Chunky Cream Headband and this M&S Animal Print Scarf*. Sometimes you may only need one or the other anyway!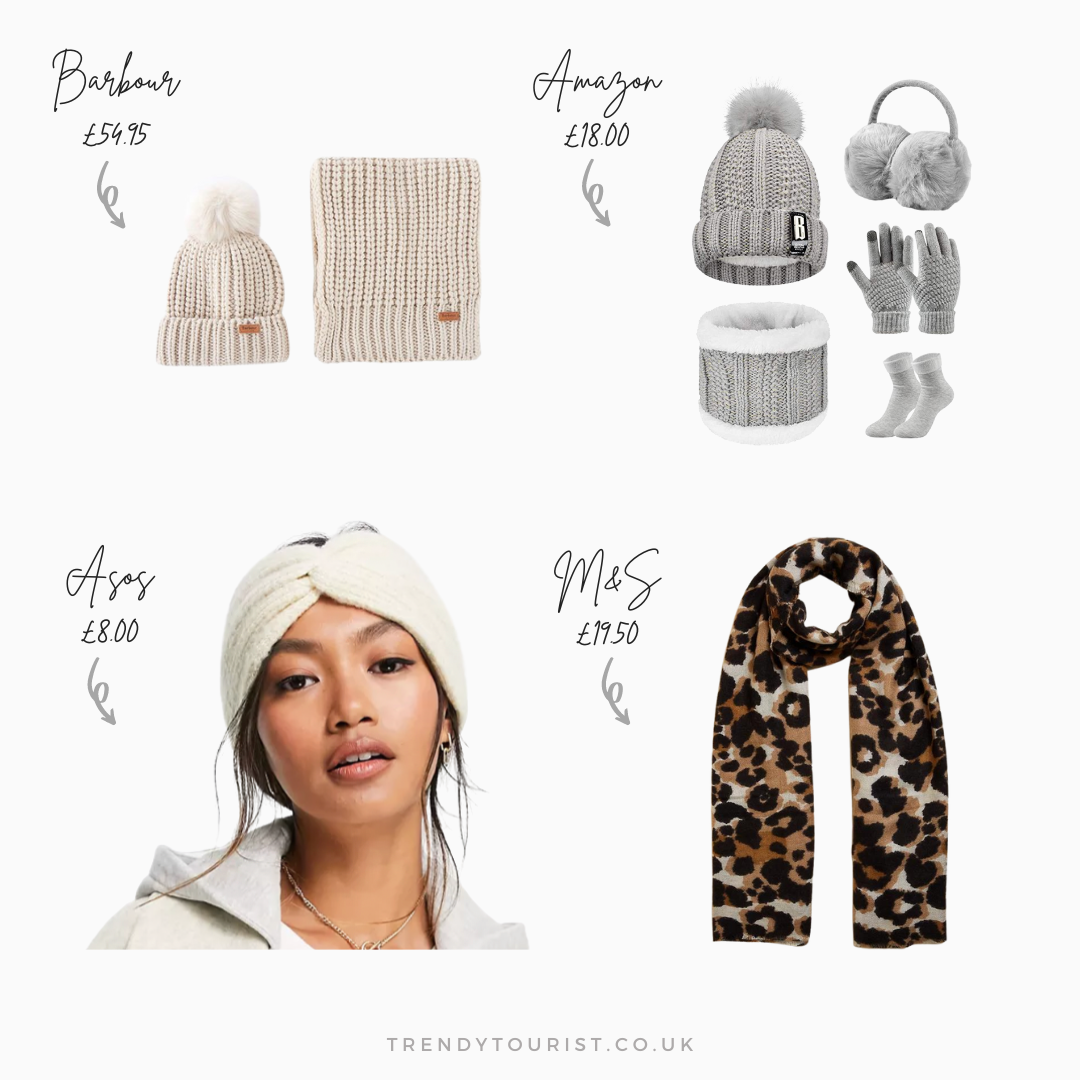 Extra Travel Fashion Staples for Summer
On the other hand, it should come as no surprise that when packing for a warm weather getaway you'll need a whole different set of travel fashion staples on standby.
17. The Straw Fedora, Sporty Cap or Bucket Hat
Unless increasing your risk of sunstroke is on your itinerary, it's wise to incorporate a sun hat into your roster of summer travel fashion staples.
Love them or hate them, hats make it easier for you to see in the rays while also providing an easy way to keep your face and scalp from burning (painful showers, be gone). Seems like a no-brainer to me.
I'm a big fan of the classic wide brim straw hat* or floppy fedora*, on-trend bucket hat* or sporty cap*. All of these options keep things simple but still looks effortlessly cool.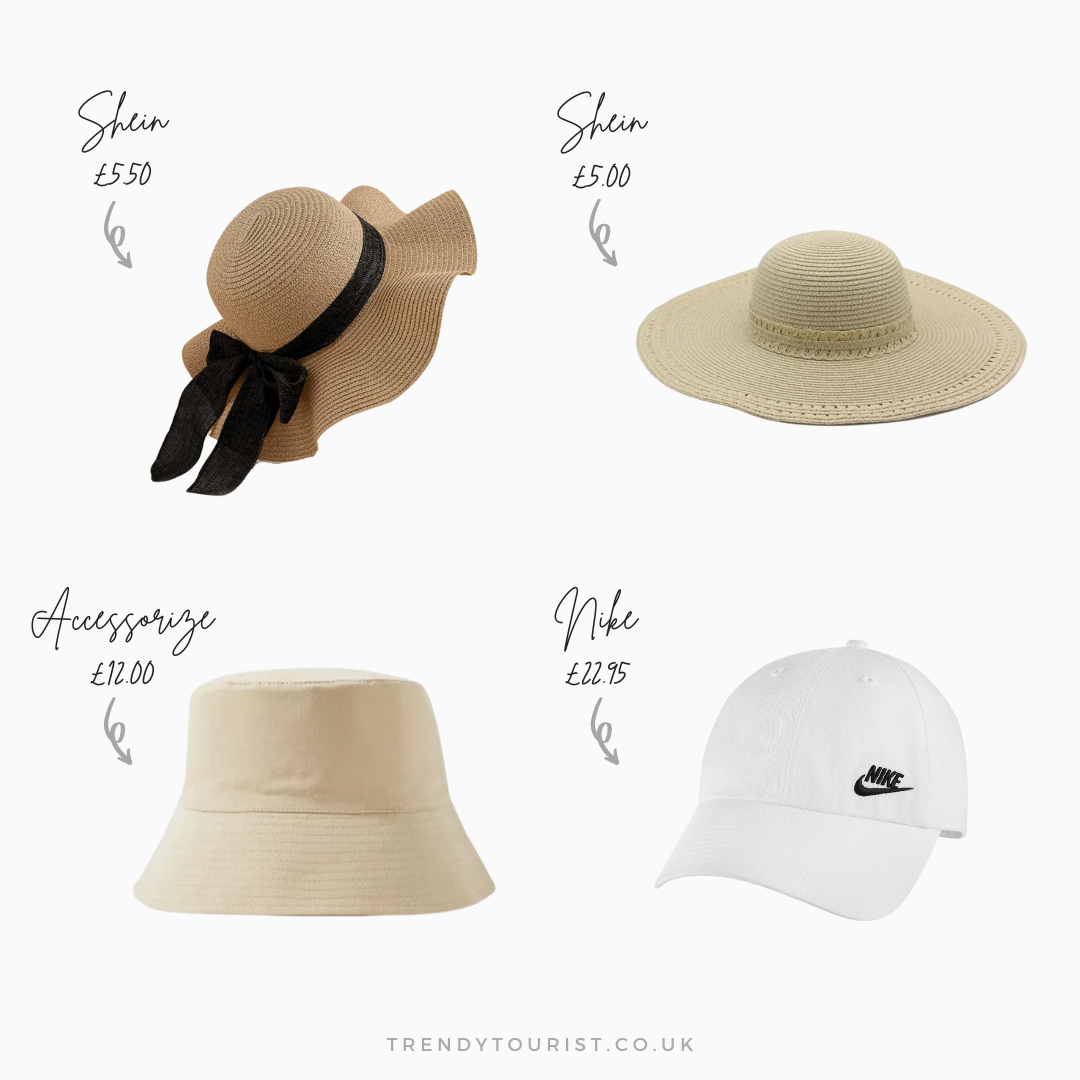 18. The Breathable Flip Flops
Taking a good pair of breathable flip flops or sliders on a warm-weather vacation is absolutely non-negotiable. Not only are they easy to slip on and off as needed, but they will also keep your feet nice and cool when heading to the beach.
As an extra added bonus, flip flops are handily small and lightweight enough to slip into even the fullest of suitcases.
Product details:
Pin this article and share with friends:
Shuffling Between Your Travel Fashion Staples
It's important to invest in travel fashion staples whether you're new to this whole travelling thing or still left scratching your head and staring at your wardrobe every time that you're about to go away.
After all, in addition to helping to create current looks that make fellow fashionistas green with envy, you can keep on wearing these pieces for many years (and trips) to come.
What are your favourite travel fashion staples? Do you own all of our suggestions?