Disclaimer: this post contains affiliate links, which means I receive a small commission when you purchase the product at no extra cost to you! All affiliate links will be marked with an asterisk (*) and help us to run this site so we really appreciate your support. To read our full privacy policy, click here.
Let's be honest, most of us are starting to slump after over a year in lockdown. Daily home workouts have been replaced by hourly trips to the fridge, and normal life can't return fast enough.
There is a solution though! Hiking is a great way to spend a few hours, boost your mood and generally break out of the everyday.
The problem is there are so many hiking shoes to choose from, and between brand, price and colour it can be hard to know where to start. Whether you're planning your first hike or searching for some new boots to replace your worn out pair, you've come to the right place. 
With that in mind, here are 10 of our favourite comfy yet stylish hiking shoes for women.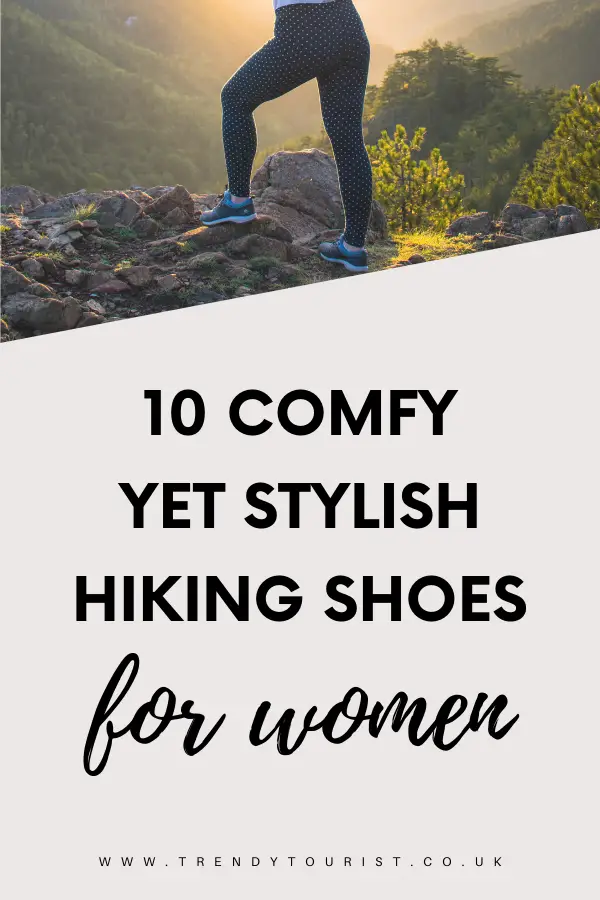 1. Oboz – Sawtooth II
If you're planning on any steep climbs, the Sawtooth II (*) is a great option. A real all-rounder in terms of comfort and grip, these versatile shoes are designed to tackle a variety of terrains. 
You can choose between three colourways, each of which come with super breathable mesh vents and waterproof upper. These shoes are on the heavier side, but offer great ankle support and are ideal for more challenging conditions.
As an extra little incentive, Oboz plants a tree for every pair sold, meaning you can shop with a good conscience!
2. Salomon – X Ultra 3 GTX
Specifically designed for women, these walking shoes (*) are best for light hiking and reliable grip, even in wet conditions. 
These are more high-tech than your average shoe. Descent Control technology efficiently handles tough descents, while GORE-TEX keeps your feet cool and dry.
Salomon's trademarked one pull tightening "Quicklace" system provides a solution to the age-old problem of tying your laces in a way that is both comfortable and sufficiently secure. 
3. The North Face – Hedgehog GTX
For those wanting a great all around hiking shoe, these Hedgehog GTX (*) shoes are right for you. Made from waterproof fabric and breathable mesh, these lightweight shoes will see you through all-weather hikes.
There are a whole host of special features designed to provide optimum comfort and handling, including their trademarked Dryvent fabric and Cradle Guide technology to guide your gait cycle.
With pink and black or grey and blue colourways (*), these are for anyone looking for durable but stylish hiking shoes for women that are more glam than your average boot. 
4. La Sportiva – Spire GTX
At first glance you would be forgiven for thinking that La Sportiva's Spire GTX (*) were for running rather than hiking.
These shoes are extremely comfortable, supportive and breathable. As an added bonus, they're also waterproof and offer some of the best traction out of any hiking shoe on the market.
You can choose between grey, blue and black colourways. For a practical yet pretty look, we love the grey with yellow accents.
5. Salomon – Vaya Mid GTX
As Salomon's first boot made specifically for women, the Vaya Mid GTX (*) offers great comfort and support for even the toughest of all-day hikes.
Sensiflex technology and higher ankle support help with stability, while the flat laces are designed to reduce the pressure or discomfort which is all too common with ordinary laces. The soles also have high shock absorption, making tough descents easier on your feet.
Choose black for an understated aesthetic or go green (*) for a vibrance that's sure to pop against nature's backdrop.
6. Keen – Targhee III
Keen's Targhee III (*) shoes offer a superior level of comfort and durability. With a Metatomical Footbed Design designed to support the natural contours of the foot, these are especially great for those with wider feet.
While waterproof, these shoes are lower cut than most others on the market, so if you plan to do a lot of walking through rivers then these aren't the best option for you.
These shoes are available in four colourways with something to please any fashionista. Our favourites are the classic blue and the lovely duck green and grey (*) version.
7. Adidas – Terrex AX3
For hiking shoes with a casual sneaker vibe, check out Adidas' Terrex AX3. These low-cut hiking shoes are designed to keep your feet comfortable even on all-day adventures. 
Lightweight and durable, these shoes also feature a breathable GORE-TEX lining that ensures your feet stay dry and cool.
From earthy brown to elegant grey (*), you can choose between two timeless colours. Whatever your preference, it's recommended that you size up, as these shoes do run on the narrower side. 
8. Oboz – Arete Low Waterproof
Oboz's ocean blue Arete Low Waterproof (*) are the perfect example of stylish hiking shoes for women that don't compromise on comfort.
Lightweight, waterproof and with excellent traction, these shoes have good all-around performance. The two piece suspension offers extreme cushioning, while the midsole provides a great level of protection from rocky or uneven surfaces.
9. Merrell – Siren Edge
These athletic hiking shoes (*) were specifically made with the way women move in mind. This means that you can expect superior support and stability, as well as an extra-cushioned sole.
These lightweight, water resistant shoes are best for shorter hikes. Your feet will stay nice and cool for hours thanks to the breathable mesh fabric. Oh, and did we mention that they come in nine different colourways?
Just make sure to avoid any routes with lots of water crossings, as they will not keep your feet as dry as the other shoes on this list.
10. Salomon – Quest 4D GTX
We're ending with a good one. Salomon's Quest 4D (*) walking boots are some of the best around for comfort and water resistance.
They are pricey, but will last you a really long time. Durability is key here, and these nubuck leather boots come equipped with special technologies to support your feet on any kind of hike.
Though they are larger and heavier than most others on this list, they're still really comfortable thanks to a soft breathable lining and moulded sockliner.
Shopping for the Most Stylish Hiking Shoes for Women
There's a common misconception that you have to choose between style and comfort when it comes to buying hiking boots. 
This isn't true. As more and more people recognise the importance of getting out for some fresh air, shoes for every budget, style and occasion are being designed. 
We're not out of lockdown quite yet, so even though you (probably) don't have time to train for Everest, with these hiking shoes you can swap your WFH loungewear uniform for an equally-comfy outdoor chic look!  
Talya Honebeek is a North Yorkshire-based freelance writer covering everything from food and drink to the latest fashion and beauty trends. When she isn't writing, you can find her reading a good book, eating too much pasta or going for walks in wholly inappropriate footwear.