Hiking sandals are a wardrobe essential for every keen traveller. After all, they allow you to walk long distances without sustaining any foot injuries — or developing blisters the size of a golf ball. (Hurrah!)
However, it's so unbelievably challenging to find a pair that looks good as well as feels good.
Nobody wants to be wearing the cutest outfit to explore in and then look down and see shoes that seem like they belong on the feet of a Hobbit. Similarly, it's not fun when you've managed to find the comfiest pair but they clash majorly with everything else you're wearing. Right?
Not to worry, ladies — I'm here to save the day with this list of the best walking sandals for women that are just as comfy as they are stylish.
1. Teva's Terra Fi Lite Sandal
Best walking sandals for women 101: any style by Teva.
I've had two pair of Teva's now. The first one lasted for six years (I kid you not). And the second is still going strong after a year.
In fact, Teva's Terra Fi Lite is a cult favourite in the outdoorsy world. Why? Well, let me break it down for you:
They're comfortable, with a rubber outsole that provides traction in rugged terrain and a cushioned heel pad
They have polyester webbing, which helps them to dry quickly
They have antimicrobial technology, which prevents foot odour
They're adaptable, thanks to the range of colourways available
They're high in quality
And hey, who can argue against such an extensive list of benefits?
Teva Terra Fi Lite in Samba Black*
2. Teva's Tirra Sandal
Another popular walking sandal choice (again by Teva!) is Tirra. 
Sure, Tirra has a contoured footbed that will reduce foot fatigue and provide plenty of cushioning. But it also has a rubber outsole that will offer grip on uneven or rocky terrain.
Want colour? The Teva Tirra will give it to you in abundance. Or you could just stick to one of the neutral options that will go with practically any outfit colour palette.
Teva Tirra in Black White Multi*
3. Merrell's District Mendi Sandal
Did you know that some of the best walking sandals for women are produced by a company called Merrell? These options are a little more lightweight than the Teva ones — and slightly cheaper.
How come, you ask? Well, they tend to have a good grip on dry surfaces but not so much on wet surfaces.
Merrell's District Mendi also has air cushion technology in the heel, which makes this particular sandal comfortable for all-day wear. And you might appreciate that it's not as chunky-looking as some of the other alternatives.
I mean, just see for yourself.
Merrell District Mendi in Gold*
4. Timberland's Malibu Waves Sandal
A little more fashion-forward and a little less old-school, Timberland's Malibu Waves is an extremely versatile sandal. In other words, it's ideal for many occasions, from meeting family in the park to heading to the beach with friends.
The footbeds also have built-in memory foam to make them very wearable for long days spent hiking. Then there's the sole, which is made of cork and super lightweight.
Oh, and did I mention that their three colourways are kind of pretty? Sold.
Timberland Malibu Waves in Brown*
5. Columbia's Sandal
Yes, you read that right.
Imaginatively titled "Sandal," this Columbia beauty is one of the best walking sandals for women around. In addition to having a comfortable insole, it has a better-than-average grip on both dry and wet surfaces.
The strap on this sandal also leaves the foot nicely snug without the possibility of slipping. So, it's basically like a hug for your feet? Where do I sign up?
Columbia Sandal in Fawn, White
6. Birkenstock's Yara Sandal
If you haven't yet heard of Birkenstocks then where have you been? Their cushioned footbeds are old favourites in the walking sandal world. And they feature a deep heel to provide stability!
Sure, it takes longer to break a sandal like this in. However, once you do, the comfort level is unparalleled.
Plus, the adjustable straps on the Yara's ankle and toe provide good grip and long-lasting quality.
Birkenstock Yara in Brown Mocca*
7. Clarks' Tri Walk Sandal
Next on the best walking sandals for women list is the Tri Walk Sandal by Clarks.
These are a little more sporty-looking than some of the other alternatives, and don't have the best grip if you're using them for long hikes. Having said that, they'll work wonders for city walks and light hikes.
Why? Well, this sandal offers a trigenic system which optimises the natural movement of your feet, thus reducing fatigue.
And they come in a fun berry colour. So, there's that.
Clarks Tri Walk in Berry Combi*
8. Vionic's Kirra Sandal
Great news — the Vionic Kirra Sandal is just as comfy as it is contemporary. It comes in many different colour schemes, including dreamy rose gold and bold metallic bronze.
There are also tons of other benefits, such as:
It has an Ethylene Vinyl Acetate (EVA) footbed — this is a plastic that is rubber-like, durable and offers great cushioning
It's arched to match your feet — even if you have fairly flat feet
It has a triangular thong leather upper and soft buckle detail
Swoon.
9. Fitflop's Lainey Sandal
Very similar to Vionic's Kirra, Fitflop's Lainey is a good sandal for city walking and light hikes. It's well-suited to those with wide feet thanks to their midsole cushioning that provides extra support (compared to the average walking sandal).
Some of the styles even have pretty gemstone detailing that can dress up even the most casual outfit!
The only thing to watch out for is that the sizes tend to run slightly big, according to several reviews.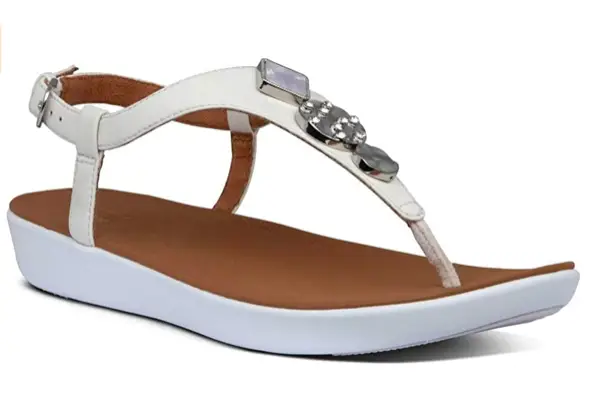 10. Vivo's Kuru Sandal
Last but certainly not least, Vivo is known for their minimalist designs — and the Kuru is no exception. In fact, this sandal would work best for those who like to have more of a barefoot feel.
With that in mind, it won't be ideal for hiking, but it will be comfortable enough and withstand all day walking in a city. Score!
You can choose between the classic black or tan hue, which means the Kuru will go with pretty much anything. And did I mention that it looks super sleek?
Shopping for the Best Walking Sandals for Women
If you've never shopped for the best walking sandals for women before, you'd be forgiven for feeling overwhelmed. After all, there are so many different designs with various features to choose from. 
Even though it's tempting to go with the most gorgeous option you see, always keep comfort at the forefront of your mind when trying on.
Trust me, you won't regret it when you're able to walk around for hours without a blister in sight!