Winter vacations can be magical, filled with picturesque snow-covered landscapes, charming Christmas markets and warm fireside gatherings. 
However, it's important to pack appropriately to ensure that you stay warm and comfortable during your trip. After all, being outside in the cold for prolonged periods can cause you to get ill — and who wants to be unwell while on holiday?
Here are some essentials to consider packing for your winter trip that are just as functional as they are fashionable.
What to Pack for a Winter Holiday: 10 Essentials You Need
Here's the deal: the following key pieces should form the basis of your winter holiday wardrobe. Then you can simply add to them to create winter looks that would make even the fashion elite envious.
The exact amount of clothing that you take will depend on where you're going and how long you're going away for. For particularly cold and snowy destinations, you may need to take more layers.
1. Thermal Clothing
Firstly, base layers are a must in terms of what to pack for a winter holiday. Luckily there are options to fulfil your every thermal need, from cosy socks and tops to warm, insulating leggings and underwear.
For the perfect base layer, pair these M&S Sumptuously Soft Thermal Socks* and of John Lewis Thermal Leggings* with this white scoop neck* or black crew neck* top both from UNIQLO's HeatTech range.
2. Walking Shoes
What to pack for a winter holiday 101: a good pair of trusty walking boots fit for all kinds of adventures on foot.
Contrary to popular belief, your designated walking shoes don't necessarily have to be hiking boots — just comfy shoes that you can walk in, whether that's trainers* or your favourite combats*.
For a great all-around hiking shoe that's both lightweight and durable, I love this grey-and-pink version* by Jack Walker. However, any pair of chunky-soled boots like these from Schuh* would do the trick.
3. A Winter Coat
Base layer, check. Walking shoes, check. The next logical step is to pick out a nice big winter coat to keep yourself nice and warm all day long. Thick and padded is the way forward, while bonus points go to anything midi length that can keep your cheeks feeling toasty!
It helps if said coat is waterproof too. We all know that the weather can be famously unreliable even at the best of times.
Believe it or not, it is possible to achieve the holy trinity of warmth, comfort and style.  Enter, the puffer coat. Why not try this Quilted Puffer Coat* from M&S or this In the Style chevron style*? I'm also a fan of this classic black version from Barbour and this seamless down coat* in multiple colours from UNIQLO.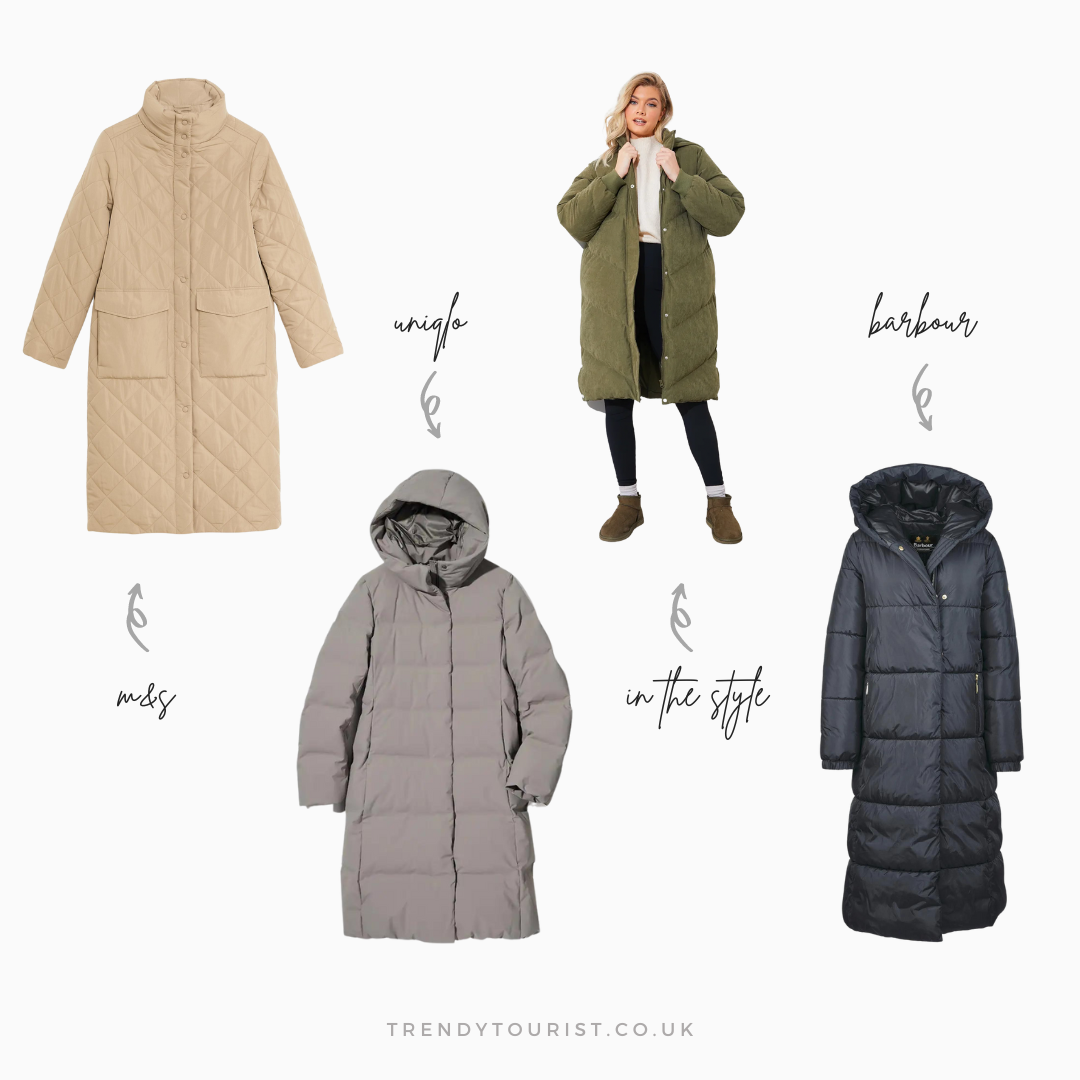 4. Winter Woollies
When it comes to accessorising your winter holiday outfits, it's better to wrap up so that you're comfortably warm. You can always de-layer later if necessary.
Hat, scarf, gloves — you name it, you need it. But if it ever comes down to choosing just one, a hat is especially important because you lose heat from the top of your head.
I'm a big fan of this Amazon Five-Piece Grey Winter Set* or this River Island Hat, Scarf and Gloves Set*. If you're not a hat person, don't shy away from ear muffs* or a chunky knitted headband like this H&M one* to stop your ears from falling off in the cold.
5. Neutral Jumpers
A few chunky knits won't go amiss for your winter holiday. Opt for neutral colours, like black, white, beige, cream, camel or grey, that go with practically everything and you can mix and match your outfits.
While any jumper will do, I recommend this H&M Striped High-Collar* or M&S Sparkly Roll Neck Jumper* for a chic yet cosy look. I call that a win-win.
If you're into knitted jumper dresses, try this cute H&M number* or Mango turtleneck* on for size.
6. Jeggings or Leggings
When packing for a winter getaway, don't underestimate the functionality of a good pair of jeggings. Not only are they ideal for fitting some cheeky thermal leggings underneath, but high-waisted jeggings like these from M&S* will also optimise your comfort level and allow plenty of flexibility.
Alternatively, UNIQLO* offer a special heat tech range so you don't have to double-up on layers.
Thick leggings do the same job. Buy some with a fleecy interior that feel all kinds of good on your bare legs, such as these Baleaf High Waist Leggings* or these Conceited Plain Leggings*.
Whatever you choose, the golden rule is to stay away from jeans as your daytime go-to bottoms. They aren't very insulating and don't allow nearly as much movement as jeggings or leggings.
Waterproof over-trousers like these from Decathlon may also be useful if you're planning on hiking in the cold.
7. Sunglasses
Just because it's cold doesn't mean that it's not going to be sunny. Protect those peepers by including some sturdy gigs in your suitcase.
These simple Black Polarised Sunglasses* from H&M are perfect for those unexpectedly sunny winter days. Alternatively, these rounded Brown Tortoiseshell Polarised Sunglasses* are perfect for adding a pop of colour to your outfit.
For something more timeless that will last the test of time, try Quay Australia's Big Time* or High Key Extra Large* sunnies.
8. The Hands-Free Bag
Trust me, you're going to want your hands in your pockets when you're freezing your wotsits off outside. That's why a hands-free bag is ideal for keeping your valuables secure and your hands nice and warm, whether it's a trusty backpack or humble crossbody.
For those who travel light, this Michael Kors Lucie Leather Crossbody* or more affordable SHEIN Minimalist Flap Saddle Bag* is the ideal solution. On the other hand, serial over-packers would be better suited to something like this Vans Leopard Print Backpack* or Miss Lulu Faux Leather Backpack*.
9. The Nicer Top or Dress
When gathering items for a winter holiday, it's easy to get caught up in packing the warmest clothing. But don't forget about those pieces you're going to need for evening or fancier occasions. 
If you want to be savvy and save suitcase space, you can wear the same pair of jeggings/leggings you've been rocking during the day and then just swap your top to something dressier. Another option is to take another pair of bottoms (like jeans) for dressing up at night.
Any top you feel comfortable in will work, but I love this Shein Heart Print Blouse* for a dressier (but still suitably warm) vibe. There's also this effortlessly cool Mango Pleated Shirt* (Just don't forget your jacket when heading OUT out!)
Alternatively, try a long sleeved dress like this knitted H&M number* or this equally-as-cute Shein Shirt Dress* (with thermals and maybe some tights underneath!). Add chunky boots and a leather jacket for a snugly yet stylish look for all your cold-weather adventures.
10. The Nicer Shoe
Lastly, whether this is a pointed stiletto flats* or chic heeled boots*, take another pair of shoes on your winter holiday that you can wear for meals and drinks out.
You could just stick to your chosen walking shoe. However, you may find you want to mix it up after wearing these constantly.
These Office Kaley Knee High Taupe Boots* or M&S Chelsea Heeled Boots* will help you add a glamorous touch to virtually any winter outfit.
What to Pack for a Winter Holiday: Other Essentials
What you wear is an important part of packing for a winter holiday, but there are some other essentials you may want to take.
Handwarmers: Handwarmers are a great way to keep your hands warm and toasty on chilly days. They are small, disposable and easily fit into gloves and pockets.
Sunscreen: Sunlight reflecting off of snow can cause sunburn, so it's important to pack sunscreen with a high SPF to protect your skin.
Camera: Winter landscapes can be truly breathtaking and you'll want to capture them. Pack a good quality camera, or at least a good smartphone with a camera to capture the memories of your trip.
Portable chargers: Cities and towns are full of charming eateries where you may want to stop and recharge your batteries in cold weather. Make sure you pack a portable charger so you can keep your phone and camera charged on the go.
Travel adapter: Your destination may have a different electrical outlet to your home country, so make sure you bring a travel adapter to charge your devices.
Pin this article and share with friends:
Figuring Out What to Pack for a Winter Holiday
With these essentials packed, you'll be well-prepared for a comfortable and enjoyable winter holiday. Don't forget to also check the local weather forecast before you leave, and to pack accordingly. 
Remember it's important to be practical but it's also important to build a winter travel capsule wardrobe that aligns with your personal style.
With the right clothing, you'll be able to enjoy all that your trip has to offer during the winter season.
Need more help building a travel capsule wardrobe? Check out my virtual styling services and the "Trendy Travel Capsule" package. Together, we'll make sure that you pack less and style more!