The frustrating thing about British weather is that you just can't trust it.
One minute it's warm and sunshiny, making you feel like you're in the Mediterranean. And the next? You're layering up like there's no tomorrow because the temperatures have plummeted to below zero.
In other words, a sturdy coverup is needed for each and every season in this country. But not just any coverup — one that's cosy, chic and timeless all at the same time. Right?
That's where the puffer coat comes in.
In fact, here are 5 types of puffer jackets that serve as wardrobe staples for any Brit, come rain or shine.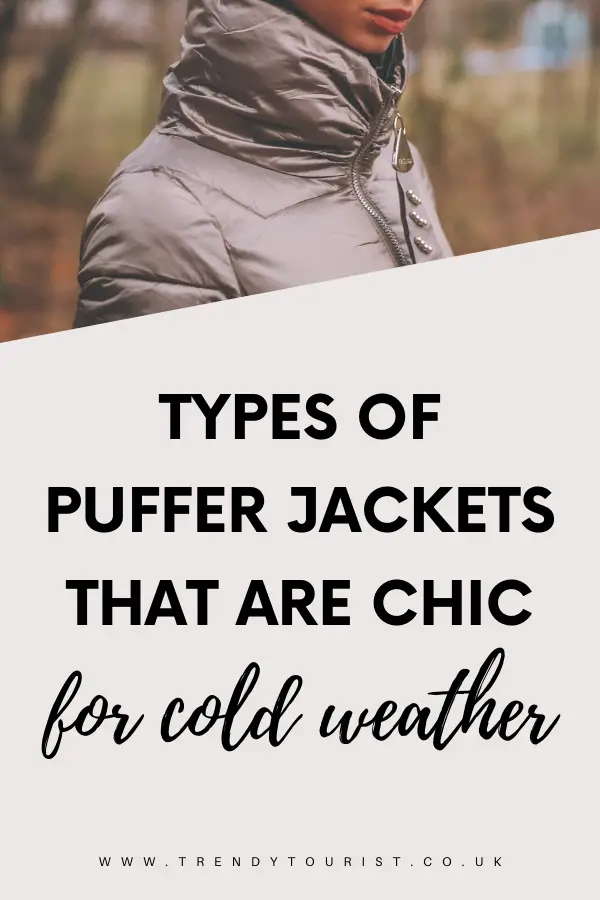 Understanding the Types of Puffer Jackets
It may feel like they only really popped up within the last few years, but the trusty puffer jacket has actually been around since 1936. After outdoor adventurer Eddie Bauer almost died on a fishing trip when his wool jumper froze from rain, he designed a waist-length quilted puffer coat, the first of its kind.
We've come a long way since Bauer's DIY puffer. Now when you walk down any UK street in cold weather you're sure to be surrounded by a sea of puffer coats of all colours, shapes and styles. 
But what are the key elements of a puffer jacket? 
All puffer jackets feature a quilted design, with the sections between the stitching filled with natural or synthetic fibres. This filling is what keeps you warm (and creates the signature puffy appearance!).
The most common insulating materials are goose or duck down and polyester-based man-made synthetics. Some puffers even use a blend of the two. While down jackets will keep you the warmest, they are heavier and tend to be more expensive than jackets with synthetic insulation.
5 Key Types of Puffer Jackets
Now you know a little more about what makes a puffer jacket, it's time to choose which style works for you!
1. Knee-Length Minimalist
Firstly, one of the new types of puffer jackets on the fashion scene is the knee-length minimalist.
Providing the maximum amount of insulation, this dominating duvet-style puffer was seen on Autumn/Winter 2020 catwalks such as Rick Owens and Toga. Oh, and did we mention that it feels like a warm hug when you put it on?
Whether you opt for a hood or not, keep yours simple in a neutral hue that will look ultra-trendy when teamed with skinny jeans, a chunky knit jumper and heeled boots.

2. Short and Sweet
On the other end of the spectrum to the knee-length hem is the shorter hem that reaches the hips.
However, just because there's less fabric with these types of puffer jackets, it doesn't make them any less impactful.
In fact, they pack a punch when thrown on over a denim dress and black tights or high-waisted trousers and a cropped cardigan a la Jacquemus.

3. Waist-Defining
Championed by Prada for Autumn/Winter, belted puffer coats are ideal for those who want to define their waist.
By fastening up a belted puffer fully, you allow it to take centre stage while keeping in the heat. Win-win.
To elevate your look, wear yours with skin-tight leggings or jeans and knee-high boots.

4. Statement Hood
One of my favourite types of puffer jackets is hooded.
From the kinds that co-ordinate with the rest of your coat to contrasting colours or even faux fur, a statement hood can be just as pretty as it is practical.
You can use the latter to dress up your activewear, i.e. oversized joggers, a sweatshirt and trainers, for an effortlessly stylish aesthetic.

5. Colour-Blocking
Lastly, colour-blocking puffer coats reigned supreme on AW20 runways such as Maison Margiela and Provokr.
These bright and bold beauties are great for adding a much-needed pop of sunshine to a dark and dreary winter's day.
Pair yours with an otherwise plain outfit to let this hero piece stand out for all the right reasons.

Figuring Out the Best Types of Puffer Jackets for You
Not every puffer coat is going to suit your personal style. That's why it's important to find the right one that makes you look and feel your best.
Seen as though a puffer jacket will enhance your natural silhouette, always go for the option that's true to size. It will be much more snugly without the excess fabric, which means you'll look forward to wearing it for many seasons to come!