Disclaimer: this post contains affiliate links, which means I receive a small commission when you purchase the product at no extra cost to you! All affiliate links will be marked with an asterisk (*) and help us to run this site so we really appreciate your support. To read our full privacy policy, click here.
Newsflash: there's one key piece on the high street that fashionistas are currently going crazy for.
Is this because of nineties nostalgia? Or is it because we simply can't get enough of comfy clothing while the country is in lockdown?
Either way, they're selling out as soon as they're listed on our favourite retailers' websites — and show no signs of going out of style. If anything, their popularity only continues to peak.
Step forward, jogging bottoms (or "sweatpants" if you're American). But not just any jogging bottoms — joggers that are oversized, made from cotton and cuffed at the ankle.
(You know the type. They're all over your Instagram feed!)
Whether you're already a fan or you're only just kickstarting your loungewear love affair, read on to find out how to style joggers for the Spring/Summer 2020 season — and beyond.
1. With a Fitted Top
How to style joggers 101: because SS20 joggers are baggy, you can easily balance them out with a fitted top.
From cosy Henleys to bold bodysuits, this combo is ideal for FaceTiming the girls or tackling those work Zoom calls.
Just pick a bright, on-trend hue (like lime green, tangerine orange or rose pink) and pair it with layered jewellery for a fun, smart-casual look.
JOGGERS – NASTY GAL – similar (*) / TRAINERS – COTTON ON – similar (*) / TOP – NASTY GAL – similar (*)
2. With a Co-Ordinating Sweatshirt
If you're planning to laze around the house or nip out to your local supermarket, wearing a cute loungewear set is a wonderful idea.
Plus, you can tie your outfit into SS20 and nod to the nineties even further by teaming your oversized joggers with a loose, cropped sweatshirt.
Feeling shy? No problem —  just stick to a neutral colour (like grey, stone, white or black) until you build up your confidence.
Now, that's what we call co-ordinated perfection in fashion form.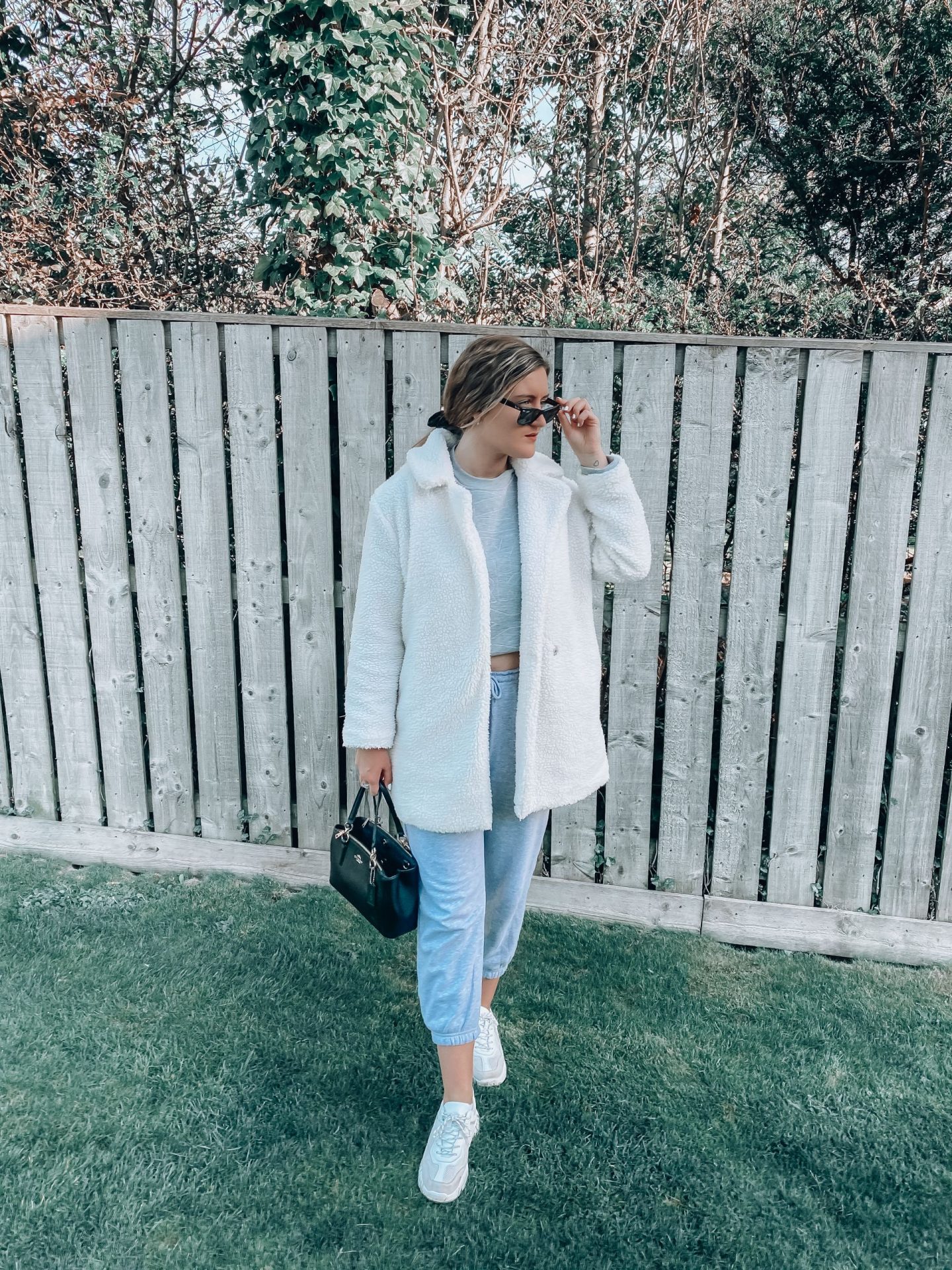 JOGGERS & TRAINERS – AS BEFORE / SWEATSHIRT – IVY PARK @ TOPSHOP – similar (*) / COAT – PRIMARK – similar (*) / BAG – COACH – similar (*)
3. With a Crop Top and Plaid Shirt
Finally, do you need a joggers outfit that still works for informal occasions as the weather gets warmer?
Then look no further than the crop top (with short sleeves or simple straps). 
If there's a cool breeze, you could always add an oversized plaid shirt but leave it open for an effortlessly cool aesthetic.
JOGGERS & TRAINERS – AS BEFORE / TOP – TOPSHOP – similar (*) / SHIRT – RALPH LAUREN – similar (*)
How to Style Joggers to Go OUT Out
Even though joggers are popular on the street style scene and look super stylish as an everyday outfit, they're not usually suitable for dressier events.
That said, if you want to wear joggers for a night OUT out, there's nothing stopping you. Just pick a more luxurious fabric (like faux leather) or stick to a plain neutral pair. Then team them with a fitted top and strappy heels to truly stop traffic.
What's your favourite way to wear joggers? Do you have any other suggestions in terms of how to style joggers?
Katie Davies is the Yorkshire-based freelance writer who founded Trendy Tourist. Since 2017, she has written for over 100 companies on a range of subjects, from fashion to marketing. When she's not producing content, you can find her shopping, exploring a new place or sitting somewhere having a cup of builder's tea.