Disclaimer: this post contains affiliate links, which means I receive a small commission when you purchase the product at no extra cost to you! All affiliate links will be marked with an asterisk (*) and help us to run this site so we really appreciate your support. To read our full privacy policy, click here.
The pandemic has meant that we're all spending so much more time indoors than we usually would. That said, whether you're working, being productive with house chores or simply lounging around, it can be difficult to figure out what to wear at home all day.
(Especially when you're at home a lot these days, right?)
Ultimately, you want to feel comfortable, but you also want to look cute at the same time because why not? You just don't know who you may see on Zoom or at the doorstep (here's looking at you, postman Bob).
Plus, sometimes just getting dressed and making yourself feel good provides you with the motivation you need to tackle the day ahead. If you're struggling for inspiration in this department, not to worry. Read on for our 10 favourite loungewear ideas of the moment.
1. The Loungewear Set
What to wear at home all day 101: the loungewear set that is specifically designed for days spent on the couch or even in bed. (No judgment here!)
Whether this consists of tie-dye printed joggers and a matching sweatshirt (*), a plain sports tracksuit (*) or a knitted co-ord (*), one thing's for sure: this option is just as comfy as it is stylish.
Consider long sleeves and trouser hems (*) in Autumn/Winter to stay snug. Alternatively, we love a good shorts and short-sleeve combo (*) as soon as the temperatures start to rise.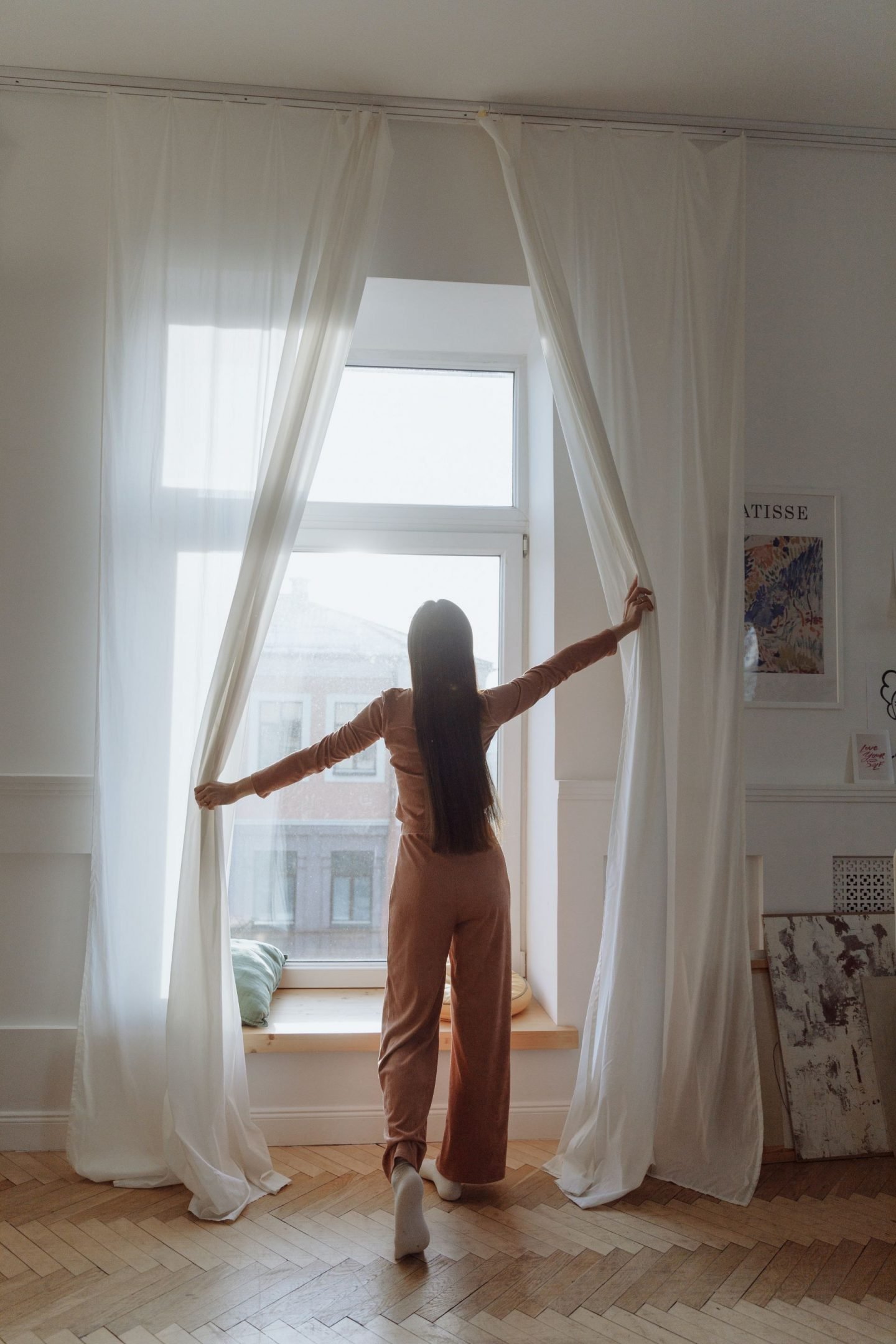 2. Leggings and an Oversized Jumper
Let's face it, you can't go wrong with jersey leggings (*) — preferably in black so that they go with everything. Team yours with an oversized jumper, hoodie or sweatshirt and fluffy socks (*) for a classic loungewear look that's always a winner.
You can layer your top half with a thermal underneath (*) if it's feeling a bit brisk in your house. Plan on working out? No problem — add a supportive workout bra (*). Or if you're not up to much, feel free to go bra-less. Now, that's a secret pleasure that some guys will never understand.
3. Jeggings, Cami and a Chunky Cardigan
Are you a leggings lover but want to wear something a little prettier on your top half for a Zoom meeting or friends coming over? If so, consider a lace-trim cami or cotton tee complete with a chunky knitted cardigan and jeggings with stretch (*).
(Jeggings with no stretch will dig into you while you're sitting around the house and make you feel miserable — trust us.)
When the weather gets warmer, simply swap the chunky cardigan for a thinner alternative or casual flannel shirt — or don't bother with a cover-up at all.
Either way, this outfit is fun, flirty and fabulous — and sure to turn the heads of your housemates or couriers for all the right reasons.
4. High-Waisted Jogging Bottoms and a Simple Tee
Sometimes less is more on the style scene. If you're wondering what to wear at home all day and you're a fan of minimalist looks, opt for high-waisted neutral joggers with a short or long-sleeved tee tucked into them (*).
Alternatively, trendsetters may decide to rock a crop top (*) given that nineties fashion is back again once for Spring/Summer. (Millennials, rejoice!)
You could even wear a matching set if you need to run a quick errand, finished off with chunky sliders or trainers and a crossbody bag for practicality (*).
5. Jersey Flare Trousers and a Relaxed-Fit T-Shirt
Those who are a fan of traditional comfies with a fashion twist may want to get on board with jersey flare trousers as part of the hippie-inspired trouser movement of SS22.
We like to pair ours with an oversized t-shirt (*) around the house (tucked in or loose depending on what kind of a mood we're in and how many TikTok dances we plan to learn that day).
Having said that, high-waisted jersey flare trousers (*) also look fierce with a crop top, cami or even a regular-fit t-shirt. Did someone say groovy?
6. The Throw-On Lounge Dress
If you're searching for something to wear in the house that you can just throw on in a hurry, look no further than the lounge dress.
Whether it's in the form of a relaxed-fit sweatshirt, hoodie dress or long cotton t-shirt with a drawstring waist, this outfit always looks the most adorable when finished off fluffy slippers or boots (*). There's just one rule here: the softer the fabric, the better!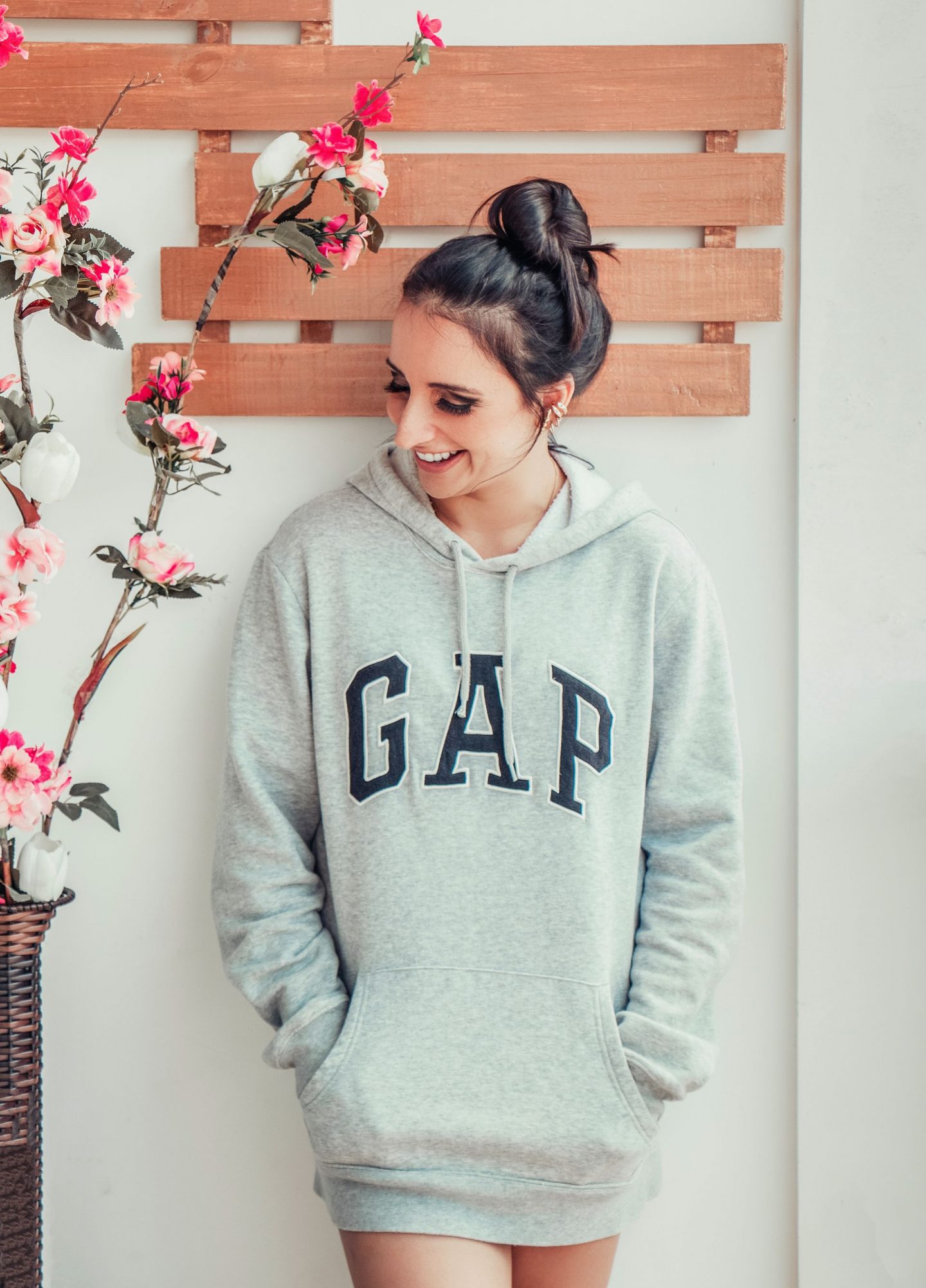 7. Jersey Shorts and a Cotton Top
Is the weather getting warmer? Consider jersey shorts (*) and a cotton top as your go-to at-home uniform, whether it's long sleeves, short sleeves, strappy or strapless.
If this option feels (or looks) a little dull to you, add interest to your aesthetic in an original way. For example, you could choose bright colours or unique prints to express your mood and personality.
8. Jersey All-In-One
Advocates of the old-school onesie, listen up — a jumpsuit or playsuit (*) might be the way forward for chic yet cosy stay-at-home style.
Long sleeves, short sleeves, no sleeves — it doesn't matter. Just make sure you stick to a cotton jersey version (*) that's just as functional as it is fashionable. After all, nobody wants to feel trussed up in impractical fabrics around the house.
On the other hand, linen (*) may be a great idea if the temperatures are sky high and you have chores to do.
9. Oversized Button-Up Shirt
For those days where you want to feel like you've made more of an effort for a cheeky FaceTime date or group Zoom call, we've got the best solution for you. An oversized button-up shirt (*) in classic white will channel effortless elegance (and nobody needs to know that you've got nothing on your bottom half!).
Team this hero piece purely with slippers and mussed-up hair to make an impact. Or dress it up slightly using layered necklaces (*) or statement earrings (*), chunky rings and tousled hair from a curling iron.
10. Workout Clothes
Finally, if you're still pondering what to wear at home all day, why not consider your workout clothes? (Especially if you plan to work out at some point anyway. YouTube HIITs for the win!)
Activewear in the form of vest tops, yoga pants and zip-up jackets (*) are designed to provide optimal comfort while allowing breathability and movement. Therefore, they're kind of perfect if you ask us.
We love to layer flexible, lightweight fabrics finished off with sports socks and a workout bra (*). Let's get moving (or staying still, whichever you prefer!).
What to Wear at Home All Day: It Depends On Your Plans
The trick to choosing the right loungewear outfit and how much effort that you make depends on what you've got planned for the day and if you'll see anybody else. After all, there's no point wearing an oversized button-up shirt and a face full of makeup if you're just laid on the couch watching Netflix and chilling (solo).
In this case, you'd probably want to throw on the comfiest option. Right?
Regardless of what you wear though, never forget your fluffy socks. We wear ours even if it's 30 degrees Celsius outside (sorry, not sorry). They're the ultimate way to feel warm, cosy and content for a day of not doing much.
Do you always know what to wear at home all day? What's your favourite loungewear outfit? Let me know in the comments!
Katie Davies is the Yorkshire-based freelance writer who founded Trendy Tourist. Since 2017, she has written for over 100 companies on a range of subjects, from fashion to marketing. When she's not producing content, you can find her shopping, exploring a new place or sitting somewhere having a cup of builder's tea.