It's that time of year when the weather can't decide what it wants to do so transitional dressing takes over.
I mean, one minute the temperatures are mild and you're uncomfortable in anything but a t-shirt. The next minute it's super chilly and you have to dig your coat out of the back of your wardrobe!
Being unable to get it right with your daily outfits at this time of year can feel confusing and frustrating, which is why layering comes in handy. The great thing about layering your clothes is that you can remove or add a layer whenever you need to accommodate changes in temperature and weather conditions.
Layering can also add depth and dimension to your outfit, making it more interesting and visually appealing. By combining different textures, patterns, and colours, you can create a unique look that reflects your personal style.
That said, here are 5 transitional outfits that use layering to help you stay comfortable and stylish in between seasons.
1. Everyday Transitional Outfit
Firstly, you need one of those 'fits that you can wear while you're chilling around the house or working from home, but then all you have to do is throw on a light layer to pop out for coffee or a quick supermarket run. Step forward, the elevated lounge co-ord.
This usually consists of joggers and a hoodie or sweatshirt that is super soft and comfy to wear all day long. I like the kind that has fleece inside for added cosiness.
To add a stylish touch to your loungewear and make it appropriate for leaving the house, consider chunky trainers, a sports cap and small gold hoop earrings. You could even embrace the sherpa tote, one of this season's most fun accessory trends.
Either way, don't forget your denim or faux leather jacket to combat the cold: two timeless wardrobe staples.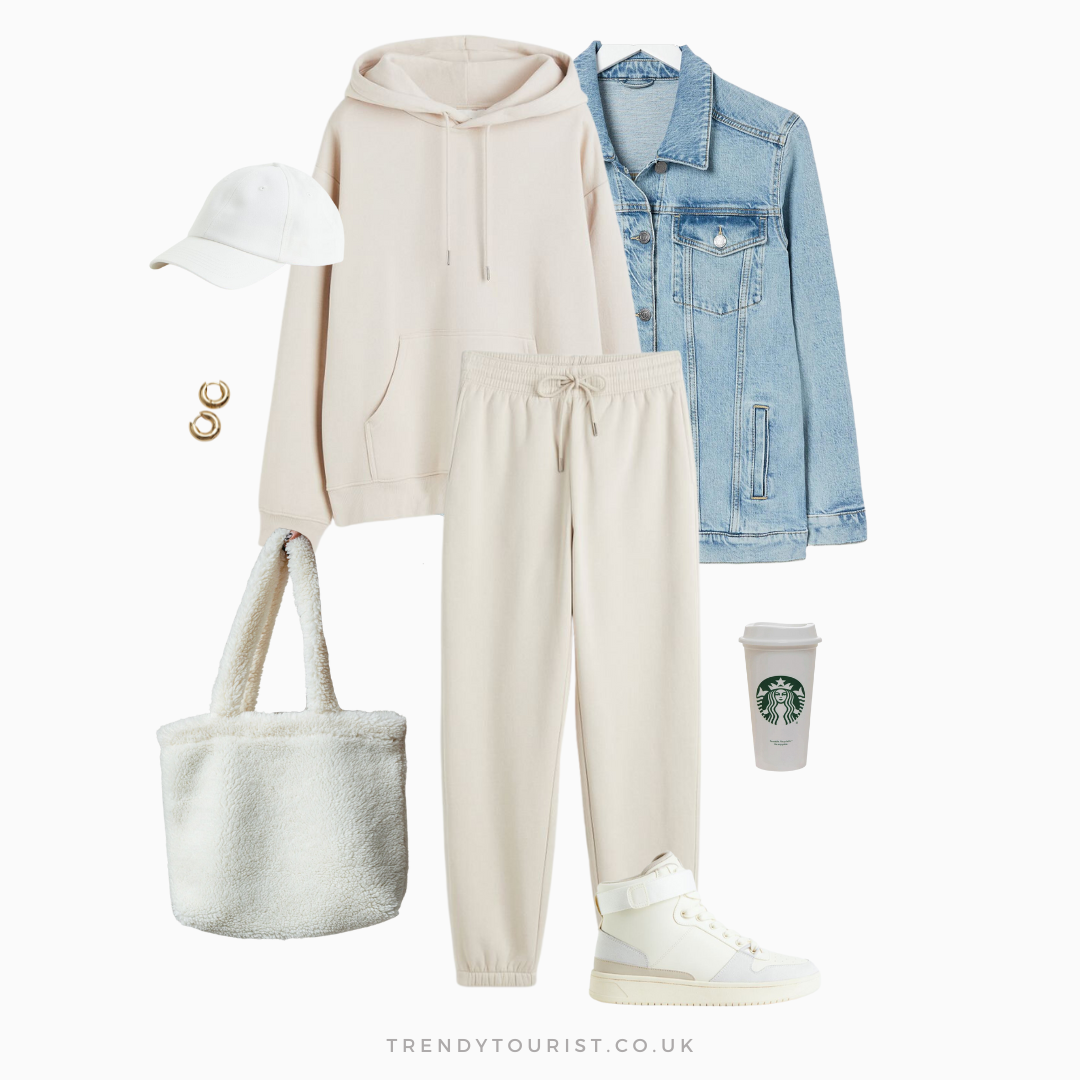 Product details:
2. Casual Denim
One of the easiest transitional outfits to throw together is jeans and a tee with trainers layered with a hoodie and a coat.
Racer-back vest tops are a lusted-after design in the t-shirt world right now, and look effortlessly cool when paired with noughties-influenced high-waisted wide-leg jeans and chunky neutral trainers.
Add a zip-up hoodie and belted midi coat to cinch in your waist and create a flattering silhouette. Finish off the outfit with a sports cap, baguette shoulder bag and chunky hoops so you can shop, meet loved ones or run errands in style.
Product details:
3. Cute Knitted Co-Ord
A knitted dress or jumper-and-midi skirt combination is super fashionable but also functional during the transitional period. Ankle or knee-high boots can cover up your legs and be teamed with tights and/or a wool midi coat for extra warmth. Or, you could opt for an ageless yet stylish faux leather jacket to elevate your look for a smart-casual occasion.
What type of knit should you go for? Neutrals such as white, beige, black, navy or grey are versatile and give off a luxe feel. Amplify this with oversized sunglasses, a crisp designer-inspired bag, demure hoop earrings and a layered necklace.
Product details:
4. Smart-Casual Neutrals
Sometimes there's nothing more chic than a transitional outfit with a simple black and brown colour palette. How do you keep it from looking boring? Mix textures, fits and lengths.
I love a good black roll neck jumper tucked into high-waisted faux leather shorts with chunky black Chelsea boots and an oversized brown maxi cardigan. Add tights for warmth but don't miss the opportunity to implement a playful spin with patterned tights like polka dots or checks.
Polish everything off with a designer-inspired bag, statement gold earrings and a coordinating hair claw clip for an effortlessly cool look.
Product details:
5. Preppy Transitional Style
Your transitional looks don't have to be boring. Play around with current trends, like the preppy aesthetic, to create something distinctive and fun for drinks with the girls or date night.
For example, pleated mini skirts made an impact on the style scene this Autumn/Winter and aren't going anywhere for Spring/Summer. They're giving sixties vibes, especially when teamed with knee-high or over-the-knee boots and a high-neck long-sleeved top.
Add an oversized slogan sweatshirt and a sharp blazer as extra layers to protect you from the morning or evening chill. Then finish off the outfit like a fashion pro with an expensive-looking backpack and textured hoop earrings.
Product details:
6. Dopamine-Filled and Fabulous
Dopamine dressing has been all the rage the past couple of seasons and can be brought into the next season through bright, refreshing hues that pop against a clear blue sky.
For example, this baby blue button-up cardigan looks darling paired with off-white straight-leg jeans and grey Converse for every day. Add a quilted white bag with silver hardware and coordinating silver hoop earrings for a casual yet polished look.
If the temperatures are cold, wear a tee underneath your cardi and a thick shacket on top and then de-layer if it warms up later in the day. Shackets are a great transitional piece and can even be worn just with a tee when the warmer weather arrives. Bonus style points if you opt for a check pattern that is just as bold as it is pretty.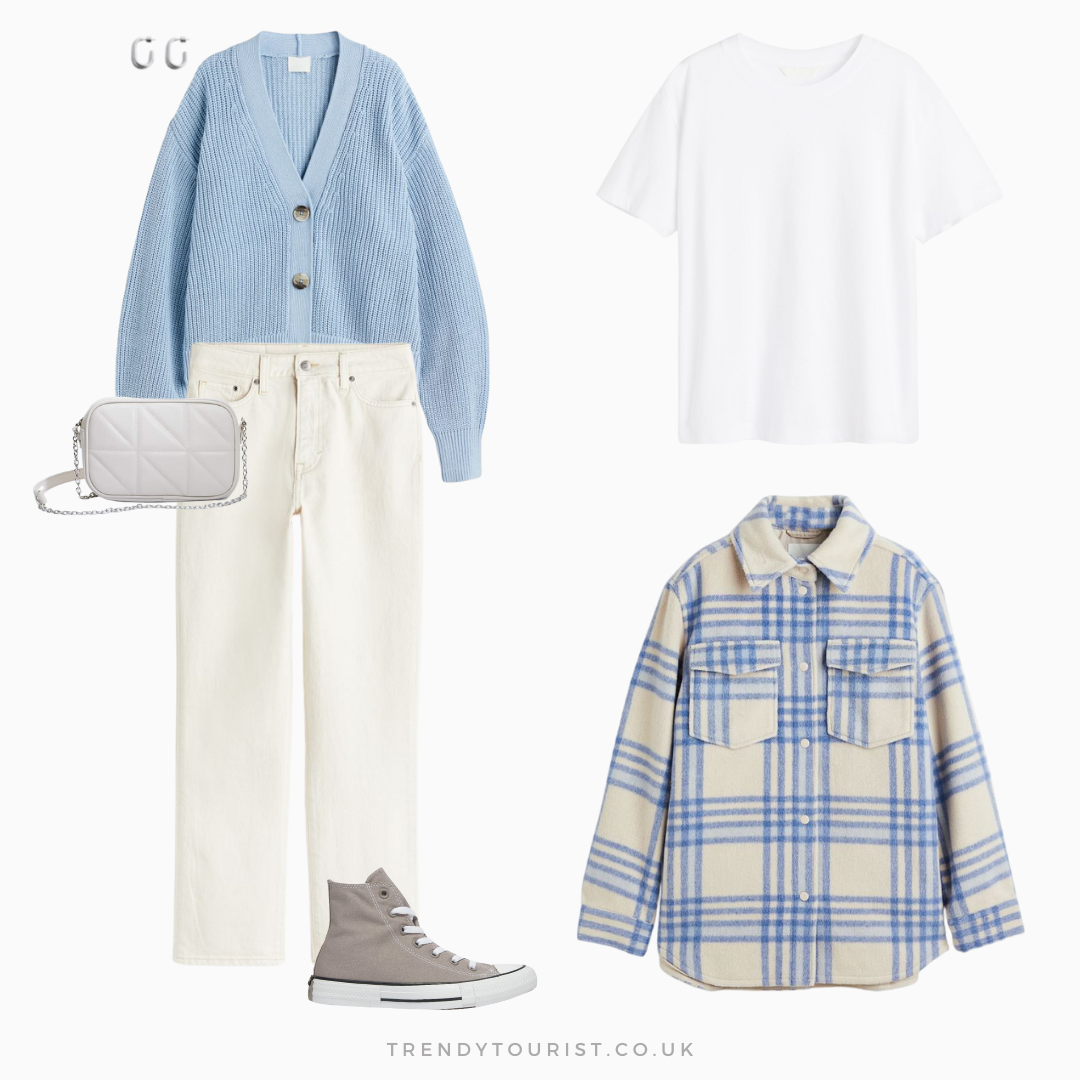 Product details:
7. Boss-Babe Transitional Vibes
Finally, curating transitional outfits for the office, business meetings or bottomless brunch is simpler than you think. You just need an oversized blazer and white button-up shirt, two timeless wardrobe staples, and a sleeveless jumper (preferably in a neutral hue).
That's your top half sorted, but what about your bottom? Well, faux leather leggings or trousers are a key piece for Autumn/Winter and can efficiently be taken through to spring when teamed with other appropriate separates.
Add chunky brogues and a designer-inspired tote bag to show that you mean business. Layered necklaces and earrings will elevate the aesthetic for easy elegance.
Product details:
Pin this article and share with friends:
Final Thoughts on Transitional Outfits
When transitioning between seasons, the weather can be unpredictable thanks to chilly mornings, warm afternoons and cool evenings all in the same day. Layering enables you to add or remove clothing as needed to stay comfortable throughout the day, and it's a way to get creative with outfit-building.
Layering is also practical because it allows you to make the most of your wardrobe by using pieces in different combinations. By mixing and matching various items, you can create new outfits without having to buy new clothes, saving you time and money.
Which is your favourite out of these transitional outfits? Lmk!