Let's be honest, you've probably already heard of a capsule wardrobe. The term has done the rounds on social media recently, with fashion industry insiders advocating how a capsule wardrobe can revolutionise the way you get ready for work, school or social occasions.
(Spoiler alert: they're right.)
But, what actually is a capsule wardrobe? What are the benefits of having one? And what are the 33 pieces you should include to get the most out of your wardrobe?
Not to worry, ladies — I'm about to break it down for you in this tell-all guide. Here's how to build a capsule wardrobe at any time of year for any season.
What is a Capsule Wardrobe?
First things first, the idea of a capsule wardrobe originated from London boutique owner Susie Faux in the 1970s. She encouraged women to refocus their wardrobes and pick a minimal number of pieces to wear during a certain time period to get maximum use out of them.
That's why the average capsule wardrobe has between 25 and 50 pieces, which consists of clothing, shoes and big accessories like belts and purses.
Small accessories like jewellery and headbands don't count towards this number. Underwear, loungewear and activewear don't count either. However, swimwear, outerwear, and any items that make up your everyday clothing do.
You may have also heard of Project 33, which is a specific type of capsule wardrobe. 
Project 33 is where you wear 33 items for 3 months. The concept derived from minimalist expert and author of Soulful Simplicity Courtney Carver. Essentially, this is a new approach to living simply—starting with your wardrobe.
What Are the Benefits of a Capsule Wardrobe?
The truth is, there are more advantages to building a capsule wardrobe, from making it easier to dress to levelling up your style game.
Let's explore them together now.
1. It Saves You Time
Putting together a capsule wardrobe ahead of time means you've already done all the hard thinking when it comes to building outfits. You already know what goes together because you'll have a record of it in your phone notes, on a piece of paper or in your camera roll.
In this sense, capsule wardrobes save you time when you're getting ready for the day because you can quickly grab what you need for the outfit you want to wear, put it on and go without needing to do any extra brain work.
Sounds good, right?
2. It Saves You Stress
Speaking of brain work, did you know that the average adult has to make over 35,000 decisions every day? Phew, I know. It's making me tired just thinking about it.
Curating a capsule wardrobe in advance means you'll have one less decision to make when it comes to getting dressed every day (because you'll have already made it earlier). Thank me later.
3. It Saves You Money
Additionally, a capsule wardrobe is a lot cheaper than having a normal closet. I mean, there are fewer items involved, so you can identify what your wardrobe really needs when you go shopping as opposed to over-buying and overspending.
4. It's Environmentally Friendly
If you create a capsule wardrobe, you're choosing to own and consume less. This makes your closet more sustainable and reduces harmful effects on the environment. Win-win.
5. It Saves Space
Lastly, the smaller the number of items you own, the more space you will have in your home.
Think about it. This means you can see everything in your wardrobe more clearly, so you can remember the items you have and get more wear out of each and every one.
Sold on the idea of the capsule wardrobe? I don't blame you—I was too as soon as I heard about it!
[This blog post is a transcript from the above video for Feminine Ways YouTube channel.]
How to Create a 33-Piece Capsule Wardrobe
I know what you're thinking. "I'll never get my wardrobe down to 33 pieces!"
Well, actually, you don't have to. You can have your 33-piece capsule wardrobe on rotation every 3 months, swapping items in and out based on the weather, your social plans and what you're vibing with at that time.
That being said, to get the most wear out of your 33 pieces, it helps to prioritise wardrobe staples.
What Are Wardrobe Staples?
Simply put, wardrobe staples are those fashion items that are considered "timeless classics." In other words, you can wear them season after season and they will never go out of style, giving you a better return on investment.
Wardrobe staples are usually made up of clean shapes and neutral colours, such as black, white, grey, navy and beige, and can instantly elevate a look when worn together. You could even buy wardrobe staples from the high street and they will still look high-end if they're teamed with the right pieces.
Because they're versatile and can be mixed and matched with practically anything, filling your 33-piece capsule wardrobe with closet staples means you will get the optimal number of outfits.
The more outfits you have at your disposal, the more varied your capsule wardrobe will be, which will make you more excited to wear each and every look.
Pieces to Include in a 33-Piece Capsule Wardrobe
Most fashionistas create four 33-piece capsule wardrobes per year — that's one per season with each season consisting of three months.
For argument's sake, let's say that you're building this capsule wardrobe during spring or autumn when the temperatures are mild and not too hot or cold. You only need a light jacket to be comfortable outdoors or sometimes not a jacket at all.
In this case, here's what I'd have in my 33-piece capsule wardrobe.
Clothing
Let's start with tops, bottoms, one-pieces and cover-ups.
1. Blue Jeans
First off, you can't go wrong with a good pair of high-waisted jeans that hug your curves and draw you in at the waist to create a gorgeous hourglass figure. 
It's up to you whether you want to go for a skinny, slim fit or mom-style cut, but either way, you'll still look fabulous.
2. Black Leggings
This wardrobe staple is ideal as it can be dressed up or down depending on the occasion.
3. Dark Jeans
Black or dark grey jeans that can serve as your dressy pair are also a good wardrobe staple to include.
4. A Midi Skirt
This is ideal for those warmer days when you want to let your legs breathe, and can be worn for work or play.
5. Tailored Trousers
You need these for a day in the office or business meetings.
6. An Oversized Tee
This can be tucked into the jeans, leggings or midi skirt, or thrown on over leggings for casual wear.
7. A White Button-Up Shirt
This is a wardrobe staple that can be teamed with the tailored trousers to channel boss-babe vibes or with jeans for a smart-casual look.
8. A Satin Button-Up Shirt
Satin button-ups are about to be promoted to "wardrobe staple" status, especially if they're neutral. However, they can add a pop of colourful fun to your wardrobe if you opt for a bright hue or vivid pattern.
9. A Black Vest Top
This will be handy for those warmer days when you just want to throw this on with jeans and you're good to go. The white button-up shirt can then serve as a stylish layer.
10. A Beige Sweatshirt
Let's face it, it may be a little chilly one morning and you need a thicker cover-up. In this case, step forward, the beige sweatshirt, which you can layer over another top for more warmth.
11. A Patterned Blouse
This cute top can be worn with dark jeans or tailored trousers for the office, date nights and/or other smart-casual occasions.
Shopping links:
12. A Maxi Dress
For those warmer days, a loose-fitting, swishy maxi or midi dress is perfect and can be paired with a cover-up if needed.
13. A Mini Dress
Likewise, a mini dress is fashionably functional for the sunshine, whether it's short-sleeved, long-sleeved or sleeveless.
14. A Tailored Dress
You also need a dress for office days or those team Zoom meetings with your boss's boss. You could even wear a tailored dress for evening drinks in the city if the occasion calls for it.
15. A Denim Jacket
A denim jacket is a capsule wardrobe and general closet essential, particularly if it's mid-blue in hue.
16. A Black Blazer
Similarly, a black blazer can be combined with jeans and a tee in the daytime for effortless cool, or put on over your tailored dress for on-duty chic.
17. A Faux Leather Jacket
Faux leather jackets never go out of style, especially in black. They can add a touch of luxe to even the most casual outfits.
18. A Beige Trench Coat
A beige trench coat is a wardrobe staple in the warmer months due to its lightweight and waterproof nature. Opt for a longer length for those brisker mornings or evenings.
19. An Oversized Hoody
Whether this is a zip-up or pullover style, an oversized hoody is handy for those days when you're just nipping to the supermarket or running errands and need something comfy to throw on pronto. Know what I mean?
20. A Swimsuit
Given that this is a spring or autumn capsule wardrobe, you may need a sophisticated swimsuit for beach days or some time at the spa, right?
Keep in mind that black is the most flattering option but playful prints are also to be celebrated when the weather is balmy.
Shopping links: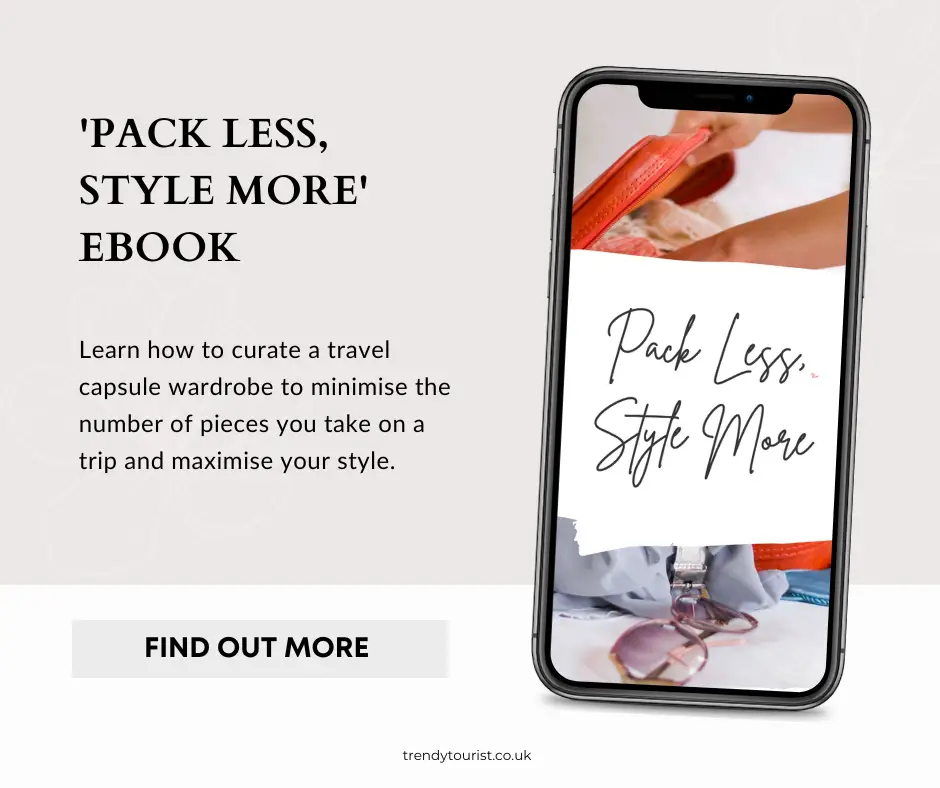 Footwear
I'd recommend just a few pairs of shoes to mix and match with the aforementioned clothing pieces.
21. A Pair of Flats
Flats are core footwear for work or shopping days when you need to prioritise comfort.
22. A Pair of Heels
Whether these are in sandal or court-shoe form, you always need a cute pair of heels at any time of year for business or smart-casual occasions.
23. A Pair of Sandals
Casual sandals just make sense as they will allow your feet to breathe in hot temperatures — my general rule here to stay fashionable is the strappier, the better!
24. A Pair of Walking Shoes
After all, there are going to be days where you're on your feet all day exploring, hiking or shopping, and you need some form of walking shoe (even if it's just trainers) to prevent blisters or foot ache.
Shopping links:
Accessories
In terms of accessories, it's really up to you what you implement into your capsule wardrobe depending on what you own. 
Here are my 6 inclusions for some inspo:
25. An everyday pair of sunglasses
26. A fancy pair of sunglasses
27. A day bag
28. A night bag
29. A shopping tote
30. A sports cap
31. A fedora hat
32. A black waist belt
33. A tan waist belt
Remember jewellery and small accessories don't count towards your total (so technically you can include as many as you want!).
Pin this article for later:
Final Thoughts on How to Build a Capsule Wardrobe
Learning how to build a capsule wardrobe can simplify the getting ready process, save you resources and help you to look effortlessly chic for all your endeavours. And when you look good, you feel confident, guaranteeing you compliments wherever you go!
Use these 33 pieces that are just as pretty as they are practical to produce multiple outfits that you can mix and match for any occasion.
It's worth mentioning that this capsule wardrobe works for me, but you may want to adapt it according to your colour and style preferences, lifestyle and what's already in your wardrobe.
Here's to the capsule wardrobe life! Once you've tried it, I can guarantee you're going to never want to go back.
If you need more help putting together your capsule wardrobe, check out my virtual styling services.