The leather jacket is considered a staple in the fashion world, whether it's in vegan, faux or real form. Its origins actually trace back to the early 1900s, when it was first introduced during the First World War as military wear.
In World War II, the leather jacket gained momentum on the backs of fighter pilots, which is why it soon became known as "the bomber." It filtered down into mainstream fashion in 1928 thanks to designer Irvin Schott, who began selling the modern motorcycle version to the masses.
Nowadays, the leather jacket is a key piece in any woman's wardrobe, which is why it's a great choice for a travel capsule wardrobe. Regardless of colour, it has the ability to dress up an outfit and make it look effortlessly cool for any occasion.
Different Types of Leather Jackets
There are so many types of leather jackets popular on the market, from bombers to aviators and blazers to trench coats.
Having said that, you just can't beat the versatility of a black leather biker jacket. Male celebrities of the fifties and sixties made this style iconic, such as James Dean in Rebel Without a Cause and The Beatles, before it was pioneered in womenswear in the seventies and eighties. It was rock musicians like Blondie and Joan Jett that made the leather jacket so famous for females.
Currently, there are some brands that specialise in leather jackets and have honed their craft in producing luxury garments at an accessible price point. The Jacket Maker is one of them, offering endless options when it comes to leather jackets for women.
For the purpose of this article, I'm going to focus on the black leather biker jacket and how you can style it in a myriad of ways so you can truly get your wear out of it.
Leather Jacket Outfit Ideas For Every Day
Although the leather biker jacket is known to be more fitting for a smart-casual outfit, it can be thrown on for running errands or popping to the supermarket. Leather is quite an insulating fabric ideal for brisk weather, which is why many people like to use it as a stylish cover-up all year round.
1. With Activewear
Firstly, if you're meeting a friend for coffee after the gym, a leather biker jacket can be perfect for polishing off your look. It would be especially cute with a matching set, but you don't have to coordinate your separates to achieve the same effect. Add a cap and trainers for a sports-luxe feel.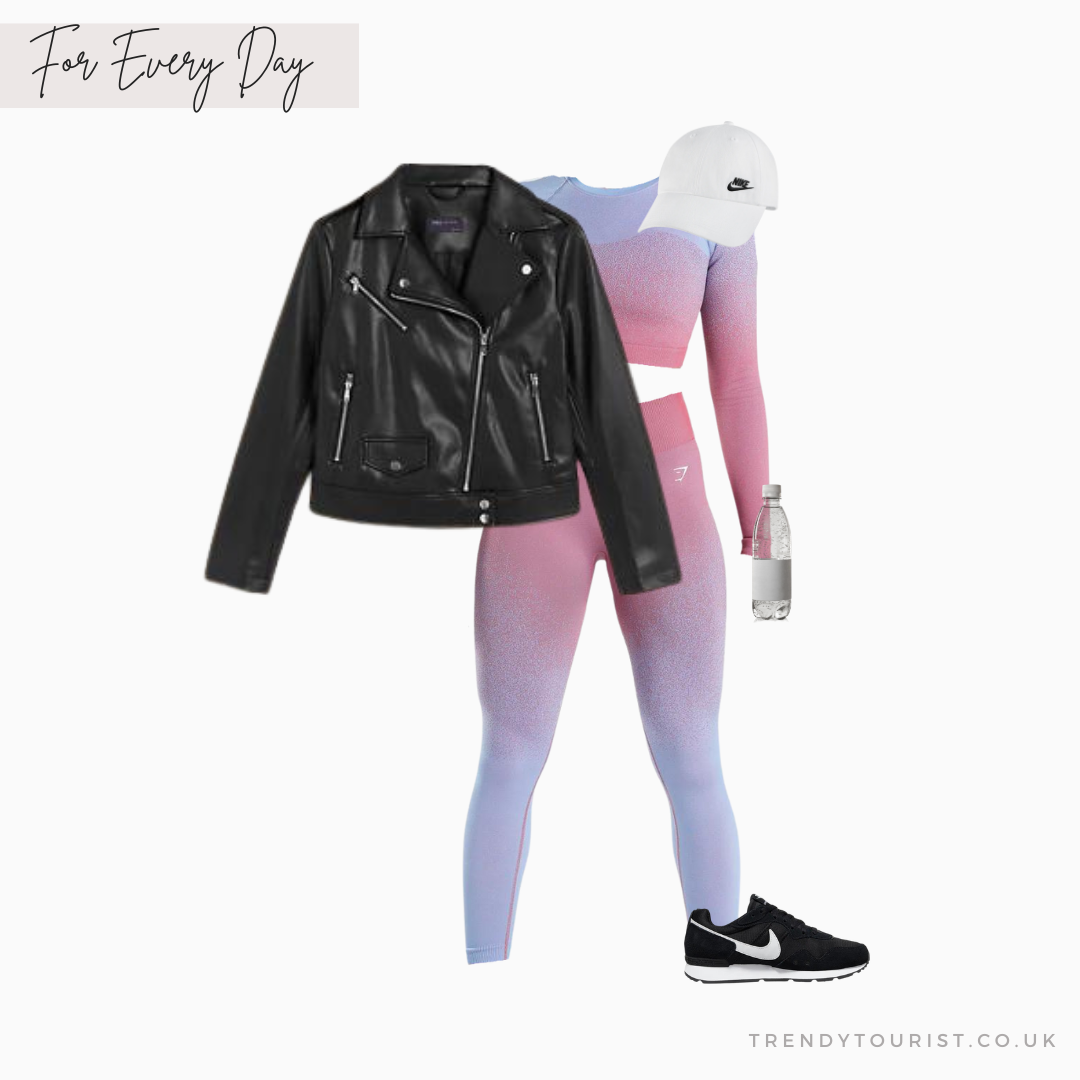 Product details:
2. With Loungewear
Need to nip to the post office but can't be bothered to get out of your loungewear? I totally get it. In this case, you can just throw on your leather biker jacket over a sweat-set or an oversized tee and leggings. Sports sliders and the soft headband you were already wearing can complete the aesthetic.
Product details:
3. With Bike Shorts
Bike shorts are having a moment on the style-sphere and show no signs of going anywhere due to the unparalleled comfort they offer.
Looking for easy-to-put-together leather jacket outfits? Team your bike shorts with an oversized tee for spring/summer or an oversized sweatshirt for autumn/winter, chunky trainers and an over-the-body bag for street-style chic.
Product details:
Casual Leather Jacket Outfits 
A leather biker jacket can be worn casually if you want to put a classy edge on your appearance. It can toughen up feminine shapes and silhouettes, while adding extra sass to denim-heavy outfits.
4. With Jeans
One of my favourite leather jacket outfits if you're heading out for a meal with loved ones or a day of shopping is the humble tee-and-jeans pairing. Stick to slim fits so that when you add the leather jacket it creates a defined silhouette that flatters every part of your body. Jeans-wise, rips at the knees and/or a high waist can amp up the femininity factor for extra sultriness.
Slip on a pair of sandals or boots depending on the season and grab a large tote for a pretty yet practical ensemble.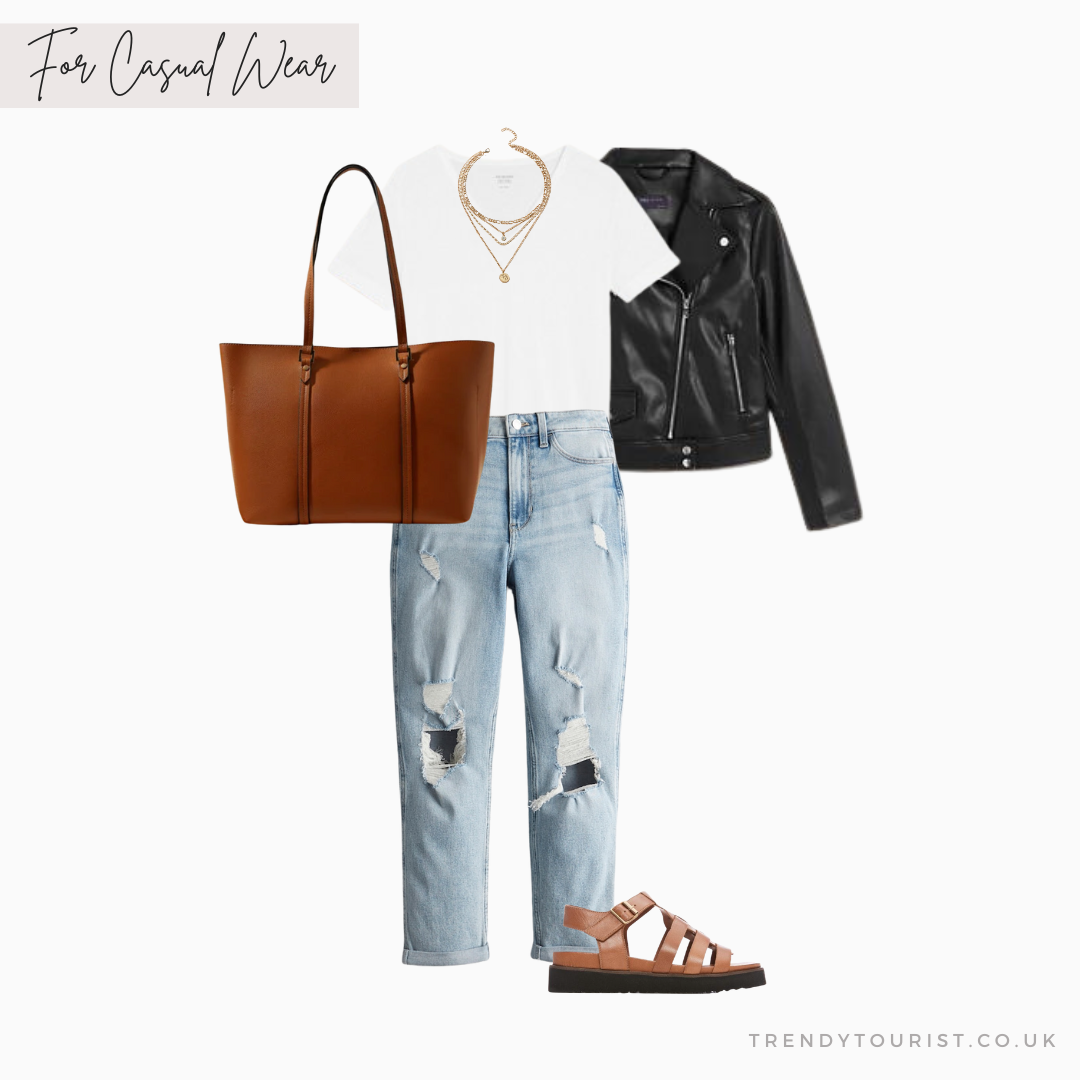 Product details:
5. With Denim Shorts
Just like jeans, denim shorts look fabulous with a leather biker jacket. Leather and denim honestly is a classic combo! I like to team a high-waisted mom style with a cami or crop top and a fedora or bowler hat for spring/summer.
You'd be forgiven for thinking that you can only wear this outfit in warmer weather though. Just add tights underneath your shorts and a button-up plaid shirt over your cami to combat those autumn temperatures.
Product details:
6. With a Long Dress
For those balmy transitional days, a leather biker jacket looks super trendy over a casual midi or maxi dress. Add chunky sandals or even combat boots and a waist belt (if the dress doesn't already nip you in at the waist) for a flirty, feminine aesthetic that's full of attitude.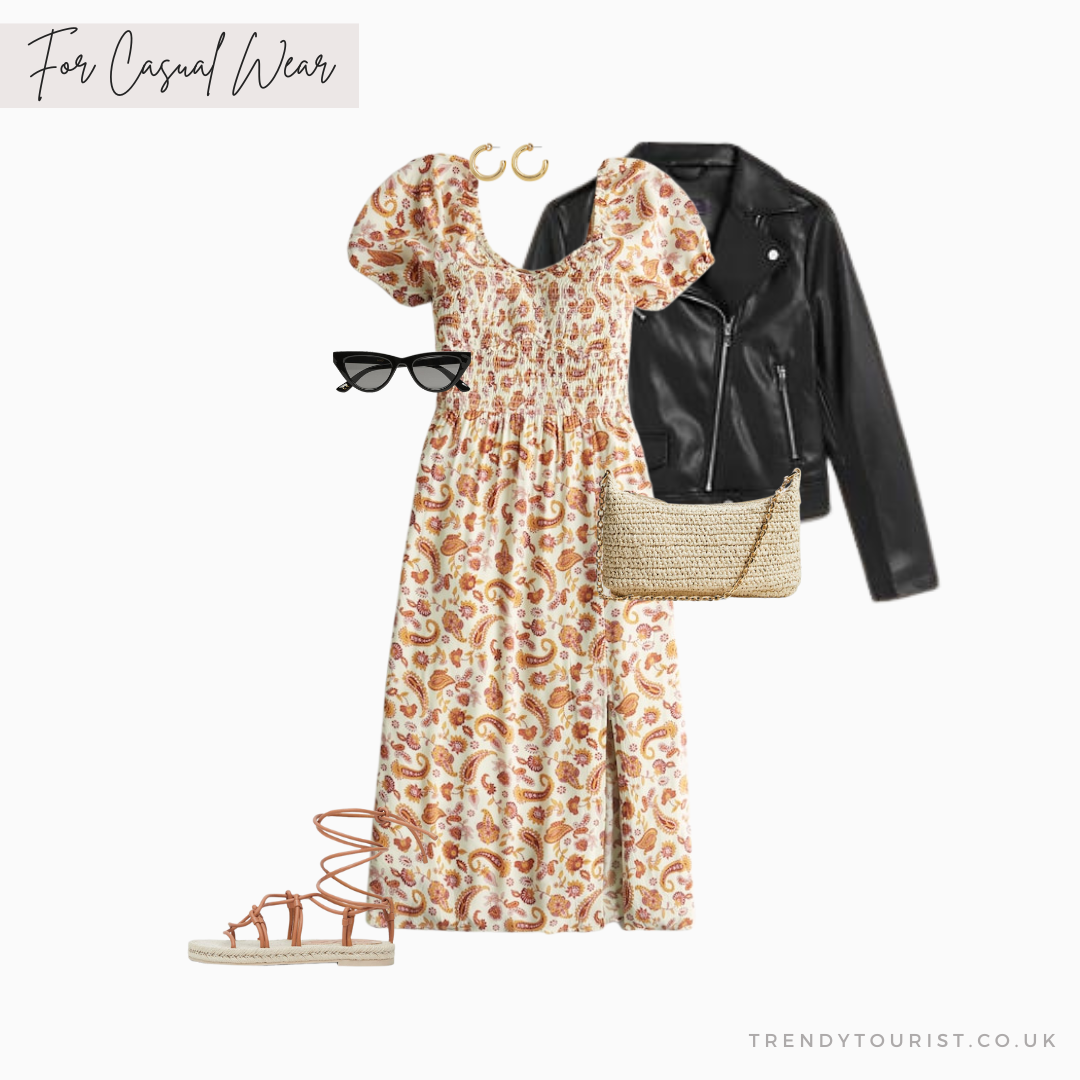 Product details:
7. With a Mini Skirt
One of my favourite leather jacket outfits involves the mini skirt, which is coming in hot for Autumn/Winter 2022. In fact, it needs no introduction as the standout piece of the sixties.
Combine yours with a long-sleeved top or jumper (depending on the temperature) and knee-high boots for a preppy-punk fusion that would make the likes of Cher from Clueless jealous.
Product details:
What to Wear With a Leather Jacket for Smart-Casual
The most favoured way to wear a leather biker jacket is for a smart-casual occasion. After all, it's a sharper piece within itself. Whether you rock it with a skirt, shorts or trousers, you're sure to look like one heck of a baddie.
8. With a Midi Skirt
I love a leather biker jacket for making a midi skirt look edgy, especially if it's of the silk-satin variety. There's just something about this mismatch of textures that adds depth and interest to the look.
Team this duo with a plain tee or cami, heeled sandals and statement earrings for a head-turning ensemble.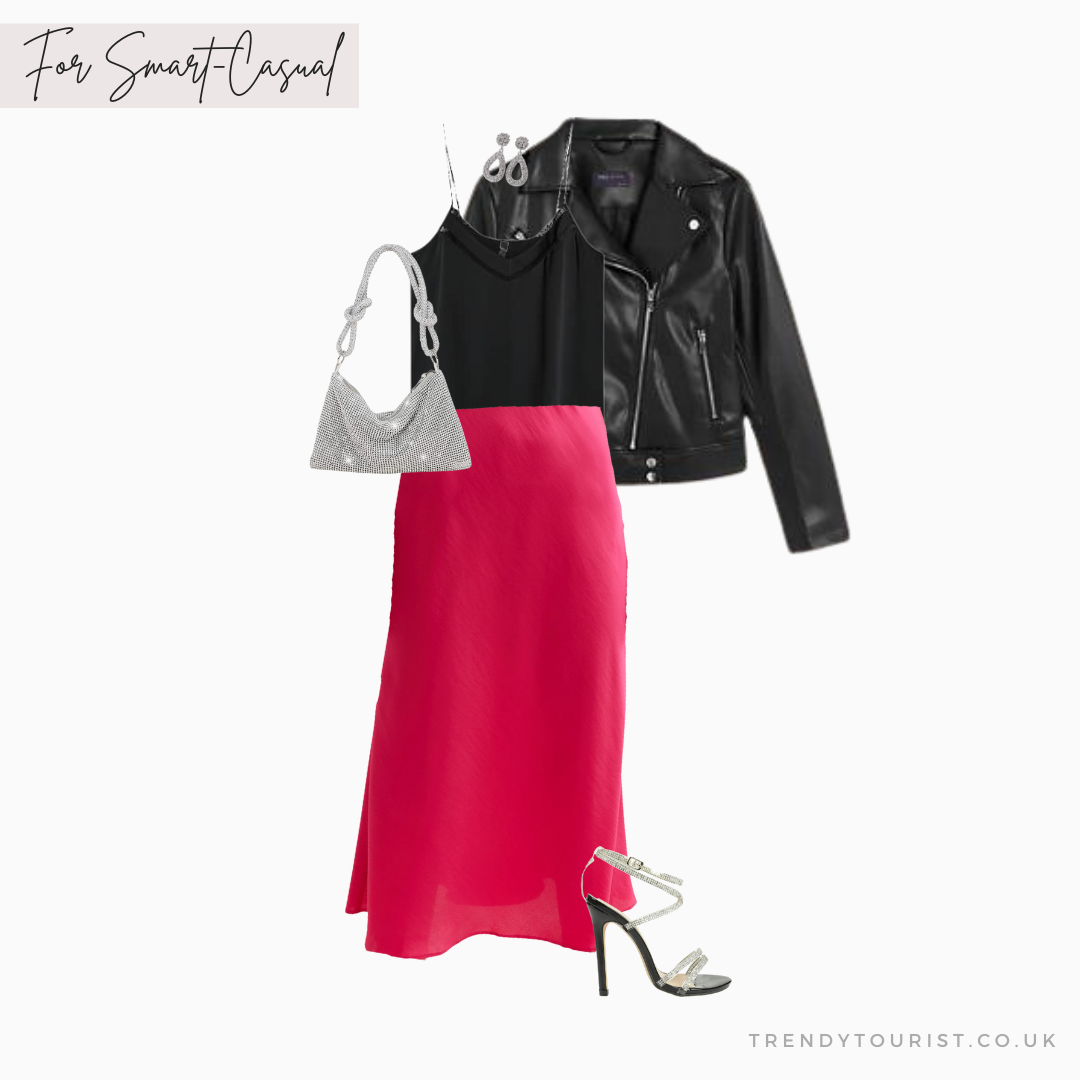 Product details:
9. With a Fitted Dress
Flaunt your beautiful figure with a fitted dress and then add a leather biker jacket to dress it down slightly and make the look fiercer. The silk-satin slip midi dress would work just as well as a bodycon mini. 
Finish off this outfit with finesse using heeled boots or sandals and a quilted shoulder bag. I'm obsessed.
Product details:
10. With Tailored Trousers
Lastly, you can elevate a leather biker jacket for your next work meeting or colleague catch-up by combining it with tailored trousers, a button-up shirt and loafers. Alternatively, you could swap the shirt for a long-sleeve top or blouse and heeled court shoes for drinks with the girls or date night.
Either way, you will look elegant without losing personality. Remember, rocking a leather biker jacket is all about being bold and brazen!
Product details:
Final Thoughts on Leather Jacket Outfits
The leather jacket is always going to be an ageless icon that is integral to the fashion community. The best thing about a biker version is that it can be worn for a number of different occasions.
You can use the leather biker jacket in your next capsule wardrobe or even take it with you on your next trip for day-to-night dressing. Regardless of how you prefer to wear it, the leather jacket is an investment that will keep paying off for seasons to come.
Pin this article and share with friends: