Hands up if you've ever bought something new from a fast-fashion retailer, only to have it fall apart after one wear? Because, same.
Fast fashion is great for your budget, but not so great for longevity. It feels like you're getting a bargain until the fabric stretches, rips or bobbles after a couple of washes. Then you end up having to replace the item, spending more than you would have if you had opted for a higher-quality piece. Humph.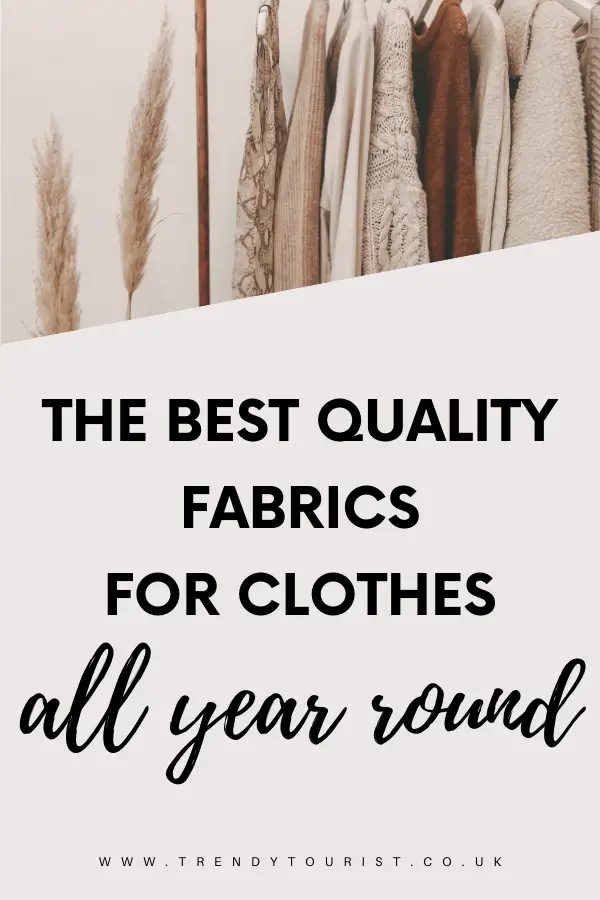 Why High-Quality Clothing is Important
If you think of your style as an investment, choosing the best quality fabrics for clothes suddenly becomes more important. Being mindful about your fabric choices means that your outfits wear better and last longer. It's a case of quality over quantity, rather than buying ten different outfits but none of them stick around for more than a few months.
Let's take a look at a few other reasons why you may want to prioritise high-quality clothing.
It's More Ethical: The sad reality is that many fast fashion brands are so cheap because their manufacturers and staff are paid very little in poor working conditions.
It's More Sustainable: Fast fashion is harmful for the environment, producing over $500 billion of waste every year. By buying less — and buying the best quality fabric for clothes that you can afford — you're actually benefitting the environment and world around you.
Clothes Usually Hang Better and Fit Better: Ever wondered why fast fashion tends to be clingy, stretchy and see-through? This is because it's cheaper to make clothes out of these types of fabric. You'll feel a big difference when you try on some clothing with improved quality.
It's Beneficial For Your Budget (in the Long Term): I bet if you add up what you spend on fast fashion versus some key investment pieces, you'd be surprised at how close the cost is. Especially when you think about the fact you can wear your clothes for years without the quality being compromised.
It's Easier to Build a Capsule Wardrobe: As much as we all love fashion, it can sometimes feel overwhelming. Having "quality over quantity" as your mantra means that it's more straightforward to build outfits as fewer pieces and decisions are involved.
The Best Quality Fabrics for Clothes in Hot Weather
Heading somewhere hot? Wearing the right fabrics in warm temperatures helps you to stay cool and feel comfortable.
Textile Designer and Educator Kavita Kumari says "hot weather requires natural fibre fabrics" that can help keep sweating and things like heat rashes at bay. "Cotton is my number one choice as it can be worn all year round."
If you're hitting the beach, read this guide for what to wear to the beach in warm weather. However, for everywhere else, here are some of the best quality fabrics for clothes when it's rather toasty outside.
Cotton
Full disclosure: we're talking about 100% cotton here over a cheaper cotton-polyester blend that can start feeling sweaty when the weather's warmer.
Cotton is a natural fabric that's cool, lightweight and breathable. It travels extremely well and is easy to care for without losing its shape easily.
Most clothing items come in cotton so you'll probably find something made from cotton in your wardrobe. (Big bonus points if you choose to buy sustainable cotton that doesn't contain toxic chemicals and has been made more ethically!)
Denim
Denim is a sturdy cotton-weave fabric that was originally designed as workwear due to its increased durability compared to other fabrics. If you want to build a wardrobe that lasts, high-quality denim should be one of your travel fashion staples as well as an everyday essential.
Whether you're looking for shorts, jeans, a shirt or dress, denim is a timeless fabric that is available all year round. It can be dressed up or down for any occasion.
Linen
Linen is lightweight, floaty and perfect for keeping you cool in those rising summer temperatures. Just like cotton, it's made from natural fibres and is great for letting the air in. Retail Copywriting Specialist Aimée Lopez adds: "Linen also repels insects and is more durable than cotton."
Worried about wrinkling? Aimée recommends choosing "a blended fabric like linen with cotton" as linen does have a tendency to crumple. On the flip side, it's not as heavy as other fabrics so it's effortless to pack, meaning you'll have more room in your suitcase or travel bag for other items. (Result!)
Linen is also super on-trend for Spring/Summer 2022 and can add a touch of class to any warm-weather ensemble.
Silk
Silk is lightweight, comfy to wear and can look seriously glam (or be styled down pretty easily too). I'm currently loving those silky-satin midi skirts and cowl-neck dresses doing the rounds on the street style scene.
In addition to being weightless, silk adjusts to your body temperature well. Although, it's worth remembering that it isn't as absorbent as some other fabrics and can stain easily. If you sweat a lot in summer or the weather's extra humid, swap it for cotton or linen instead. 
Another thing to note about silk is that it usually needs to be dry cleaned, which is why it may be best to save it for fancier occasions rather than everyday wear.
Other Lower-Quality Fabrics
There are some other fabrics that work for summer but aren't as high in quality as the previous suggestions. Aimée says "viscose, modal and lyocell are very wearable during the warmer months" given that "the fibres are highly breathable."
"There is also a lot of development around what we call 'technical fabrics' for more sports-related activities — like polyester ripstop — which is water-resistant and breathable. It's great for festival gear."
This may be worth keeping in mind if you have a summer festival in the diary!
The Best Quality Fabrics for Clothes in Cold Weather
When the weather's cold, wearing the right fabrics is a must for staying warm and preserving your body temperature. It prevents serious issues like hyperthermia and even frostbite in more extreme temperatures.
Aimée advises to go with "fabrics with a bit more structure to them" but stick with "natural fibres" as much as possible, such as silk, wool, cashmere, mohair, leather, and fleece. "Cotton corduroy and velvet are also fantastic for cold weather."
Fleece
Due to its thicker fibres and fluffy pile surface on each side, fleece is soft and warm. Air pockets can sit between the threads, which makes this fabric capture warmth more easily and work wonderfully as an insulating layer.
Kavita claims: "Fleece has become more common as a top layer to allow your body to breathe but also keep you toasty." Although it's man-made, it's moisture-resistant and therefore a great option if you're spending some time in nature or travelling during the winter months.
Wool
Wool is a natural fabric that's made from sheep or goats. It's been used for thousands of years and has different qualities depending on the type of sheep or goat that the wool comes from.
Merino wool — which unsurprisingly comes from Merino sheep — is breathable while being soft and warm as it's a little thinner than most wools. It also doesn't let odours cling to it like some other types of wool do.
Aimée suggests opting for "blends like wool and cotton to lessen that scratchy feeling that comes with wool. Note that the higher the percentage of a fibre in a fabric, the more dominant its characteristics will be in the fabric." An example of this would be 55% wool blended with 45% cotton.
Speaking of comfort, the trick is to layer cold-weather fabrics in winter for extra warmth. Kavita explains: "Cotton base layers are always great, so one of the most popular pieces of a staple wardrobe is the infamous t-shirt layered with a merino wool or cotton jumper, or sweatshirt. This works well [in terms of fashion and function] even with a heavy jacket worn over it."
Aimée adds: "It's best to start off with a lightweight, breathable fabric like cotton closest to your skin and then work your way up to a bulkier fabric. Cotton and wool then silk and leather are some great layering combinations."
Leather and Faux Leather
Faux leather not only looks luxe, but it also helps to keep the cold out. It's usually a pretty thick fabric that acts as a barrier between you and the weather, trapping your body heat like insulation. 
This type of fabric tends to keep the rain out too, which is extra important in winter. It's long-lasting and comes in a ton of different styles, outfits and accessories, meaning its versatility and fashion appeal is unparalleled.
Faux Fur
While real fur has been keeping people warm for thousands of years, a lot of us can't get on board with it nowadays. Luckily, faux fur is here to save the day, providing the perfect balance between keeping warm and staying in style.
Faux fur comes in practically every colour and cut, keeps the elements out and means zero animal cruelty. A triple win.
Other Lower-Quality Fabrics
Just as there's some lower-quality fabrics that work well for summer, there are also some that work well for winter.
Kavita explains: "Polyester is a synthetic fabric that will hold the moisture in. Other fabrics that work in a similar way are nylon and elastane." That said, even though these fabrics are cheaper, they aren't as kind to your skin, wardrobe longevity or the environment.
Using the Best Quality Fabrics for Clothes to Create a Capsule Wardrobe
Overall, I recommend opting for high-quality pieces (and less of them) when it comes to building your wardrobe. This is a better choice for the environment, storage and your budget in the long run.
Doing this also allows you to create a capsule wardrobe and redefine your personal style, making getting dressed every day simpler and stress-free.