The sustainable fashion revolution has been growing significantly of late.
This is largely in part to the publication of recent statistics, such as the fact that clothing and footwear accounts for 8.1% of the world's greenhouse gas emissions, and the rise in the number of TV documentaries lifting the lid on what really happens in factories overseas. 
But we can also thank the pandemic. After all, there's nothing like a year of lockdowns to stop you from buying the things you don't necessarily need. Right?
This shift in mindset isn't set to budge in 2021. In fact, it's going to become even more cemented.
Want more details on what all this means and how you can make more sustainable fashion choices from today? We've got you covered with our sustainable fashion guide that will help you to shop smarter next year and beyond.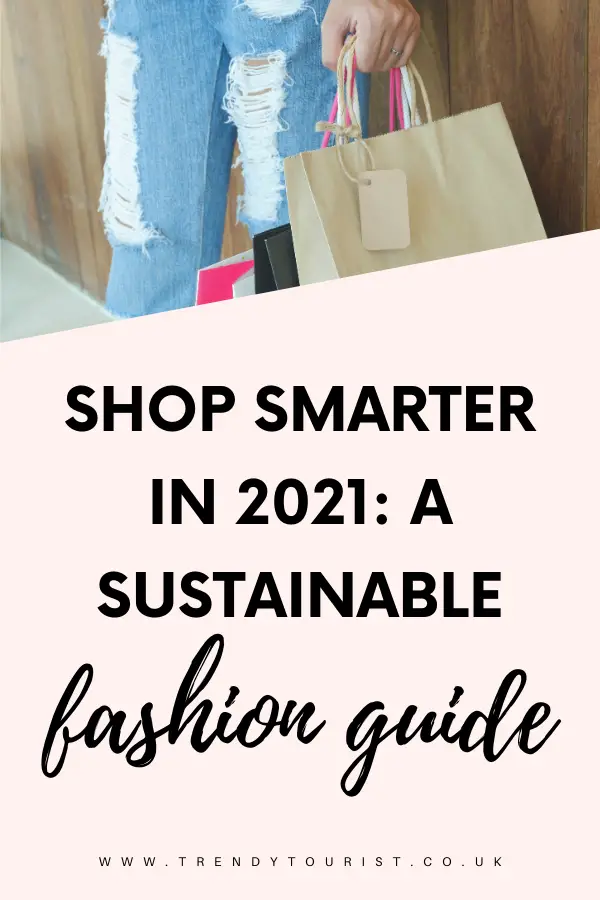 What is Sustainable Fashion?
Sustainable fashion guide 101: what exactly is sustainable fashion?
Well, simply put, it's a movement and process of initiating change to the way clothing, shoes and accessories are made, consumed and used.
For brands, this involves manufacturing fashion in a way that's the most considerate of humans and the planet and using sustainable materials
For consumers, this involves changing the way you shop and which brands you choose to shop with so that it's kinder to the planet
Essentially, by choosing to consume and own less, you can help to reduce harmful effects on the environment.
How to Be More Sustainable With Fashion
Let's take a look at how you can advocate sustainable fashion and save money without sacrificing your personal style.
1. Buy Less
The first thing you can do to make more sustainable fashion choices is buy less amounts of clothing, shoes and accessories.
We realise that this is easier said than done if you love shopping as much as we do. However, we're not saying you should stop shopping completely.
(You can stop holding your breath now…)
Instead, choose to prioritise high-quality pieces over quantity, i.e. less shopping at retailers like Primark and more shopping at retailers like Marks & Spencer.
Capeesh?
2. Adopt Intentional Buying
Try to get out of the habit of buying for the sake of buying as well. Only buy something when you really need it.
Struggling with this? Well, when you're in a store or on a store's website, ask yourself key questions like:
Do I really want the item?
Do I have something similar?
Is it worth it?
Is it just an impulse buy?
Again, we realise that this is challenging in an online world full of influencers recommending every product under the sun, but it's worth doing to protect the earth.
The fashion industry is the third most polluting industry around the globe—and we need to change this. Fast.
Creating a capsule wardrobe for every month is also a great way to re-focus your wardrobe and utilise limited pieces to ultimately get the most wear out of them.
3. Buy from Brands Who Champion Sustainability
Another approach you can take from this sustainable fashion guide is to only buy from brands with ethical and sustainable standards.
(We know what you're thinking — but no, planet-friendly fashion doesn't have to cost the earth.)
Good examples of these types of brands include H&M with their Conscious collection and ZARA with their Join Life initiative.
The problem with fast fashion is that it champions throwaway culture, causing a detrimental environmental impact.
This can then lead to extreme weather events and rising sea levels. Not cool.
4. Buy Second-Hand
Alongside consuming less, you might want to stop buying mass-produced items altogether. 
Instead, you could always opt for buying pre-loved items that are already withstanding the test of time.
Where do you find these, you ask? Well, we'll tell you:
Charity shops
Second-hand marketplaces like eBay
Online pre-loved retailers
(To name a few!)
And because fashion trends always end up coming back around, you can grab a bargain from these places while still looking stylish. Result.
5. Donate or Gift Old Items
Another way you could prolong the life cycle of a particular fashion item? Donate it to a charity shop. 
This is one of our favourite ways to give back while resting assured that my old pieces are going to get new life breathed into them. In other words, it has the feel-good factor!
You could also gift anything you no longer care for to friends or family members. You get it off your hands, they get a shiny new item to play with! Win-win.
6. Host Swapping Parties
If you don't like the idea of donating or gifting your old pieces, you could still champion sustainability and get your fashion fix by swapping them instead.
To be specific, host a swapping party with your loved ones where you ask them to bring clothes, shoes and accessories that they no longer want.
These items can then be up for grabs to everyone else who attends. Simple.
7. Sell Your Old Items
Lastly, we couldn't write a sustainable fashion guide without including our top tip for disposing of unwanted pieces. *Clears throat…*
Sell them on a second-hand marketplace, such as eBay or Depop.
It's hardly rocket science, right? That said, the benefits are endless.
By doing this, you get to:
Clear out your wardrobe
Extend the life cycle of each item
Protect the environment
Earn pocket money every month
(All in one go!) Hallelujah.
And we've personally found that you can end up making a fair monthly income from it! Therefore, it's a no-brainer.
The Sustainable Fashion Guide Takeaway
As more people become aware of the environmental issues surrounding the fashion industry, the popularity of sustainable fashion grows.
We may not be able to spark change overnight, but keep in mind that supply and demand plays a major role. Adopt new shopping habits, recycle old items and be savvier with what you buy in 2021.
After all, we all have a responsibility to look after the planet – and everything and everyone in it.
Did you learn something from this sustainable fashion guide? Do you have any other sustainable fashion tips to add?
Katie Davies is the Yorkshire-based freelance writer who founded Trendy Tourist. Since 2017, she has written for over 100 companies on a range of subjects, from fashion to marketing. When she's not producing content, you can find her shopping, exploring a new place or sitting somewhere having a cup of builder's tea.