The capital of Western Australia, Perth is the country's fourth-most populous city. It's situated where the Swan River meets the southwest coast — and it's unbelievably beautiful.
In fact, from the sandy beaches and the quaint towns in the suburbs to the huge riverside Kings Park and towering skyscrapers in the Central Business District (CBD), there's just so much to love about Perth.
I can honestly say — hand on heart — that this diverse and dynamic city is my favourite in the Land Down Under.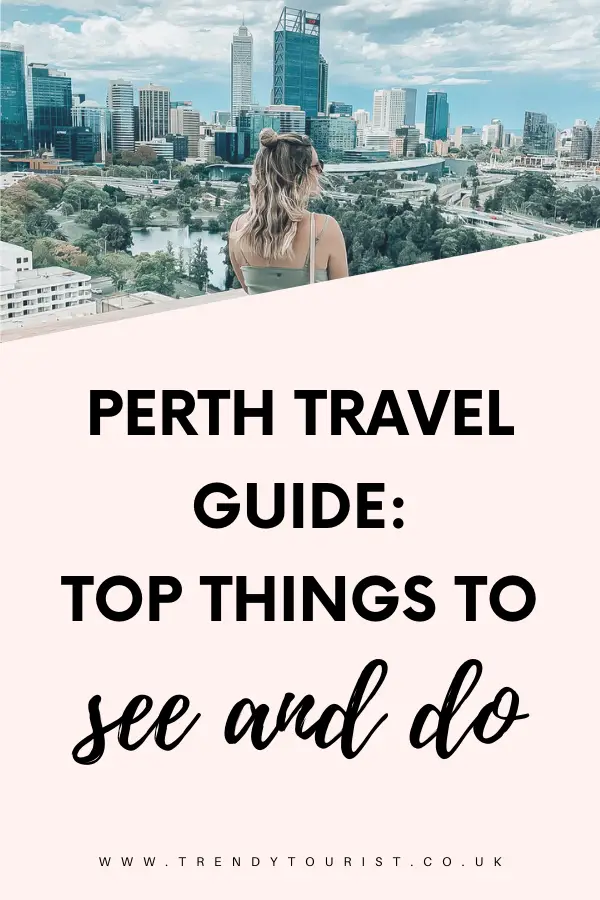 How to Get to Perth
First things first, getting to Perth from the UK is more straightforward than you think — it just takes a long time!
You can grab a connecting flight from London Heathrow or Manchester through Doha with Qatar Airways, Dubai with Emirates or Singapore with Singapore Airlines.
That said, expect the journey to take around 19+ hours. Eek.
Where to Stay in Perth
In terms of where to stay in Perth, the choices are endless. The city itself is quite spread out with lots of charming suburbs that you might want to explore.
The majority of first-timers tend to stay anywhere between East and West Perth, Highgate (North) and the harbour on the Swan River.
How come? Well, they can then take advantage of the Central Area Transit system (or simply CAT). This is a free bus service that you can hop on and off around the city and it will get you from one of these areas into the CBD in hardly any time at all.
In terms of hotels, there's a wide range to choose from including Hilton, Sheraton, Quest, Holiday Inn and The Ritz-Carlton.
However, when my fiancé and I visited in February 2020, we were on a budget so we stayed in an Airbnb in East Perth. To be honest, it was a perfect, quiet neighbourhood to call home for a week — with quick and easy access to the CBD via the yellow CAT.
(Happy days!)
How to Get Around Perth
Given that Perth is so spread out, if you're staying in a suburb outside of the CBD, it's a good idea to hire a car so that you can explore it fully.
I also recommend hiring a car to anyone who is staying near or in the CBD with limited time and wants to cover as much ground as possible.
Having said that, those near or in the CBD can make use of the CAT to get around the city centre and to explore some of the closest suburbs. The buses run really regularly too, which makes it such a major plus point!
Alongside the CAT, you can just hop in an Uber because they're reasonably priced compared to the rest of Australia and New Zealand.
What to Do and See in Perth
The truth is, there's so much to see and do in Perth that you need at least a week there to experience it in all its glory.
Here are the 5 of my personal best bits.
King's Park and Botanic Gardens
I couldn't kick off this section of my Perth travel guide without mentioning King's Park and Botanic Gardens first and foremost.
After all, this gorgeous section of greenery is located on Mount Eliza and offers sweeping views of the city.
If you want to walk around the whole thing, expect it to take hours. Otherwise, the entrance section until you reach the cafe makes for a nice stroll on a typically humid day.
CBD Shopping
To be frank, Perth has a ton of variety when it comes to shops in the CBD. 
From all your high street favourites (like Sports Girl and Target) to luxury stores (such as David Jones and Sass & Bide), there's something to suit every style and budget.
Head to the Hay Street mall and be prepared to shop until you drop (or until you run out of cash, whichever one comes first!). 
Elizabeth Quay
Another Perth travel guide top recommendation for the CBD, Elizabeth Quay on the waterfront is incredibly pretty.
A lot of tourists and locals like to take advantage of the many pubs and eateries in this area and bar-hop from one establishment to the next. Here are some suggestions:
The Lucky Shag pub, situated over the river with a lovely outdoor terrace
The Reveley rooftop bar, which is great for city and sunset views
Free boat ride on the river, which lasts for 30 minutes and offers stunning views of the city lit up at night
Put it this way, having an afternoon or evening at Elizabeth Quay is a surefire way to shake the stress the away.
Beach-Hopping
As well as bar-hopping in the CBD, you can beach-hop in the suburbs. 
Truth be told, Perth has some of the most breathtaking beaches I've ever seen. The sand is so fine and white and provides a captivating contrast juxtaposed with the clear light blue sea. 
I'm literally doing the heart-eyed emoji thinking of them!
Some must-see beaches include:
Scarborough beach
Trigg beach
Mullaloo beach
You can also drive up or down the coast to stumble across the delightful little bays and villages that Perth has to offer.
Hillary's Harbour
About a 20-25 minute drive from CBD, Hillary's Harbour is a pier that has restaurants, bars and shops in a circular formation around a small beach.
You can quite easily spend a day there — eating, drinking, shopping and soaking up the sun until your heart's content.
Oh, and make sure that you sample Dome Cafe, which I'd class as the Starbucks of Australia. (In other words, they offer tasty and delicious food, amazing coffee and pop up here, there and everywhere!)
Fremantle
Fremantle is a port city located at the mouth of the Swan River around a 25-minute drive from the CBD.
Its history and heritage buildings mean that it creates a whole other feel to Perth. If you like your landmarks, check out the 12-sided Round House, which briefly functioned as Fremantle Prison in the 1800s.
You can also check out Fremantle Market, which is a huge indoor market in the centre of the city, full of independent boutiques and stalls.
Rottnest Island
Lastly, I couldn't complete this Perth travel guide without recommending this highlight of my trip: Rottnest Island.
Sitting just offshore from the city of Perth, Rottnest Island is a protected nature reserve home to the friendly and adorable rodents known as quokkas (who always seem to pose for the camera!).
Oh, and did I mention that enchanting beaches and scenery awaits?
To get there, you'll need to get a ferry from either Elizabeth Quay in the CBD or Fremantle. Then to get around, most tourists hire a bike to cover the whole island easily in a day.
Four words: miss it, miss out.
Using This Perth Travel Guide to Maximise Your Time
There are so many reasons why Perth is one of the best places I've ever visited.
If you're thinking of going, please make sure you allow enough time to experience as much of it as you can. 
My fiancé and I both agreed that we could have easily stayed for two weeks (or even two months!). What a city.
Have you been before? Would you add anything to this Perth travel guide? Comment below!
Katie Davies is the Yorkshire-based freelance writer who founded Trendy Tourist. Since 2017, she has written for over 100 companies on a range of subjects, from fashion to marketing. When she's not producing content, you can find her shopping, exploring a new place or sitting somewhere having a cup of builder's tea.