The east coast Australia road trip is renowned worldwide for being one of the best journeys you'll ever take.
From the city lights of Brisbane to the gorgeous sandy beaches of Byron Bay, there's something for everyone to enjoy along the way.
I decided to take the trip in December 2014 as part of a three and a half month backpacking adventure. And what a trip it was!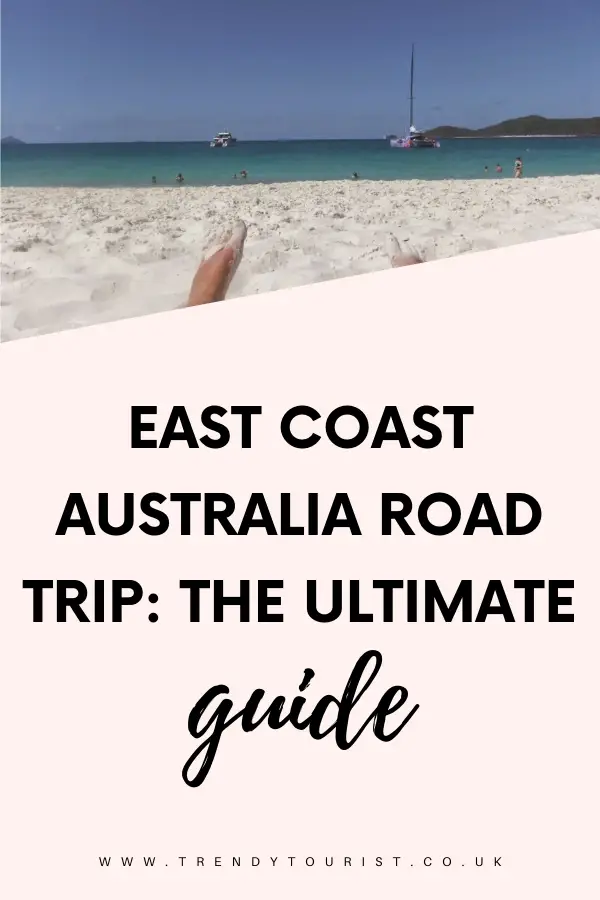 Figuring Out Where to Start
First thing's first, it's completely up to you where you decide to start the east coast Australia road trip.
In my experience, the majority of travellers start from Melbourne and work their way up to Cairns (or vice versa).
Personally, I went from Cairns to Sydney and then covered off Melbourne in a separate Australia trip (because it really is a must-see!).
How to Get to Cairns or Melbourne
Getting to Cairns or Melbourne from the UK is fairly straightforward – it just takes around a day! (Sigh.)
However, Australia is totally worth the journey. Trust me.
From any main airport in the UK (including London and Manchester), you'll need to get a connecting flight in Dubai, Doha or Singapore onto Cairns or Melbourne.
That said, did you know that Qantas is currently testing flights to go direct from London to Sydney? This means that the travel time from the UK to Australia could be significantly reduced in the future. Hurrah!
Working Out How to Get Around
Most backpackers choose to rent a campervan or motorhome so that they have the freedom to see as much as the east coast as possible. Here are some companies you can choose from:
Britz, starting at a AUD$56 per day base fee
Maui, starting at AUD$39 per day with a two-week booking base fee
Mighty, starting at AUD$45 per day with two-week booking base fee
Jucy, starting at AUD$25 per day with a minimum booking of two weeks
If you don't want to camp, the other choice is to sign up for one of the following bus passes with Greyhound that will easily take you from A to B. You can then stay in Airbnb's, hotels and hostels along the way.
One Stop Adventures, which provide packages ranging from 11-day trips to 41-day trips and starting at AUD$850 and up to AUD$3401 
PeterPans Tours, which offer 20, 26 and 33-day tours from Melbourne to Cairns with packages starting at AUD$1846

This agency provides a detailed itinerary so you know day-by-day what you're doing, in terms of the travel and free time
The 20-day package includes transport, accommodation, eight breakfasts, six lunches, four dinners and more
Alternatively, you can rent a car from the below companies.
Avis Rentals, where you can rent a full-size Toyota Camry for AUD$1146 as part of their two-week base fee
Budget Rentals, which offers a full-size Toyota Camry for AUD$1071 as part of their two-weeks base fee
Ace Rentals, where you can rent a full-size Toyota Camry for AUD$409 as part of their two-weeks base fee
Just be prepared for long periods of driving! After all, Australia is the sixth largest country in the world.
Either way, flying doesn't really make sense unless you have a lot of money to burn and don't mind doing several flights in a short space of time.
Where to Go on Your East Coast Australia Road Trip
Whether you start in Cairns or Melbourne, be sure to tick off the following places on your to-do list.
Cairns
Cairns is a cute city in the north of Queensland that's considered the gateway to the Great Barrier Reef.
If you're keen on snorkelling or scuba diving, then don't miss it! You can also see aspects of the Great Barrier Reef through a glass-bottom boat trip. That said, sometimes the views aren't very clear this way.
In addition to the Great Barrier Reef, other points of interest include a great shopping mall (Cairns Central), the pier restaurant area, a cool lagoon and the weekend indoor markets.
If you head out of the city, you can even find remote beaches and Daintree National Park.
Airlie Beach
Airlie Beach was actually one of my favourite stops on the east coast Australia road trip.
Why? Well, because of its close proximity to the Whitsundays Islands, of course. But also because the place itself is small, cute and charming.
Airlie Beach has the biggest and best lagoon that I saw on the entire trip, as well as a really pretty harbour. Furthermore, all the shops, bars and restaurants are on one strip meaning that it's an ideal place for a holiday.
The Whitsunday Islands
My companion and I did a day trip to the Whitsunday Islands and it certainly didn't disappoint!
Daydream Island
First, we visited Daydream Island where we got to see the largest outdoor living reef in Australia. The aquarium was complete with sharks, sting rays and Nemo fish, amongst other amazing sea life.
We also got to feed some fish whilst paddling in the sea and have them swarm around us, which was a pretty cool experience!
Hamilton Island
We then headed to Hamilton Island where we had a picnic for lunch. The only way to get around this island is via golf buggy. I mean, I've never seen so many of them in one place!
It's a gorgeous place with a quaint little town and beautiful harbour – and the golf buggies only add more character.
Whitsunday Island
After Hamilton we headed to Whitsunday Island to visit the famous Whitehaven beach.
It's now one of my favourite beaches due to the super soft sand which is ultra fine (like sugar!). It also never heats above 20 degrees which means you can walk on it at any time of the day without burning your feet, unlike most beaches.
It's truly stunning and lives up to all the hype. Get yourself there.
Fraser Island
Fraser Island is known as a "backpacker must-do" due to the fact that it's the world's largest sand island. Plus, several hostels put on specialised trips where you can stay on the island.
Whether you head there from Rainbow Beach or Hervey Bay, it's certainly not to be missed. Having said that, a day trip could easily suffice.
From the freshwater pools of Lake McKenzie to sand-dune bashing and the Cathedrals cliff that's famous for its coloured sands, there's plenty to do and see. Rest assured that you won't be bored.
Brisbane
A modern metropolis that's the capital of Queensland, Brisbane is a large city situated on the Brisbane River.
All the shops are in one place on Queens Street, including some super shiny malls and skyscrapers which reminded me of Singapore.
There's also an arts and culture section across the river where the Queensland Gallery of Modern Art and Queensland Museum and Science Museum are located.
This area is where the famous "Brisbane" sign is, as well as the lagoon, which is fun to explore. All in all, it's a captivating city that you should definitely put on your travel bucket list!
Lone Pine Koala Sanctuary
That said, my favourite thing that we did while we were in Brisbane is take the thirty-minute bus ride out of town to the Lone Pine Koala Sanctuary. This is a bit like a mini zoo with a focus on koalas and other Australian wildlife, such as kangaroos and dingoes.
Whilst we were there we were able to get up close and personal with the animals, from stroking koalas to feeding the kangaroos.
Anyone who knows me knows that I'm a big kid at heart and I absolutely love the zoo, so this was an amazing day for me!
Byron Bay
Following Brisbane, my travel-mate and I headed to Byron Bay, another beach town famous for surfing. It's slightly bigger than Airlie Beach and has a bit more going on.
Main Beach is beautiful but the weather wasn't great while we were there – I think we managed a couple of half days sunbathing on the sand, unfortunately!
Even so, the town is incredibly endearing with a lot of independent stores and boutiques where you can find unique bargains. It also comes alive at night thanks to its abundance of bars and restaurants.
Are you a hiker? Bonus! There's a couple of nice walks up to the lighthouse that you can do on a sunny day. And it's unbelievably stunning up there.
Other Stops on the East Coast Australia Road Trip

As I said earlier, both Melbourne and Sydney are not to be missed for different reasons.
Noosa is a popular stop for tourists with an incredible beach, but I missed this off on my trip due to lack of time.
You can also visit Gold Coast, south of Brisbane, known for its surfing, long sandy beaches and theme parks like Sea World and Wet'n'Wild.
It all depends how much time you have and which places are on the top of your priority list.
Finding a Route That Works For You
You can easily spend four weeks doing the east coast Australia road trip. However, it just depends how long you can afford to spend in the country (given that it's quite an expensive country!).
Even so, you can always make more money. But you won't always get the opportunity for an Aussie adventure. Maybe it's time that you embrace it with both hands.
Have you been on an east coast Australia road trip before? What were your highlights? Let me know in the comments!
Katie Davies is the Yorkshire-based freelance writer who founded Trendy Tourist. Since 2017, she has written for over 100 companies on a range of subjects, from fashion to marketing. When she's not producing content, you can find her shopping, exploring a new place or sitting somewhere having a cup of builder's tea.