An island city-state in the heart of Southeast Asia, Singapore is home to approximately six million people.
Once you've been there, it's easy to understand why. After all, this mesmerising metropolis is full of fun things to do and see.
Spending just five nights in the city centre will give you a good taster of everything that Singapore has to offer, while simultaneously leaving you hungry for more.
Need details? No problem. Just keep reading!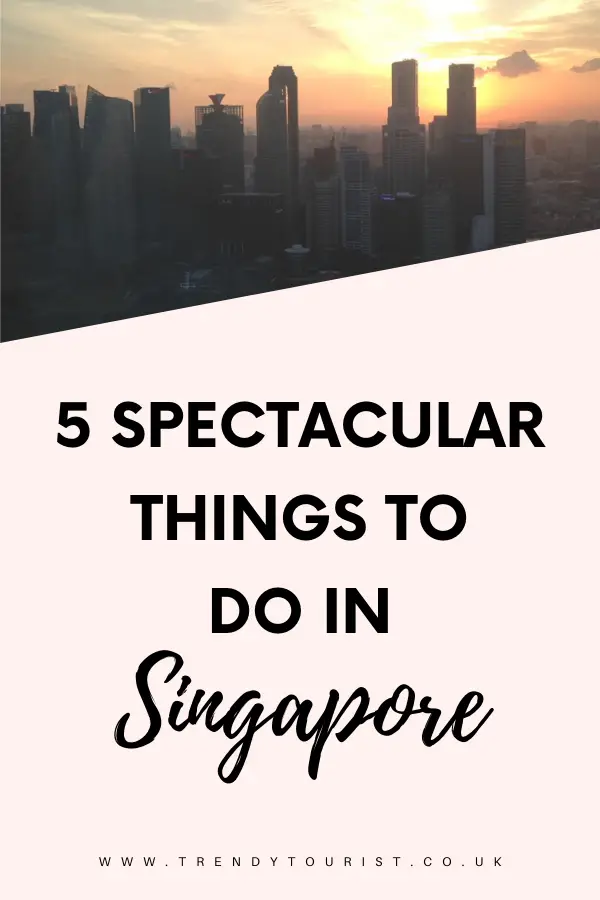 How to Get to Singapore
First things first, getting to Singapore is reasonably straightforward, even though it's 7,000 miles away from the UK!
There are direct flights available from London through Qantas, Singapore Airlines, British Airways and more. You can also fly direct from Manchester with Singapore Airlines, and it takes just 12 hours.
How to Get Around Singapore
Once you arrive in Singapore, getting around isn't a problem.
You can use the Singapore Mass Rapid Transport (MRT) System – the details of which are as follows.
An EZ Link card can be used for a one-day pass (S$10), two-day pass (S$16) or three-day pass (S$20)
Passes can be bought at certain MRT stations and the TransitLink Ticket Office
The MRT is fastest way to get around because many of the main attractions are within a short walk of train stations
Alternatively, you can ride share with Grab or Ryde.
Where to Stay in Singapore
Singapore is fairly spread out. Therefore, there are multiple options in terms of where to stay, including the following.
Orchard Road area, which is great for those who love shopping. There some cute little bars and restaurants as well.
Historic/Colonial area, which is very central to everything. Here you will find lots of beautiful architecture, museums and galleries.
Marina Bay, which is a mesmerising, modern area of Singapore. The highlights consist of the Marina Bay Sands Hotel and Gardens by the Bay.
The Quays (Clarke, Robertson and Boat), which is the nightlife centre of Singapore. It's home to many nightclubs, bars, microbreweries, shops and restaurants.
Chinatown, which is packed with pubs, bars and restaurants. It's a central location, making it quite busy and noisy into the night.
Needless to say, where you choose to stay all depends on what you plan to see and do.
Top Things to Do in Singapore
Without further ado, check out these spectacular things to do in Singapore, whether this is your first or tenth time in the city.
1. Marina Bay Sands
Things to do in Singapore 101: visit Marina Bay Sands. I've been twice now and it never gets old.
I mean, anyone who says that the hotel with what looks like a cruise ship plonked across three skyscraper towers isn't impressive is LYING.
In addition to the hotel's observation deck (which offers incredible views of the bay), you can also check out the Helix Bridge that leads up to it. There's some pretty cool photo opportunities on this bridge of both the Singapore Skyline and the hotel itself.
There's also the Marina Bay Sands Shoppes in the vicinity, which is the hotel's very own shopping mall. It has water running through it (!), a fabulous fountain feature and an abundance of designer and high street stores alike.
What's not to love?
2. Palawan Beach
One of the most amazing things to do in Singapore is take the short monorail ride outside of the city centre to the beach.
There are a few beaches on Sentosa Island, with each one being less than half an hour away from the city. Having said that, Palawan is renowned for being the most beautiful one.
My sister and I were extremely lucky when we went there as the beach was practically deserted that day. The gorgeous golden sands and greenery of the palm trees was a stark contrast to the dull grey roads and skyscrapers of the city.
And unsurprisingly, I was obsessed.
3. Bugis Junction Markets
It goes without saying that you can get more bang for your buck in Southeast Asia. And when it comes to the local food, Singapore is no exception.
In fact, the Bugis Junction markets offer an array of food and drink for very reasonable prices – including Malaysian specialities.
You can also find other treasures and bargains in the depths of these markets. We picked up everything from fashion and homeware to souvenirs and gifts – and it made for a very interesting evening!
4. Raffles Hotel
Anyone who's ever visited will tell you that Raffles Hotel is at the top of the list of things to do in Singapore. After all, it's been more than 100 years since the famous bartender created the Singapore Sling in the hotel bar… And it's still going strong!
Not only is this gin-based cocktail particularly yummy, but being inside Raffles Hotel is a treat itself. Luxurious and prestigious, you can't help but marvel at its beauty.
Pro traveller trip: Make your own Singapore Sling using the following recipe.
30ml gin
15ml Cherry Heering liqueur
7.5ml DOM benedictine
7.5ml Cointreau
120ml pineapple juice
15ml lime juice
10ml grenadine syrup
A dash of Angostura Bitters
A slice of pineapple and cherry
5. The Grand Prix
Full disclosure: We didn't actually realise until we booked the trip that we would be in Singapore on the weekend of the Grand Prix. WINNING.
There's such an incredible atmosphere within the city during the Grand Prix. Every bar is packed with people, the race track is illuminated at night (which made it visible from every rooftop) AND you're permitted to walk through part of the track during the daytime.
Unfortunately, we missed out getting tickets to see any part of the Grand Prix itself, but it was still super exciting to be there while it was all going on.
Embracing the Many Things to Do in Singapore
Large and diverse, there's always so much going on in Singapore that anybody at any age would enjoy visiting the city.
In fact, I'd even go so far to say that Singapore is magical.
There's just something about it that gives you this feeling of joy when you're in it. And this magical feeling lingers around long afterwards too.
Have you been to Singapore before? What are your favourite things to do in Singapore? Thanks so much for reading!
Katie Davies is the Yorkshire-based freelance writer who founded Trendy Tourist. Since 2017, she has written for over 100 companies on a range of subjects, from fashion to marketing. When she's not producing content, you can find her shopping, exploring a new place or sitting somewhere having a cup of builder's tea.