If you follow me on Instagram or TikTok, you'll know that my husband and I went up to Scotland recently for a wee road trip.
I'd been to Edinburgh twice and fancied seeing somewhere different, so we decided on Glasgow: a port city on the River Clyde to the west of Edinburgh.
Famous for its Victorian and art nouveau architecture, we were excited to see what Glasgow had to offer. However, we were also looking forward to venturing north and checking out Loch Lomond and Trossachs National Park nearby.
We could only manage three days with hubby's annual leave restrictions; but if we had more time, we would have definitely continued north towards the Highlands. (Next time!)
Going on a Glasgow road trip soon and also have limited time? Not to worry — I've got you covered with this easy yet beautiful loop that you can do in a day.
What to Do in Glasgow
First things first, don't forget to find time to explore Glasgow City Centre and the surrounding area. We stayed in Finnieston north-west of the centre, and it was such a gorgeous area full of cute cafes and quirky restaurants.
Glasgow is definitely a city for foodies, so if you like good grub then you won't be disappointed!
Here are a few things we got up to that I'd highly recommend.
1. Kelvingrove Art Gallery and Museum
This is one of Glasgow's most popular visitor attractions — and it's not difficult to understand why. It opened in 1901 and has stunning architecture; not to mention, a bunch of interesting art collections and artefacts.
Plus, it's free entry, which is ideal for exploring on a budget.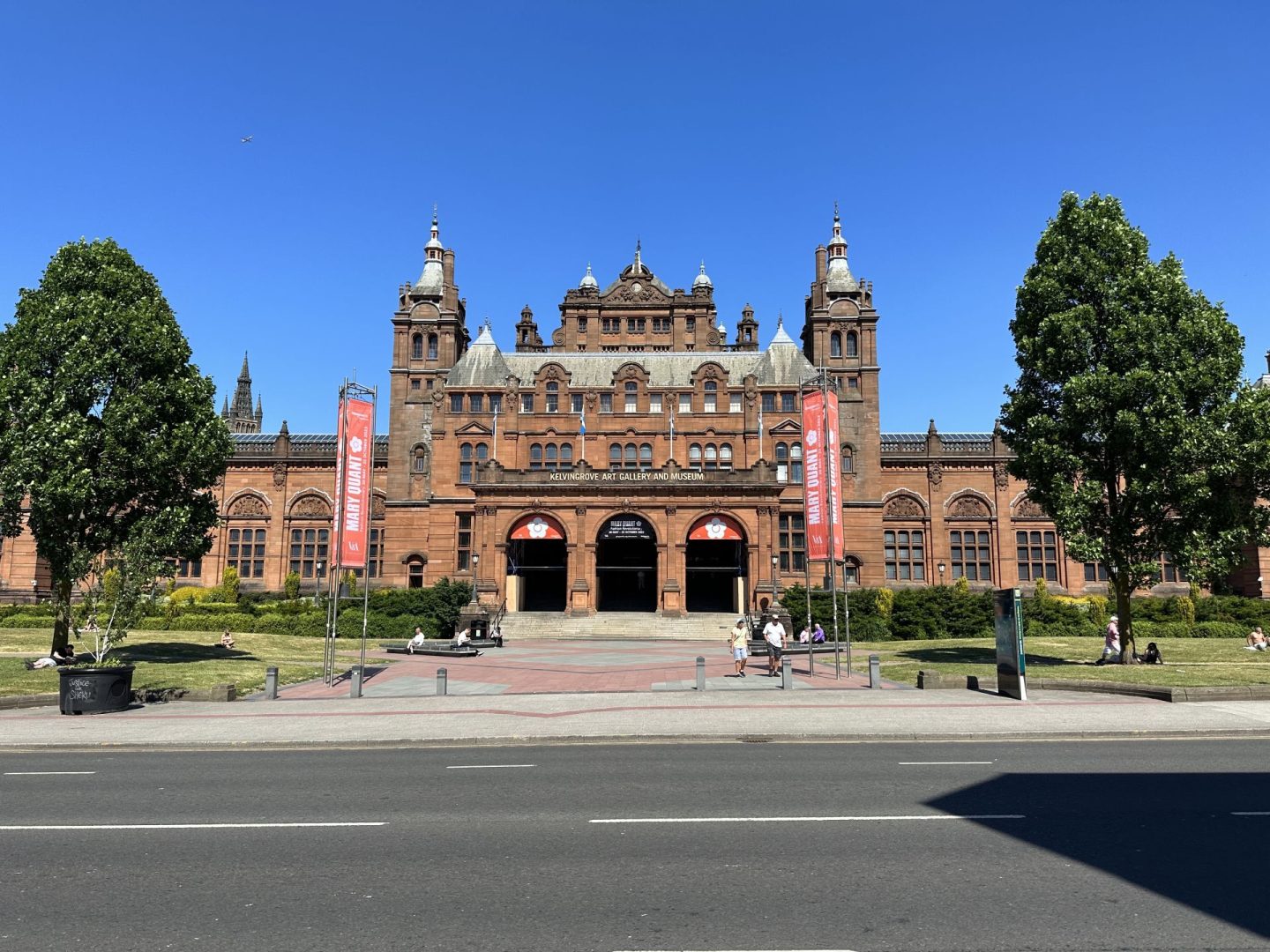 2. Kelvingrove Park
Behind Kelvingrove Art Gallery and Museum is Kelvingrove Park — and it sure is pretty! 
Hubby and I were lucky to have mostly amazing weather during our time in Scotland so we spent a while sitting with other sunbathers around Stewart Memorial Fountain. We then meandered through 85 acres of parkland, which straddles River Kelvin, making for a peaceful afternoon.
3. The University of Glasgow
Founded in 1451, the University of Glasgow is the fourth-oldest university in the English-speaking world and one of Scotland's four ancient universities.
Its exterior looks like something out of Harry Potter and is visible on the horizon from Kelvingrove Park. However, if you did want to see it up close (which I do recommend) then venture up the hill. It doesn't take too long and it's a rather nice view at the top.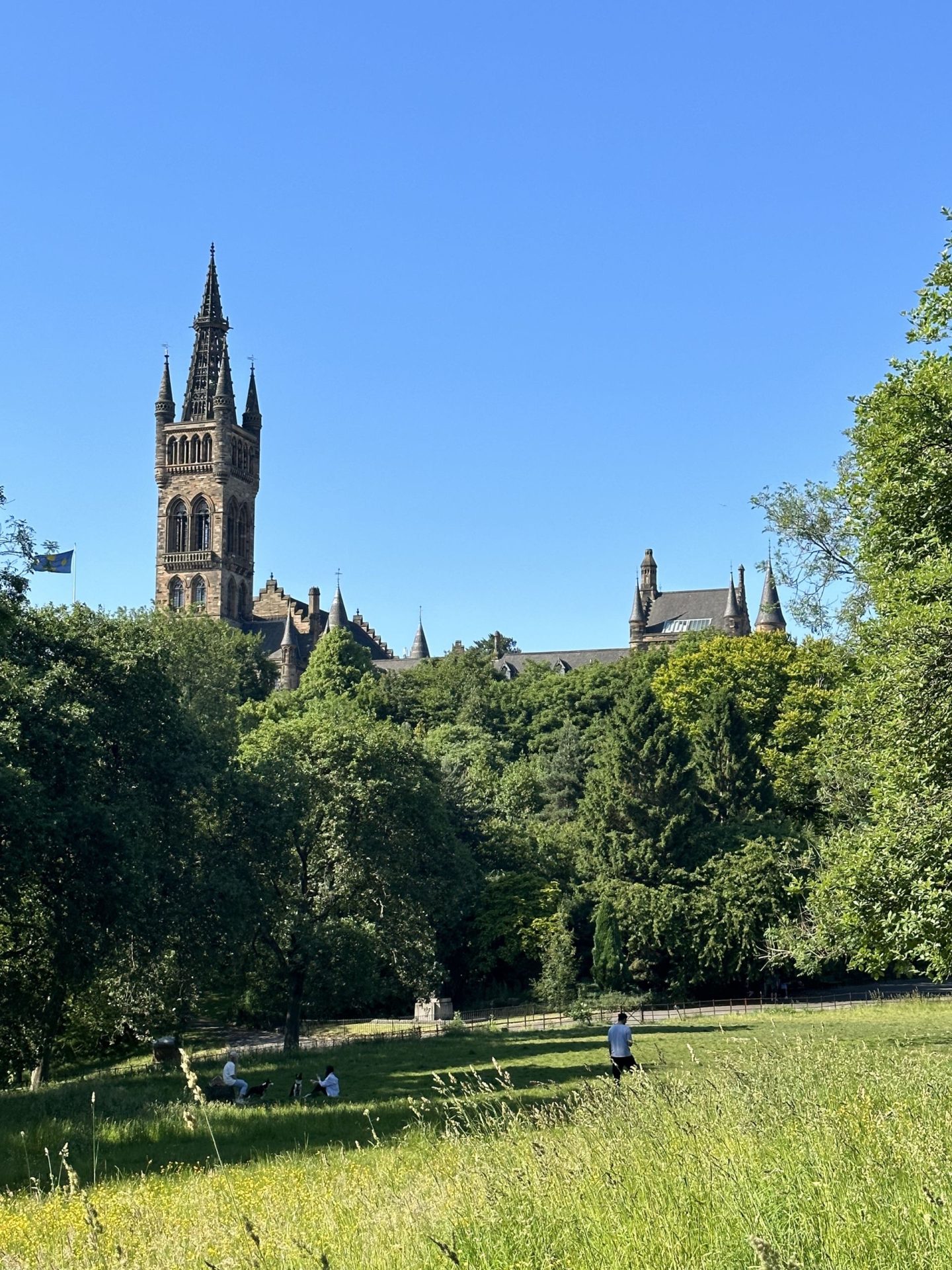 4. Ashton Lane
If you walk 15 minutes or so from the University of Glasgow you'll reach Ashton Lane. This is a cobbled backstreet in the West end of Glasgow known for being the artsy, bohemian area.
There are many bars and restaurants lining this street, so it's perfect for people-watching and socialising the day away.
Keep going north and you'll get to Glasgow Botanic Gardens, which are supposed to be beautiful. That said, unfortunately hubby and I ran out of time the day we were in the area so we didn't get to see them for ourselves.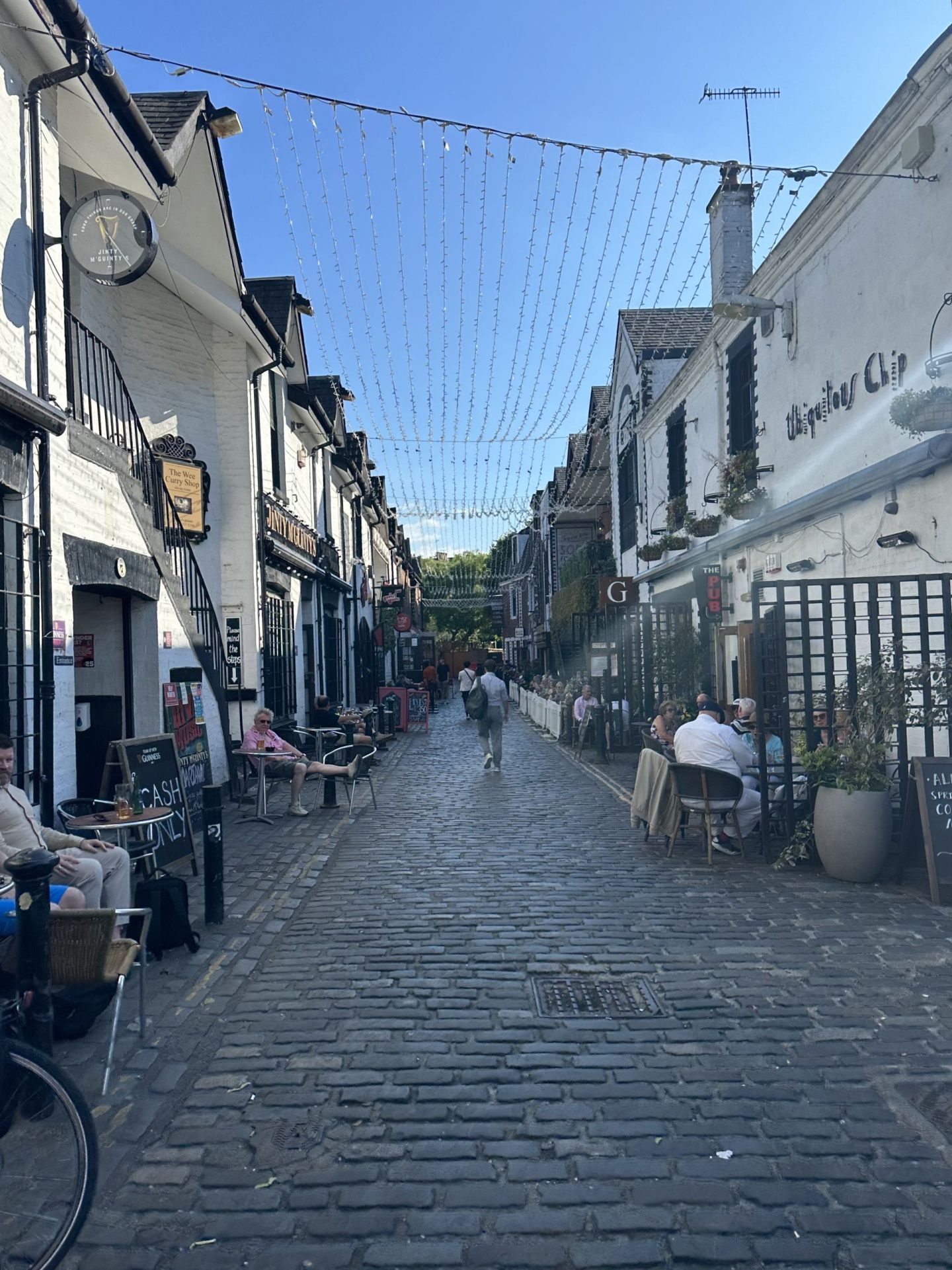 5. Buchanan Street Shopping
Buchanan Street is Glasgow's shopping hub where you can find big high street names like John Lewis, ZARA and Apple. There are also a couple of different shopping centres on this street, which is about double the length of Leeds' Briggate. In other words, you could easily lose a day to this street alone!
This is exactly what happened to Nathan and I, but we picked up some amazing home bargains in John Lewis so we weren't mad about it.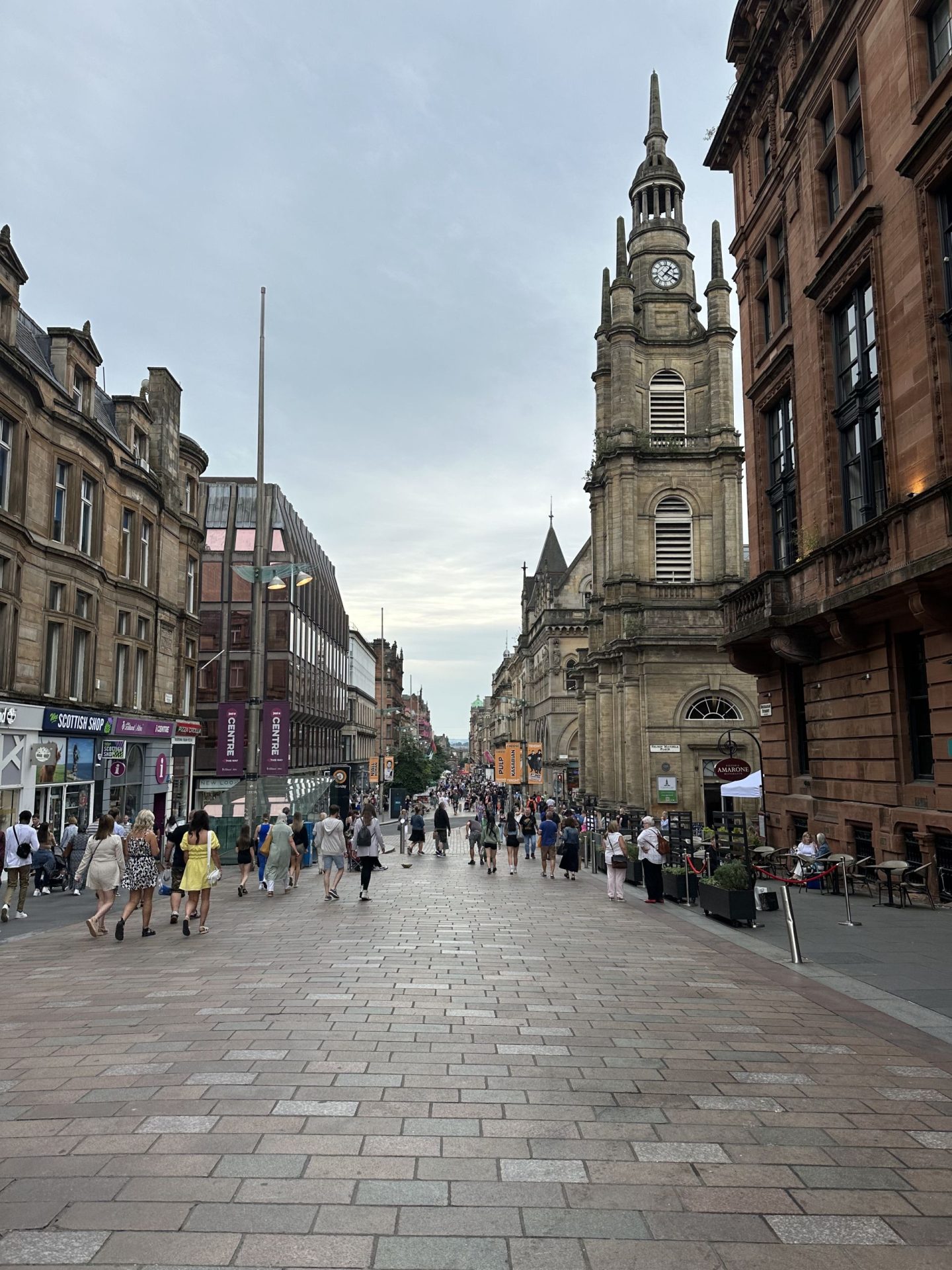 6. George Square
George Square is one of the few historic squares in Glasgow City Centre and named after King George III. Laid out in 1781, it's home to the headquarters of Glasgow City Council and features important monuments.
There's also a bunch of bars and restaurants lining George Square so it's bustling and worth visiting on a Saturday.
7. River Clyde Bridges
Nathan and I spent one day in Glasgow City Centre and our favourite way to explore a new city is to walk around. Once we'd hit up Buchanan Street and George Square, we made our way to the river with the intention of strolling along it so we could see the bridges.
If you walk all the way down to the southernmost point of Buchanan Street you will reach River Clyde. We also wanted to walk to Glasgow Green, a popular park on the river to the east, but we ran out of time. Apparently, it's worth checking out though if you're in the area.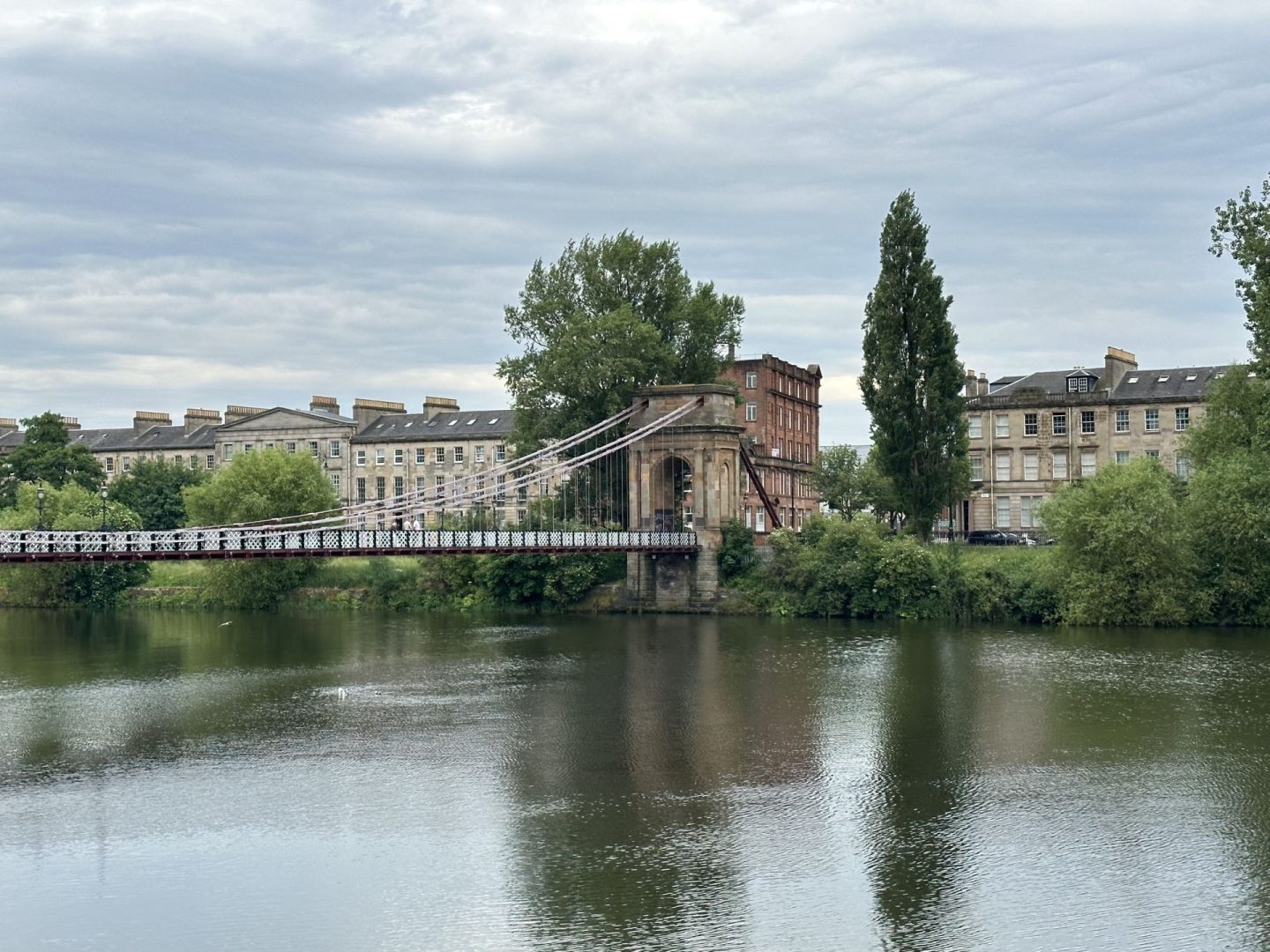 Our Recommended Glasgow Road Trip Loop
Alright, now you know what to see in Glasgow, let's talk about your day trip from Glasgow by car. So exciting!
This loop from Finnieston back to Finnieston took us a whole day, but we did it leisurely and didn't rush each stop.
Stop 1: Loch Lomond Shores
The first stop on your Glasgow road trip involves heading northwest to the southernmost tip of Loch Lomond. Here, you'll find Loch Lomond Shores, a shopping centre on the edge of the lake.
Shop there if you want, by all means, but we carried on past the shopping centre car park until we ran out of road. You then reach a free car park and viewpoint that looks out over the mountains, which is a great photo opportunity.
Stop 2: Luss
Luss is the most breathtaking little village in Argyll and Bute on the west bank of Loch Lomond. It has unbelievable views of nearby mountains, including Ben Lomond, and takes just 45 minutes to get to from Glasgow by car.
Here are some fun things you can do in Luss:
Walk along the wooden pier and take photos of the views
Go on a Loch Lomond cruise
Check out the quaint cottages lining the roads
Visit the Luss Parish Church built in 1875
Hike up Luss Hills, which is a 4-5 hour loop on a marked trail that starts and ends in Luss
Go on the Loch Lomond Faerie Trail, which is a mile-long loop of unique carvings and mythical creatures taking about 2 hours to complete
Nathan and I absolutely loved Luss — it looked very similar to Queenstown, New Zealand, and just had the most charming vibe.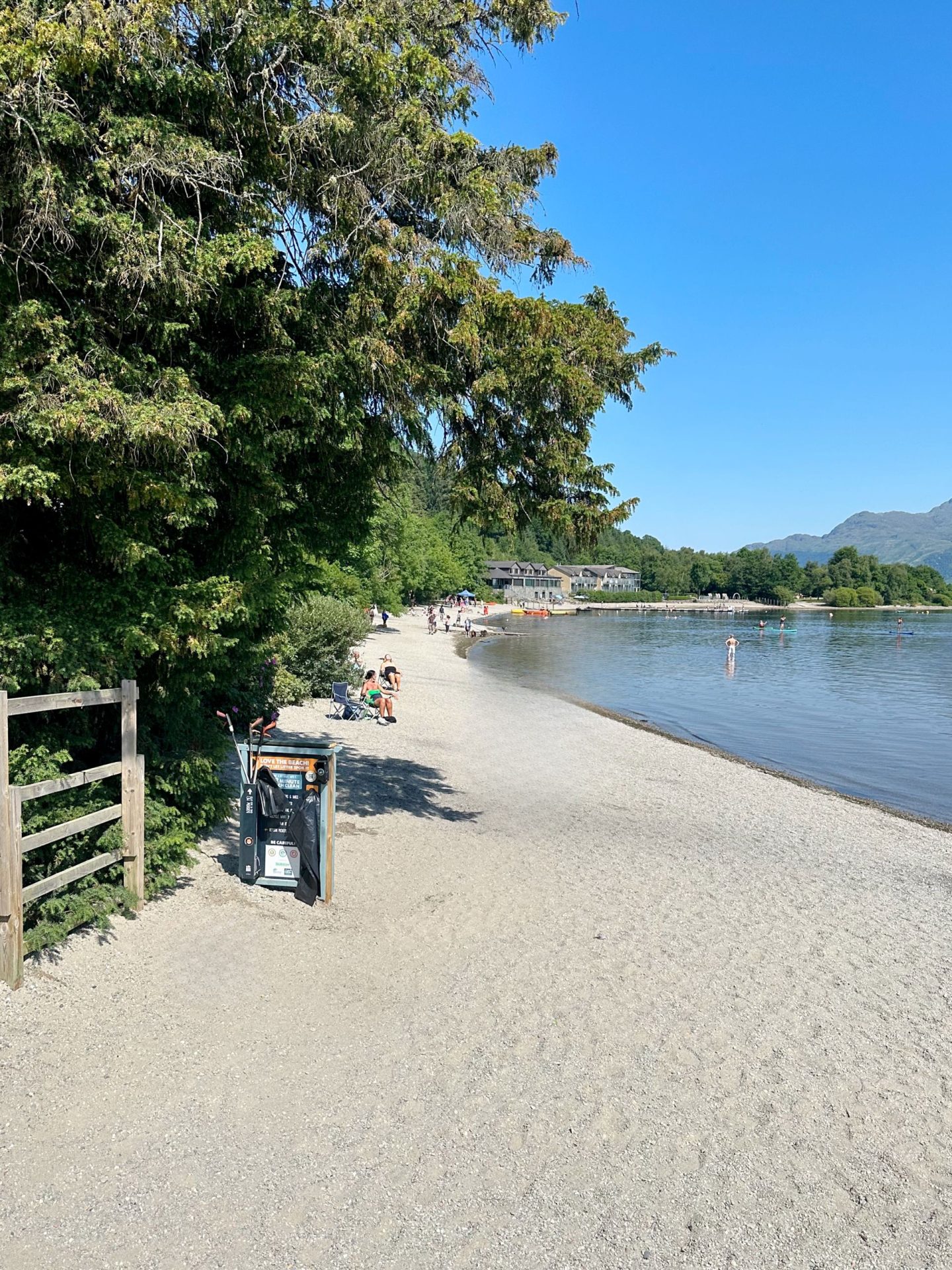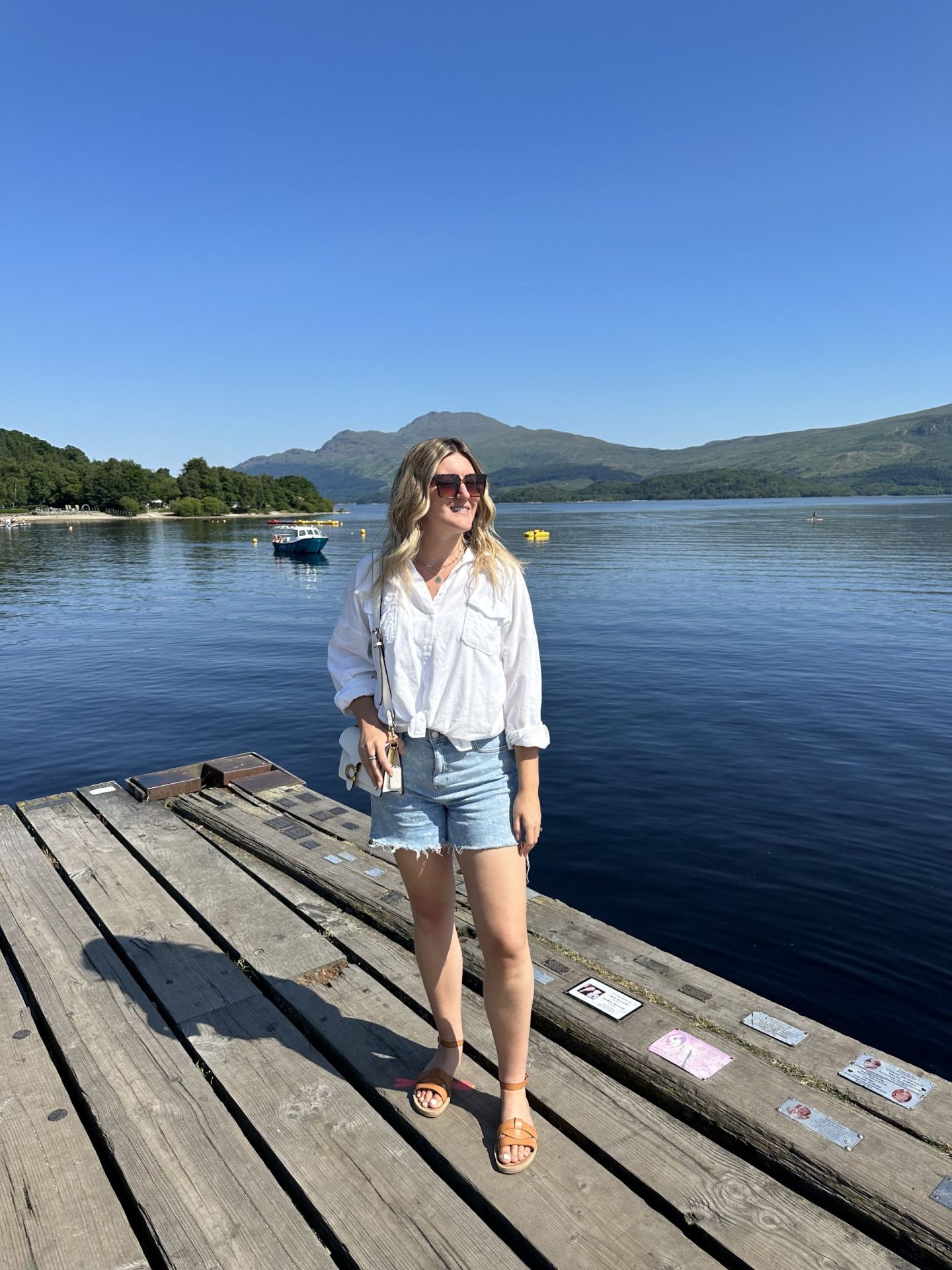 Stop 3: Falls of Falloch
From Luss, head north on the A82 and prepare to be mesmerised by the views of the lake and Ben Lomond as you stare out of your car window. I honestly couldn't believe what I was seeing.
Falls of Falloch is a cute waterfall that you can stop off at and take some nice pictures. It's a short walk from the car park so don't worry about needing your hiking shoes. 
When we were there, it was gorgeous and sunny so people were swimming there and rock climbing. And I saw quite a few doggies swimming too!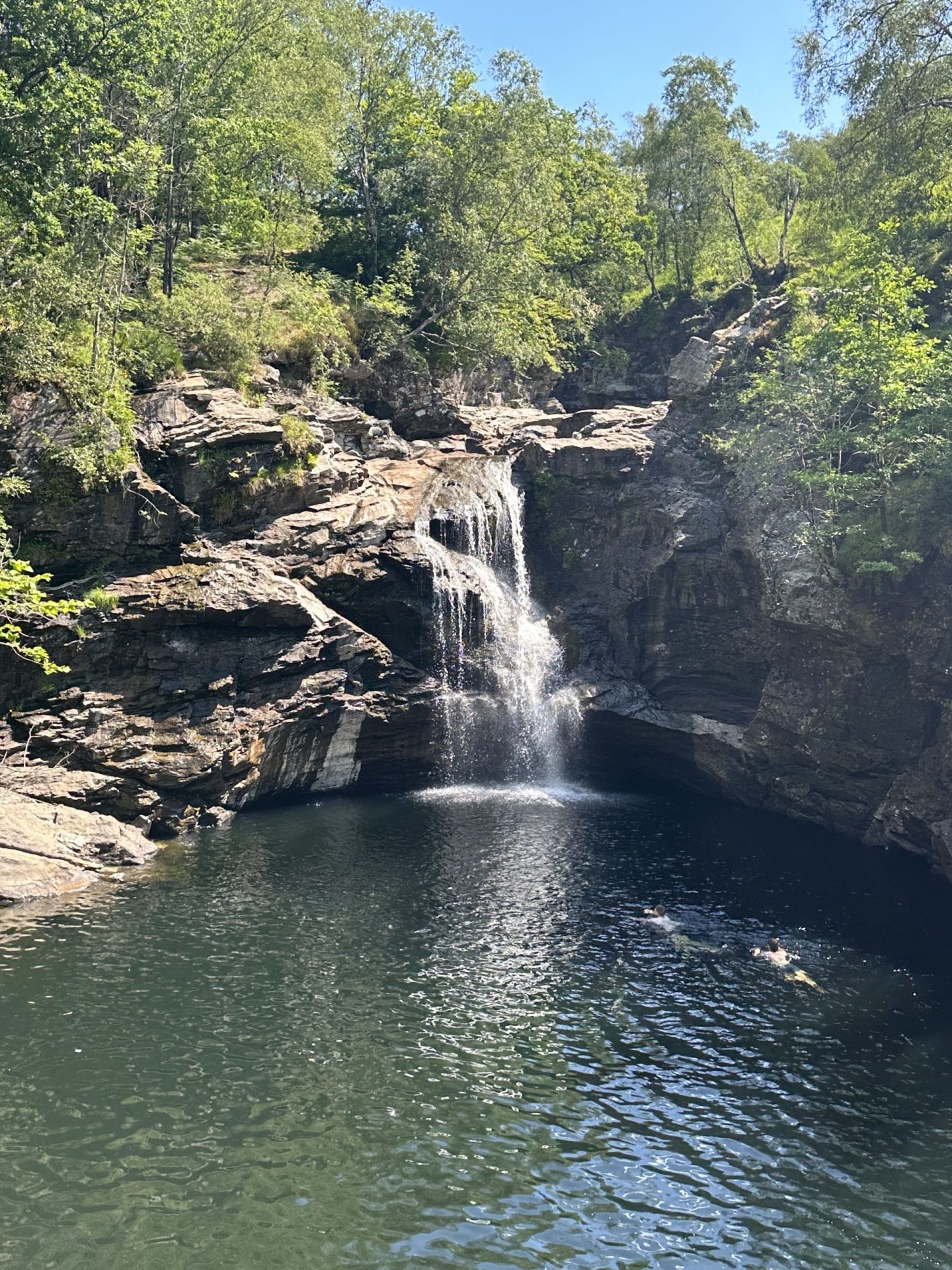 Stop 4: Callander Town
Callander is a lively tourist town situated on the River Teith near Stirling. It's described as the gateway to the Highlands and has plenty of tearooms, souvenir shops and cafes. There are also several popular walks in the area.
Hubby and I stopped there for a pleasant lunch and wander around. The scenery is super dramatic and it reminded us of the Lake District. Stunning!
Stop 5: Doune Castle
Just a bit further down the A84 you will find Doune Castle near the village of Doune in Stirling. It's located on a wooded bend where the Ardoch Burn flows into the River Teith and was built in the 14th century.
I can't vouch for the inside of the castle as we didn't pay to go in but the outside is cool! It was used as the exterior of Winterfell in a little show called Game of Thrones (which Nathan and I love), so we enjoyed taking a bunch of photos and walking around the grounds.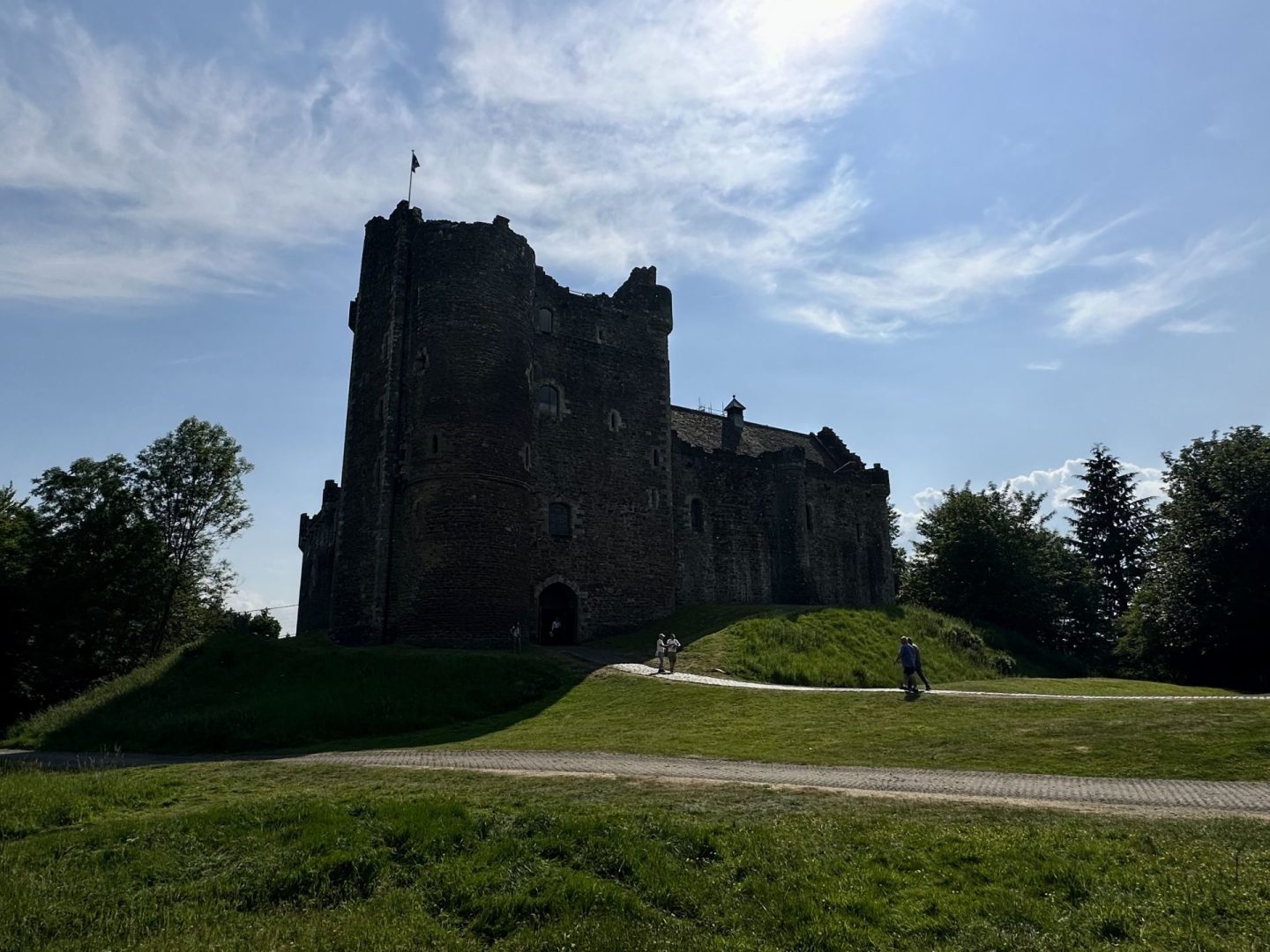 Stop 6: The National Wallace Monument
The final stop for us on our Glasgow road trip was The National Wallace Monument to the northeast of the centre of Stirling. This is a 67-metre tower that commemorates Sir William Wallace, a Scottish hero in the 13th and 14th centuries.
The National Wallace Monument sits on Abbey Craig, a hilltop overlooking Stirling, so it's a 20-minute hike uphill to get to. Although, once you get there, the views are incredible. You can also pay to go inside the tower and learn more about Sir William Wallace if you have the time.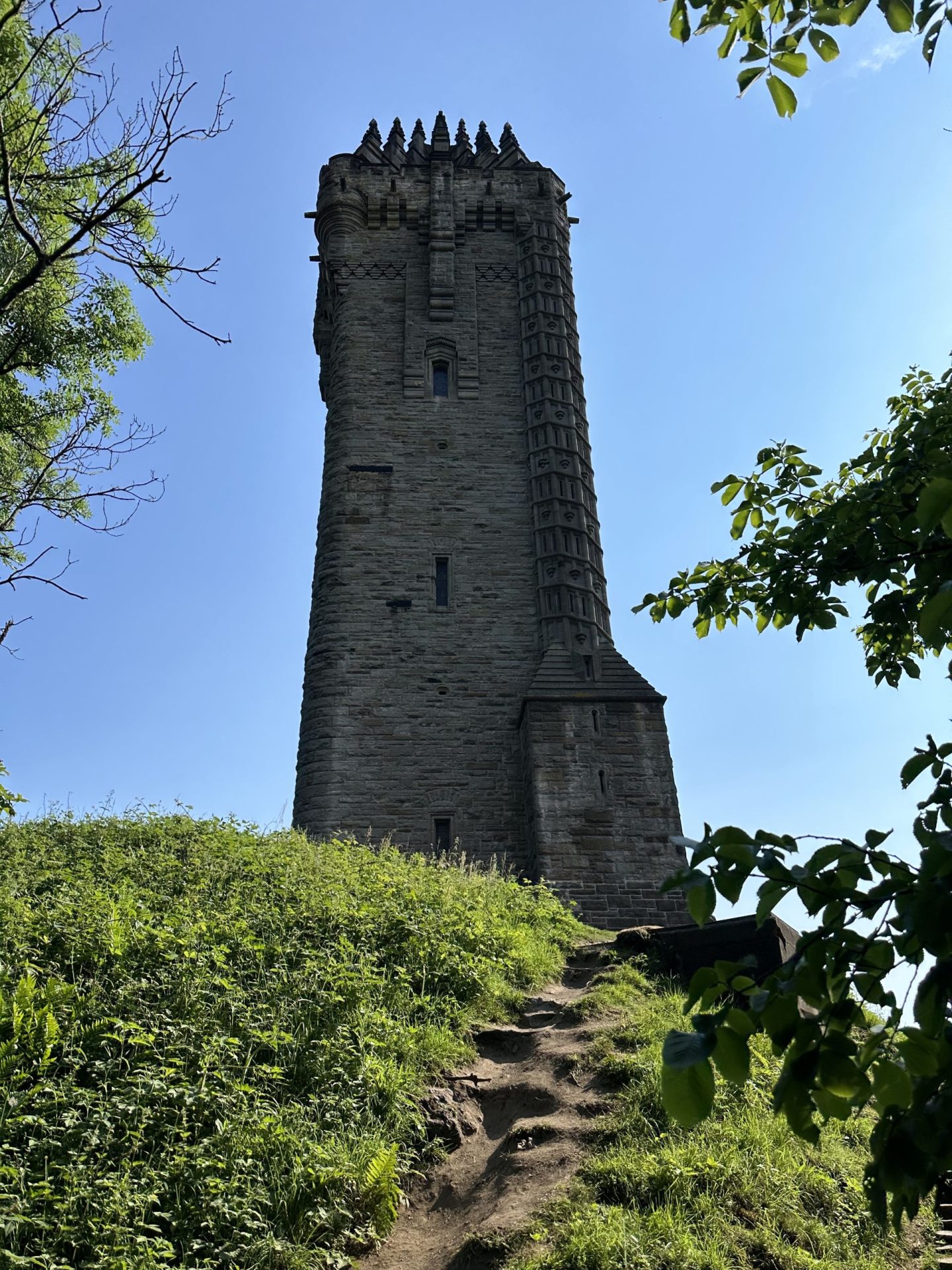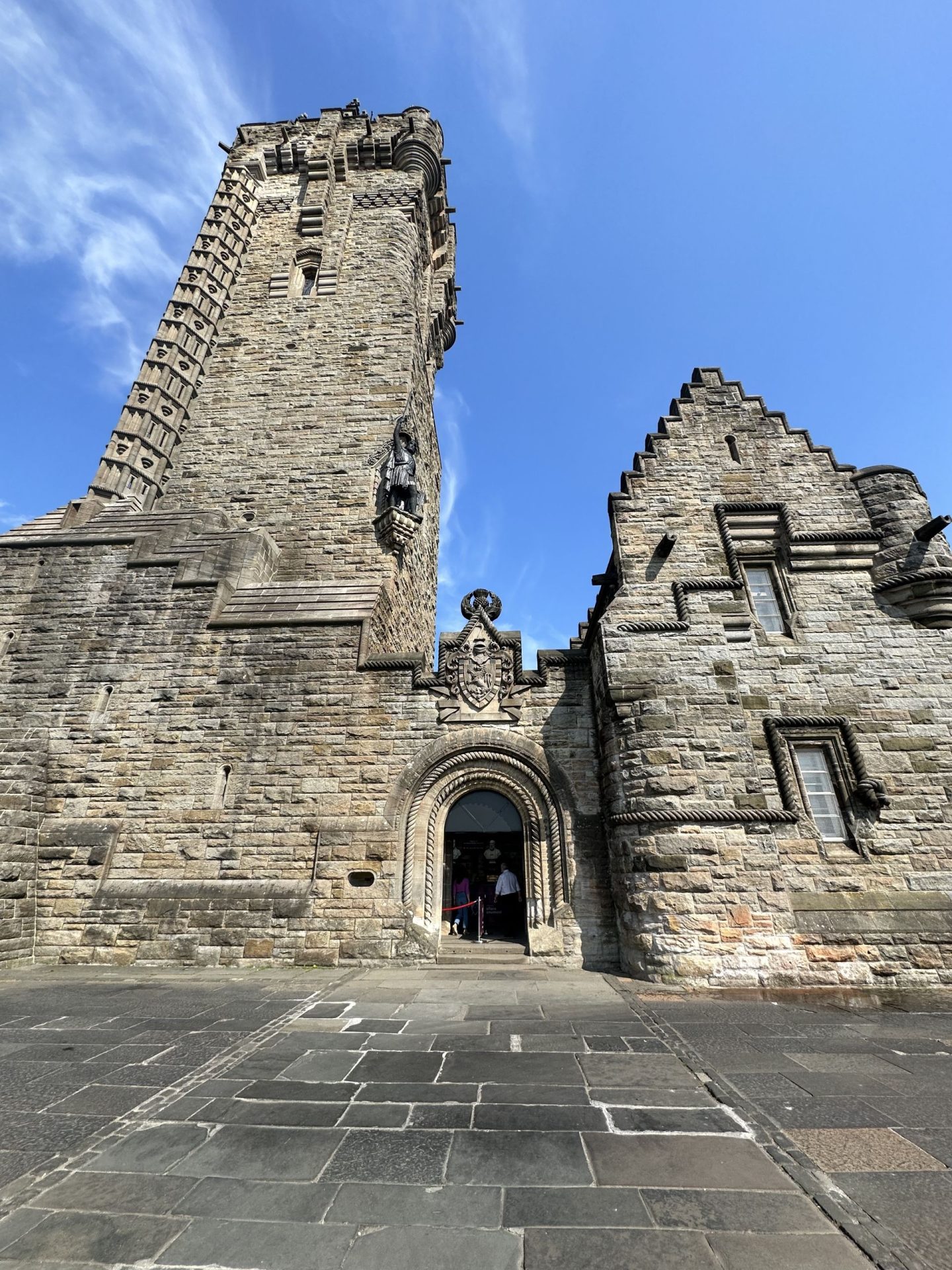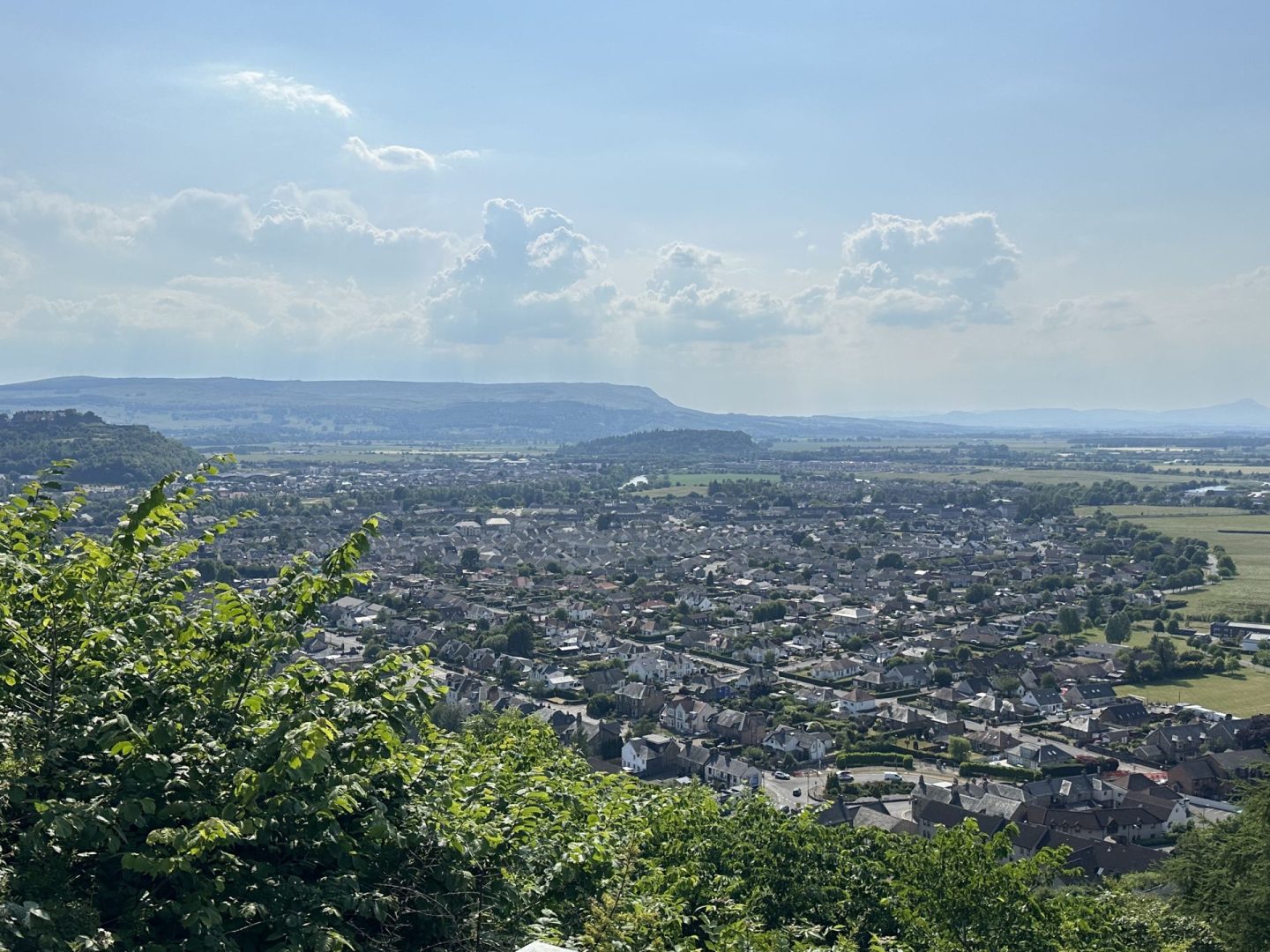 Stop 7: Optional
Full disclaimer: we were supposed to go to The Kelpies in between Falkirk and Grangemouth as the last stop of this Glasgow road trip. Having said that, we ran out of time.
The Kelpies are 30-metre-high horse-head sculptures situated in The Helix park. They're supposedly a spectacle to behold — and you can visit them for free.
Another option for a stop on this Glasgow road trip is Stirling Castle, which is one of the largest and most historically important castles in Scotland.
Needless to say though, you'd find it difficult to fit both of these attractions into the same day as everything else and would probably need to extend your road trip. (Oh, what a shame…)
Pin this article and save for later: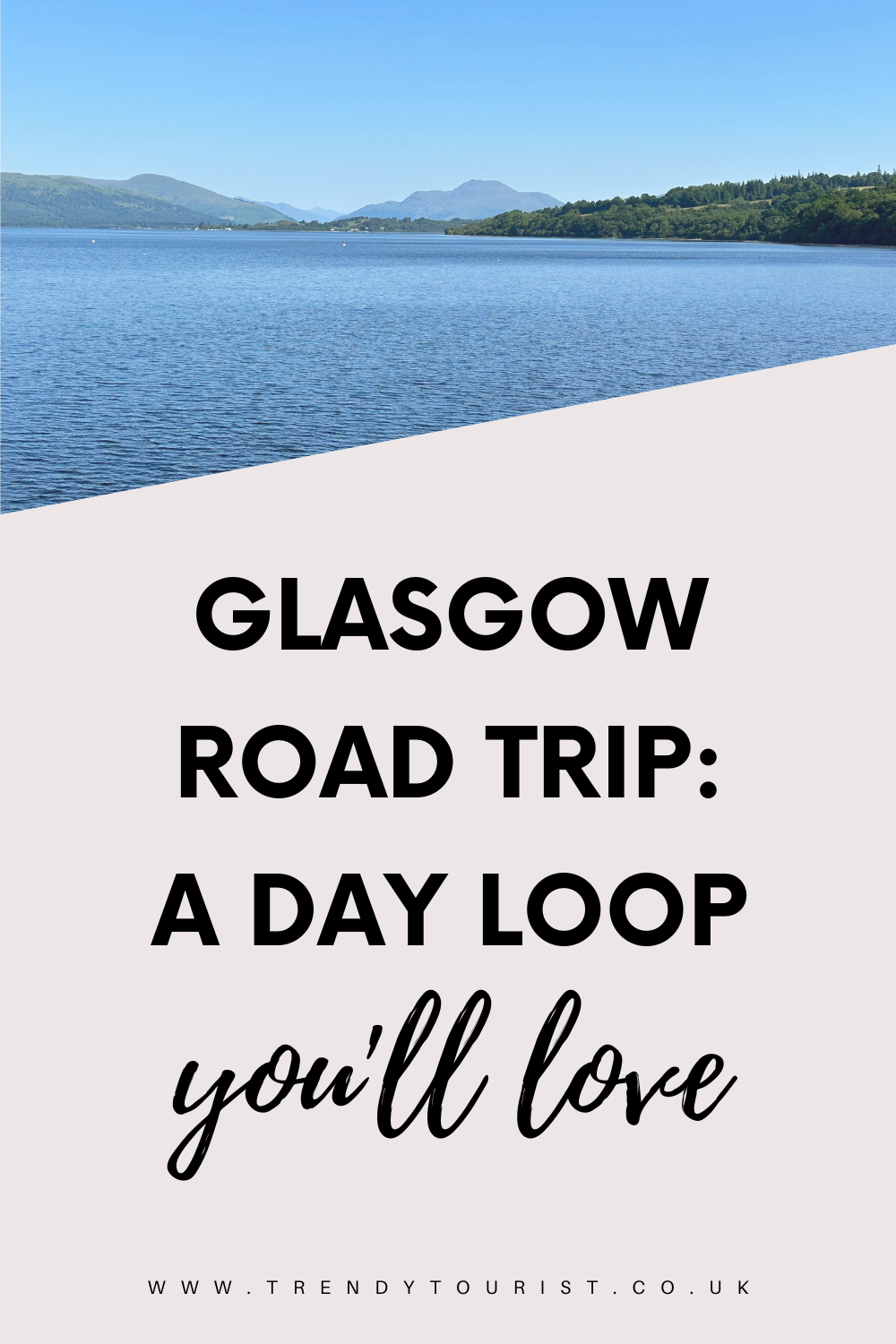 Final Thoughts on This Glasgow Road Trip
Glasgow is full of fun, good food and friendly locals. It's a great base for day trips or overnight road trips if you want to venture further afield.
Either way, hubby and I are hoping to go back someday (maybe on the way to the Scottish Highlands!). I'm currently daydreaming about the North Coast 500, but this will need to be a longer and more expensive trip. 
I love Scotland in general though. There are a lot of remote and beautiful areas, and Scots are just such wonderful people. Go find out for yourself!
I put together my own travel capsule wardrobe for this trip. If you need help creating one for your upcoming holiday, city-break or weekend away, check out my eBook or virtual styling services. I got you!