Still, turquoise lakes, countless vineyards and mountains for days… This is what you experience when you touch down in Queenstown, New Zealand.
Sitting on the shores of the South Island's Lake Wakatipu, this mid-sized town is renowned for a range of adventure sports in addition to its breathtaking views. I mean, there's a reason it's called the Adventure Capital of the World.
Whether you're an adrenaline junkie, keen hiker or just want to be flawed by natural beauty every single day, Queenstown is a travel destination not to be missed.
Read on for the complete Queenstown travel guide.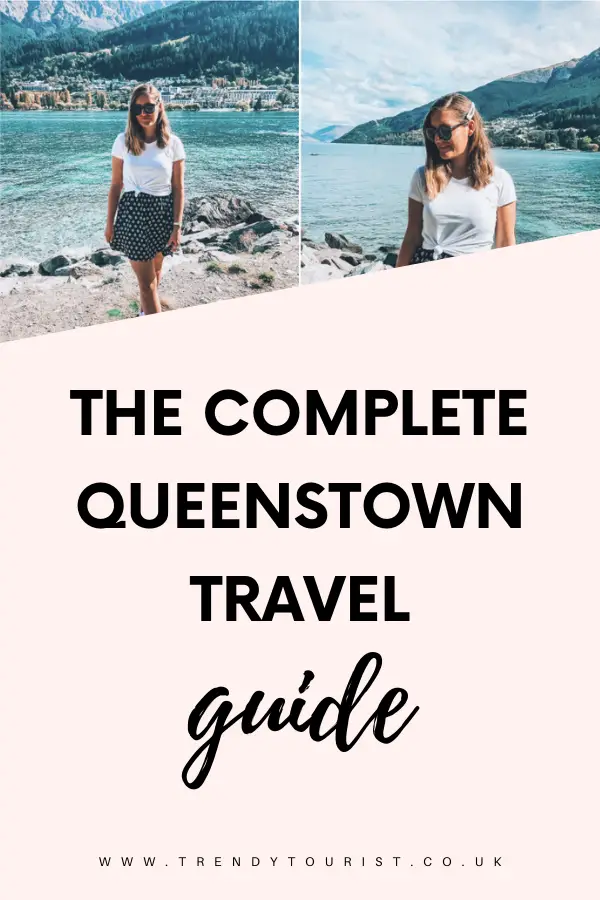 How Long Should I Go to Queenstown For?
Let's get one thing straight here: Queenstown is a very transient town. People come and go all the time.
In other words, if you're going there for a holiday or a brief pitstop during your New Zealand travels, you probably won't want to linger for too long.
Why? Well, it's a smaller town than newbies realise. Plus, all the fellow tourists that you meet on the way will soon be gone.
That said, a good amount of time to spend solely in Queenstown as a visitor is 4-5 days.
On the other hand, if you want to do a lot of activities or day trips of the surrounding villages, then you could easily stretch this out to 7-10 days.
When's the Best Time to Go to Queenstown?
If you're a fellow Brit, you'll know that the Australasia continent has winter when we have summer and vice versa. Therefore, the best time to go to Queenstown for gorgeous, sunshiny days with temperatures in the early thirties (degrees Celsius) is December/January.
However, if you're an avid skier, you might want to head to Queenstown in June/July to make the most of the slopes of The Remarkables and Coronet Peak.
Either way, just make sure you go at some point. Queenstown is undeniably beautiful at any time of year.
How to Get to Queenstown
Queenstown travel guide 101: Are you from the UK? If so, I've got some bad news for you. Sorry, but you have to catch three flights if you want to sample the town's nirvana.
The most common route is London or Manchester to Dubai (7 hours), Dubai to Auckland (16 hours) and then Auckland to Queenstown (1 hour).
Personally, I stopped over in Bali on the way to break up the journey, but do whatever feels comfortable for you. Oh, and don't forget your flight socks!
Where to Stay in Queenstown
Another bit of bad news – it's kind of expensive to stay in Queenstown's CBD, whether this is in a hotel or an Airbnb.
Having said that, you could always look for Queenstown accommodation in the surrounding suburbs.
Fernhill: This is a very pretty village just a 10-minute bus ride away from the town centre.
Wakatipu Heights or Goldfield Heights: Up in the hills, you can walk to the centre from both of these areas in just 30 minutes.
Frankton: A 15-20 minute bus ride away, Frankton is close to the Five-Mile Shopping Centre and a popular residential area for tourists on the working holiday visa.
Getting Around Queenstown
Looking to see as much as possible of the South Island while you're in New Zealand? Be sure to rent a car.
Alternatively, you can rely on the local Orbus (which costs just $2 per one-way ride) or the InterCity bus company that will take you further afield.
When it comes to the CBD though, Queenstown is pretty walkable. Just make sure you learn from my past mistakes and wear comfortable shoes to tackle those pesky hills!
Where to Eat or Drink in Queenstown
Without a doubt, the food is incredible in the Queenstown area. I've never had a bad meal there!
Whether you're a brunch fan or you prefer a tasty dinner out, there's something for everyone to enjoy.
Brunch: Try Bespoke Kitchen in Queenstown or Arrowtown Bakery in Arrowtown for a hearty brunch and some of the best coffee. Trust me, you won't be disappointed.
Dinner: Fergburger is a rite of passage when in Queenstown. Grab yours with a drink and have your fill down by the lake.
Snacks: Patagonia Chocolates does the most amazing ice-cream in both Queenstown and Arrowtown. If baked goods are more your thing, try Fergbaker in the CBD.
Drinks: Attiqa is a really fun rooftop bar with tasty cocktails. If you prefer more of a chilled vibe, try Pog Mahone's Irish Pub as they nearly always have live music.
Queenstown Things to Do
Got your Queenstown itinerary sorted? Not to worry if not – we've talked about ski bunnies being able to get their slope on in the winter, but let's cover all-year-round activities.
Get Your Adrenaline Fix
If you're a bit of a daredevil, you can go bungee jumping at the world's first-ever bungee site founded by AJ Hackett.
You can also go jet-boating down Shotover River or take a Gondola up Bob's Peak to go Luge carting down the mountain.
(Awesome, right?)
Go Hiking
There's an abundance of scenic walks that you can do around the CBD.
Whether you go up to Bob's Peak, take the Ben Lomond track or head up to Bob's Cove, Queenstown sure is a hiker's paradise!
Visit the Surrounding Suburbs
Once you've spent a day walking around the CBD, doing a little shopping and overindulging on Fergburger, any Queenstown travel guide will tell you to check out some of the surrounding suburbs.
Shopaholics would enjoy the Five-Mile Shopping Centre in Frankton or nature lovers might appreciate the quiet serenity of the Lake Hayes area. However, the one you certainly must see (if you have the time) is Arrowtown.
Nestled amongst the mountains, Arrowtown is a historic gold mining town that's situated on the banks of the Arrow River. It has great walks, cute eateries and independent boutiques aplenty.
Go Road Tripping
There are so many amazing places outside of Queenstown that make for wonderful day trips.
Glenorchy: Drive to the Head of Lake Wakatipu to experience this charming small town amongst the Richardson (east) and Humboldt (west) Mountain Ranges. Featured in the Lord of the Rings trilogy, Glenorchy's also overlooked by the snow-capped Mount Earnslaw and is – quite simply – astonishing.
Paradise: Glenorchy is known as the Gateway to Paradise, one of the leading film locations in New Zealand. Located to the east of Dart River in Mount Aspiring National Park, Paradise has jaw-dropping views off the beaten track.
Cromwell/Clyde/Alexandra: If you head 45 minutes northeast of Queenstown, you'll end up in a lovely little town called Cromwell on the edge of Lake Dunstan. Known for its famous fruit sculpture and local fruit markets, it's a great place to explore for a couple of hours before driving 20 minutes further past Clyde Dam to Alexandra, another endearing town on the banks of the Clutha River.
Wanaka: I like to call Wanaka Queenstown's little sister as it's practically a smaller version. Wanaka Lake and the area's many picturesque walks attracts many tourists – and the famous Blue Pools lie a one-hour drive north.
If you feel up to it, you can also go further afield (I'm talking around four hours in the car) and visit the famous Milford Sound. Swoon.
Try Out a Few Wineries
Love a glass of wine? I've got good news for you. Queenstown is the gateway to the Central Otago region where there are 200 vineyards around a 40-minute drive from the CBD.
Amisfield is just outside of Arrowtown and is extremely popular with wine enthusiasts. If you have a car, you can also drive 10 minutes to Gibbston where you will find a number of vineyards within several feet of each other. I kid you not.
Either way, make sure you sample some of the local wines while you're in the area – and I guarantee you won't regret it.
Queenstown Travel Guide: Final Thoughts
Even though every human being is completely different in this world and we all have our own opinions, I've yet to meet someone who doesn't fall head over heels in love with Queenstown once they have the opportunity to visit.
Whether you can only spend a couple of days there before you move on or linger for weeks and weeks because you're captivated by its charm (*cough* me), one thing's for sure: Queenstown looks and feels like heaven on earth.
For a brief period, I felt so lucky to be able to call it home.
Have you ever visited New Zealand? Did you find this Queenstown travel guide useful?
Katie Davies is the Yorkshire-based freelance writer who founded Trendy Tourist. Since 2017, she has written for over 100 companies on a range of subjects, from fashion to marketing. When she's not producing content, you can find her shopping, exploring a new place or sitting somewhere having a cup of builder's tea.