Disclaimer: this post contains affiliate links, which means I receive a small commission when you purchase the product at no extra cost to you! All affiliate links will be marked with an asterisk (*) and help us to run this site so we really appreciate your support. To read our full privacy policy, click here.
There's nothing like being in the great outdoors, whether you're exercising around your hometown or exploring a new place.
However, when it comes to working out how to dress for a hike, a lot of us are left scratching our heads.
Granted, we need to wear practical clothing pieces that are breathable and comfortable for hours of activity. But we also want to find something fashionable so that we look just as good as we feel, especially if we're on a hiking date. Right?
Worry no more – read on to find out what to wear for a hike and still look stylish, whatever level of hiking you're at.
Consider the Weather
How to dress for a hike rule 101: check the weather forecast. Obviously, what to wear hiking in winter is going to differ substantially from a summer hiking outfit.
For the winter months, you're going to need more layers and thermals in the form of a beanie hat, gloves, underwear, top and leggings. You'll also need to finish off your outfit with a thicker outer jacket, like a fleece or puffer coat, to stay warm in the cold temperatures.
During summertime, how to dress for a hike becomes a lot easier. You often only need a top, leggings and a rain jacket (just in case) and you're pretty much good to go!
Pick Out Key Fabrics
In terms of deciding which clothes to wear for a hike, it's important to pick out key pieces that are made of functional fabrics. They should have favourable properties that assist you with a full day of hiking or walking around.
For instance, try the following:
Nylon (the most common fabric for hiking due to its durable and abrasion-resistant properties)
Polyester (slightly less durable than nylon but more breathable and moisture-wicking)
Fleece (often made out of polyester but with thicker fibres, soft and warm)
Merino wool (soft against the skin, odour-resistant, breathable and the warmer alternative)
Avoid all other types of fabrics, especially the below:
Denim (stiff, heavy and restrictive on the body)
Cotton (holds onto water making you warm in hot weather and cold in freezing temperatures or if it rains)
Silk (inefficient at moisture wicking and isn't odour resistant)
We once made the mistake of wearing black skinny jeans for a four-hour hike in 21 degrees Celsius – and trust us, we'd really learned a lesson by the end of it! Sweating hell.
Layer Up
One of the best tips we can give you in terms of how to dress for a hike is to utilise layers. Usually, you can start a hike in the early morning feeling quite chilly, but then you soon warm up.
In this case, you'd simply just subtract a layer, just like you'd add one on if the wind picked up or it suddenly started raining.
A good rule of thumb for autumn or spring is to start with a base outfit, like stretchy nylon leggings, sports bra and a lightweight polyester top, and then layer it up with a zippered fleece or polyester jacket.
If it's winter, add more thermal pieces. If it's summer, you might not even need a fleece or polyester layer, but you might opt for a rain jacket if showers are expected.
And if you're really not sure what to do, always take an extra layer in your backpack. After all, you just never know when you might need it.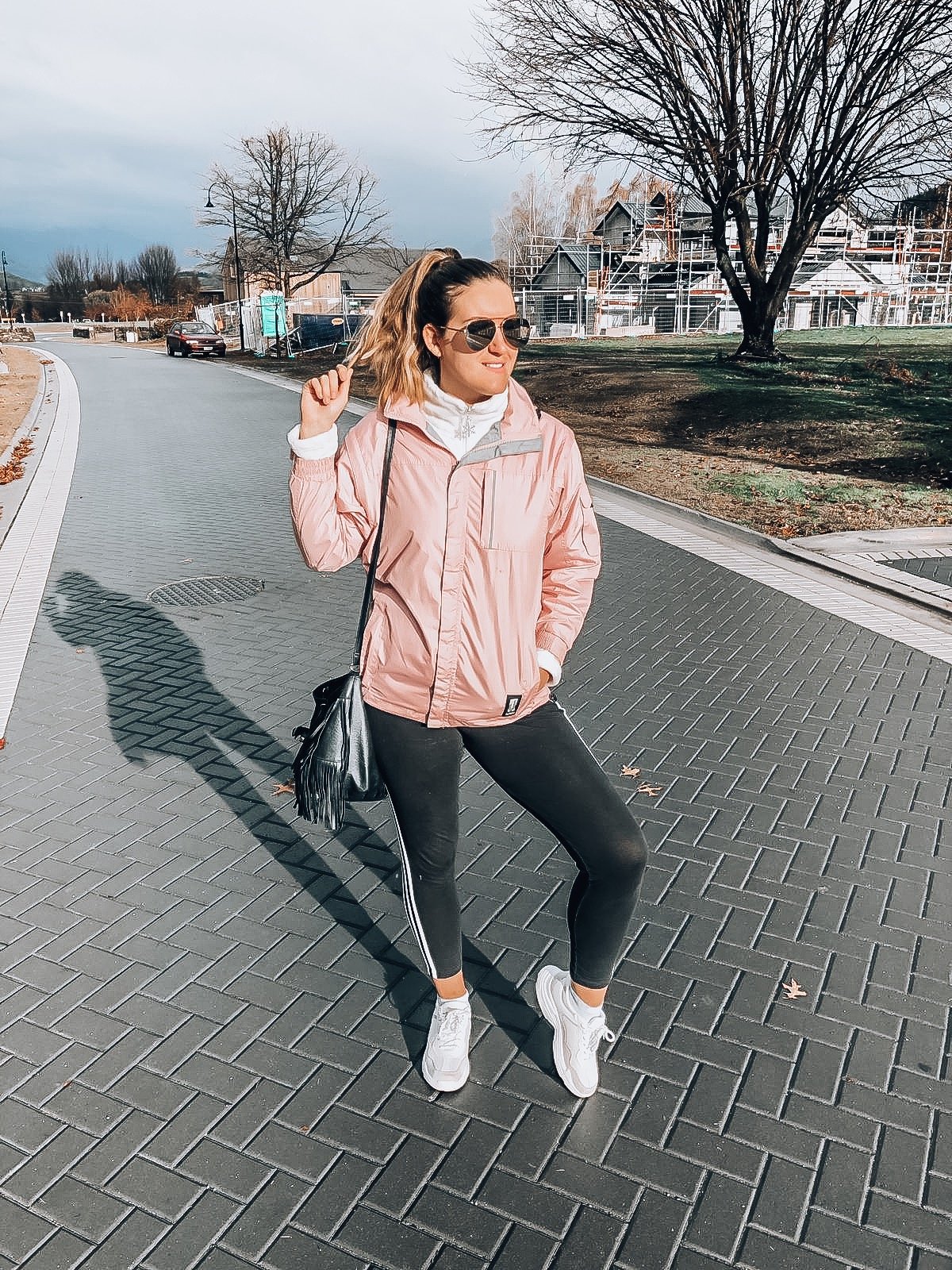 Utilise Colour
Just because dressing for a hike tends to be quite sensible and involve logical thinking doesn't mean that it can't be fun.
One of the most straightforward ways to look stylish while hiking is to opt for activewear that's considered nonconventional. Colours are your best bet for injecting some life into an otherwise dull walking outfit.
Want to stand out for miles? Keep your colour palette neutral and stick to mostly white, black or grey clothing, but then add a splash of colour to your outfit through a seasonal hue (or two).
Embrace Unique Prints
You can also choose pieces that have unique patterns to make fellow fashionistas jealous.
Feeling brave? Opt for a top or leggings that features a multi-coloured, popping print and team it with a piece that picks out one of the hues.
Either way, try not to wear prints head to toe as this comes across as too overpowering.
Wear Walking Shoes
If you plan to hike all day, you're naturally going to need to wear shoes that don't rub your feet to bits. (We've been there, done that and got the T-shirt. Sigh.)
Sometimes a comfy pair of trainers that are well worn-in can suffice – with synthetic socks, of course. (By synthetic socks, we're talking about breathable fabrics like nylon, polyester or spandex fabrics.)
However, most of the time, the safest option is to wear walking sandals (in summer) or hiking boots with synthetic socks (in winter).
And yes, hiking shoes aren't cheap. But because they last for years, they're well worth the investment.
Take a Lightweight Backpack
As we mentioned earlier, you're going to need a backpack to include a few hiking essentials.
Having said that, make sure that yours is as lightweight as possible. Ditch large, heavy, clunky-feeling backpacks that you might take with you for a month-long trip around Thailand. Instead, opt for a small, waterproof daypack that will carry all the necessary items without hindering your hiking performance.
To be more specific, here's what to pack for a day hike:
At least one warm or waterproof layer
Plenty of water
Snacks
First-aid kit
Antiseptic wipes
Suncream
Navigational tools, like a map or compass
Phone
Camera
You've got this.
Tie Your Hair Back
How to dress for a hike rule 101: tie long, thick hair back. If you fail to do this, it won't be long before you start heating up on your hike and develop your very own (unwanted) version of a scarf.
Avoid getting hot and frustrated by getting your hair out of your neck and tying it up straight away.
Alternatively, if you want your hair down to start with, be sure to wear a hair bobble on your wrist so that you can tie it up at a moment's notice. Honestly, you won't regret it.
Keep Your Makeup Minimal
Just like it's pointless trying to fix your hair into a fancy hairstyle for a long day of hiking when it's only going to fall out, you also don't need to bother with a face full of makeup.
Why? Well, because it'll just slide right off as you start perspiring. (Unfortunately, we've been there.)
For this reason, if we wear anything for a hike nowadays, it tends to be waterproof mascara and a lightweight tinted moisturiser with SPF. We'll also keep our lips hydrated with lip balm or a light, moisturising lipstick.
But if you can help it, you should go completely natural with your makeup and just let your skin breathe. After all, the fresh air will do it wonders!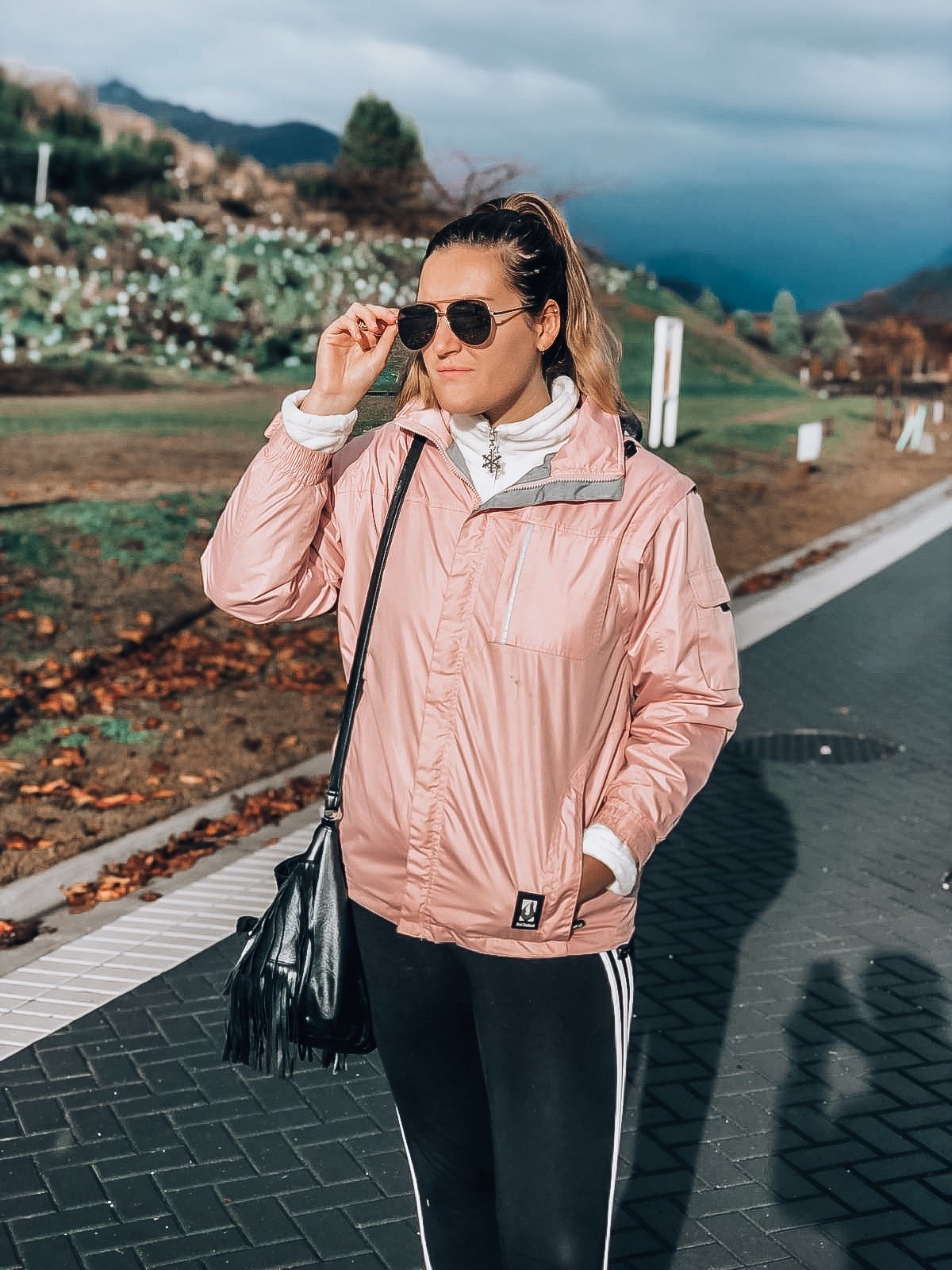 LEGGINGS – ADIDAS (*) / FLEECE JACKET – VINTAGE – similar (*) / RAIN JACKET – VINTAGE – similar (*) / TRAINERS – COTTON ON, NZ – similar (*) / SUNGLASSES – PRIMARK – similar (*) / BAG – VINTAGE – similar (*)
Hiking Clothes Brands That Will Help With How to Dress for a Hike
Figuring out how to dress for a hike to feel comfortable and look stylish can be challenging. However, it's all about experimenting with different outfit options until you find something that boosts your confidence in both aspects.
In our experience, the below hiking clothes brands are ideal for long, healthy and happy days of exploring:
Nike
The North Face
Adidas
Kathmandu
Merrell
Icebreaker
Patagonia
Columbia
REI
Under Armour
And remember, hiking is supposed to be fun! By doing all the necessary planning and preparation beforehand, all you'll need to do on the day is relax and enjoy the fresh air.
More clued up in terms of how to dress for a hike? Do you have another amazing tip that you swear by?
Katie Davies is the Yorkshire-based freelance writer who founded Trendy Tourist. Since 2017, she has written for over 100 companies on a range of subjects, from fashion to marketing. When she's not producing content, you can find her shopping, exploring a new place or sitting somewhere having a cup of builder's tea.