Winters in the UK can be very cold, rainy and snowy. But as tempting as it is to stay curled up inside in some cosy loungewear, it's much better for both your mental and physical health to venture outside every now and again.
A brisk walk on a cold day is an effective way to clear your mind and feel refreshed. However, it can also be a one-way ticket to deep chills that can take hours and a hot bath to thaw out, illness and (in extreme cases) hypothermia.
Fortunately, you can avoid all of these problems simply by choosing the right clothing for the great outdoors. Here's what to wear on a winter walk to make sure you stay warm and healthy without sacrificing your style.
5 Fabrics to Help You Stay Warmer for Longer
When it comes to what to wear on a winter walk for practicality, there are some fabrics that will help you retain your body heat for longer while outside.
The trick is to pick out some key pieces made from these functional fabrics. And take it from me, it's best to avoid any materials that don't insulate well when they get wet and take a long time to dry, such as cotton.
What to Wear on a Winter Walk: 7 Essentials
What to wear on a winter walk 101: check the weather forecast before setting off. It might feel relatively mild at first but a few degrees Celsius can make all the difference, so be sure to layer up wisely. This way, you can remove a layer if you get too warm.
Not sure where to start? I've got you covered.
1. Walking Boots
While you could probably get away with more casual shoes in warmer weather, a high-quality pair of boots is the holy grail of any winter walking outfit.
To avoid any unfortunate slips or trips (we've all been there), look for some lightweight, all-weather boots with good grip, a flexible sole and a water and wind-resistant upper.
Your footwear has to feel comfortable and sturdy enough for long periods of walking outside, but it helps if they look cute too.
Product suggestions:
2. A Thermal Top and/or Leggings
When it comes to layering for your winter walk, start with a warm base layer. Synthetic fabrics help to wick away moisture and stop you from getting uncomfortably sticky.
I recommend a thermal top and/or leggings, which are lightweight and stretchy to allow maximum movement.
Next, you'll want to add a middle layer to trap your body heat and keep you warm. This could be a fleece or wool jumper, or a jacket made with synthetic insulation.
Top it all off with a windproof and water-resistant outer layer. Don't forget your thermal socks to keep your feet feeling extra toasty inside your walking boots.
Product suggestions:
3. A Chunky Jumper
A chunky knitted jumper is an ideal pairing with a thermal top and leggings.
While pretty much any jumper will do, I love a funnel or turtle neck that will protect your neck from the elements while ensuring you stay chic. You could even opt with a dress version with fleece-lined leggings to elevate the look.
An honourable mention should go to fleecy pullovers or sweatshirts in neutral colour ways that match with anything, like this Lighthouse Clothing Shore Sweatshirt in navy.
Product suggestions:
4. Thick Walking Socks
When planning what to wear on a winter walk, thick walking socks should be high on your shopping list. Choose a pair that comes up to just over the top of your walking boots to prevent any rubbing.
I'm a fan of these Danish Endurance Merino Wool Hiking and Walking Socks* for their handy moisture-wicking and temperature-regulating properties. Alternatively, these M&S Hiking Socks* are also sure to keep your feet feeling toasty without constricting movement.
Other product suggestions:
5. A Padded Waterproof Coat
Living in the UK means that you need a coat fit for anything the cold weather can throw at you.
The type of jacket that you choose is up to you, whether it's a puffer or a raincoat. If it's not too chilly, you can't go wrong with a waterproof midi length.
However, for freezing cold temperatures, the more padded the coat, the better! Fabric-wise, Gore-Tex or something similar that's just as waterproof and breathable is a great choice. Look for a jacket with a hood to protect your head and ears from the wind.
Just stay away from ankle-length maxis that aren't exactly practical for walking reasonable distances. (You don't want to trip and fall in the mud!)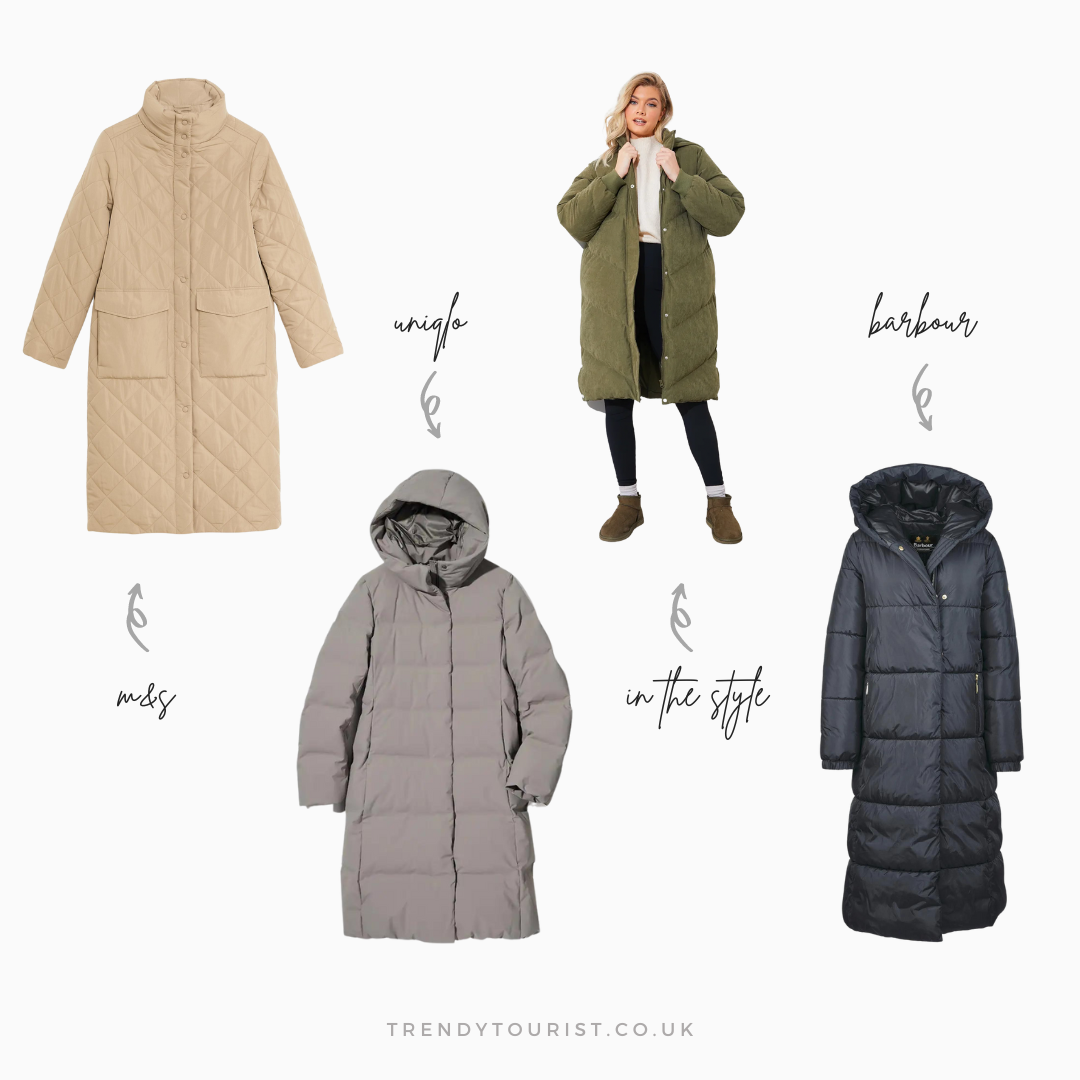 Product suggestions:
6. Waterproof Trousers, Leggings or Jeggings
Whether you prefer the flexibility of leggings, the casual vibe of jeggings or the heavy-duty protection of hiking trousers, your choice of bottoms will probably depend on what kind of walk you have planned. Either way, they need to keep you warm and dry!
If you're going hiking, you'll want to choose something that is both warm and waterproof like ski trousers or insulated snow trousers. Don't want to invest in a pair? Throw on some waterproof trousers over leggings or jeggings instead, such as these* from Under Armour.
Other options include fleece-lined leggings like this pair from NEXT, Uniqlo's Heattech Jeggings* or even the Fleece Cuffed Joggers from M&S* for more casual walks.
7. Woolly Accessories
For the perfect finishing touch to any winter walking outfit, add a woolly accessory or two. 
Any hat, scarf and pair of gloves will help to keep your head, hands, and neck warm, but I recommend sticking to neutrals for maximum versatility and appeal.
I'm a big fan of this Amazon Five-Piece Grey Winter Set* or this River Island Hat, Scarf and Gloves Set*. If you're not a hat person, don't shy away from ear muffs* or a chunky knitted headband like this H&M one* to stop your ears from falling off in the cold.
A pair of sunglasses can also help to protect your eyes from the glare of the winter sun, especially if it's reflecting off snow on the ground.
Other Things to Take on a Winter Walk
If you're hiking, it's not just about what you wear on a winter walk. There are a few more essentials that you may want to take.
Pin this article and share with friends:
Final Thoughts on What to Wear on a Winter Walk
With the right clothing, a winter walk can be a beautiful and enjoyable experience. The trick is to dress in layers and choose clothing that will keep you warm and dry. Start with a moisture-wicking base layer, add a middle layer for insulation and top it off with a waterproof and windproof jacket.
Choose warm bottoms, insulated boots with good traction and don't forget woolly accessories to protect your head, hands and neck from the cold.
With that in mind, all that's left is to get yourself bundled up and get ready to embrace your new cold-weather style.