Travelling during the winter season can be a tricky business, especially when it comes to packing the right clothing. The cold weather and unpredictable weather conditions can make it difficult to know what to bring. 
Plus, sometimes the warmest clothing can be the most unattractive! Right?
However, with a little planning and inspiration, you can create a versatile winter travel capsule wardrobe that will keep you warm and stylish. No matter where you're headed, I've got you covered.
What is a Winter Travel Capsule Wardrobe?
First things first, a capsule wardrobe is a collection of clothing items that can be mixed and matched to create multiple outfits. The key to a successful capsule wardrobe is choosing versatile, high-quality pieces that can be worn in a variety of situations.
When building a winter travel capsule wardrobe, then, you have to consider your packing space. If you've only got a small personal item for the plane or a carry-on suitcase, you have to be extra savvy with what you take. 
Essentially, you need to pack the minimum number of pieces that will make the maximum number of outfits.
7 Perfect Pieces for Your Winter Travel Capsule Wardrobe
When building a winter travel capsule wardrobe, there are a few key pieces that you should consider adding to your collection.
1. A Warm Coat
A coat is an essential piece of winter clothing, and it's important to invest in a high-quality, warm version that will keep you protected from the cold. 
Look for a coat that is made from a water-resistant and insulated material, such as wool or down. A coat with a hood is also a great option for added protection against the elements.
If you're planning to be outdoors exploring a lot (which, let's face it, you probably are), you just can't beat a maxi puffer coat. The longer and thicker, the better, I say!
2. A Knitted Jumper or Jumper Dress
A knitted jumper or jumper dress is a versatile piece that can be dressed up or down. 
Opt for a neutral-coloured piece that can be paired with different bottoms, such as beige, grey, camel, cream, black or white. A turtleneck option is ideal as it keeps you warm and also looks stylish.
3. Warm Bottoms
A pair of snug bottoms, such as fleece-lined leggings or thick jeggings, is a must-have for winter travel. 
If your pair is made from a warm and moisture-wicking material, this is a bonus! The whole point is to keep you comfortable and dry.
It may surprise you but faux leather is also a great option for its prettiness yet practicality. It's a thick fabric that keeps out the cold and retains your body heat by acting as a barrier.
4. Waterproof Boots
A good pair of boots are essential for winter travel, especially if you're planning on spending time in the snow. Look for a pair that is made from a waterproof and insulated material, and has good traction on the sole to prevent slipping.
5. Layering Pieces
Layering is key when it comes to winter travel. Bring a few lightweight pieces, such as a long-sleeved t-shirt and a cardigan, which can be layered under your coat, knitted jumper or jumper dress for added warmth.
Don't forget your thermals too. I swear by my thermal top, leggings and socks for every winter trip I take!
6. Woolly Accessories
A hat, scarf and gloves should be a part of your winter travel capsule wardrobe. Here's why:
A scarf can be used to add extra warmth and can be styled in a variety of ways.
A hat will help keep your head and ears warm and can also be a stylish accessory.
A pair of cosy gloves is essential for keeping your hands warm during the winter.
Other woolly accessories, like earmuffs or a headband, can help elevate an outfit and keep you feeling toasty at the same time. I love!
7. A Sturdy Day Bag
While you're out and about, you need a place to put all your daytime essentials, from bottled water and snacks to your phone, purse and keys. Pick a day bag that is large and sturdy enough to hold everything without compromising on style.
I'm a fan of faux or real leather backpacks, or any smart backpack for that matter. You could also opt for a hands-free crossbody or a shopping tote for a city break.
A Winter Travel Capsule Wardrobe Example
Once you've selected the key pieces for your winter travel capsule wardrobe, it's important to consider how they can be mixed and matched to create different outfits.
For example, a knitted dress can be paired with leggings and boots for a casual daytime look, and then dressed up with heels and a statement necklace for a night out.
Here's a winter travel capsule wardrobe idea for a weekend away in winter. Let's say for argument's sake that you're travelling there on a Friday and coming back on Sunday (two nights total).
Key Piece Breakdown
Here are the key clothing pieces you need (five total):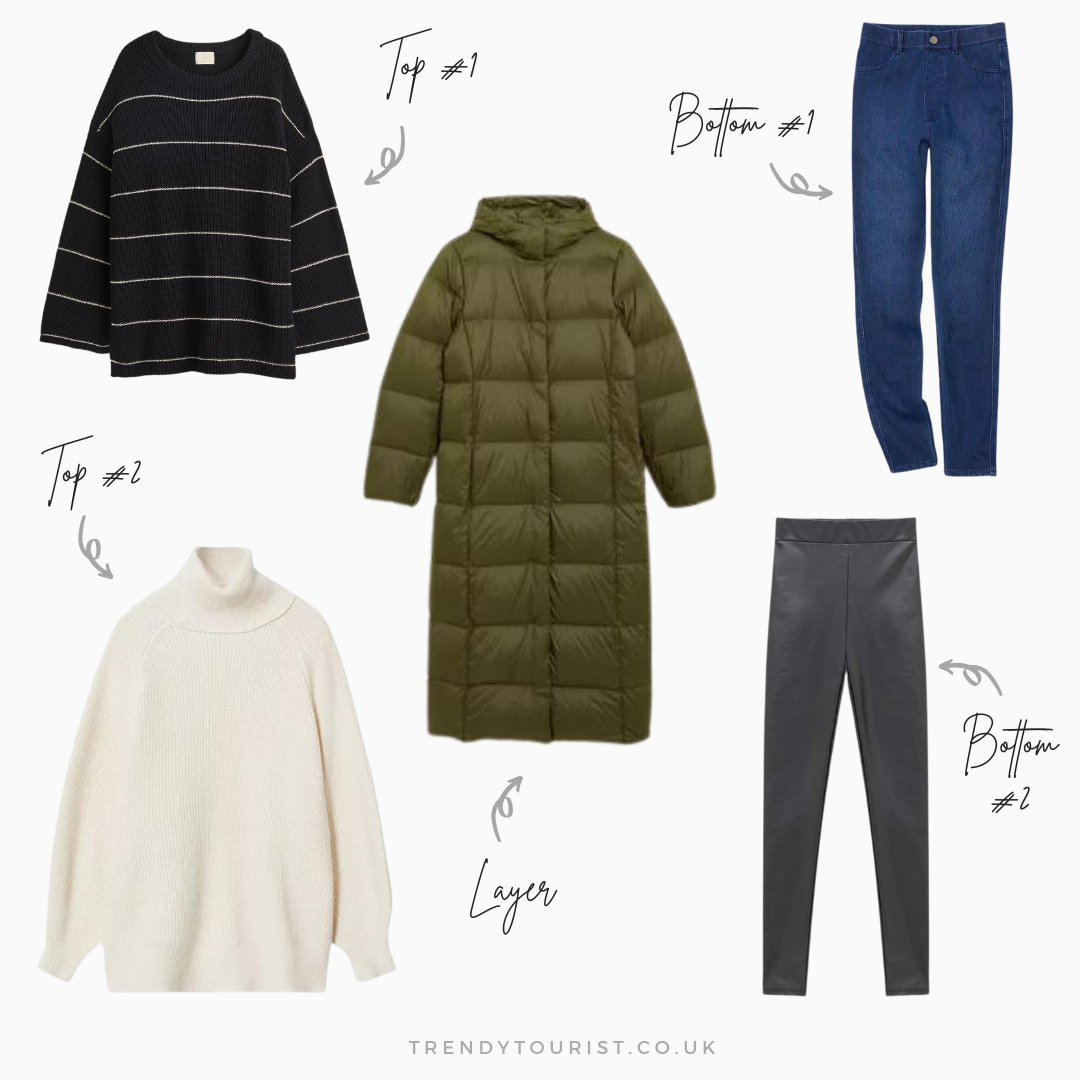 Other two essential clothing pieces could be a thermal top and leggings to wear underneath your outfits. Then you need a bag and shoes, which count towards your winter travel capsule wardrobe total.
You may also decide to take a change of shoes and bag for nighttime or fancier occasions. In this case, the total number of pieces for this winter travel capsule wardrobe will be between seven (five clothing, one pair of shoes and one bag) and 11 (five clothing, two thermals, two pairs of shoes and two bags).
Here's some inspo for your other pieces:
There are nine total but not all of these are necessary depending on where you're going, what you're doing and how cold it's going to be.
The Looks
Here are your three daytime looks curated with the listed key pieces:
And here's a nighttime option for if you're heading out for dinner or drinks:
You could also create another nighttime option by swapping out top #1 for top #2. Simple yet chic.
Pin this article and share with friends:
Final Thoughts on a Winter Travel Capsule Wardrobe
When building a winter travel capsule wardrobe, you have to consider the specific destination you'll be visiting. 
If you're travelling to a cold, snowy destination, you'll need to pack warmer clothing and accessories. If you're visiting a destination with milder weather, you may be able to get away with packing fewer layers.
Either way, keep in mind your packing space and try to make each piece work harder. There's no reason why you can't feel cosy and look cute on your trip!
Need more help building a travel capsule wardrobe? Check out my virtual styling services and the "Trendy Travel Capsule" package. Together, we'll make sure that you pack less and style more!