Picture the scene: the sun is shining and you're sitting on the beach with a mojito in hand and not a care in the world.
Sounds like bliss, right? Let's be honest, few things are better than a summer holiday, but you'll only have a stress-free trip if you get the packing stage right.
The problem is that knowing what to pack for a summer holiday is easier said than done. You don't want to take too much (or too little!) or find yourself too hot or too cold the whole time because you forgot a key wardrobe staple.
Whether you're travelling near or far, these are the pieces you need to stay comfortable in the warm weather.
What to Pack for a Summer Holiday: 10 Staples You Need
The following key pieces should form the basis of your summer holiday wardrobe. Then you can add to them based on where you're going and what you plan to do in your final destination.
For instance, a travel capsule wardrobe for a week of partying in Greece is going to look a little different to a three-night mini-break in a European city.
Keep in mind that the exact amount of clothing that you take will depend on how long you're going away for.
1. Breathable Clothing
Firstly, breathable clothing is a must-take. There's nothing worse than the hot, sticky feel of sweaty clothes clinging to your skin when temperatures are high. Shudder.
Luckily, some simple wardrobe swaps can help prevent any discomfort. Not only do breathable fabrics stop you from overheating but they also allow air to travel throughout, keeping your clothes nice and fresh. 
Think good-quality natural materials like linen or 100% cotton, or anything loose-fitting and airy. And try to stay away from the colour black. It absorbs heat and converts it into other forms of energy (namely heat), which is the opposite of what you want on a hot summer's day.
Even if overheating isn't a problem for you, I still totally get the need to wear as few clothes as possible, especially if you're trying to tan. Just remember to apply sunscreen frequently to block harmful UV rays from damaging your skin. Factor 50 is your friend, people!
2. Walking Shoes
When it comes to exploring by foot, one of my absolute must-have summer holiday staples is a comfy pair of shoes. Depending on your itinerary, you're going to want something suitable for long days of walking, hiking and exploring exciting new places.
For something bank account and suitcase-friendly, try these Quechua Waterproof Walking Shoes. If you're wanting a more heavy-duty pair, the Lowa Taurus Pro GTX Mid Boots are specifically designed for women's feet, offering sturdy and long-lasting comfort.
Alternatively, a good pair of everyday trainers* or walking sandals like these Teva Tirra Sandals* can do the trick. The latter features a contoured footbed, plenty of cosy cushioning and a hardy rubber outsole so you can walk all day long without having to worry about your feet hurting.
3. A Neutral Cover-Up
What to pack for a summer holiday 101: bring some layers. While the dream is to enjoy nice sunny weather throughout your holiday, relying on the weather forecast or just hoping for the best is a dangerous game. 
The solution? Be ready for anything with a couple of neutral cover-ups that will go with any outfit colour palette so you can simply throw one on when it gets chillier in the evening.
For example, you can't go wrong with a basic cardigan like SHEIN's Drop Shoulder Duster Cardigan*. Equally, it's well worth investing in a versatile sweatshirt like this UNIQLO cream number*.
Wanting something just a little warmer? Opt for a comfy hoodie. I recommend M&S' Cotton Rich Hoodie* or a faux leather or oversized denim jacket* for a smarter nighttime look.
4. Swimwear
Are long days of lounging in the sun by the beach or taking a dip in the pool on your holiday agenda? Then you're going to need a strong line-up of swimwear to boot.
Just like bodies, swimwear comes in all shapes or sizes with options to suit any body type. You can find anything from this simple yet sassy Textured Halter Triangle Bikini* to a timeless one-piece like this Ruched Halter Swimsuit.*
Make a splash with this bold yet flattering SHEIN Red One Shoulder Bikini* or go for the timeless nautical design with Boden's Santorini Halterneck Swimsuit.*
When deciding what swimwear to pack, consider how many days you're realistically going to be by the pool or beach and choose how many options you take accordingly.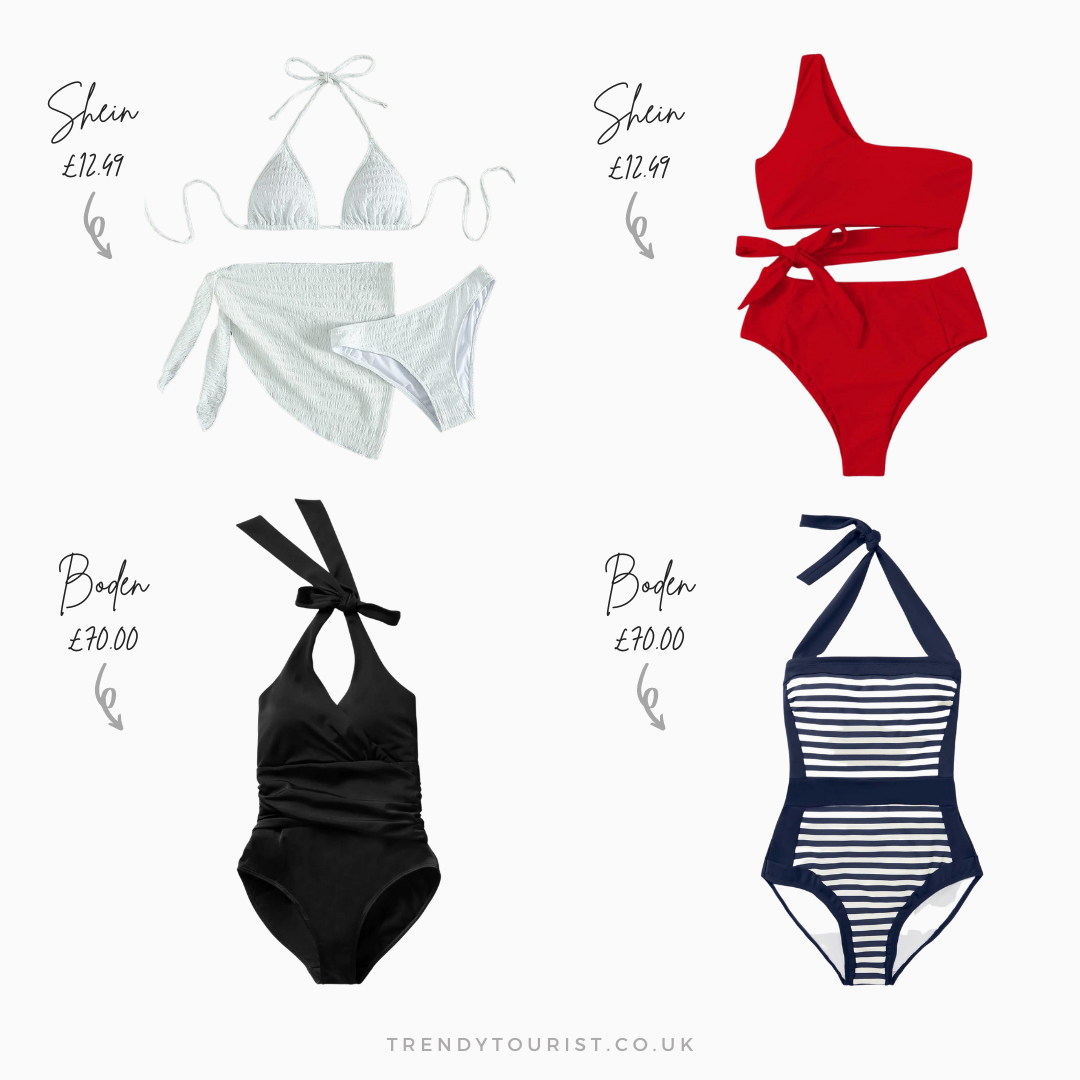 5. Sunglasses
Another absolute travel fashion must-have is a pair of classic-shaped sunglasses to help protect your peepers from the bright summer sun, whether it's aviator, wayfarer-inspired or cat-eye.
My advice is to consider your face shape and wardrobe when shopping. If you can grab a pair in a versatile hue like black, tan, silver or gold, even better!
Give these ASOS Black Cat-Eye Frames or Oliver Bonas Tortoiseshell Wayfarer Sunglasses* a go. Likewise, these Amazon Silver Aviator Sunglasses* and Quay Australia Gold "Big Time" Sunglasses* are sure to elevate any everyday summer aesthetic.
You may already have multiple pairs of sunglasses and this isn't a problem. If your suitcase space is tight just pick which style goes with the most outfits and run with it.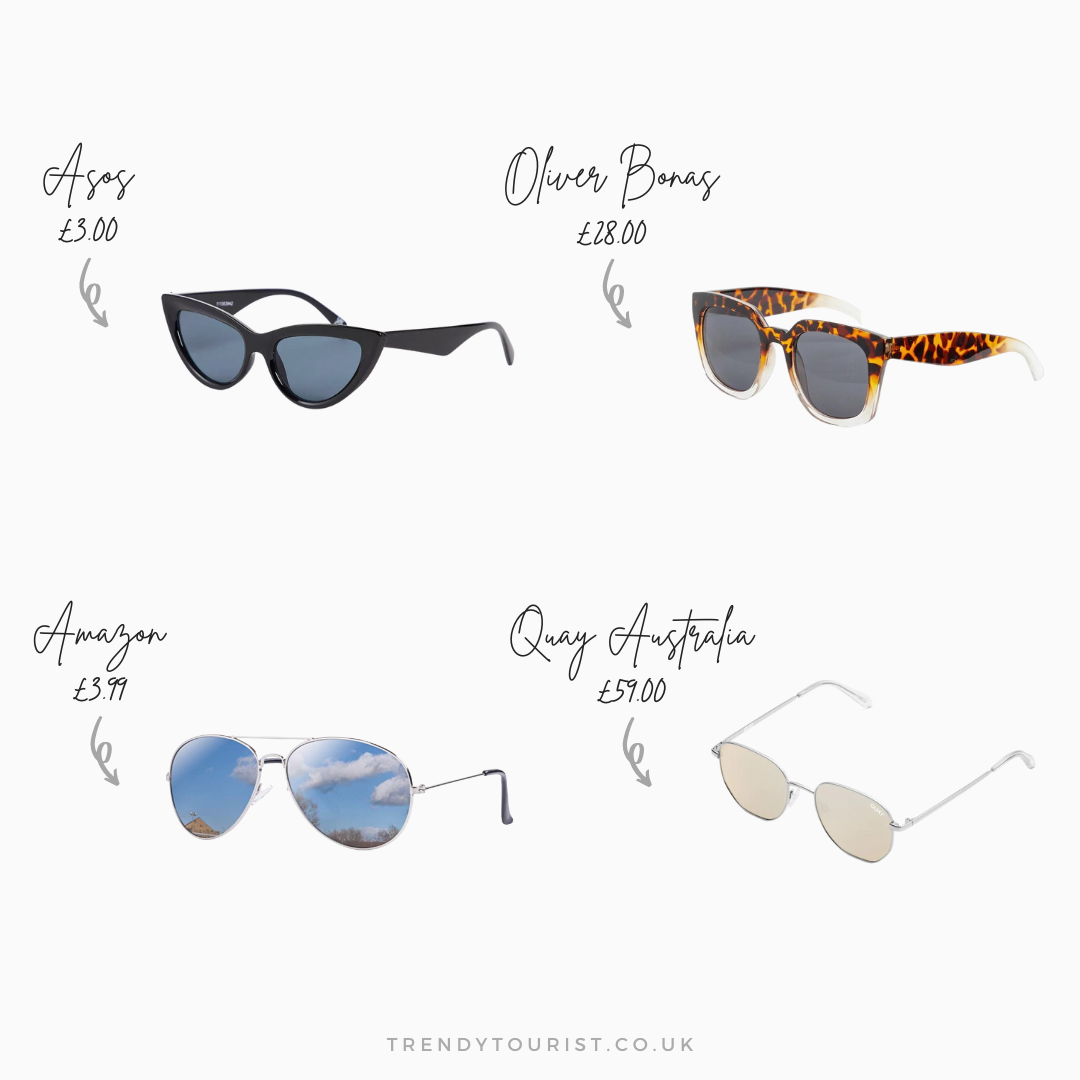 6. Sun Hat
It might not be the most glamorous thing to think about, but sunstroke is a very real problem when holidaying somewhere hot. Unless a trip to the local hospital is on your bucket list, it's a good idea to work a sun hat into your line-up of summer holiday fashion staples.
Whether you think you're a hat person or not, the truth is that hats make it easier for you to see in the bright sunshine. Alongside this, they provide an easy way to protect your face and scalp from burning (RIP painful showers).
If you ask me, you can't go far wrong with a classic wide-brim straw hat* or floppy fedora*. I'm also a big fan of the on-trend bucket hat* or sporty cap* for effortlessly cool vibes.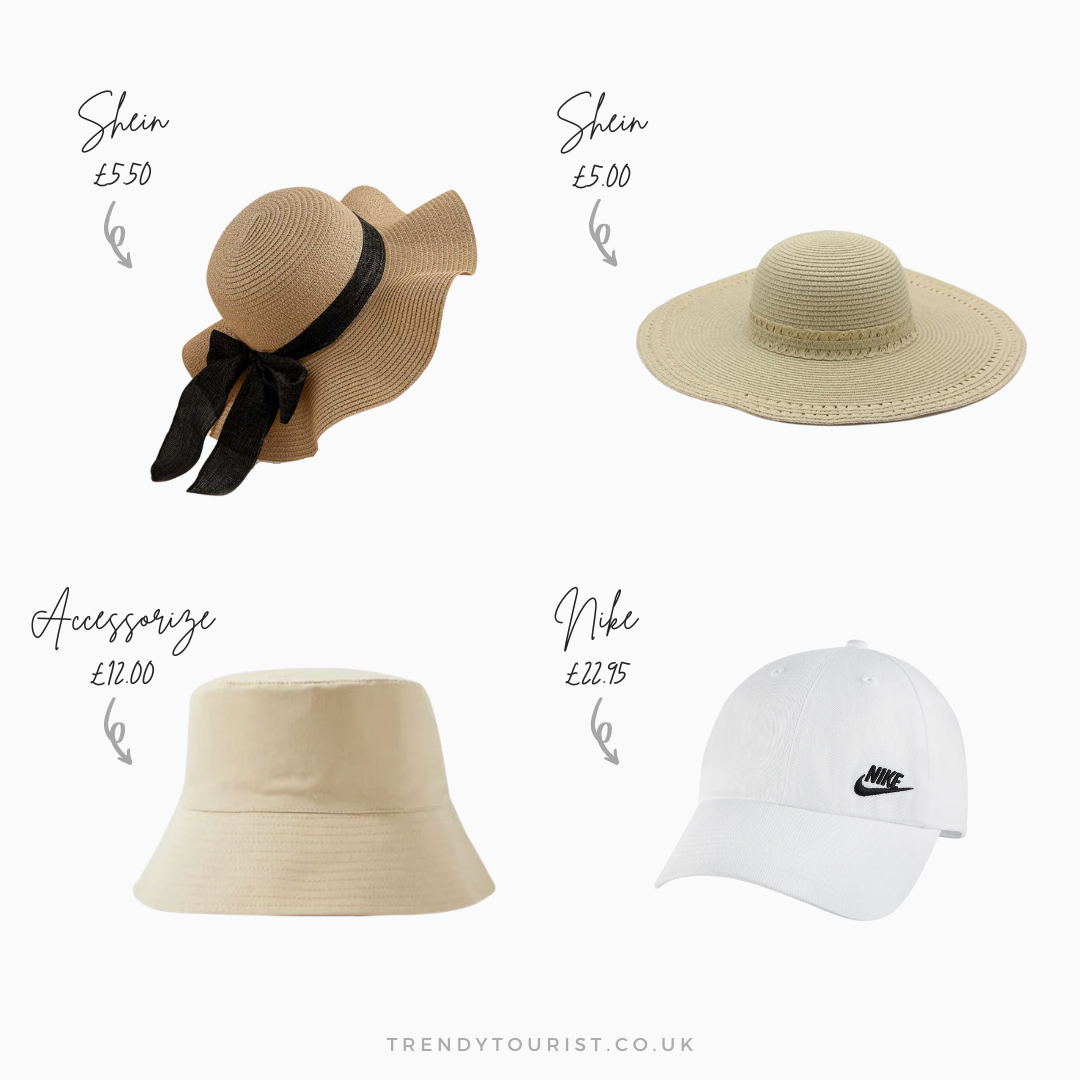 7. Flip Flops
Is there any item or clothing more synonymous with a warm-weather vacation than the humble flip flop? 
No list of what to pack for a summer holiday is complete without a pair of breathable flip flops or sliders, period. Not only are they ultra-convenient and able to be slipped on and off as needed, but they are suitable for going to the beach, pool and on day trips alike.
As if it could get any better, flip flops have the added benefit of being small and lightweight enough to slip into even the most bulging of suitcases. I call that a win-win.
When it comes to choosing your next pair of flip flops, I can heartily recommend Havaianas' Beige Flip Flops* or SHEIN's Braided Flip Flops* for a casual chic look. Alternatively, Nike Black Sliders* have long been a staple — and for good reason.
8. The Hands-Free Bag
Whether it's your trusty backpack or a shoulder bag, you really don't want to be stuck carrying anything in the heat.
Take the pressure off yourself by dispersing the weight with this hands-free Faux Leather Zip Around Backpack* from M&S. Or keep just your key valuables safe and secure with this cute SHEIN Mini Straw Backpack*.
If you're more of a crossbody person, look no further than this SHEIN Patch Decor Straw Bag*. For those who travel light, this SHEIN Minimalist Flap Saddle Bag* is functional yet fashionable enough for any style-conscious summer holidayer.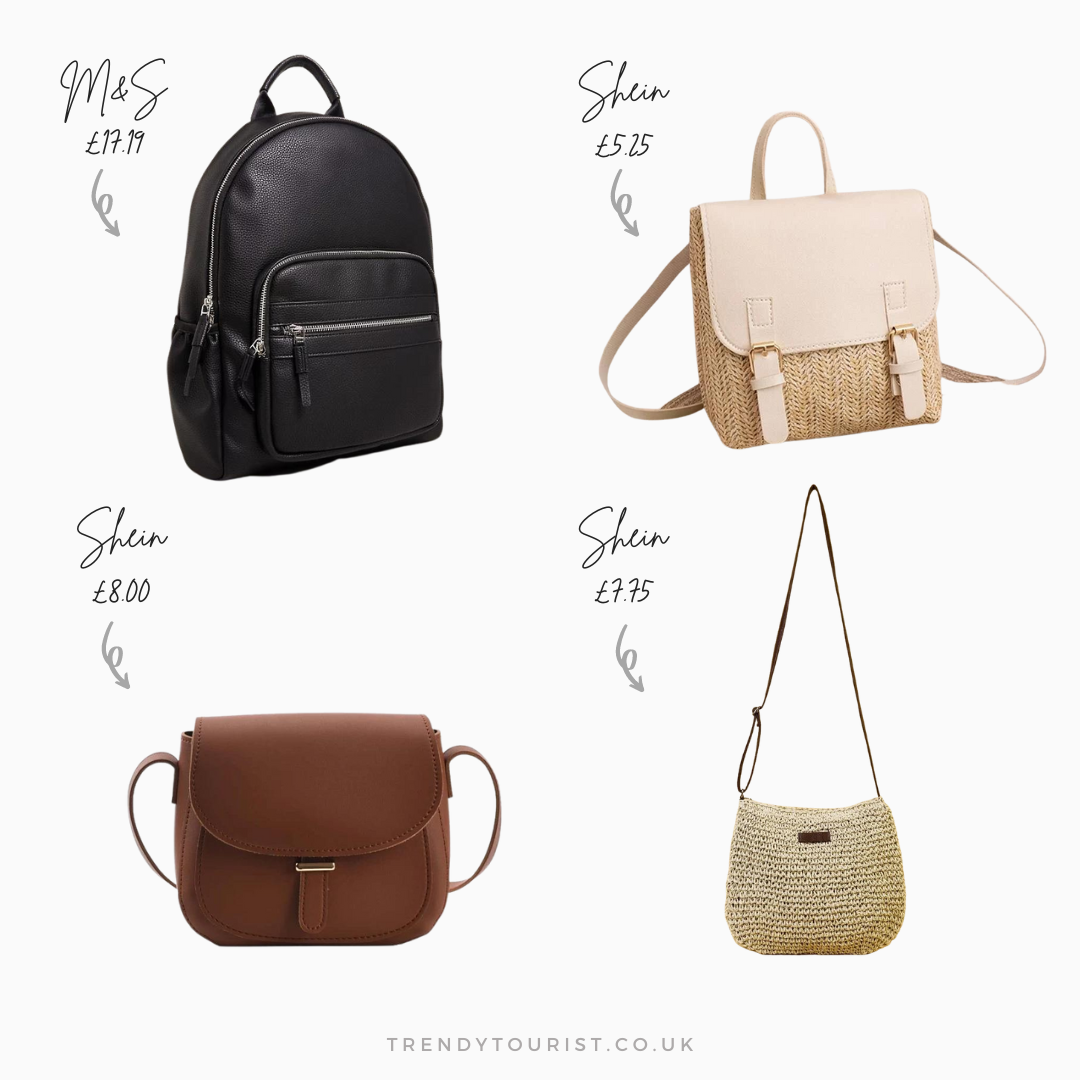 9. The Nicer Top or Dress
When deciding what to pack for a summer holiday, it's very easy to fall into the trap of thinking that everything you take needs to be super cool and breezy for those long hot days. But don't forget about those pieces you're going to need for the evening and any dressy occasions.
It will still be warm, so strappy tops and dresses are the way forward for posh meals and fancy drinks. Make your tan pop with this SHEIN Cut Out Cami Top* or take a walk on the wild side with this SHEIN Zebra Stripe Cami Dress*.
For a sophisticated summer evening, try this MANGO Satin Top* or Pull&Bear's Strappy Mini Dress*. Just don't forget your cover-up if you're planning to still be out when it gets chillier.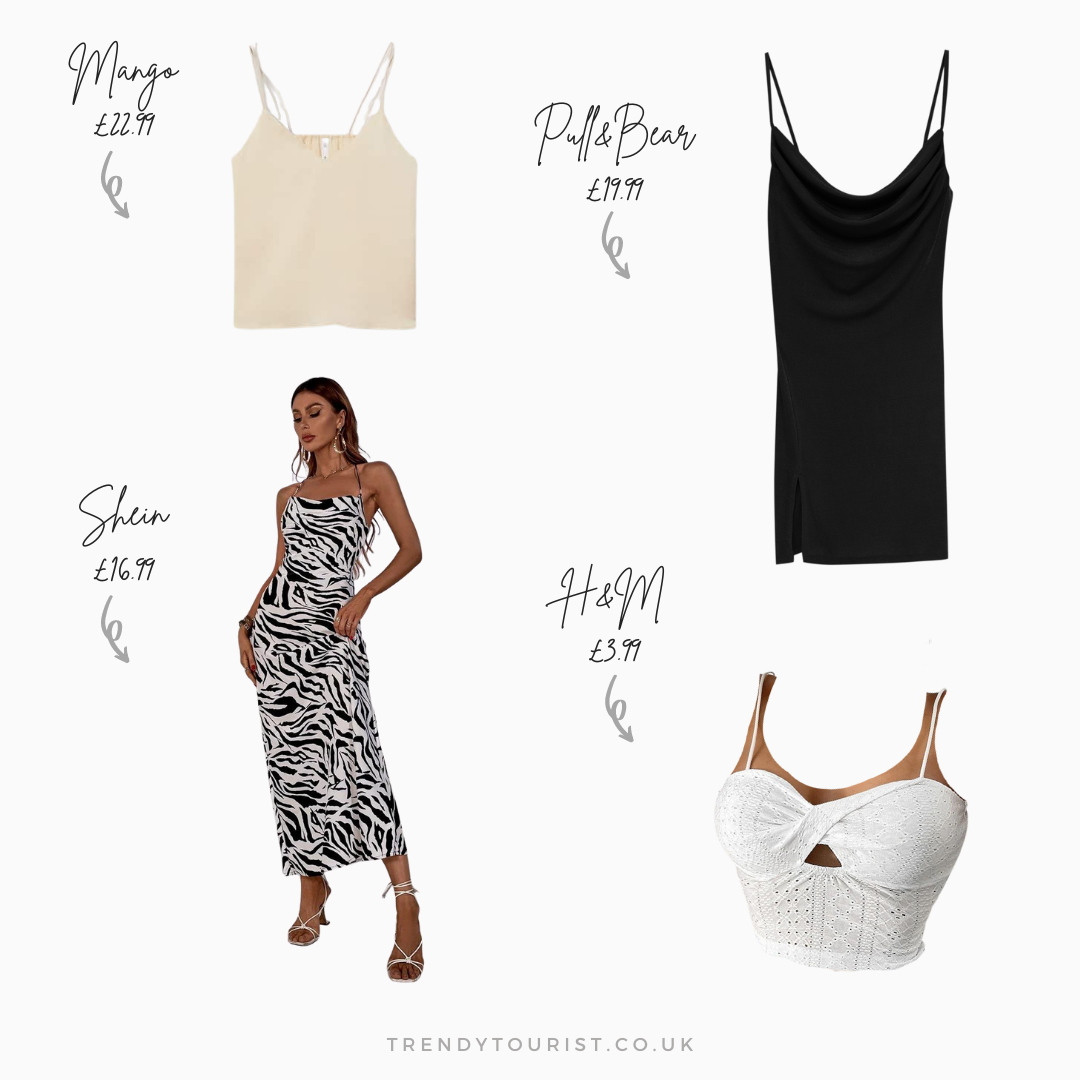 10. The Nicer Sandal
Finally, no fancier top or dress would be complete without the right shoes to match. The sad truth is that your daytime sliders or trainers don't exactly give off the smart-casual feel you may want for a fancy restaurant or bar.
So whether you're a fan of delicate heeled sandals or chunky gladiators, make sure to leave space in your suitcase for one or two extra pairs of shoes.
When it comes to heel height, it's up to you whether you go for low, mid or high heels. Personally, I gravitate towards block heels because I try to save money by walking everywhere while travelling. 
If you're like me, why not try these SHEIN Nude Heeled Sandals*? If you think you can handle the high life, these Schuh Metallic Strappy Heels* will seamlessly fit in with most palettes.
Your nighttime sandals don't have to be high at all though. These H&M Mules* will do the job just as well, as will these SHEIN Thin Strap Slide Sandals*.
A Note on Your Travel Bag
You may want your travel bag to double up as your daytime bag if you have limited space in your suitcase or carry-on. In this case, opt for a multi-compartment crossbody or backpack that's practical and will fit in all your plane essentials.
I'm a big lover of neutrals. However, while a plain black, white, nude, grey, beige or even navy backpack (like Under Armour's Loudon Backpack*) will definitely pair up with more pieces, sometimes only a fun print will do. 
Patterned backpacks like this Eastpak leopard print version are sure to inject personality to any outfit. That said, just don't go too wild as it's always best to have something that matches with as many of your clothes as possible.
Also consider using your beach tote as your travel bag if you're heading on a sunbathing holiday. This will save you having to pack it as they can be big and bulky and take up a lot of suitcase space. SHEIN's Large Straw Beach Bag* and H&M's Canvas Shopper* are big enough for all your beach essentials but also suitable for general day-to-day use, making them the ideal holiday companion.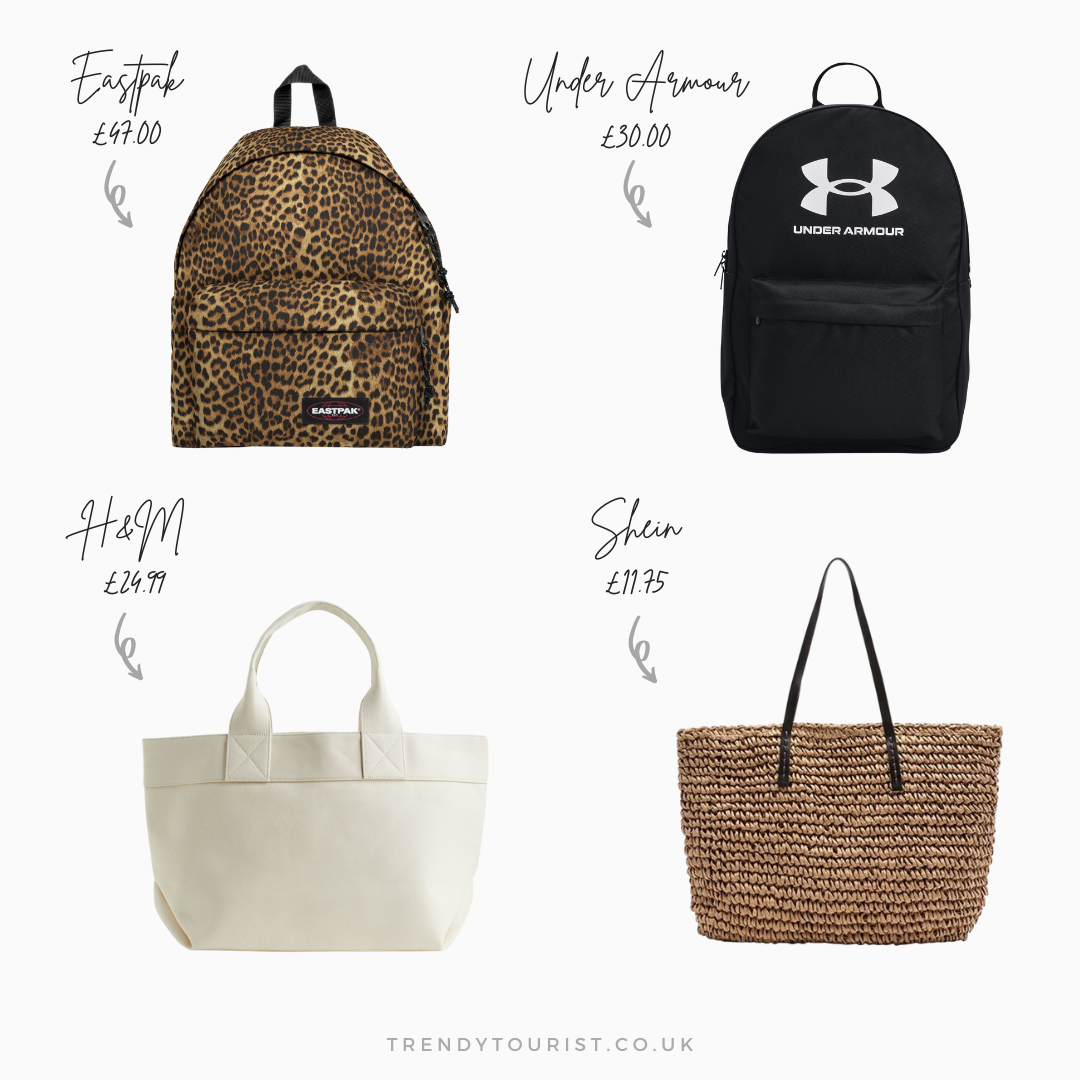 Final Thoughts on What to Pack for a Summer Holiday
When deciding what to pack for a summer holiday, prioritise pieces that are both practical and versatile. Even so, it's just as important that your travel wardrobe fits with your usual personal style. After all, you're only going to have the best time on holiday if you're feeling as fierce as you look.
Pin this article and share with friends: