Flashback to 2014: I was a young, skint graduate not even two years out of university who had no idea what she wanted to do with her life.
While my ambitious ex-classmates were climbing the career ladder, I was a temp working for a corporate company that was undergoing a major re-structure. No one's jobs were safe, I was living far away from home and I didn't know what to do for the best. All I knew is that I wanted to travel, but I didn't have the money.
Then, one day, it hit me. If I wanted to change my situation, I could. I just couldn't expect someone to do it for me. I had to put my big-girl pants on and do it myself.
So, I started saving my entry-level salary.
It took me 8 months to have enough money behind me to quit my job, move back in with my parents and go on my first three-and-a-half-month backpacking trip around the world. And I haven't looked back since.
Flash forward to 2019 and I have been on another global backpacking trip, two tours of the USA and countless mini getaways. At the time of writing this, I'm also currently living in New Zealand for a year – all because I've perfected the art of how to save money for travel.
If you fancy a change, desperately want to explore the world and are ready to actually start living instead of existing, I've got you covered. Read on for the top 20 tips and tricks that I swear by when it comes to saving money for travel.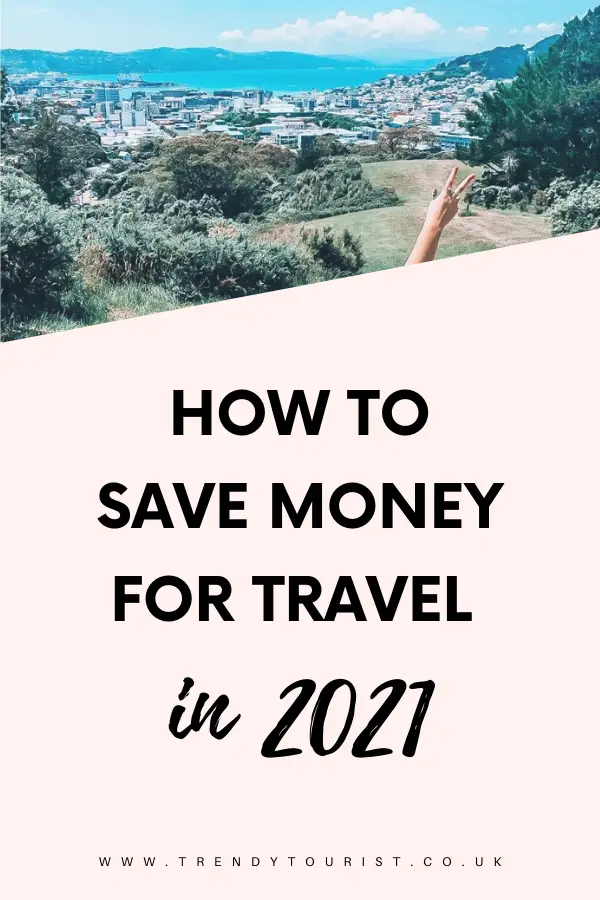 1. Change Your Mindset
How to save money for travel 101: realise that you're going to have to struggle for a while.
I'm not going to lie to you, saving money for ANYTHING is super hard work. You have to learn to go without luxuries, stay in rather than go out and say no to social events that involve spending money when you're used to saying yes. Bah humbug!
But do you know what? It's so worth it in the end when you're on a beach in Bali sipping on a Mojito without a care in the world.
2. Work Out How Much You Need
It's not enough to just blindly start saving when you've no idea of the figure you're trying to get to.
Analyse where you want to go, how long for and the type of trip you want to take. (For instance, a budget backpacking trip where you stay in hostel dorm rooms is going to cost significantly less than a couple's luxury holiday.)
Then take your goal figure and divide it by the number of months you have left before you jet off to get the amount that you should be trying to save every month.
3. Evaluate Your Current Finances
Once you've got a desired monthly figure for how much you want to save, the first thing you should do is a financial evaluation.
Assess how much money you've got coming in from your job(s) and how much you usually spend on necessities every month (rent, utility bills, petrol, phone, food, etc). Then you can start tracking your other expenditure if you don't already.
4. Track Everything You're Spending
From your Boots meal deal lunch to the presents you buy for your loved one's birthdays and your monthly phone bill, everything you spend needs to be made a note of.
The easiest way to do this is starting a spreadsheet and keep updating it as you go.
5. Reduce Your Utility Bills
Now that you know how much you currently spend on essentials, you can begin to actively reduce your utility bills.
Turn down your heating and wear chunky knitwear to keep warm. Unplug all electronics when you're not using them. Take shorter showers.
Sure, these sound like little things, but you'll be amazed by just how much they can make a difference.
6. Eliminate Subscriptions Where Possible
Another tried-and-tested method that I rely on in terms of how to save money for travel is to reduce or eliminate your monthly subscriptions. I mean, maybe you don't need that gym membership if you hardly ever go. Or perhaps you can skip the Disney+ subscription when you've got tons of Disney films on DVD anyway.
Say it with me: little changes create big results (trademarked Katie Davies, 2019).
7. Create a Savings Plan
Now that you've made a conscious effort to cut down your recurring outgoings, you can look at how much disposable income you have left every month. From this ballpark figure, you can allocate a minimum amount that you can realistically save per month.
For instance, say you have £1,200 monthly income. You've monitored that £700 of this goes towards necessities and £50 goes towards subscriptions, which means that you have £450 left.
You might want to allocate a minimum of £300 towards your monthly savings and use the rest for fun stuff. Or you could use the remaining £150 as leeway for special occasion gifts and social events.
Either way, come up with a monthly goal and stick to it. Consistency is key to this whole savings thing.
8. Open a New Bank Account
Once you have your monthly allocated amount to save, get in touch with your bank and see if you can open a new account. This will serve as your virtual travel pot where you can put your savings every month so you won't be tempted to touch them!
Pro tip: It's up to you whether you want to set up an automated payment to this bank account every month. Personally, I try to save and deposit more than my minimum monthly amount, so I prefer to manually transfer money across at the end of each month.
9. Make Brutal Cuts
A no-brainer when it comes to how to save money for travel: anything that you're not spending on essentials or necessary social events (like your sister's wedding) needs to be going towards your travel fund from this point onwards.
I know it's a task and a half, but be as brutal as you can. And you might just find that this alters your money mindset forever.
After all, do you really need a new dress for your friend's birthday when you've already got several in your wardrobe? No? Great. The environment thanks you very much.
10. Cook Instead of Eating Out
One of the quickest ways to watch your cash is to avoid eating out at restaurants and cafes.
Buying fresh food from the supermarket and cooking yourself saves so much money – and it can still be a social thing if you want to catch up with friends or family. Simply invite them around and away you go.
11. Reduce Your Alcohol Intake
How to save money for travel that you may not have even thought of: stop buying so much alcohol. Beveraginos are expensive, especially when you're buying a bottle of wine as your way to unwind on a Friday night.
I'm not saying don't drink at all if you do like the odd cheeky glass, but consider cutting down while you're trying to save – or at least reduce the amount of partying that you normally do.
Trust me, once you get into the swing of things, it's not as tricky as it sounds.
12. Go For a Walk Instead of Grabbing Coffee
Speaking of drinking, you'd be amazed at how much your coffee shop trips are setting you back every month.
If you want to catch up with a pal or simply get yourself out of the house, consider going for a walk instead. Exercise PLUS a fun and free activity? Sign me up.
13. Do Free Exercise
As I said before, try to avoid paying for a gym or exercise class while you're saving for travelling.
Why? Well, because you really don't need to. There are plenty of free options like going for walk, hiking, running, pulling out an old exercise DVD or watching a workout class on YouTube and copying the moves.
Work it, girl.
14. Shop For Essentials at the Cheapest Places
If you're trying to save the maximum amount of cash and fast, make sure that you're constantly comparing prices for your food and essentials.
Shop at the cheapest supermarkets and grab things like toilet roll in bulk from Amazon or Costco. Honestly, it's a life-saver.
15. Shop Around for Deals
You don't just have to be savvy with shopping for the essentials, you know.
You can also use the following websites to shop around for cheap deals from your favourite fashion, homeware, travel, technology and gift retailers:
You can even get free samples of certain stuff from these platforms:
And as Tesco say: every little helps!
16. Buy Second-Hand Clothing
If you're anything like me, you'll have a clothing obsession that you struggle to get under control. Let me guess: you're wondering how to save money for travel? Well, the good news is, nobody's saying that you have to go without.
Just choose more sustainable options, like second-hand clothes stores. From eBay to charity shops and vintage platforms, you can still get your fashion fix, but in cheaper, more sustainable ways.
17. Sell Old Clothes on eBay
Want to make some extra cash? Consider selling old clothes that you no longer want on eBay or Depop.
Personally, I swear by using eBay when I'm in need of some extra pocket money – and it never lets me down.
18. Skip the Hair or Beauty Salon
Look, we all love to be pampered, but sometimes we just can't afford that luxury.
Luckily for us, our hair isn't going to mind if we skip our usual six-week cut and go every few months instead. Likewise, do you really need to have your eyebrows waxed every month if you're struggling to keep money in your bank?
You might just find that a frequent eyebrow tweeze does the same job.
19. Reduce Your Car Usage – or Sell It!
It's no secret that owning a car is expensive. From paying for its annual service to insurance, tax and petrol, it can feel like you're constantly forking out for something.
However, if you cut down the amount that you use your car (or sell it), you automatically have more money to save. And boy, does it feel good.
20. Sell Unwanted Items on Facebook Marketplace
Speaking of selling, there's this amazing thing that came into existence in the last couple of years – and it's called Facebook Marketplace.
Whether it's clothing, your kid's toys or an old sofa that's sat in your garage collecting dust, if you can get a few bob for it – why not list that bad boy online?
One word: Kerching.
21. See if You Can Do Some Overtime
Still not even close to your target savings amount? Not to worry – try asking your boss if you can do some overtime from now until you take your trip.
22. Get a Side Job
If your boss is adamant that they don't need you for overtime, why not consider getting a side hustle? Perhaps the profits can directly go towards making your travel pot look healthier.
Whether it's a part-time job washing dishes in your local restaurant or freelance blogging for different clients, your efforts to save travel money will be nothing short of admirable.
23. Regularly Assess What's Working and What Isn't
Once you get into a groove with your new lifestyle and start to successfully monitor your spending, you should be able to see how quickly you're managing to achieve your goal.
Are your savings are increasing dramatically (and faster than you expected)? Wonderful. If not, don't despair – just keep doing what you're doing. Alternatively, try to find out what else you can do to boost them and do it.
Either way, you've got this.
24. Accept That There Will Be Some Variables
Keep in mind that one month you might be able to save £350 and the next you might struggle to save over your minimum amount of £200.
It all depends on what you've got going on in any given month in terms of birthdays, events, extra work, etc.
Therefore, don't be too hard on yourself and have faith that you will reach your target amount eventually.
25. Don't Stop Saving Until You Achieve Your Goal
Finally, the best lesson I could teach you in terms of how to save money for travel in 2021 is just don't stop.
No matter what happens, hold yourself accountable for what you're spending and keep persevering until your travel pot is bursting at the seams.
How to Save Money for Travel Without Becoming Miserable
Full disclosure: even though learning how to save money for travel is challenging if you're new to the concept, you can get into the swing of things pretty quickly.
Having said that, it's important not to deprive yourself too much. Allow yourself the odd treat, otherwise, you're just going to feel miserable throughout the whole time you're saving. And you can't put a price on mental health.
Above all, remember that you'll reach your financial goal and be living it up on the trip of a lifetime eventually, even if it perhaps takes a little longer than expected.
What are your top tips in terms of how to save money for travel? Have you been travelling much yourself so far?
Katie Davies is the Yorkshire-based freelance writer who founded Trendy Tourist. Since 2017, she has written for over 100 companies on a range of subjects, from fashion to marketing. When she's not producing content, you can find her shopping, exploring a new place or sitting somewhere having a cup of builder's tea.