Valentine's Day is just around the corner and it tends to be an occasion that divides the nation. Some people argue that you don't need a day of the year to appreciate your partner. Whereas, others will say that these designated 24 hours are a great excuse to remind them just how much you care.
If you fall into the latter category and are looking to get your partner a little special something this year and you both love to travel, I've got some good news for you.
The following 10 Valentine's Day gifts for travellers say "I love you" without breaking the bank.
1. A Travel Scrapbook
Valentines Day gifts for travellers 101: this "Our Adventure Book"* By Fun Sponsor is the cutest idea if you two have already travelled together or plan to head off into the sunset sometime soon.
Essentially, this item can be used as a scrapbook or photo album to showcase all your favourite travel memories. And did I mention that it's beautiful and timeless? You'll be able to review it and smile for years to come.
2. A Personalised Padlock

A totally unique and yet undeniably awesome option when it comes to Valentine's Day gifts for travellers, this TSM Trading Padlock* can be engraved with a personalised message. Whether you're heading to the Love Lock Bridge in Paris in the near future or somewhere else that's sentimental to you both, take this padlock with you so that you can leave your mark.
A romantic gift that also provides a fun activity? It sounds like a win-win to me.
3. A Date Night Decider
This Date Night Decider* by Taylise makes for a great Valentine's Day present if you spend a lot of time together or you've been together for years so you feel the need to mix up your activities. Simply spin the arrow to land on one of the 16 fun date ideas.
Completely original yet cheap as chips, one thing's for sure: you'll never be stuck on deciding what to do for date night ever again, whether you're home or away!
4. A Travel Scratch Map
An ideal option when it comes to Valentine's Day gifts for travellers who are more experienced, this Luckies of London Scratch Map* allows your other half to scratch off the gold foil that covers the places they've visited.
It's super satisfying seeing all your adventures in visual form — and it even comes in a compact tube that you can take with you as you travel!
5. An "Adventure Fund" Money Box
Saving money for travel can be challenging with rising house prices and the cost of living only getting more expensive. That's why your partner may appreciate this wooden-frame Money Box* by Jones Home and Gift that has a wanderlust design.
As well as helping you to save for your next trip, it opens by sliding the back panel up giving you easy and quick access to your savings if you need them.
6. A "Travelling the World" Survival Kit
This "Travelling the World" Survival Kit* by SMILE GIFTS UK is a small novelty gift that's perfect for your other half if they're about to travel and you promised that you weren't doing presents for Valentine's Day this year.
It's a great way to wish them luck on their trip and let them know you're thinking of them with every item included. Plus, all items are placed in an organza bag, which includes a laminated label that highlights when and how they'll come in handy.
7. A "Foods of Europe" Scratch Map
If you like the idea of getting your other half a scratch map but you both love food just as much as you love travel, I've got the perfect solution for you. This playful Boomshine Foodie's Poster* allows you to mark off the world's best foods that you've already tried.
Each of the 80 foods are pictured once you scratch them off, which will make you want to taste them all again. Better get booking those flights! Drool.
8. A Travel Laundry Bag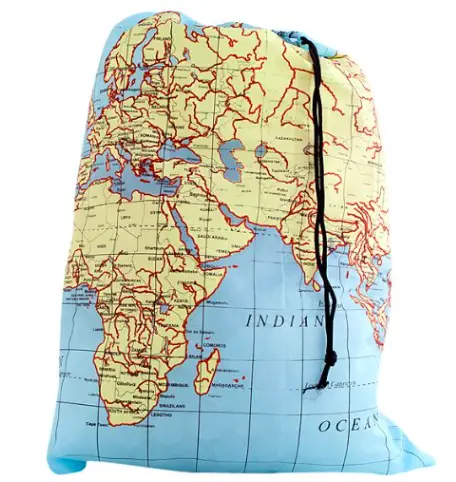 If you're into super silly yet incredibly practical Valentine's Day gifts for travellers, look no further.
This small travel-themed Kikkerland Laundry Bag* is extremely versatile and compact with its built-in pouch, inner loop and carabiner. When folded, it will easily slot into a suitcase to help you conceal all your dirty laundry while you're away.
9. A Leather Travel Journal
Every traveller loves to journal about their adventures around the globe. That's why this 160-page FYLINA Notebook* with a premium PU leather cover is a thoughtful Valentine's Day present for your partner's upcoming trip.
Not only is it good for writing, drawing and/or sticking down photos, but the craft paper is refillable for any future memories the owner may want to record.
10. A Guardian Pocket Angel
Finally, one of the sweetest Valentine's Day gifts for travellers is this keepsake Guardian Pocket Angel* by Metal Planet Ltd. As well as being from metal in the shape of an angel, it's engraved with "Travel Safely" on the front and a tiny pair of wings on the back.
Packaged in a small white box, it aims to protect whoever wears it in their pocket, whether they're heading near or far. How cute is that?
Pin this article and share with friends: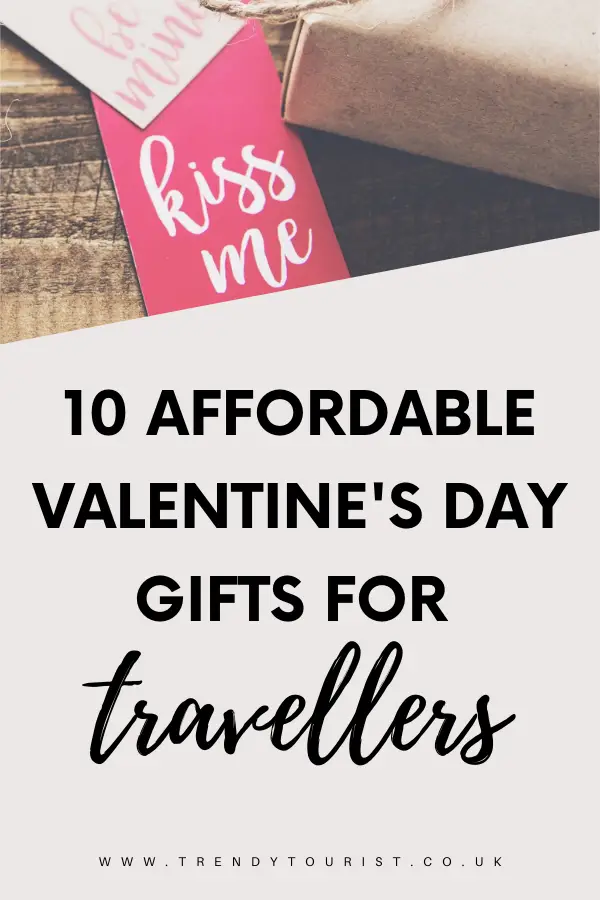 Investing in Other Valentine's Day Gifts for Travellers
Sure, you don't have to buy your Significant Other a Valentine's Day gift for them to know just how much you care about them. In fact, there are other ways to demonstrate your love that don't cost a thing, such as:
Cooking them a nice dinner
Planning a picnic for them in a breathtaking location
Taking them on a day trip to somewhere you've both never been
That said, if you feel so inclined, the above 10 Valentine's Day gifts for travellers are small, affordable gestures that are sure to make them smile.
Have a wonderful Valentine's Day everybody! Do you have any other Valentine's Day gifts for travellers in mind?