Sun, sea, sand — that's what typically awaits you on a long weekend away in summer, whether you're heading to Cornwall or the South of France.
However, it can be difficult to know what to pack, especially if you have limited bag space. Luckily, the travel capsule wardrobe is here to save the day.
A travel capsule wardrobe is a limited number of pieces that you curate from your wardrobe to get the optimal number of outfits for your trip. The most suitable ones for summer feature clothing that feels cool and comfortable in warm temperatures, but still look seriously stylish.
Building a summer travel capsule wardrobe can be challenging if you're a serial overpacker or you've never done it before. But, not to worry, I'm here to help you create the best one for you and your long weekend away.
Ready? Let's go!
How to Build a Summer Travel Capsule Wardrobe
First things first, there are a few things you need to know about building a summer capsule wardrobe. Consider the following.
The Weather: A summer travel capsule wardrobe for a staycation in the UK will look different than a summer travel capsule wardrobe for a Mediterranean holiday abroad. For example, you will need more layers to accommodate unpredictable weather for the former and only light clothing for the latter given the 30-degree-plus temperatures.
Your Destination: Are you going to a big city? A coastal town? Or a countryside retreat? All of these destinations call for slightly different clothing. For instance, dressy, fashionable outfits are the norm in the city, whereas outdoor clothing will reign supreme in the countryside.
Your Itinerary: What do you plan on doing in your destination? If you're rock climbing one day, your clothing will need to be practical for this type of activity. On the contrary, if you're going to an upmarket restaurant, you may want to take a fancy 'fit in line with the occasion.
Trip Duration: The longer you are away, the more outfits you will need and therefore the more outfit pieces. 
Bag Space or Weight Limitations: If you're travelling via public transport, keep in mind that there may be some restrictions in terms of your baggage. For example, airlines have baggage allowances for size and weight (Ryanair are notorious for being stingy!). Likewise, if you have to get two trains and a bus, you may want to choose a bag that's smaller and easier to carry than a big, heavy suitcase. In both of these cases, you may want to pack fewer and more lightweight items.
Every summer capsule wardrobe will vary depending on your specific circumstances, but I can give you a general idea of what to take based on my extensive travel experience.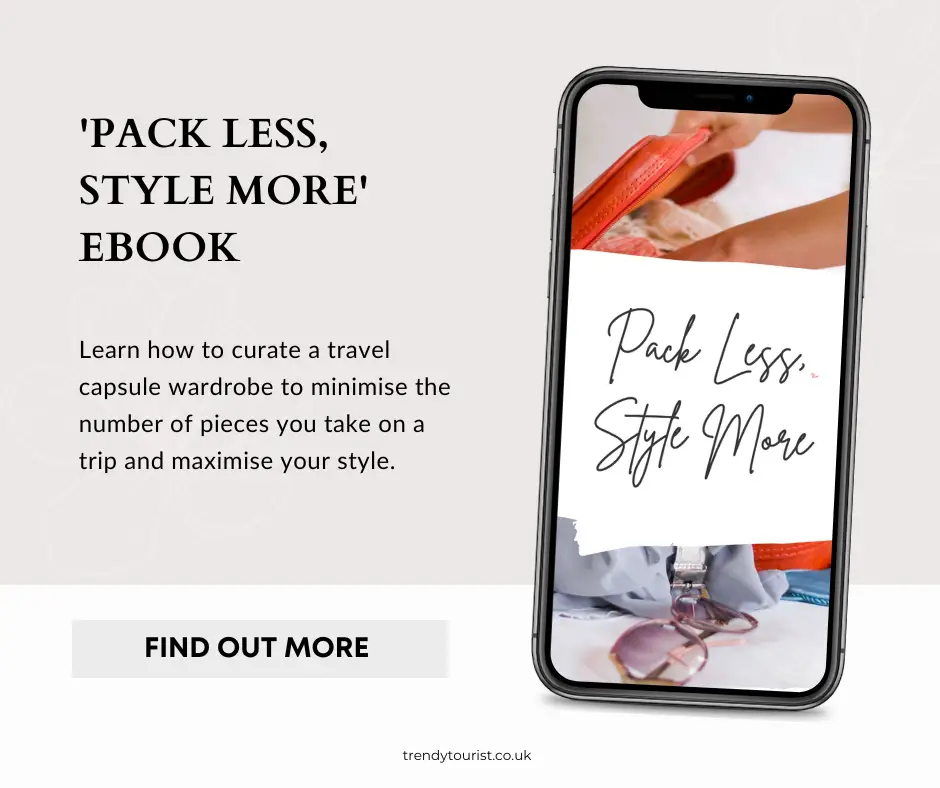 What's In This Summer Travel Capsule Wardrobe
For the purpose of this summer travel capsule wardrobe, I'm going to assume you're staying in a city for a few days maximum. I'm also going to assume the temperatures are in the mid to late twenties (Celsius).
That said, in terms of what to pack, the quantities I would suggest are as follows:
2 dresses
2 tops
1 bottom
1 layer
(After all, you may need a layer for the evening when the temperature drops, or early morning when it may not have warmed up yet.)
The above would make four outfits for four long days of shopping and sightseeing as follows:
Dress 1
Top 1 and bottom 1
Dress 2
Top 2 and bottom 1
Not a dress girly? No problem — just swap out the dresses for another bottom and two more tops. I just love a good breezy dress in the summer months. Plus, it's just one piece so it tends to be easier to pack.
Now, let's get stuck into the good stuff.
Summer Travel Capsule Wardrobe Pieces
First, I'll break down my example for a summer travel capsule wardrobe piece by piece.
Top 1: A White Vest Top
A white vest top or cami is considered a summer wardrobe staple because of its ability to keep you cool as the temperatures rise. Plus, white is a neutral colour that complements just about anything and never goes out of style.
Example product: Boden Square Neck White Vest*
Top 2: A Khaki Vest Top
For maximum tanning opportunities, include another vest top or cami in your summer travel capsule wardrobe. Opt for another neutral, such as khaki, navy, black, grey or beige, or a bright hue to add a pop of colour to your outfits.
Example product: Boden Ribbed Khaki Vest*
Bottom 1: Beige Linen Shorts
Choose a bottom piece that coordinates seamlessly with your two top pieces. Beige works wonderfully for lifting white and khaki in a warm-weather ensemble. Being another neutral, it elevates the outfit and adds a touch of luxe.
Linen is one of the best fabrics you can wear in summer. It's high quality, breathable and lightweight, helping you to regulate your body temperature.
Example product: M&S Pure Linen Beige Shorts*
Dress 1: Strappy Yellow-Green Midi Dress
If you can't wear colour in summer then when on earth can you? I like to pick a colour that complements the others already present in my travel capsule wardrobe. This way, it's easier to put various outfits together.
A strappy dress allows you to flash the flesh while a midi length maintains an elegant feel. 
Example product: H&M Yellow-Green Drawstring Midi Dress*
Dress 2: Puffed Sleeve Black Mini Dress
A LBD is a timeless classic in the fashion world and during the summer season is no exception to the rule. Black outfit pieces always equal class in my eyes.
I love the adorable puffed sleeve numbers on the high street at the moment. If it's mini length, even better, to tan those lovely legs!
Example product: Hollister Black Skort Dress*
Tan Sandals
For walking around the city, you need comfy flats that you've already worn in. (That means no new shoes that could potentially cause blisters, ladies!)
If they're strappy and stylish-looking, that's a bonus. Having said that, you could just opt for walking sandals or trainers depending on what you have in your wardrobe.
Stick with a neutral colour so that you only need to take one pair of shoes but they match with every outfit. Less hassle, more packing space. Win-win!
Example product: New Look Tan Strap Sandals*
Beige Straw Bag
The perfect everyday handbag option in summer is the humble straw bag. It's sturdy, looks great with everything and never goes out of style every time the warm weather rolls around.
A beige straw bag picks up the other beige tones in this summer travel capsule wardrobe so it polishes off every outfit nicely.
Example product: New Look Straw Bag*
A Few Key Accessories
Do not underestimate the power of a good accessory. When you're travelling, you may not want to take that many accessories due to bag space, so be sure to choose options that go with multiple outfits.
Personally, I think less is more when it comes to jewellery, so I'd recommend these & Other Stories Chunky Hoop Earrings* and this John Lewis Orelia Three Row Necklace* (not necessarily worn together).
Keep your eyes protected while looking bougie with these PrettyLittleThing Tortoiseshell Sunglasses* that level up every look.
Lastly, add this quaint Fable England Toile de Jouy Scarf* to a couple of outfits for a bold, playful twist on "Riviera chic."
Summer Travel Capsule Wardrobe Outfit Itinerary
Let's take the above pieces and create outfits that will keep you looking cute and feeling comfortable for your long weekend away in summer.
Here's the outfit itinerary I'd recommend for your four-day trip.
Day 1
Simple yet stunning, prepare to stand out from the crowd in this striking, trend-driven outfit that's nothing short of sophisticated.
Day 2
Look and feel fresh in this ageless neutral ensemble that is modernised effortlessly with the statement printed headscarf.
Day 3
Another oldie but a goodie, the LBD has been given a flirty, feminine transformation here with puffed sleeves and a shirred bodice, a patterned headscarf and strappy sandals. Excuse me while I fall in love.
Day 4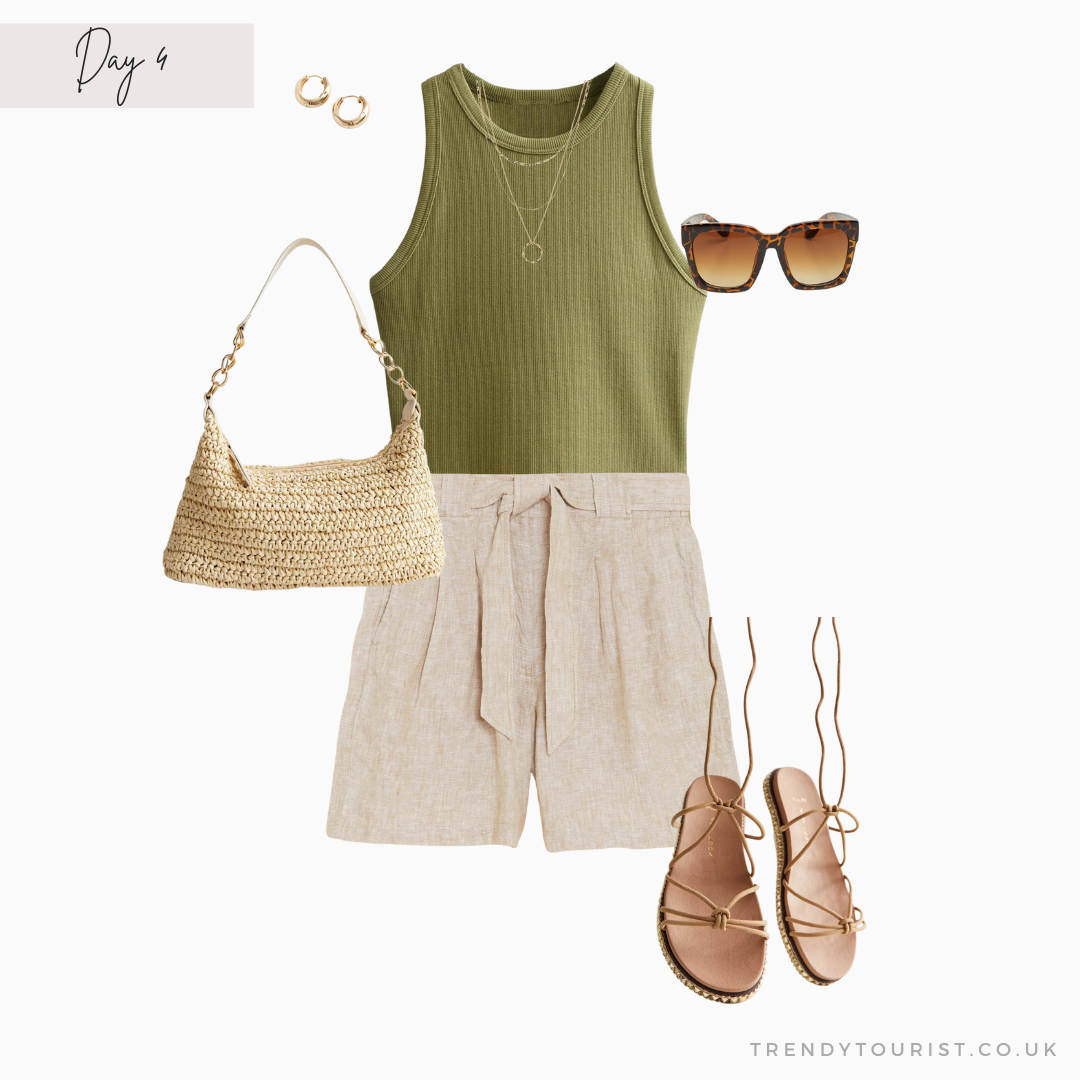 A more functional outfit for long days of exploring, you can't go wrong with this khaki-top-and-beige-shorts combo, especially when it's accessorised this beautifully.
Pin this article and save for later:
Final Thoughts
Building a summer travel capsule wardrobe can be challenging if you're a serial overpacker or you've never done it before. However, with a bit of knowledge and a lot of practice, it becomes much more straightforward. 
Just keep in mind where you're going, how long for, the weather forecast, what you'll be doing and if you have any bag limitations, and you're sure to pack like a pro.
Still struggling? That's okay — I can help further. Check out my virtual styling services where I can curate a travel capsule wardrobe for you, no matter what the trip.