Festivals have got to be one of the most fun things you can do in the UK. A unique day out or weekend away with some of your besties, your favourite live music and diverse crowds of like-minded people? Where do I sign up?!
However, just because most festivals are held in summer in the UK, doesn't guarantee you're going to get sunshine. In fact, it's best to pack for all weathers, because sometimes we can get four seasons in a day! Sigh.
Whether you're going to Leeds Fest for the day or for the whole  6-day Glastonbury experience, I've got you covered as someone who has been to multiple festivals in her time. Here's what to pack for a festival so that you have everything you need to look and feel amazing and fully enjoy the experience.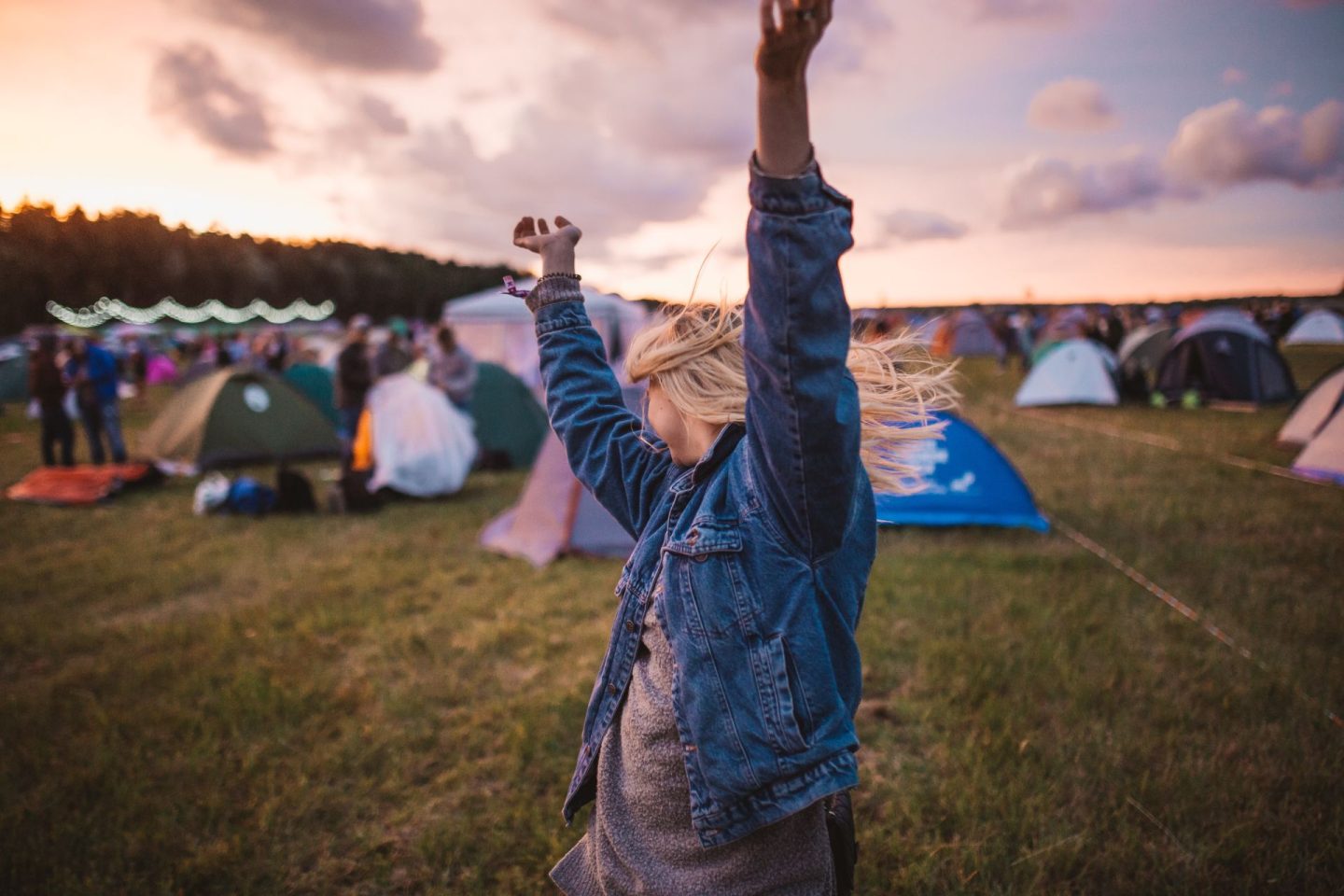 What to Pack for a Festival In Your Handbag
First things first, this section's for my day girlies. Do not underestimate the amount of things you need to pack just for a 12-hour festival experience. That said, you have to carry them around for the entire day, so try to pack as light as possible.
1. Hand Wipes
I'd recommend wipes over sanitiser any day, as UK festivals are notorious for being muddy and you need something that's going to wipe the mess away rather than make an interesting mixture. (Eek!)
Those portaloos can also be less-than-hygienic so it's important to keep your hands clean to avoid picking up bugs and illnesses.
2. Phone and Portable Charger
Obviously you need a way to keep in touch with other people you know at the festival, and to take photos and videos! It helps to have a portable charger in case you run out of juice.
3. Cash and Cards
Bring some cash for vendors who may not accept cards, as well as your debit or credit card for convenience. You may also need your ID for buying alcohol.
Ensure your cards are protected yet easily accessible.
4. Tissues or Loo Roll
The portaloos are usually well-stocked but in the off chance they're not, it makes sense to have some tissues or loo roll on hand.
5. Sunscreen
Like I said earlier, you may get blazing hot sunshine on festival day(s). Avoid getting burnt and protect your skin from harmful rays by packing a travel-sized sun cream you can whip out at a moment's notice.
6. Sunglasses and Hat
Likewise, protect your eyes from glare by packing sunglasses. A hat can also shield your eyes and face from the sun and keep your head cool so that you stay more comfortable for longer. 
Bucket hats are a popular choice for festivals — they're just as cute as they are quirky!
Try this affordable option from Amazon* that comes in different colours and designs.
7. Water Bottle
Most festivals won't allow you to enter with liquids, regardless of whether they're in clear plastic bottles. Your best bet is to take an empty water bottle that you can refill at water stations throughout the day.
Hydration is key for those long days on your feet!
8. Snacks
Not all festivals allow you to enter with food. But for those who do, pack some non-perishable snacks like granola bars, nuts or dried fruit that you can have when you get peckish.
Festival food can be very expensive.
9. Hair Ties
It can get rather hot in a crowd, even if it's a mild day. If you have long hair, you may want it off your neck eventually. That's why it's a good idea to bring hair ties or a scrunchie either around your wrist or in your bag.
The Invisabobble* does the job without creating kinks. Win-win.
10. Rain Jacket or Poncho
Look, rain may not be forecast, but it's the UK. Who knows what might happen! Always pack a rain jacket or poncho to be on the safe side. 
When I went to Download in 2011, it rained the whole day and I didn't come prepared. A dash to the nearest stall with ponchos was required and it wasn't cheap to buy one onsite. Plus, the damage had already been done and I was soaked to the bone for the rest of the day. I lived and I learned.
11. A Warm Layer
If it's warm and raining, you have your poncho. If the temperatures drop, you need a cosy layer to stop you from feeling cold, especially if you don't want to get into the thick of the crowd. (Being in this position is likely to keep you warm even if the temperatures are cooler.)
I'd recommend a cardigan or sweatshirt that's effortless to throw on. You could even tie it around your middle if you're taking a small bag.
12. A Small First Aid Kit
Essential medications and pain relievers are a must-take for a festival because they're such long days. If a headache pops up, you want to be prepared.
Try this simple pocket-sized first aid kit from Amazon*.
Plasters and antiseptic wipes are also useful in case of blisters or some other kind of accident. Although, there are first aid tents onsite to help you should the worst happen (which is highly unlikely).
13. Program or Schedule
You may be able to just download the festival's schedule on your phone. However, it is handy to have a physical version in your handbag so you can plan your day effectively and avoid missing out on your fave bands if your phone battery unexpectedly goes.
14. Optional Extras
We've covered the essentials, but what about those added extras you might want to take if you have the room?
Portable Fan: If the UK is having a heatwave, a small portable fan can help you stay cool at a festival.
Compact Mirror and Makeup Products: These may be ideal for quick touch-ups throughout the day.
Personal Hygiene Products: You may want to pack some travel-sized deodorant, hand lotion and any other personal hygiene items you may need.
In terms of the bag you carry all of the above in, I'd always recommend a crossbody so that you can pull it around the front of your body in a crowd. (This protects it against pickpockets and from getting banged around.)
What to Pack for a Festival In Your Backpack
What to pack for a festival for the entire few days starts to get a little complicated. Rule 101: always opt for a large backpacker-style backpack. It's easier to pack, carry and transport from A to B.
Suitcase wheels plus mud equals a disaster. Similarly, an overnight bag soon becomes heavy with all the stuff you need and hurts to carry around. (I was that girl at Leeds Fest once. I dropped it in the mud several times!)
Clothing
When you go to a festival for a weekend, you're usually there from Wednesday to Monday or Thursday to Monday. This means you need five or six outfits that slay.
I recommend doing two shorts and three tops that create six outfits, i.e.:
Shorts #1 and top #1
Shorts #1 and top #2
Shorts #1 and top #3
Shorts #2 and top #1
Shorts #2 and top #2
Shorts #2 and top #3
Shorts are just a bit more practical for festivals than skirts, especially if you plan on getting on the shoulders of your partner to see better in the crowd.
Want to be a flouncy dress girlie and don't plan on getting any shoulders? No problem.
Alternatively, you could do two shorts and two tops to make four outfits, and then add a dress or two a la:
Shorts #1 and top #1
Shorts #1 and top #2
Shorts #2 and top #1
Shorts #2 and top #2
Dress #1
Dress #2
If it's chilly, add tights. Having said that, it will always feel balmy in the crowd so you may be able to get away without.
Either way, don't forget your wellies. They're a festival staple and you won't need any other type of shoe. Trust me.
Grab the Original Tall Hunter Wellies here*.
Not a bit of mud or rain forecast in sight? You could potentially get away with calf-high boots instead, like cowboy boots* or Doc Martens*, but I'd always stick to wellies to be on the safe side.
Check out these 9 fabulous 'fits for festivals that are failsafe.
Underwear, Socks and Sleepwear
You need enough underwear to last you the entire time you're camping, as well as a couple of extra pairs (you know, just in case).
Likewise, don't forget comfy socks to go under your boots or wellies. Take a few pairs to be on the safe side!
Lastly, you need something snugly to sleep in. I'd suggest wearing weather-appropriate pyjamas or moisture-wicking base layers.
If camping in chillier conditions, wearing clean, dry socks and a beanie can help keep you warm during the night.
Toiletries
Backpacks soon run out of room when you're packing all of these festival essentials. That's why going to want to take travel-sized everything when it comes to toiletries. 
Opting for travel sizes will also lighten your load for trudging around the campsites looking for the perfect spot to set up your tent. Thank me later.
Here's what to pack for a festival in terms of toiletries.
1. Toothpaste and Toothpaste
Make sure you have your oral hygiene in check with a travel-sized toothbrush and toothpaste.
2. Shampoo and Conditioner OR Dry Shampoo
Keep in mind that unless you're glamping and have access to shower facilities, you may not be able to shower onsite. Or, you will, but it will cost you.
Back when I did Leeds Fest in 2009, no one showered for the whole weekend because us pesky teens didn't want to pay. Although, if I had the option to now, I would pay as I think it's worth it.
If you do have shower access (lucky you), don't forget your travel-sized shampoo and conditioner. If you don't, dry shampoo is going to be your new best friend.
3. Body Wash or Soap
Again, taking a travel-sized bottle of body wash may not apply if you don't have shower access. However, I would advise to take a bar of soap either way.
You can use it in the campsite to have a quick freshen up under the armpits, or intimately when no one is looking! (Get a mate to hold a towel up in front of you.)
4. Deodorant
Stay fresh throughout each day you're at the festival with a travel-sized deodorant.
5. Face Wash or Cleansing Wipes
Keep your face clean with a travel-sized bottle of face wash. 
I'd actually suggest taking cleansing wipes instead if you can. It's just quicker and easier to use a wipe instead of trekking to find fresh water.
6. Moisturiser
A travel-sized moisturiser will keep your skin hydrated in the dry environment of your tent or in the outside heat.
7. Feminine Hygiene Products
For those who need them, bring an adequate supply of tampons or pads. Those FemFresh wipes can also be a lifesaver if you don't have access to a shower, especially if you're going to be on your period. (Poor thing.)
8. Contact Lenses or Glasses
If you wear contact lenses, pack spare lenses, lens solution and a case, or your disposable lenses. Alternatively, bring prescription glasses.
9. Hairbrush or Comb
Stop your hair from getting unruly with a compact hairbrush or comb.
10. Microfibre Towel
For those times where you're trying to get a sneaky wash in or if you have shower access, pack a fast-drying microfibre towel. This also folds up small in your backpack, especially if you find one that comes with a case like this Amazon option*.
11. Makeup Essentials
Let's face it, you're probably going to want to go bare-faced for most of the festival, especially if you're in the sunshine and want to prioritise applying sun cream.
But, mascara is a must for most of us, as is lip balm and tinted moisturiser. Remember to bring whatever you need to feel happy and confident (and get some bougie Instagram photos, right?).
Here are some festival makeup ideas I love.
12. Optional Extras
If you plan to shave during the festival, pack a disposable razor and travel-sized shaving cream for a quick touch-up. I'd recommend waxing prior though so you don't have to worry about this.
Another thing you may want to pack is eye drops for extended periods in the outdoors, especially if you're prone to getting dry or irritated eyes.
Don't forget the hand wipes, sunscreen and important medications we talked about earlier that will also go in your day bag.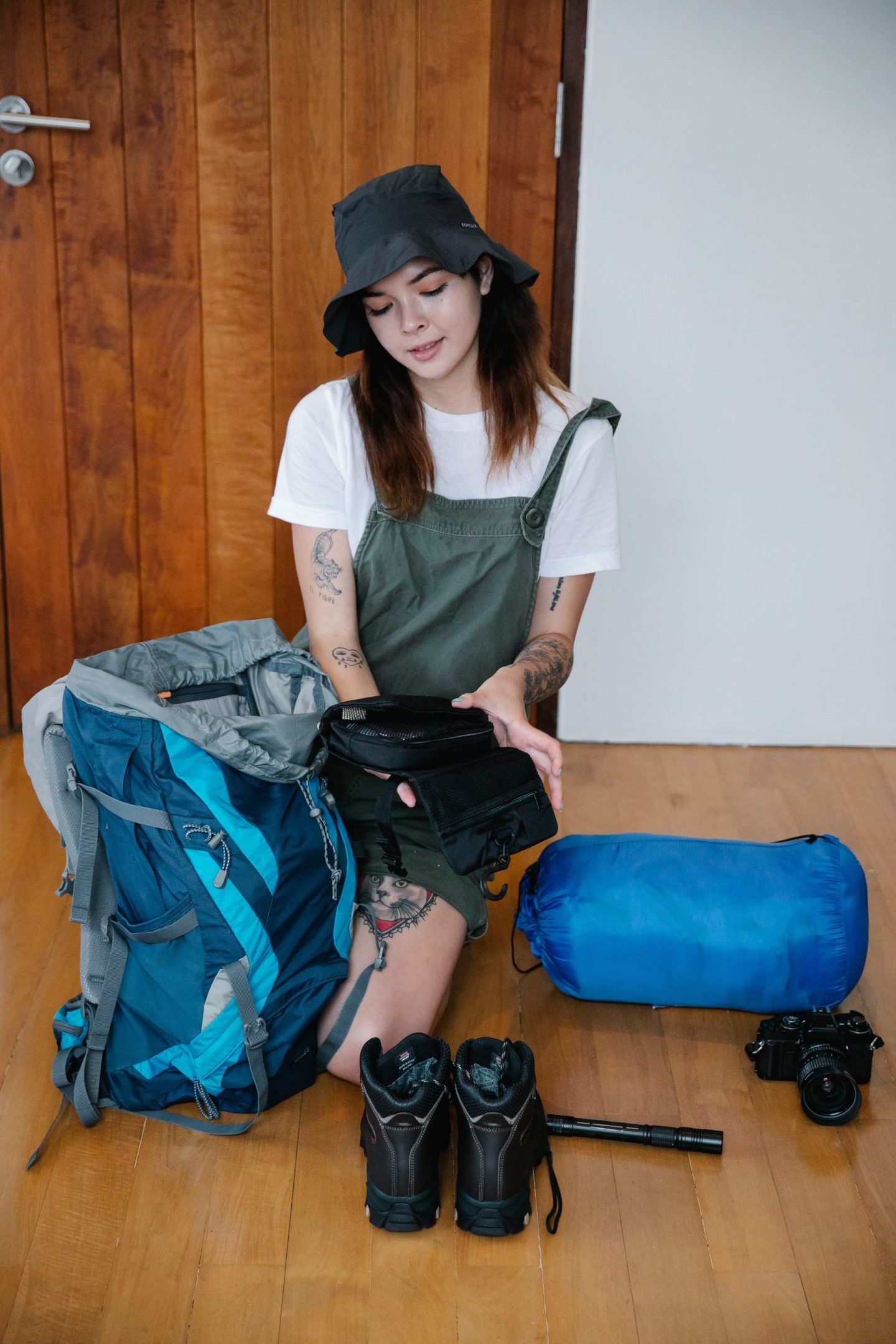 What to Pack for a Festival In Your Camping Bag
Now for the big one — are you ready? Deep breath. Here's what to pack for a festival so that you can camp comfortably and safely.
Shelter and Sleeping
Tent: Choose a suitable size tent for the number of people camping together. Don't do what me and my friend did the first time we festival-camped, buy a £4 one-man tent in the sale and be squashed for the entire weekend. A good rule of thumb is go one size up; in other words, take a three-berth tent for two people so you have extra room for your bags.
Tent Stakes and Guy Lines: These will secure your tent properly.
Ground Tarp or Footprint: This helps to protect the tent's bottom from dirt and moisture.
Sleeping Bag: Opt for an appropriate sleeping bag for the weather conditions.
Sleeping Mat or Air Mattress: This will provide comfort and insulation from the ground. Sore backs, be gone!
Pillow: A small inflatable or compressible pillow can make a significant difference in comfort. Trust me.
Campsite Essentials
7. Camping Chairs: Relax, unwind and socialise with your campmates outside your tent in that beautiful fresh air.
Camping Table: This is a great spot for food preparation and dining.
Portable Camping Stove or Grill and Lighter: Check festival rules to see if these are allowed. Many major festivals don't allow gas stoves, so look for a spirit burner or solid fuel in this case.
Cooking Utensils: Remember pots, pans, cooking utensils, cutlery and a tin opener, but only take what you will definitely use. Less is more to save packing space!
Cooler With Ice: Keep food and drinks cool throughout the festival.
Portable Water Container: Make sure you have enough water for cooking, drinking, washing yourself and brushing your teeth.
Bin Bags: Keep your campsite tidy by collating all your rubbish in one place.
Torch: This is a gamechanger for illuminating your campsite at night. Say goodbye to stubbed toes, trips, slips and falls when you're trying to go to the toilet or move around outside in the pitch black.
Extra Batteries: These are handy to have for your torch and other battery-powered devices.
Food for Meals and Snacks: Keep in mind that you'll be on your feet a lot (if you do Glasto, people say you walk at least 30,000 steps a day) so think high-energy items. Avoid anything perishable.
Sledge/Trolley: It's hard to cart around all your camping gear before you pitch your tent so one of these is ideal.
I cannot stress enough how important it is to pack efficiently and avoid bringing excessive items. Once you've parked, you literally have to carry everything to your campsite and back at the end.
Plus, there's always the risk of things getting stolen (although highly unlikely) so it makes sense not to take your best gear or anything valuable.
Pin this article to save for later: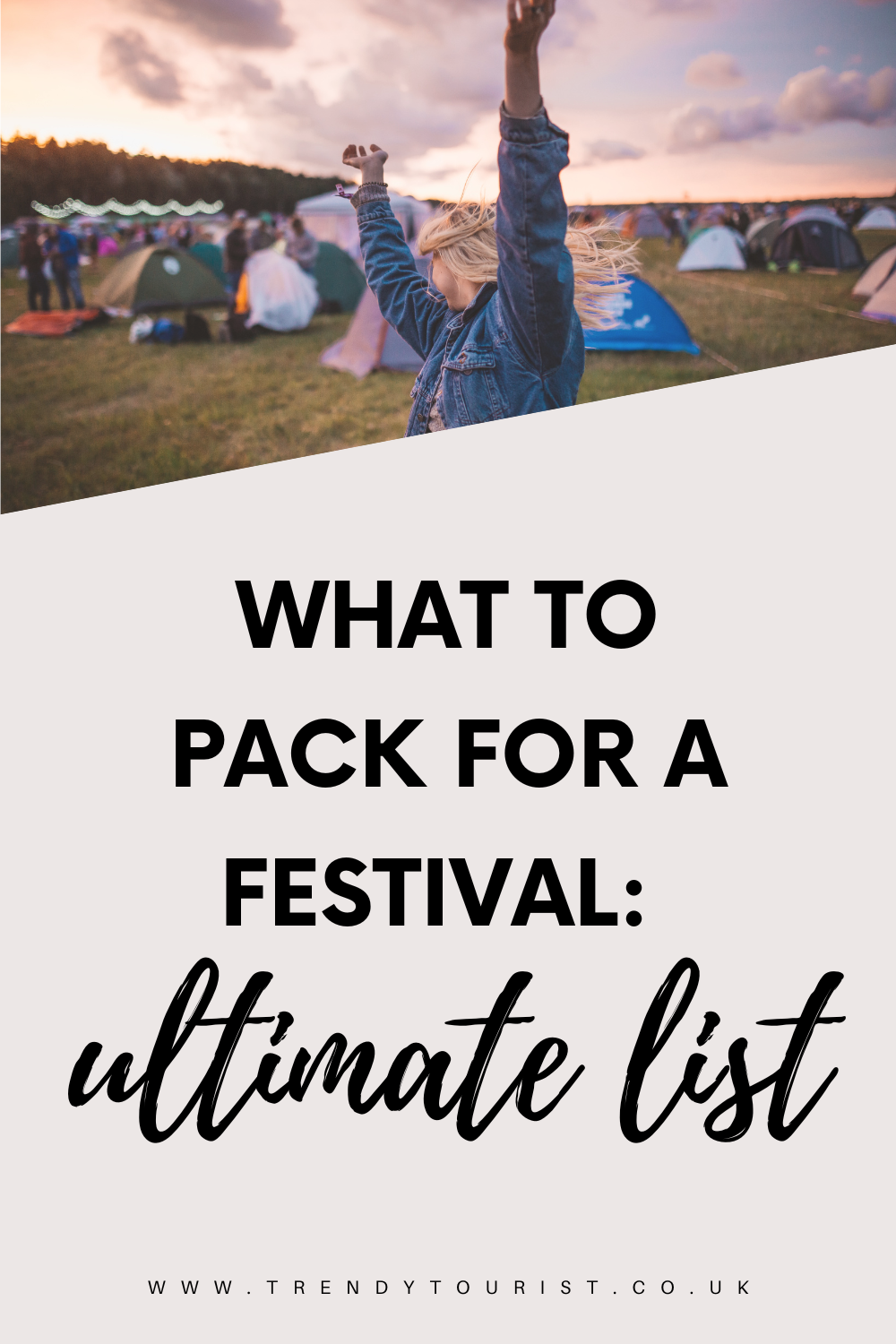 Final Thoughts on What to Pack for a Festival
In summary, attending a festival is an exhilarating experience and one not to be missed in your lifetime. That said, it requires a bit of thoughtful packing and preparation to ensure you have everything you need for the most fun experience.
Remember to check the festival's guidelines and specific requirements when it comes to what you can and can't take to save yourself unnecessary hassles.
Finally, for those camping at the festival, the camping essentials are crucial to ensure a well-equipped campsite and restful night's sleep. Hello to feeling refreshed and ready for another day of creating lifelong memories.