Music festivals are one of the best things we have in this life. You just can't beat the feeling of watching live music in a crowd, singing, dancing and throwing your arms in the air to your favourite tunes. Especially if you're surrounded by loved ones!
But figuring out what to wear to a festival can be tricky.
You want your outfit to be practical to deal with weather changes and potential mud. That said, you also want it to be stylish, Insta-worthy and align with your personal style. Right?
Whether you're searching for something cool and understated or a look that's quirky and stands out, I've got you covered with these fabulous festival outfit ideas. Let's dive straight in.
1. Classic Minimalism
Firstly, this classic music festival look features two fashion staples: high-waisted denim shorts and a simple plain tee. Finish it off with Hunter's original khaki wellies or dupes to epitomise elegant minimalism — Kate Moss-style.
Or, you could effortlessly update this outfit for Spring/Summer 2022 by choosing an oversized shirt in a neutral colour palette and/or humble pinstripe. A black or white bodysuit could also work if you don't mind fumbling around in the portable loos with the fastening.
(Sometimes it's worth the hassle for how chic they look!)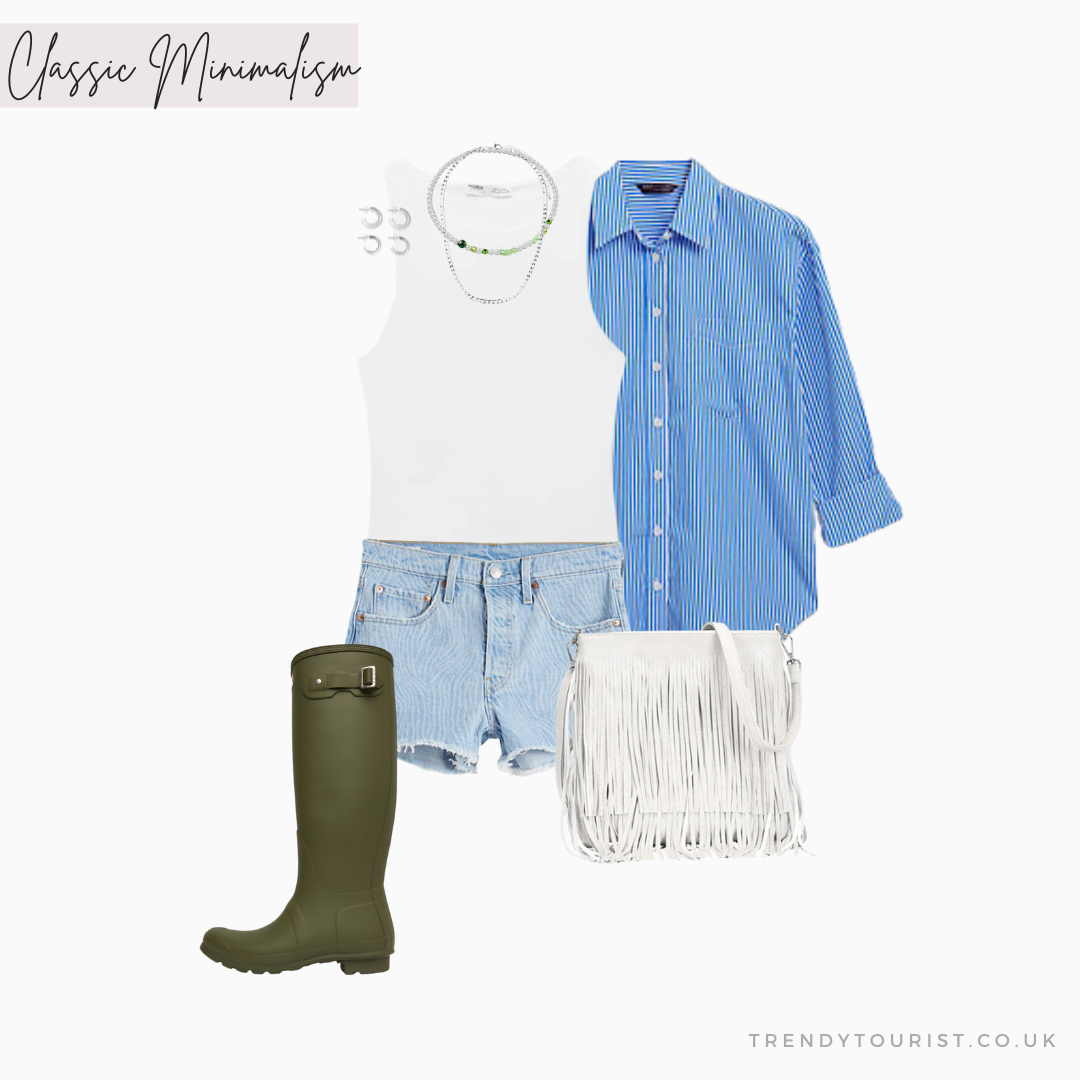 Product details:
2. Boho Chic
I don't know about you but we adore the eccentric, hippie-inspired outfits from festivals past. Now you can bring them into the present with midi or maxi skirts worn with bra-lets and gladiator-style sandals.
Think: Y2K's take on sixties bohemia served with a contemporary twist. This means braids, peace symbols and extravagant patterns are welcomed.
Need a layer for when the temperatures drop at night? A fringed waistcoat or denim jacket would match the theme and contribute to a groovy, carefree festival ensemble.
Product details:
3. Glamorous Grunge
A little bit grunge, a lot of glam is one of my fave ideas in terms of what to wear to a festival. It involves a cami or slip dress, preferably in a fierce pattern such as leopard print, and belted to create a defined silhouette.
Then add a black fedora hat and Dr Marten boots to toughen up the aesthetic. 
Another option is to go with cargo trousers with a millennium-influenced sequin halter or racer-neck crop top and corresponding combat boots. Either way, it's all about big hair, being fearless and an IDGAF attitude.
Product details:
4. I'm With the Band
For a timeless festival outfit that's super cool yet super easy to put together, try the slouchy band tee and denim shorts combo with studded boots.
Adhere to current fashion trends and amp up the comfort level by swapping the denim shorts for biker shorts. Or, add a feminine edge with a printed ruffled mini skirt and Converse for non-muddy festivals.
Just don't forget to put your festival lanyard around your neck and leave your hair loose and wavy to complete the look.
Product details:
5. Barely-There Co-Ord
This option consists of shorts and a crop top or a mini skirt and bra-let following in the footsteps of recent trendsetters I've seen at the likes of Coachella and Glastonbury.
Stick to a single-hued and stripped-back combo or go unapologetically bold with colour and patterns.
The great thing about this outfit is that it requires less thinking time to create so you can spend more time applying body glitter and makeup sequins! Big hair is also recommended to polish off this head-turning aesthetic.
Product details:
NastyGal White Boots – out of stock
6. Yeehaw Cowgirl
A music festival is an ideal place to let out your inner cowgirl (especially if there's country music involved). Think Daisy Duke-esque hot pants and a plaid shirt tied adorably at the waist.
Bring this laid-back look into the 21st century by wearing a lace bodysuit underneath the shirt and letting it peek seductively through.
Then finish everything off with cowgirl boots and pretty plaits (cowboy hat optional).
Product details:
7. Show-Stopping Sequins
Want to steal the show? Music festivals are one of the only places you can go and pretty much anything is accepted fashion-wise. It's a great excuse to go extra and there's nothing anybody can say about it!
Consider a sequin playsuit or metallic dress for the occasion and pair it with equally-as-sparkly trainers or platforms.
There's only one rule here: more is more!
Product details:
Boden Crossbody Bag – out of stock
8. Bikini Babe
If you're going to a festival in a desert or on a rather hot day, no one would blame you for pulling out the bikini (or swimsuit). Especially if you teamed it with some sort of sassy cover-up, or a sheer top and bottom.
After all, trying to decide what to wear to a festival when it's scorching outside is difficult. Large crowds make it feel hotter and you don't want to overheat as it can cause heat stroke.
In this case, make sure you apply SPF30+ sunscreen and drink plenty of water — safety is the priority, people!
Product details:
9. Seventies Starlet
Lastly, FYI, seventies-inspired flared trousers do not look out of place at a festival in the slightest — particularly when they're worn with an off-the-shoulder top and stompy platform shoes.
I love stretchy, patterned versions, like paisley, florals or abstract, with a top that picks up one of the hues in the print.
Add a printed bandana or headscarf for a playful nostalgic appearance.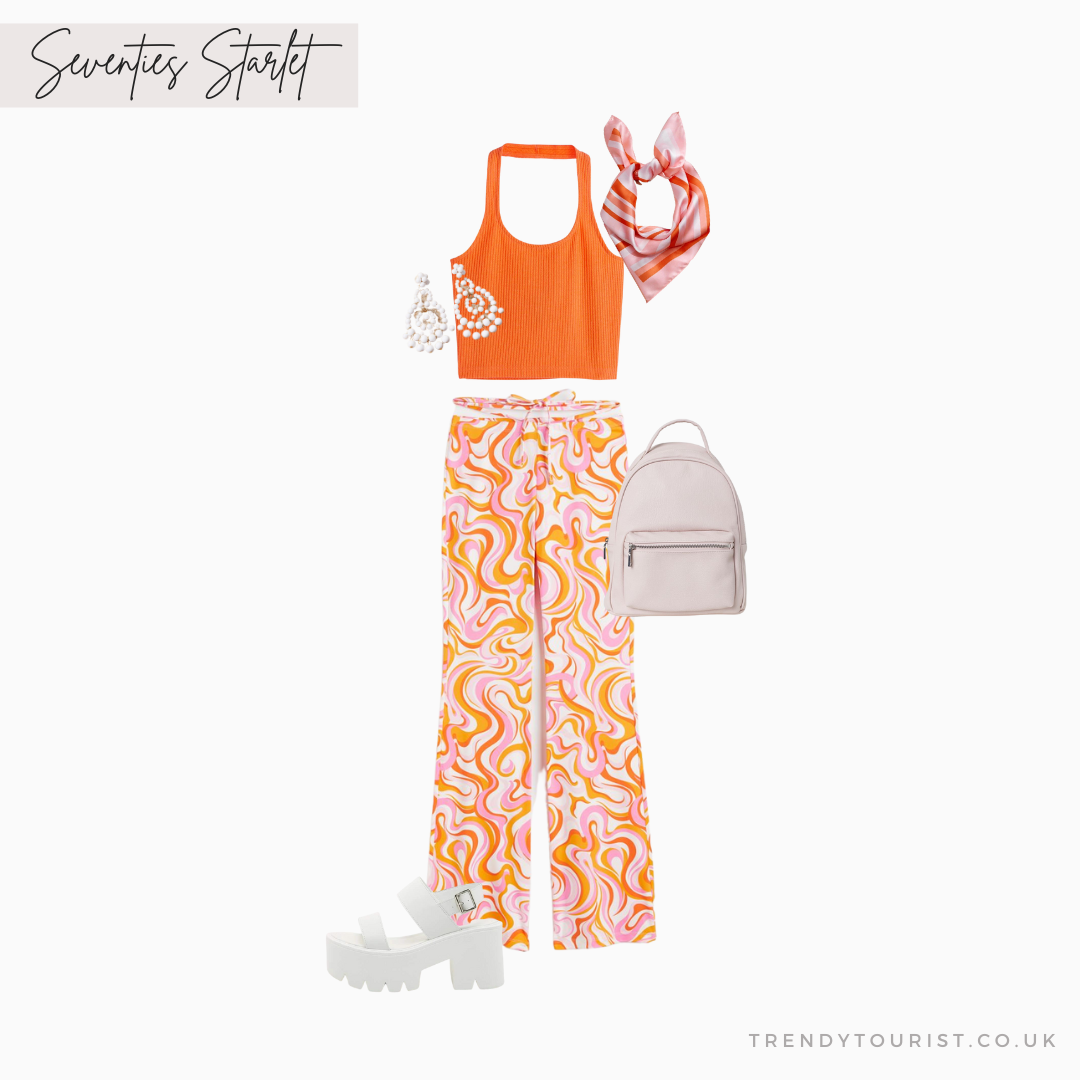 Product details:
Choosing Your Festival Bag
There are some festival essentials you'll need for watching bands all day. Therefore, taking a bag is non-negotiable.
However, keep in mind that there are only three options. Whichever you pick, it has to be hands-free so you can clap and boogie at your leisure.
Crossbody Bag: This is my fave type of festival bag because it feels secure but there are different sizes available so you can always fit in everything you need. Be sure to wear it across your body and not just on your shoulder so you don't have to worry about pesky thieves.
Bum Bag: This is a popular bag option that feels safe and secure for festivals. Even so, you can be a bit limited for space.
Backpack: This is a tempting bag to take to a festival — the only thing is, when you wear it on your back in a tightly-packed crowd, you can't see who may be trying to get into it. If you are going to take a backpack, wear it on your front in a tightly-packed crowd. Sure, it's not the most comfortable thing, but it's worth it to avoid anything being stolen.
That's just my two pence!
Don't Forget Your Layers
Like I mentioned earlier, it may be a good idea to take layers even if it's supposed to be warm on festival day. In the evening, temperatures may be chilly and you could be thankful for a knitted cardigan or oversized sweatshirt.
And if the festival is in the UK, layers are a no-brainer. The weather changes in an instant and you don't want to get caught out. (You can't always trust the forecast!)
I'd recommend a waterproof rain jacket that packs up small and you can slot into your bag. If you can't fit a cosy knit in your bag, simply tie it around your waist for that easy-going, thrown-on festival appeal.
Pin this article and share with friends:
Final Thoughts
Working out what to wear to a festival can be tough, especially if this is your first time going to one. Whether you'll be there for a day or weekend, don't be afraid to go all out.
At the end of the day, festivals are all about having fun and experiencing things you wouldn't usually get to experience — and this includes unique outfits.
What's your festival style? Do you have any more tips when it comes to what to wear to a festival? Drop me a comment below.