Disclaimer: this article contains affiliate product links, which means we receive a small commission when you make a purchase at no extra cost to you! All affiliate links will be marked with an asterisk (*) and help us to run this site so we really appreciate your support.
Festival season is here and we've all got our fingers crossed that the weather stays as good as it did for Glasto. One of our favourite things about festivals is the chance to dress up, choose your best festival outfit and get creative with festival makeup ideas.
If you're in need of some inspo for your festival makeup, social media is a great place to start, but it can be totally overwhelming. We've got the latest looks for festival season from social media right here, so you can start planning your makeup to perfection.
1. Baby Blue Liner and Gems
This easy, pretty makeup style blends baby blue eyeliner with crystals on the eye and is perfect for festivals. Recreate this look using eyelash glue*, crystals* and your favourite liquid eyeliner to get this festival makeup idea done pronto.
You can tweak it to your eye shape and use whatever colour eyeliner you like to make it totally yours. You can also be as creative as you want when it comes to how many crystals you use and what designs you create.
Make sure you take some eyelash glue and spare crystals with you when you head to your festival, just in case you lose any along the way.
2. Under Eye Glitter
Is it even festival season without glitter? We love this glitter under-eye by @makeupbyash.x that just screams summer. She's even shared some hacks to make the glitter even easier to apply and keep in place for the full festival day.
Rather than apply your glitter using gel or glue to make it stick, all you need to do is buy loose glitter* and apply it using Vaseline*. That's right, good old Vaseline. It'll help the glitter to stick to your face without irritating or damaging the skin around the sensitive under eye area.
Set the look with hairspray or setting spray to keep it in place while you're in the crowd. We love Urban Decay's All Nighter Setting Spray*.
When you're ready to remove, you can pretty much just wipe it away using makeup wipes or a gentle remover like Garnier's Micellar Water for Sensitive Skin*.
Remember not to touch your face at the festival though, unless you want to disrupt the glitter. Eek!
3. Neon Eyes
We're obsessed with this neon cat-eye and flawless base combo for festival season. Even if it rains, you'll be brightening up the festival with this bold makeup style.
You need some seriously pigmented shadows for this one, like the NYX Professional Makeup Ultimate Neon Eyeshadow Palette. Hint: apply them over a light primer or a white eyeshadow to really make the colours pop on your eye. If you need to do any clean up, a cotton bud works wonders.
Don't forget to carefully blend your neons together with a fluffy makeup brush* to get that bright gradient colour mix. Wing your shadow into a cat eye at the end for a fun aesthetic that'll turn heads.
Pairing with your fave neon outfit is optional (but we definitely recommend it).
4. Freckles, Lilac Eyes and Lashes
This super-stunning, fresh-faced pairing works for any occasion, but we especially love it for summer festivals.
The last step is to add a couple of dots of white eyeliner* around the eyes and a simple glossy lip* for glam festival makeup at its finest.
5. Grunge Glam
If you're more into grunge glam when it comes to festival makeup ideas, we've got you covered with this alternative smokey eye. 
Start by defining your brows into a natural finish and then prep and prime your eye* area. How neat you make this eye look depends on how grunge you want to go with your makeup. Add a dark grey (or black) eyeshadow* all over the lids.
(You can either choose a shadow that already has glitter in there, or add a clear glitter shadow* at the end.)
Smudge your liner out and blend with a brown tone above the eye. With a thinner brush, take your dark eyeshadow under your eyes like liner, also smudging out gently.
If you're adding glitter shadow on top, add it here (be careful of fallout). Then add lashes, a natural base like the NARS Sheer Glow Foundation* and a brown matte lip* and your grunge is good to go.
6. Hand-Painted Graphic Liner
We can't get enough of this graphic liner and star gem combo that's the ideal balance between pretty and creative. And if you take the time to set it properly, it'll last all day. 
Start by doing your base makeup as usual. You want to go for a matte foundation* for this one, as anything too shiny or oil-based will mean that your painted design doesn't stay where you want it to.
Take white and pink face paint* (or eyeliner) and a very thin brush to create a swirly or geometric design around your eyes. Get as playful as you want to! 
Finish off the look by dotting some star-shaped gems* around your face and eyes for an added bit of sparkle. Set with a setting spray for maximum hold throughout the day.
That's what we call festival cool!
7. All Out Butterfly
If you really want to make a big impact with your festival makeup, this is the idea for you. Pair a full-coverage foundation and concealer with face gems*, holographic eyeshadow* and butterfly crystal tattoos* for a beautiful festival style that'll seriously wow!
Start by doing your base makeup and your eyebrows as normal (strong, defined brows look best with this type of makeup). Use a purple or lilac eyeshadow* on your eyelid and blend out with a purple-pink shadow into a butterfly shape at the edges. (Think of a double cat eye if you're not sure how to do this.)
Follow this with a holo glitter eyeshadow on top and crystals around the "butterfly" outline of your eye makeup for added sparkle.
Finish up with the lashes and lipstick of your choice. A more neutral, matte lipstick* will let your eyeshadow do the talking (as if anyone was going to be looking anywhere else).
Experimenting With Festival Makeup Ideas
A festival is one of the best times to experiment with your makeup and get creative. Especially when it comes to colour, sparkle and bold designs. Everyone's feeling chilled, no-one really cares if it isn't totally perfect and it'll help you stand out in the crowd (and in the pics). 
You can make your festival makeup as complicated or as simple as you want, whatever your makeup skills actually are. Just add a little extra flair to your festival makeup that you wouldn't normally wear for an event or a night out and have fun with it!
Pin this article and share with friends: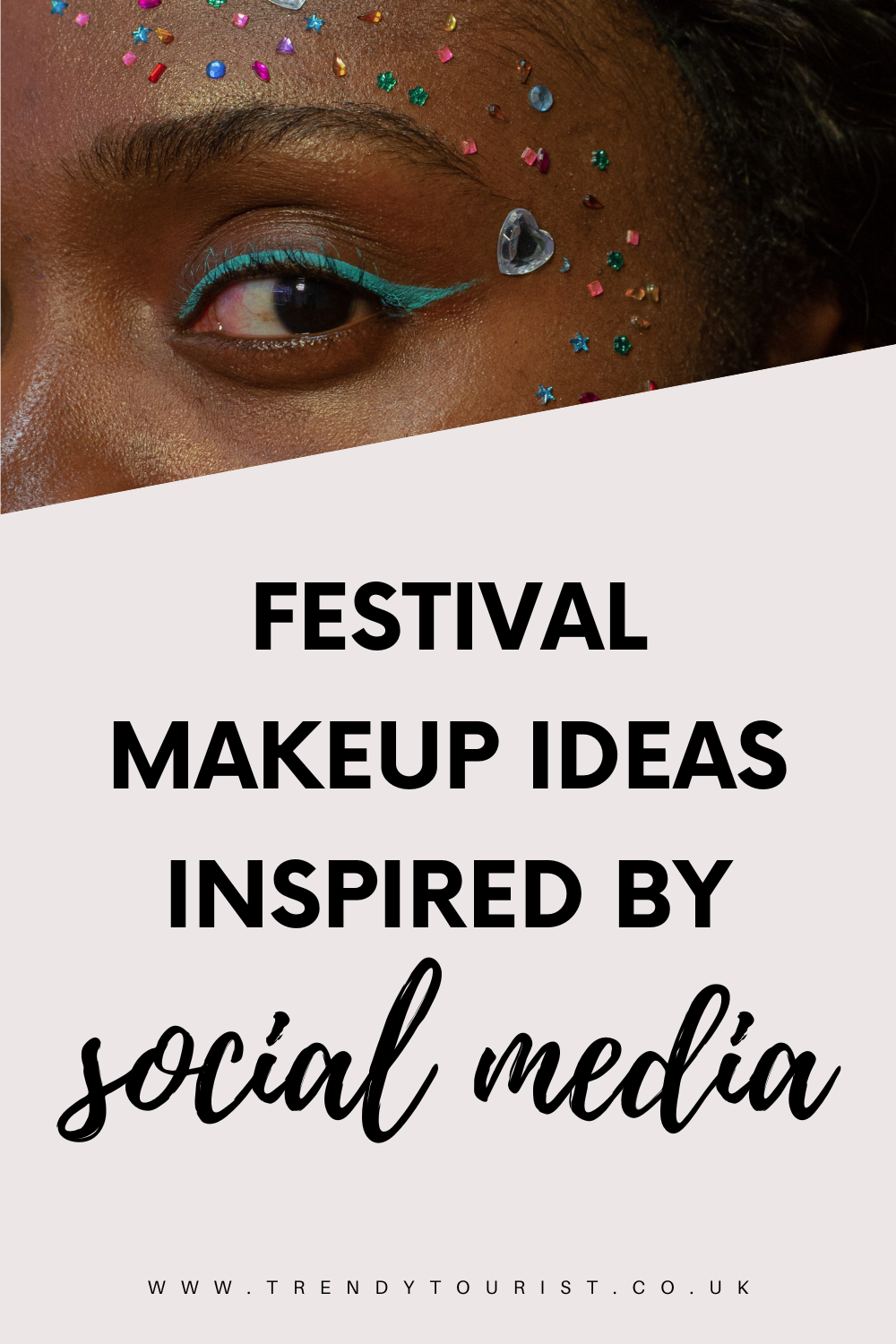 Which one of these festival makeup ideas is your favourite? Let us know in the comments.
Katie Davies is the Yorkshire-based freelance writer who founded Trendy Tourist. Since 2017, she has written for over 100 companies on a range of subjects, from fashion to marketing. When she's not producing content, you can find her shopping, exploring a new place or sitting somewhere having a cup of builder's tea.