There's a fashion trend taking the world by storm in 2022. It comes in stark contrast to the comfy and bland loungewear of the UK lockdowns, which meant that the only things we had to dress up for were supermarket runs and daily walks.
Now that we're making the most of "the new normal" and our social calendars are full again, we have options. Not to mention, summer is finally here, so it's time to lift our moods in one of the only ways we know how. 
It's time to indulge in dopamine dressing.
SHEIN Dress* | SHEIN Co-Ord* | Topshop Dress (Similar*) | SHEIN Sandals*
What is Dopamine Dressing?
Dopamine dressing is all about choosing outfits with bold patterns and bright colours that will give you a rush of dopamine and therefore improve your mood. After all, dopamine is the feel-good neurotransmitter that helps us feel pleasure as part of the brain's reward system.
By dressing happier in colourful clothes and maximalist patterns, studies show that we will feel happier. (And who couldn't use a happiness boost every now and again, right?)
Colour psychology also indicates that certain colours impact human behaviour and have a profound effect on our moods, thoughts and actions. In other words, if we wear specific colours based on how we want to feel, we can improve our mental health and our style game. (A two-for-one win!)
The next time that you're feeling glum on a Monday morning, try out this principle for yourself by throwing on that bright yellow dress to inspire positivity and motivation. Or consider a confidence-boosting red and pink look to help you nail your big meeting.
(But more on the feelings that individual colours evoke later!)
How to Try Out Dopamine Dressing
This trend is easy to embrace if you're already open to vibrant colours and patterns. However, fans of neutral minimalism might need to brush up on the colour wheel and step outside of their comfort zones.
Not to worry – I'm here to help (and even have a handy picture of a colour wheel for good measure). Let's explore the two key elements of dopamine dressing and how you can start incorporating them into your everyday wardrobe.
Colour
Colour is an important aspect of dopamine dressing because different hues trigger certain emotions. For example, yellow has been shown to boost creativity and joy. Alternatively, blue can be used to promote feelings of calm, which is ideal for easing anxiety in stressful situations.
Simply put, dopamine dressing cleverly combines keeping up with fashion trends with improving your wellbeing. 
Want to know which colours you should embrace? Here's a quick and easy guide:
Pink is playful, exciting, youthful and feminine — ideal for partying or socialising
Orange is associated with friendliness, happiness and energy — perfect for networking or meeting new people
Green promotes relaxation, renewal and safety — giving off a calming, feel-good energy following a stressful period
Blue is a symbol of strength, tranquility and intelligence — putting yourself and others at ease, especially in work settings
Yellow boosts optimism, creativity and positivity — it's great for motivation ahead of an important event or activity
Purple is all about sophistication, spirituality and exoticism — ideal for luxury retreats or unique adventures
Red represents power, passion and romance — grabbing attention and radiating confidence for the workplace or date nights
The dopamine dressing trend isn't just about colour though. Prints and patterns count for a lot too.
Patterns
When creating rainbow outfits, prints and patterns are the perfect way to mix shades and add extra dopamine hits. Plus, they allow you to play around with hues that aren't in your usual colour palette.
Sixties-style patterns align well with dopamine dressing. The sixties were all about experimentation, so looking at outfits from this era will give you major dopamine inspiration. Particularly fun prints included over-the-top leopard, graphic florals and vivid geometrics.
If the sixties aren't really your thing, I have good news — the seventies offer serious pattern envy too. Thanks to chevron stripes, psychedelic art and paisley prints, this decade is a masterclass in combining colours and patterns. 
Oh, and did I mention that sixties- and seventies-influenced prints is a fashion trend in itself this Spring/Summer 2022?
7 Dopamine-Filled Outfits We Love
There are several ways to embrace dopamine dressing. Let's explore some of my personal favourites. 
1. Head-To-Toe Maximalist
Ever loved one colour so much that you just want to wear it all day, every day? Well, now you can!
Meet head-to-toe maximalism, a dopamine dressing hack that centres around wearing one colour in every aspect of your outfit. This includes accessories, shoes and anything else on your body. 
The easiest way to embrace this trend is to go for an all-in-one jumpsuit or dress, but you can also match a bottom and top in the same hue for a similar effect. Remember to colour-coordinate your shoes and handbag for the icing on the cake!
For a complete colour-coded look ideal for adding some serenity to your life when dressing for date night or drinks with the girls, try this H&M blue satin jumpsuit*, these blue PLT heels and this Ego blue quilted bag*.
2. Tone It Up
Love the idea of focusing on one colour but not feeling colour matching? I get it. While it's easy to curate an outfit in one colour, it can be challenging to match each shade exactly.
Instead, shop for similar tones, but skip the stress of matching them. This creates a multi-dimensional outfit that works for last-minute dressers, and the various shades add interest to the ensemble.
For instance, this SHEIN light green midi skirt* can be contrasted with this H&M lawn green halter*. Then you can create multi-toned quirkiness by opting for a different-hued green shoe and accessory, such as these SHEIN emerald mules* and this H&M quilted emerald bag*, for on-trend, smart-casual finesse.
3. Make a Splash
Feeling shy about dressing entirely in colour? You don't have to! Dopamine dressing can still be achieved with a splash of colour in the form of one statement garment.
You can then dress it down and find balance with other neutral pieces, shoes and accessories.
For example, these M&S orange trousers (sold out – similar*) could be your bright base layer. Then add an In The Style white bodysuit* or simple H&M white vest* to tone down the rest of the look. New Look orange sliders (sold out — similar*) and a Pull&Bear Paper Tote Bag* would aptly finish off this tropical summer aesthetic for casual occasions.
4. Colour-Blocking Beauty
A lot of dopamine dressing focuses on building outfits in one colour. But what if you want to integrate more of your favourite hues?
Colour-blocking is the art of blending two opposing hues together to create a loud effect. Typically, stylists choose colours opposite each other on the colour wheel as these complement eachother. Good examples include cerulean blue and tangerine, or the fuchsia-and-lawn-green combo that has been spotted on the catwalk.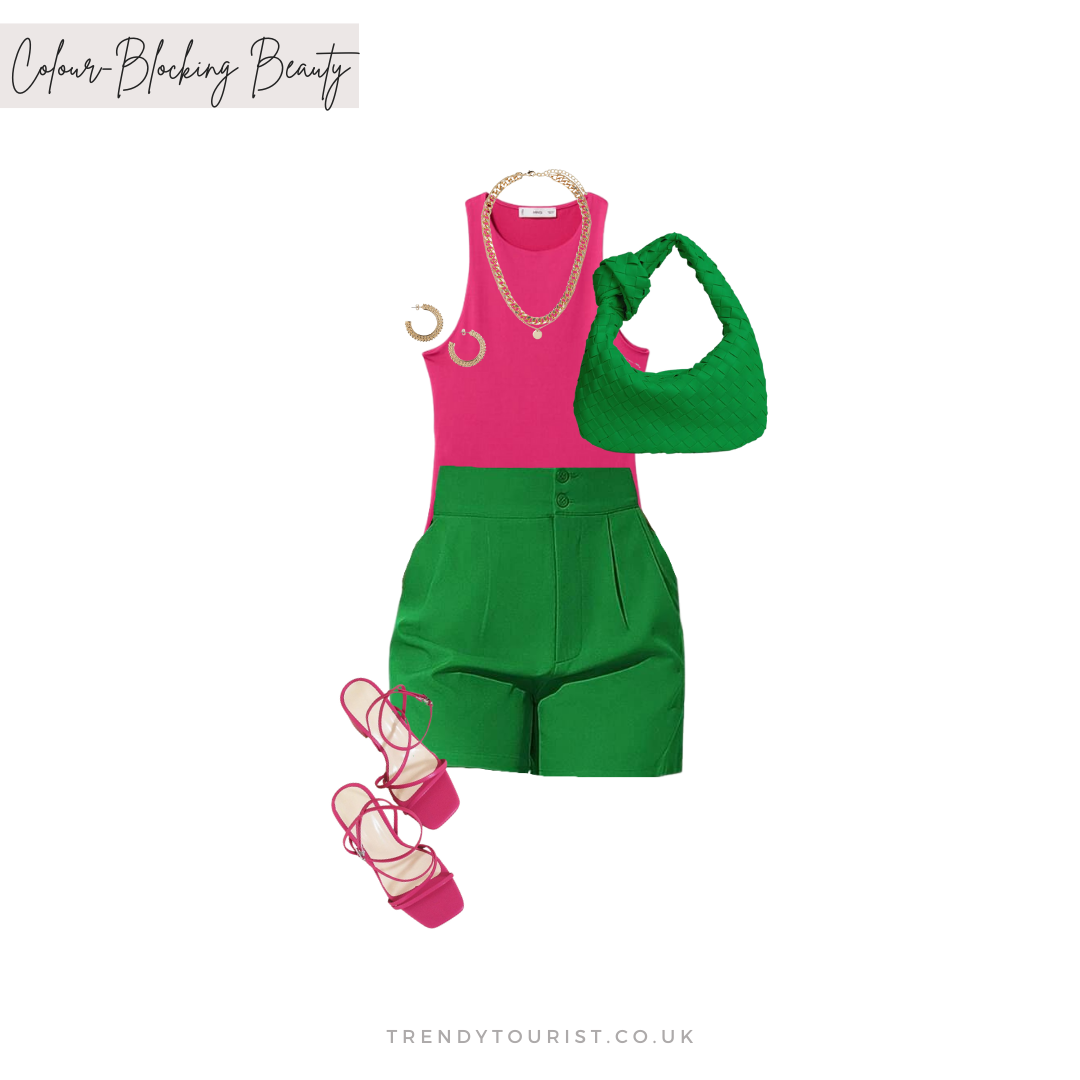 Want to get the look? Try these SHEIN tailored green shorts* with a MANGO fuchsia halter bodysuit* for a runway-ready result. Add a EGO green shoulder bag* to match your shorts and some SHEIN fuchsia sandals* for a cool yet cohesive finish ideal for bottomless brunches or summer parties.
5. All About Analogous
Colours don't always have to be at odds! If you want a harmonious blend of hues, try analogous shades. 
This aspect of dopamine dressing sees colours that sit next to each other on the colour wheel coming together amicably. Key examples include sunset shades, lemon and lime, or fuchsia and tomato red. There's just one rule: the richer the hue, the better!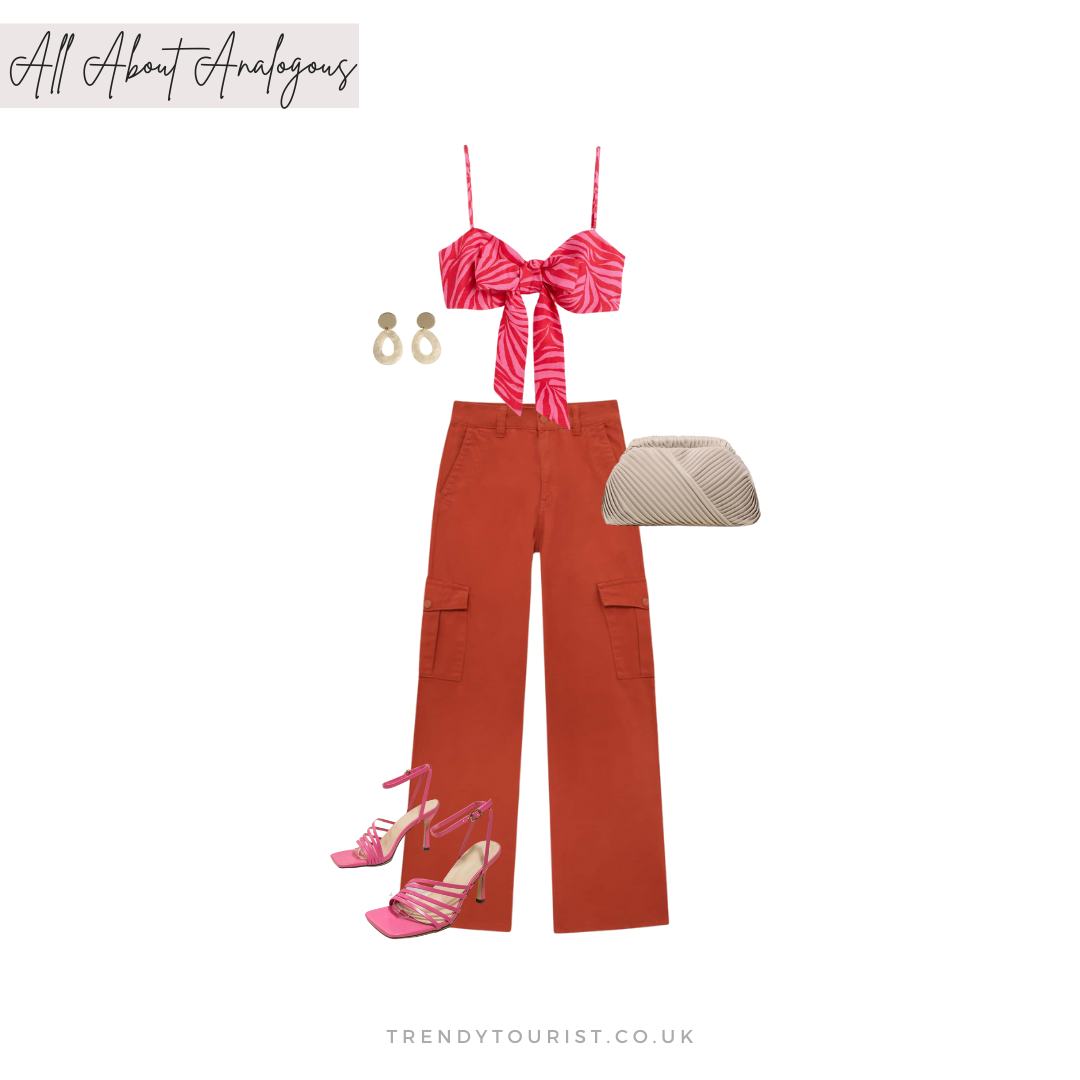 Opt for Pull&Bear red cargos (sold out – similar*), a H&M red-and-pink tie-front bralette*, a SHEIN minimalist apricot clutch* and some SHEIN pink strappy sandals* for summer events that call for a smart-casual outfit that sizzles.
6. Levels of Layering
Not for the faint-hearted, this outfit masterpiece involves carefully selecting multiple colour layers and building them up for a sensational finish. It plays with various lengths and textures, as well as hues. 
Many layering fans use analogous colours or colour blocking to achieve the aesthetic, as different hues emphasise the layers more than similar tones do.
A great start for dopamine layering is to choose a loose maxi and pair it with a sheer long-sleeved tee and shoe (all in alternate hues). You can then use a printed bag that features all three colours to pull the look together.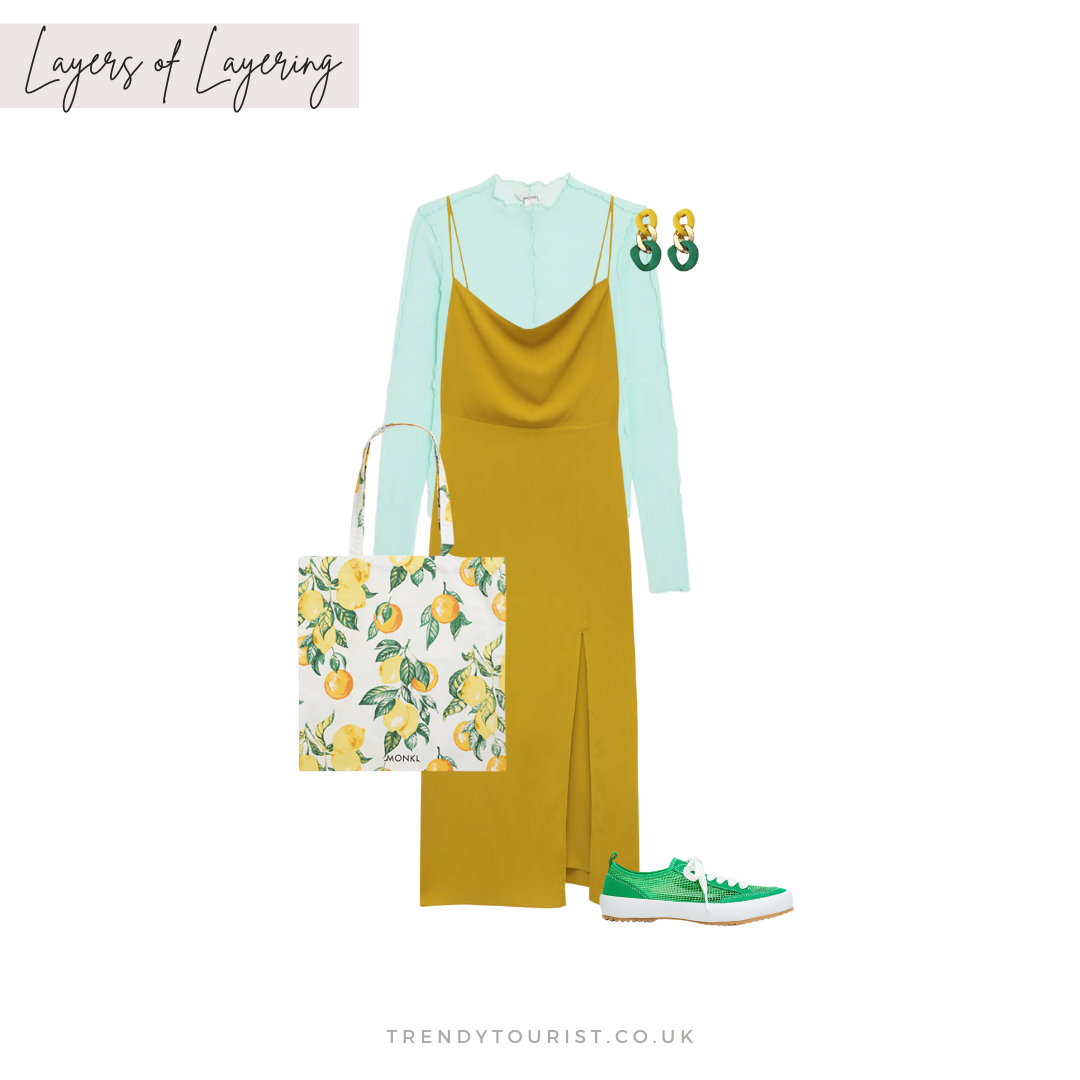 I recommend trying this Pull&Bear cowl-neck yellow midi dress* with this MONKI pastel blue mesh shirt*, these MANGO green mesh sneakers* and this MONKI printed tote* for a fun day of shopping or exploring a new city.
7. Pattern Extravaganza
Lastly, you can level up your dopamine outfits with unique patterns and interesting prints. From multi-toned stripes to intense florals, this allows you to try various trends and colours all at once.
Team this MANGO striped tee* with on-trend H&M floral trousers* for a beginner-friendly method of clashing prints. Pick one of the hues in your outfit for your shoe and handbag choice to prevent the aesthetic from looking too overpowering, such as neutral M&S trainers* and a coordinating SHEIN white backpack*. Did someone say wonderfully weird?
Look and Feel Bold With Dopamine Dressing
When shopping for dopamine outfits, don't think too much. If you enjoy the colour of a particular piece, try it on! Mix, match, add prints, clash patterns — build an ensemble based on whatever feels good to you.
After all, what is dopamine dressing best for? Whether you're off to work, brunch or on a date, colourful clothes will brighten your day (and attract compliments).
Will you be joining the dopamine dressers? Let me know in the comments!
Pin this post and share with friends: