Ad disclaimer: this article was sponsored by DK_GLOWY but all thoughts and opinions are our own. All gifted products will be marked with an asterisk (*). These collaborations help us to run this site so we really appreciate your support.
Ever since I was a teenager I've struggled with sensitive skin. 
I developed acne as soon as I hit puberty, which made me feel self-conscious every time I was talking to somebody — or looked in a mirror. After trying every acne product under the sun and nothing having an effect, my mum took me to the doctors. 
According to my GP, I had a "mild to moderate" case of acne. But it didn't feel mild to me. As a young girl with female friends who all had clear, beautiful-looking skin, it felt like the end of the world.
I was prescribed the contraceptive pill until it started triggering migraines. Then I was prescribed long-term antibiotics and a topical gel. 
Finally, after two years of treatment, my skin was getting somewhere. The whiteheads were reducing in number. The cysts weren't as noticeable. I could look in a mirror again without feeling repulsed at the face staring back at me.
But it came at a price.
To effectively minimise my acne, the medication had to be strong. It cleared up my spots but it messed with the natural oils of my skin in the process. 
My skin was constantly dry and red. Even when I had to come off the treatment after my GP told me it wasn't safe to take the antibiotics for longer than two years, my skin was still dry and red.
As I got older, the dryness and redness never went away. 
I feel fortunate that, now that I'm in my early thirties, I don't break out as often and the texture of my skin is a lot smoother. That said, I still have much drier and redder skin than the average person my age.
In fact, my skin can often feel rough and stiff.
It's been so hard to find products for sensitive skin that don't make it angry. But recently I discovered how important it is to have a consistent skincare routine for sensitive skin — and how important it is to choose products with ingredients that are kind to sensitive skin.
Want to know more? Keep reading.
What Causes Sensitive Skin?
First things first, let's go back to basics. The skin consists of three layers:
Epidermis (top layer)
Dermis (middle layer)
Hypodermis (bottom layer)
While the exact cause of sensitive skin is unknown, people with sensitive skin types have "impaired epidermal barriers." This makes them more prone to irritation, especially during the winter months.
Like with my case, harsh chemicals and products are a common cause of sensitive skin. But there are some other causes too, according to WebMD, such as:
Skin disorders
Allergic skin reactions (eczema, rosacea or allergic contact dermatitis)
Injured skin that's unable to protect nerve endings
Exposure to environmental factors that lead to skin damage (like excessive heat or cold, sun and wind)
Either way, some people are just born with sensitive skin. And others acquire it later on in life (like me).
Why You Need a Gentle Skincare Routine for Sensitive Skin
When your skin is sensitive, it reacts to changes in weather, hormones, diet and chemicals in beauty products. (Mine honestly feels like it reacts to everything!)
I spoke with Daniela Korenc, Founder and CEO of organic skincare brand DK_GLOWY, who told me that sensitive skin needs sensitive treatment to keep irritation at bay. While dermatologists don't acknowledge that sensitivity is an actual skin condition, they treat patients with sensitive skin differently. Often, they recommend a simpler approach.
Daniela concurs: "Fewer products containing fewer ingredients is a good rule."
The Importance of Gentle Ingredients for Sensitive Skin
Using gentle ingredients on your skin prevents unnecessary dryness and the risk of weakening the inner skin layers. Daniela advises to "look for calming ingredients and lipid-rich, barrier-repairing oils, which can reduce redness, calm inflammation and reduce symptoms of sensitivity."
The following ingredients are non-harmful and non-irritating for sensitive skin.
White Tea Extract: This is a natural antioxidant with anti-inflammatory benefits when used topically.
Green Tea Leaf Extract: Green tea is rich in antioxidants and boosts skin circulation. 
Sunflower Oil: This protects skin and helps to replenish moisture in your skin barrier. 
Chamomile Extract: Chamomile is known to soothe skin, calming irritation and reducing inflammation. 
There are also some ingredients to avoid if you have sensitive skin.
Artificial Fragrance: Choose natural ingredients that are free from artificial fragrance (or fragrance in general) to prevent irritation.
Alcohol: Avoid alcohol-based products because alcohol penetrates deep into the dermis and interacts with the skin's natural proteins. 
Ammonium Lauryl Sulfate and Sodium Lauryl Sulfate: These anionic surfactants are harsh for your skin and remove even your natural protective skin layer. 
Speaking of surfactants, these primary components of cleaning detergents are needed to cleanse your skin effectively, and also to remove lipid components. Washing your face with water isn't enough.
Even so, those with sensitive skin should choose products with mild surfactants. For instance, you could use a gentle cleansing foam containing sindets, sodium cocoyl isethionate, betaine or sucrose cocoate.
Generally speaking, stay away from abrasive products that can aggravate sensitive skin. (More on the best products to use next, as well as the best skincare routine for sensitive skin.)
The Gentle Skincare Routine and Products I Swear By
DK_GLOWY Founder and CEO Daniela kindly sent me her range of gentle skincare products to try. I started using them in April 2022. At the time of writing this, it's the end of June 2022 — and I haven't looked back.
The DK_GLOWY team believes in accepting nature's gifts with thanks, kindness and conservation. They are an ethical skincare company nestled beneath the apps of Ljubljana, Slovenia.
All the ingredients in their skincare products are organic (COSMOS-approved), sustainably sourced from land and sea, and have skin-protecting and replenishing properties.
Let's dive into my current skincare routine for sensitive skin using DK_GLOWY products, with special insights and recommendations from Daniela herself.
Cleansing With the Gentle Cleansing Foam
Daniela says the most important step in every skincare routine is cleansing. "Our Gentle Cleansing Foam* is very gentle and can be used daily, twice a day. It will not irritate your skin and that's why it can be used around the eyes as well."
Some skincare experts claim that washing your face once a day (at night) is enough. However, Daniela suggests cleansing in the morning too given that "sebum and impurities like dust accumulate during the night."
Her other cleansing tips include:
Removing your makeup gently with a gentle makeup remover
Avoiding using hot water to wash your face because heat can dry out your skin
Use a soft towel to pat your skin dry after cleansing instead of rubbing
Daniela continues: "Remember all cleansing products need to be rinsed, even if the directions say you can leave it on. This is especially true for micellar water or makeup remover wipes."
My favourite thing about the DK_GLOWY Gentle Cleansing Foam is how it cleans the skin without disrupting its natural pH balance. It features:
Rose water to soothe
Camomile to soften
Calendula to neutralise free radical damage (linked to ageing)
All you need is a couple of pumps to release the fluffy formula, which spreads across the skin super effortlessly. The scent also smells lovely and fresh without being overpowering.
Daniela told me that you can use this cleanser as shaving foam or on your back, arms or décolleté area: "If you have any breakouts, it will calm and regenerate the skin very quickly."
In my opinion, it's the perfect first step in any twice-daily skincare routine for sensitive skin.
Toning With the Balancing Toner
Toners are notorious for containing acids and harsh chemicals that can strip sensitive skin of its natural oils, causing excess redness and dryness. Personally, I have to be careful when I use any kind of toner. One use and my skin goes bright red and flakey, making it feel and look sore.
The DK_GLOWY Balancing Toner* aims to repair free radical damage, remove excess oil and shrink pores to restore the skin's natural glow. It contains:
Calming rose water 
Moisturising hyaluronic acid
Replenishing cloudberry
Daniela says: "Our toner is very mild and water-based without alcohol. It's actually a humectant, so it should calm the skin and balance its natural pH.
The best way to apply it is by patting it into the skin with your hands, which immediately releases its hydration effects."
The first time I used this toner, my skin felt a little dry afterwards. I fed this information back to Daniela, who told me to use it as part of my skincare routine for sensitive skin just once a week. 
She explains: "Maybe it's not necessary to use the toner every day. In the beginning, try using it every day for 7-10 days so that the skin is well re-hydrated. After that, use it as you see fit. 
The most important thing is to monitor your skin's reactions and 'behaviour' and then just give it what it needs in that particular moment."
I've since taken Daniela's advice and use the toner once a week to exfoliate my skin. It's so easy to apply and my skin always feels renewed afterwards. It also has a noticeable glow, which is a great base for applying makeup.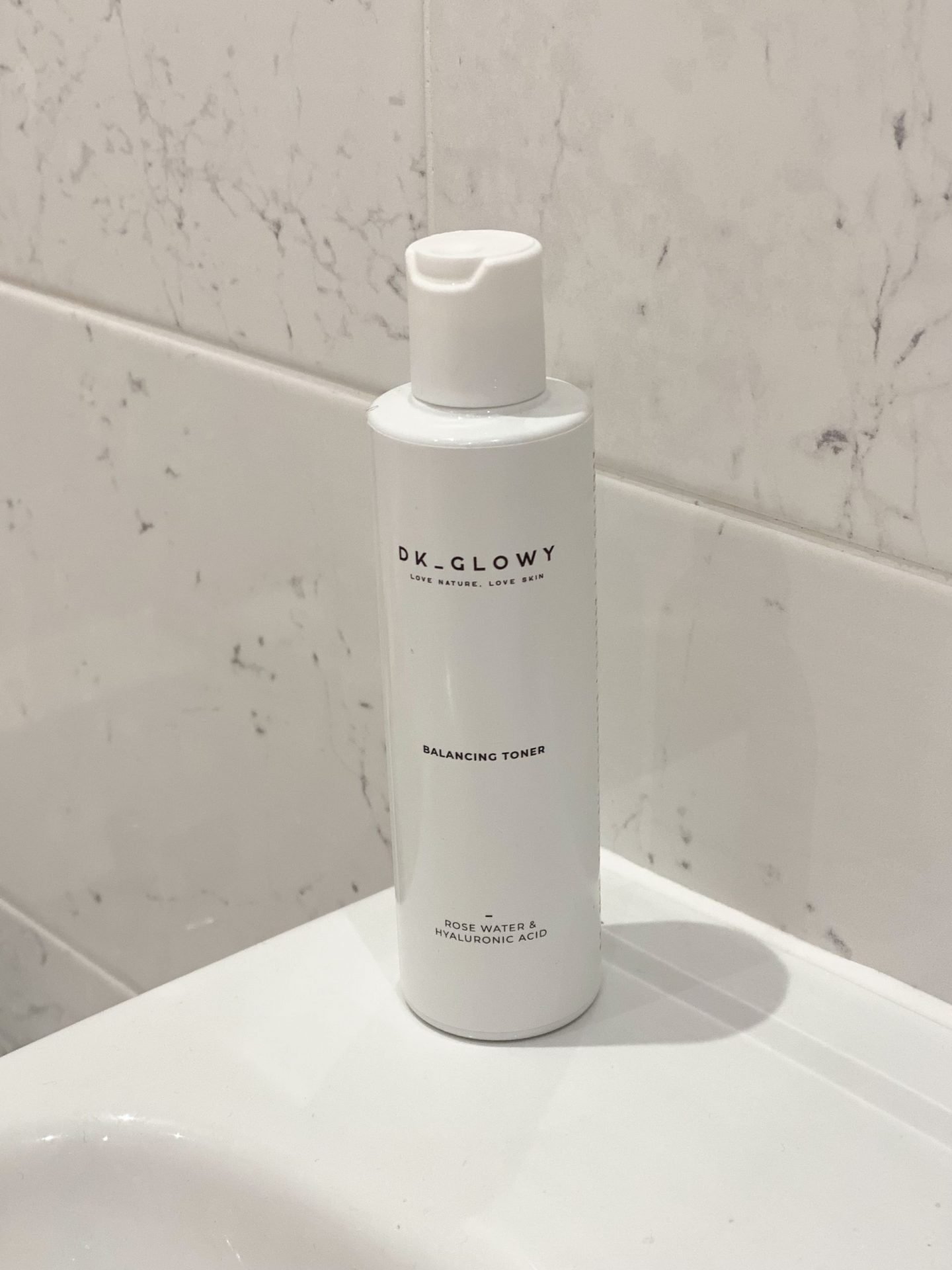 Daily Moisturising With the Skin Protecting Moisturizing Cream
Following the DK_GLOWY Gentle Cleansing Foam or Balancing Toner, use the Skin Protecting Moisturizing Cream* to put moisture back into the skin. 
Daniela reiterates: "Every time you cleanse the skin or use a toner, it's a must to moisturise the skin, regardless of the skin type or the products you're using."
She recommends using a moisturiser containing mineral oil, linoleic acid, ceramides or glycerine. That's why the DK_GLOWY version contains:
Ceramides, which repairs and strengthens the skin's natural defenses to promote a younger, healthier complexion
Vitamin C, which improves skin tone and texture
Hyaluronic acid, which helps reduce the appearance of fine lines and wrinkles
Daniela continues: "The Moisturizing Cream is very light, but very well formulated. It's perfect for those warmer days, and works well as a primer before applying foundation."
She suggests adding a couple of drops of Skin Protecting Anti-Pollution Serum (see the next section) to this product to thicken it and get the benefits of both products. This is exactly what I do and it makes me feel ready to tackle my day.
I love how the moisturiser doesn't feel greasy on my skin or clog the pores. With gradual use, I've noticed how smooth and hydrated my skin looks compared to before. It also doesn't feel as rough and stiff — and smells like I've been in a spa!
Daily Protection With the Skin Protecting Anti-Pollution Serum
The DK_GLOWY Skin Protecting Anti-Pollution Serum* is a concentrated antioxidant gel that protects your skin from environmental pollutants and restores your skin's natural radiance. It contains one key ingredient, alchemilla extract, which is rich in flavonoids and phenolic acids.
The purpose of alchemilla extract is to reverse free radical damage and prevent premature ageing. 
Daniela says: "Since the serum is a concentrate, you should always mix it with the cream — 2 to 3 drops — for added value. It protects and heals the skin, and gives it that natural glow."
For me, there is a stark difference when I use the Moisturizing Cream without this serum. My skin used to look dull and tired. After using this moisturiser and serum combo, it looks bright and radiant. I've had so many compliments from friends and family.
Mixing the two together creates a creamy-feeling formula that spreads easily across the skin without feeling heavy or greasy. The smell is pleasant compared to previous serums I've used. I also find that my makeup holds and looks better after I've used this serum.
Nightly Moisturising With the Skin-Reviving Night Cream
The Skin-Reviving Night Cream* is my favourite product out of the DK_GLOWY collection. It just smells unbelievable — better than 90% of the skincare products I've used in the past.
The scent is really comforting too — I use it last thing before bed so it sends me off for a good night's sleep. It's now a core part of my self-care nightly routine.
Oh, and the Night Cream is great for sensitive skin too, aiming to rejuvenate the skin while you sleep. It's rich with antioxidants and collagen-boosting ingredients (collagen is the natural protein in the body that starts declining at the age of 25, causing ageing effects), including:
Hyaluronic acid, which traps water inside your skin cells and prevents it from drying out
Sea buckthorn, which contains many nutrients (vitamins, antioxidants and omega-6 fatty acids) to protect against scaly skin and reduce acne
Alteromonas ferment extract, which has anti-inflammatory and water-binding properties to minimise the sensitivity of skin and make it supple
Daniela advises applying the Night Cream on a daily basis to improve your skin's moisture levels and make it look and feel more youthful. You can use it morning and night for additional anti-ageing effects. That said, Daniela says: "If you have an oily skin type, I recommend only evening usage."
I've been using mine every night and I've noticed a big difference in my skin's hydration levels. It also gives me the much-desired glow that the DK_GLOWY line promises! I just wish it came in a bigger bottle like the Moisturizing Cream.
Adjusting to a New Skincare Routine for Sensitive Skin
It's tough having sensitive skin, but it's even tougher trying to find products that you can incorporate into your everyday skincare routine that won't make it worse. I've struggled with my skin for a long time so I'm thankful I've tried the DK_GLOWY range.
It's honestly revolutionised my skincare routine. My skin texture has improved. It feels smoother and firmer with more elasticity. It also looks less red, clearer and more hydrated, meaning that most days I'm happy to go makeup-free (unlike before my DK_GLOWY glow!).
I look forward to using the products every time, knowing they're having such an amazing effect. I've been using them for two months so my skin may improve even more. 
After all, dermatologists claim it takes your skin at least a month to start seeing results when you use a new product and three months to see its full effectiveness. I can't wait!
If you'd like to try DK_GLOWY's products yourself, use my discount "KATIED10" for 10% off your order. And let me know what you think by commenting below or finding me on social media @trendytouristuk.
Katie Davies is the Yorkshire-based freelance writer who founded Trendy Tourist. Since 2017, she has written for over 100 companies on a range of subjects, from fashion to marketing. When she's not producing content, you can find her shopping, exploring a new place or sitting somewhere having a cup of builder's tea.