The weather is currently reflecting my sour mood. 
I'm writing this article on a miserable, rainy Monday after a jam-packed weekend full of fun and frivolity with my family. I've just received some bad news, I'm experiencing post-weekend blues and I also have a ton of work to do.
However, there's just one problem — I'm struggling to find the motivation to do it all.
When I'm having an off day (like today), there are some things I can think of that turn my frown upside down. Whether it's autumn or summer, the spooky or the Christmas season, here are 50 little things that make you happy all year round. Thank me later.
1. Good morning WhatsApp messages
Whether it's from your mum, boyfriend or great Auntie Barbara, "good morning" WhatsApp messages from people who you care about make you feel like you've won before you've even started your day.
2. Apologies from people you were never expecting to apologise
We all know how difficult it is to say "I'm sorry" sometimes, so it's super appreciated on the rare occasion that it happens when you honestly didn't think it would.
3. Random compliments from strangers
From "loving your shorts" to "you seem lovely," any kind of compliment from a stranger is one of those little things that make you happy instantly. Right?
4. Freshly brewed coffee
The smell, oh my goodness, the smell.
Oh, and bonus points if said coffee has just come from a latte machine and been made with soy milk and a shot of vanilla syrup. (Come to Mama!)
5. Walks in pretty places
Who doesn't love spending time in nature? One of the little things that make you happy when you're outdoors is getting to walk around places that make you do the heart-eyed emoji.
6. Picking up WiFi in a remote place
If only you could pick up WiFi so you could tell your Grandma Sue that you're absolutely fine at the festival and she doesn't need to worry and you'll be popping in to see her after work on Tuesday as usual… Omg there you are, you little hun. Yaaasss! (Sue will be happy.)
7. Reading your favourite book
Even if you've already read it like, 324 times, your favourite book is your fave for a reason – right?
In fact, whether you're reading something old or new, it always feels so good to immerse yourself in an interesting story and escape the world for a bit.
8. Indulging in a passionate debate
Whether it's with your stubborn Uncle Frank or a cashier at the supermarket, talking about a subject that you're really passionate about can put the sparkle back into your eye on a day where you feel like you've had the life sucked out of you.
Just try it for yourself.
9. Soft fleece blankets
…Especially if they've just come out of the washing machine. Oh hello, warm bundle of joy.
10. When you order an Uber and it's only two minutes away
Doesn't this just make you feel like you're winning at life? Get me home so I can get into my loungewear pronto.
11. Quiet nights in
You know the type – they typically consist of Netflix, warm bubble baths and casual scrolls through Instagram. And sometimes they can be just the ticket when you're burnt out and in need of some serious TLC.
12. Uploading a photo on Instagram to realise that it doesn't mess up your feed
Is it just me or does it feel so unbelievably satisfying when you upload your next post on the 'Gram and it goes perfectly with the rest of your grid? It's like, wow, I'm a strategic visual wizard and I didn't even know it until now.
13. Cool, misty mornings
You know, the ones that look a bit eery and mystical, like you've suddenly fallen into an episode of your favourite murder mystery.
14. Road trips to somewhere new
Florida, Edinburgh, The Lakes… As long as it's a new destination and it involves a car journey with my favourite music and people, then I'm loving life.
15. Movie marathons
Other little things that make you happy consist of your favourite films. That said, try watching a few of your faves back to back to take this ecstasy to the next level.
Lord of the Rings and Harry Potter, I'm looking at you, kids.
16. Being told that you are loved
Whether they come from my husband, one of my friends or maybe even a stranger, it's always nice to hear these words. And if anyone says that it isn't, they're straight-up lying.
17. Taking an Instagram-worthy selfie in one take
This rarely happens so, when it does, it's just perfection. Pose, click, omg it's actually decent! Save it to the camera roll because there's no time to waste.
18. Deep and meaningful conversations
I love those days or nights where you're having a casual drink with a loved one, whether it's a cocktail or a cup of coffee, and you're just sat there together literally putting the world to rights. There's nothing better.
19. Exploring a new place with someone you love
Sure, we've covered road trips as one of the little things that make you happy. However, for this one, I'm talking about walking around and getting lost in a fascinating city that you didn't realise would be all-that fascinating.
This is one of the most magical feelings ever and the very reason why I like to travel near and far.
20. Finding your one to grow old with
Have you met your one yet? If so, you'll already know the relief and appreciation that you feel when you know you've found the person that you're supposed to be with for the rest of your life. It's pretty powerful and never gets old.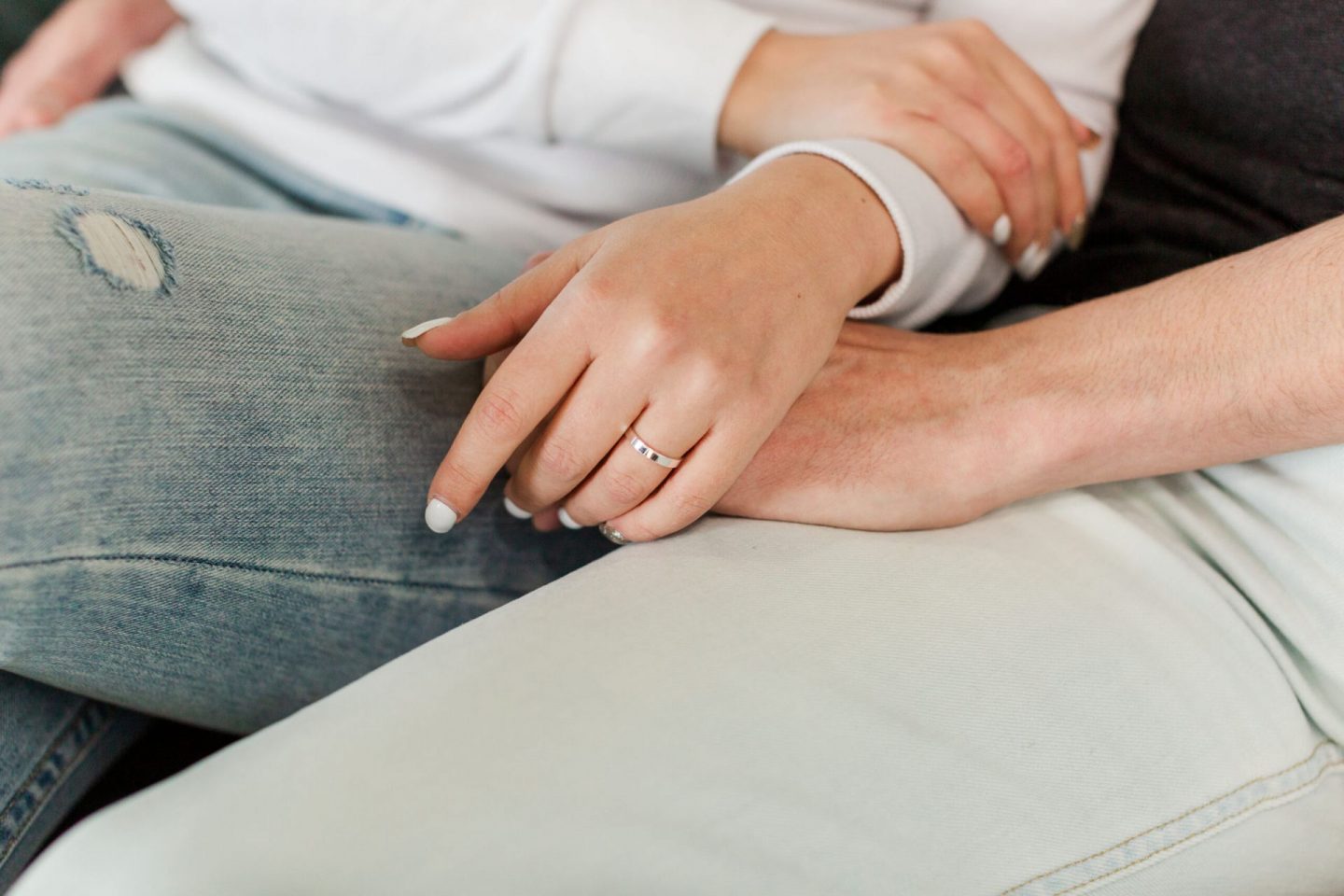 21. When Netflix has updated their "Popular" and "Trending" sections
What, there are about ten new movies and TV shows I've never seen before that look really good and I just have to watch them all right now. Well, that's my lazy Sunday sorted.
22. Sunshine through the window
…Especially when rain was forecast and it's not even meant to be sunny. Glorious.
23. Binge-watching nostalgic videos on YouTube
You know the ones – Charlie the Unicorn, Badger Badger Badger Badger (Mushroom Mushroom) and Salad Fingers, to name a few. This means that you can easily spend a whole afternoon experiencing pure joy.
24. Singing along to your jam on the radio
How amazing is it when it's just you in the car and you can scream your favourite song at the top of your lungs and do a bunch of air grabs while no one's watching? Unless you have to stop at a red light and then you may end up having an unexpected audience.
(Hey, it's happened to the best of us…)
25. Finding someone who you know and liked from your past on Facebook
I think it's lovely when you stumble across someone from your past on Facebook, whether it's an old school friend or work colleague, and you can check in on them. You know the type – you really liked them at the time and promised to keep in touch. However, when you left the school or job, you just naturally drifted apart.
Cheers, Facebook for allowing us to reconnect.
26. Playing with pets
FYI, anything cute and furry makes for a good playmate, especially on a day when you're not feeling your best. Shout out to my family's gorgeous cuddly cavapoo Riley who will always be our number one fluffykins.
27. Snuggling up on the sofa on a rainy day
This is one of those little things that make you happy x100 if you have someone hot to cuddle up with. Right?
28. Clean bedsheets
Try telling me there's something that makes you sleep better than the smell and cosiness of fresh bedsheets. Go on, I dare you! It just trumps anything else 99% of the time.
29. When Instagram gets a new Stories filter and it makes you look flames
Granted, I'm more of a fan of TikTok these days, but Instagram Stories tend to offer so much more choice in terms of filters. I mean, who doesn't want to look like a sparkly mermaid that has just stepped straight out of a Disney film? Answer: no one.
30. A caring text from your friend
You know, the friends who saw on social media that you're struggling today and they thought they'd text you just to say hey and that they're there for you. You gurls da best.
31. When a stranger loves the same nerdy thing as you
Let's face it, we all have something we can get pretty nerdy about.
And if I want to have a massive LOTR/HP/Game of Thrones fangirl moment at 10am with the dude who delivers my M&S parcels then I bloomin' well will, thank you very much.
32. Late night snacks
You know, that cheeky fast food that you really shouldn't have after your night OUT out because you're trying to eat healthier… But hey, it's late and you're hungry so who the heck cares?
(Calories don't count at midnight, right?)
33. Having someone fit match with you on a dating app
Ego + boost = night made.
34. An overwhelming sense of gratitude
You know, the kind of gratefulness that sweeps over you when you're around at your parents for a Sunday roast and they've gone to a lot of trouble. (Bless them.)
Or what about the same appreciation you feel when your poor friend is dealing with the world's most horrible boss and you work for yourself so you don't have that issue anymore? Yes, this.
35. When your newest Instagram post gets 10 likes in the first few minutes
Like, what is this sorcery? Usually, the pesky algorithm means that I'm lucky to get more than three likes in the first few minutes. But I like you – you can stay.
36. Baking sugary treats
There's something so simple yet so satisfying about baking a cake or scones or butterfly buns and then sharing them with your nearest and dearest. It kind of reminds you of being a kid. However, now that you're an adult, you can have as many sugary treats as you want and no one can tell you off. Win-win!
37. Getting ready for a night OUT out with the girls
A glass of Prosecco, gossip, giggles, makeup, a catwalk show and dance tunes at the ready.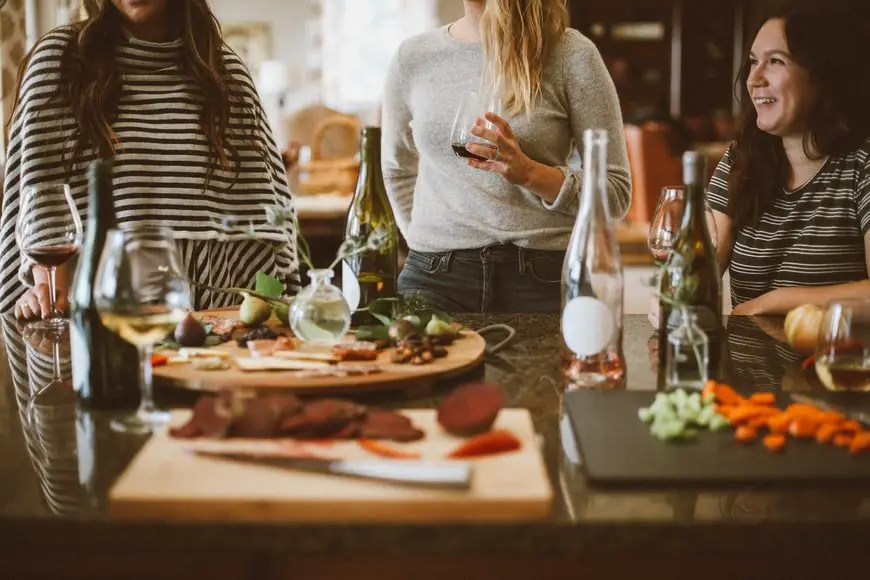 38. Barbecues in warm weather
Let's talk about one of the little things that make you happy when the temperatures are high. Case in point: the first barbecue of the summer.
Sunshine, sparkling drinks with fancy straws, good conversation – need I say more?
39. Listening to a really interesting podcast on your morning commute
Sure, the commute can be often long and dull. Having said that, a new episode from your favourite podcaster is one of the best little things that make you happy on a weekday morning. Wouldn't you agree?
40. Thunderstorms when you're cosy indoors
Oh, how I love to watch the rain and lightning out of my window. It feels therapeutic somehow, no?
41. Hot chocolates with whipped cream and marshmallows
'Nuff said.
42. Having a glass of something on a Friday night to toast the weekend
Goodbye, long and hard week. Hi, two days of freeeeedoooooommmmmm William Wallace-style!
43. When something you wanted to buy online comes back into stock
As children of the digital age who can access anything they want at the click of a button, out-of-stock items make us sad. But then how incredible does it feel when you've been checking the same website every day and said item suddenly comes back into stock? Oh, merciful lord.
44. Trips to the seaside
There's something about being by the ocean that feels so good for the soul, even if it's just for a day. Breathe in that sea air, boo. Bliss.
45. Having just enough money left in your bank account to order the shoes you've had your eye on for months
Finally, you beautiful babies – you will be mine. *Adds to cart without a moment to spare.*
46. Receiving parcels as a result of your online shopping
It's like Christmas has come early, right? Every. Single. Time.
47. Date nights with your love
My idea of the perfect date night is dinner and a movie, but each to their own.
Either way, the best ones consist of good food and even better chats. It makes you fall in love with your special person all over again.
48. When a post you mindlessly put on social media goes viral
This is one of those little things that make you happy and feel like a social media god for all of two seconds until your next post flops harder than Will Young's follow-up single to "Evergreen". Yikes.
Still, it's nice while it lasts.
49. Reminiscing over old photographs
If you're a fellow nineties baby, most of your old photographs will still be in old-school photo albums (until smartphones became a thing). Therefore, it's great to get them out on random afternoons where you want to remember how cool you were in year seven.
(Spoiler: You weren't very cool at all. But it's still fun to look back!)
50. Smiles from a stranger
Finally, when you're having a really rubbish day and nothing seems to be going right, a smile of a stranger can go a heck of a long way! Am I right?
Embracing These Little Things That Make You Happy
No matter how bad your day is or how much of a rough of a time you're having, you have to remember that things will get better. After all, it's life: you have to go through the downs to truly be able to appreciate the ups.
Until then, bookmark this list of little things that make you happy so that you can quickly make yourself feel good again!