The Lake District or "The Lakes": a national park in Cumbria, England that is known for its quaint market towns, rugged mountains and glacial lakes.
I recently had the pleasure of visiting this region for the first time with my husband on a staycation weekend away — and it completely took my breath away.
After living in New Zealand for a year in 2019, I couldn't believe how similar some of the sights were and how this beautiful place was a part of my home country. And I already can't wait to go back.
Why Go On a Lake District Road Trip?
First things first, why should you go on a Lake District road trip as opposed to getting the train?
Well, it's true that the main city in the Lake District (Windermere) has a train station. Although, depending on which area of the UK you live in, it could take you a fair few changes to arrive at Windermere station.
Instead, driving to The Lake District is straightforward, especially if you're from West Yorkshire like me. In fact, it's just a two-hour journey from Wetherby to Windermere.
Then once you're there, driving your own vehicle is the easiest way to get around. There are so many things to do and see (some of which are quite remote) and you can cover more ground in a shorter time frame via a Lake District road trip.
Other Ways to Get Around the Lake District
There are a couple of other ways to get around The Lakes if you don't want to drive while you're there. 
As I just mentioned, there's a train station in Windermere, but there are also stations in:
Oxenholme
Kendal
Burneside
Staveley
You can also take a bus tour, such as the following.
Bluebird Tours: This is a private group tour of 1-6 people with multiple itineraries to choose from. Prices start at £195 in winter and £245 in summer.
The Mountain Goat: This is a private tour that can either be a full day or half a day. Prices start at £37 per person.
It all depends on what you want to see and do!
The Beginners Lake District Road Trip for 1-2 Days
As a busy full-time worker, you may be short on time off. Because of this, you'll want to see as much of The Lakes as possible in a day or a weekend — and I totally get that.
(We had the exact same mindset!)
In this case, there's a Lake District road trip you can do that doesn't take up too much time (around two hours travelling nonstop). It also allows you to get a good flavour of the national park if you've never been before.
I'll break it down for you step by step.
Bowness-on-Windermere
Start in the cute little town of Bowness-on-Windermere in South Lakeland. Here, you can walk down by Lake Windermere (the largest natural lake in the Lake District and England) and grab some photos.
If you want to see your surroundings from the water, there are lots of companies offering boat trips across the lake.
The good news is that they run regularly and aren't too expensive. The bad news is that they're very popular and therefore very busy!
Tip: Head to Hole In't Wall for some great pub grub. It's the oldest tavern in Bowness and was often visited by Charles Dickens.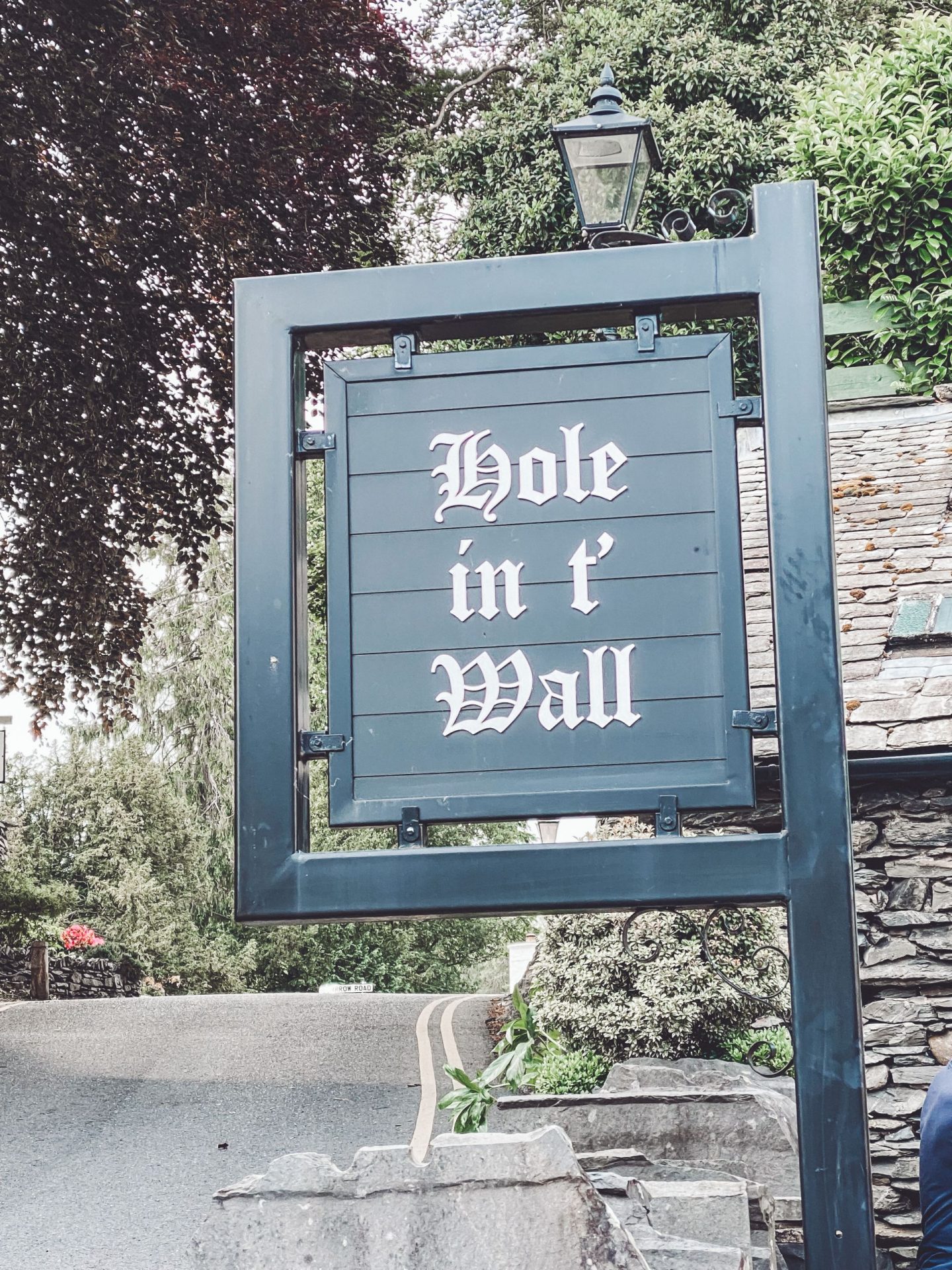 Windermere
From Bowness, head to Windermere, which is the largest town in the Lake District. Here you can find shops, cafes, restaurants, pubs and bars aplenty.
For reading enthusiasts, you can visit The World of Beatrix Potter Attraction. Beatrix Potter was a famous children's book author best known for The Tale of Peter Rabbit. 
Windermere is also home to Orrest Head Viewpoint, which offers breathtaking 360-degree views of Lake Windermere and the surrounding area. It's only a 20-30 minute hike and not too challenging, therefore, not to be missed!
Wray Castle
From Windermere, you can venture to Wray Castle on the other side of the lake. This has stunning grounds with picnic benches, making it an ideal spot for lunch or a snack.
The castle itself is pretty cool and free to walk around for the public. You just have to pay £5 for parking a car. 
Note that it's not actually a real castle but a Victorian neo-gothic building that was built in 1840.
Ambleside and Grasmere
From Wray Castle, you can head towards Ambleside and then Grasmere.
Feel free to pitstop in either of these towns. However, because we were on the clock, we simply drove through them.
Ambleside is another cute town with Lake Windermere views. It's very popular with tourists and walkers alike for its:
Bustling shops, cafes, restaurants, pubs and bars
Stock Ghyll Force 70-foot waterfall
Bridge House
Stagshaw Gardens
On the other hand, Grasmere is a charming little village famous for its Gingerbread Shop. This was built within a school in 1630 and stocks gingerbread, rum butter, fudge and mint cake. But expect a big queue no matter the time of day!
Keswick
As you drive further north towards Keswick, the views of the mountains just start getting more and more spectacular. Then by the time you reach Keswick, the mountains will completely surround you. (Lush!)
Keswick is the major centre for tourism in the north lakes. It has the feel of a medium-sized town and offers huge variety in terms of shopping and dining.
It's also home to Derwentwater, which is gorgeous to walk around, boat across or swim in. Take a stroll around Hope Park on the edge of Derwentwater for majestic views of the mountains.
Tip: Jasper Coffee House offers fine coffee and delicious cakes if you need a pick-me-up. The Victoria sponge cake is on another level!
Ullswater
As you loop back down towards Bowness past Ullswater, you will eventually reach the Kirkstone Pass. This is a road that takes you to the highest point in The Lakes with incredible views.
But first, marvel at the beauty of Ullswater. 
Ullswater is the second largest lake in the Lake District surrounded by little villages. Because of this, it feels a lot more remote and otherworldly than Lake Windermere.
You can also visit the Aira Force near the edge of Ullswater. This is a 65-foot waterfall, which is a short and pleasant walk from the car park.
Kirkstone Pass
Kirkstone Pass is the Lake District's highest road that runs between Ullswater and Windermere. It's named after "Kirkstone," which is a large boulder at the top.
This pass is nicknamed "The Struggle" because of its winding roads through the hills. That said, keep persevering because you'll eventually reach The Kirkstone Pass Inn at the top, which is England's third-highest pub.
And did I mention that the views are incredible?
The Kirkstone Pass Inn is then just a 20-minute drive from Bowness where you started. What a trip!
Tips to Keep In Mind for This Lake District Road Trip
As glorious as this road trip was because we went during a warm, sunny weekend in June, I feel like I should mention a few things for those who haven't yet been to The Lakes.
1. The Parking
It's rare to find a free car park in the Lake District. In the towns, parking is relatively cheap. However, in the more remote locations, expect to pay a minimum of £5. 
Plus, even though you can pay via card at most ticketing machines, you can't at all of them. Therefore, be sure to carry some loose change just in case.
2. The Weather
The Lake District tends to experience milder winters and cooler summers than expected at its latitude. 
The weather is generally wet and mild due to the influence of the sea, especially the Gulf stream. Remember this when you're packing for your road trip!
3. The Remoteness
You won't struggle to get phone signal in the built-up towns. Although, some villages and roads are rather remote.
Our car radio kept cutting out, which was frustrating when we didn't have another form of music! Be sure to plan for this accordingly.
4. The Busyness
A lot of people tend to head for The Lakes in the summer when the weather will be nicer. In other words, June to September is especially hectic.
Expect higher accommodation prices and the tranquility of some of the remote places to be disrupted during peak periods. Travel Monday to Friday instead wherever possible.
5. The Location of Accommodation
Don't opt for one of these hotels on the outskirts, even if it is advertised as having "access to the Lake District" at a lower price point. 
The truth is, you need to stay somewhere central because the national park is big and attractions are spread out.
(But more about Lake District accommodation in the next section!)
Where to Stay in Lake District
We only had 24 hours in the region, therefore, we started and ended in Bowness-on-Windermere. If you were holidaying there for longer, you could break up the beginners' Lake District road trip and stay overnight along the way.
I'd highly recommend one of the following towns based on the ones I saw.
Bowness-on-Windermere or Windermere — Both of these towns have endless accommodation options. There's something suitable for everyone, whether you want to stay in a budget hostel or 5-star resort.
Ambleside: This is a smaller town on the north shores of Lake Windermere but still with plenty to do and much life.
Keswick: On the edge of Derwentwater, this is a good-sized tourist town amongst the mountains towards the north of the Lake District. There's a range of accommodation here to suit every budget, including camping grounds for those who are craving the ultimate outdoor experience.
You could even travel further afield to the western side of the Lake District if you had more time to explore.
Miss This Lake District Road Trip, Miss Out!
Simply put: the Lake District is marvellous. I was expecting good things because of the amount that people I know rave about it. However, I had no idea that I was going to completely fall in love with it.
We're already planning our next trip back so we can see and do more! In the meantime, be sure to check out this Lake District road trip if you're a newbie to the area.
Trust me, you won't regret it!