Disclaimer: this post contains affiliate links, which means I receive a small commission when you purchase the product at no extra cost to you! All affiliate links will be marked with an asterisk (*) and help us to run this site so we really appreciate your support. To read our full privacy policy, click here.
Though holidays abroad might be off the table for many people this year, staycations, day trips and sunbathing in the park are all still good alternatives. Either way, swimwear season is upon us, and it's time to get prepared for the summer sun.
The problem is, without knowing what type of body you have, finding the perfect swimwear for your body shape is easier said than done.
Women's bodies are so wonderfully diverse and between the 10 main body types — each with their own variations — there's a style to suit everyone.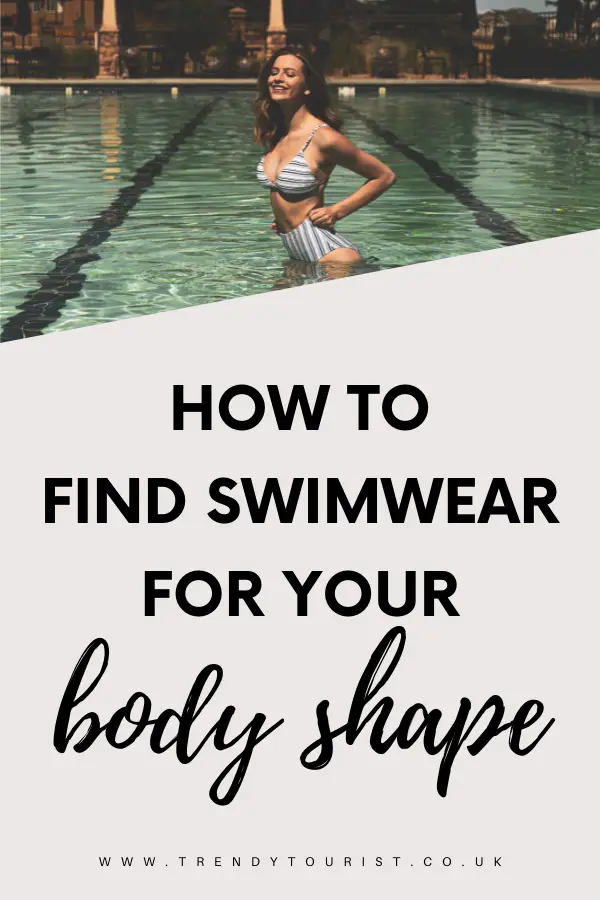 Which Body Shape Are You?
Firstly, it sounds obvious, but to find the best swimwear for your body shape, you'll need to know what your body type is!
From bone structure and height to ageing and genetics, there are a number of factors that can affect your body shape and determine how your body stores fat. This means that while you might accumulate weight in your legs, your friend may be more top-heavy.
Even how high your levels of hormones like estrogen and progesterone are can affect your body shape. And if you suffer from stress, the hormone cortisol can cause fat to build up in your mid-section around your vital organs.
Put simply, there's just no one size fits all.
The 10 Standard Female Body Types
It's important to note that categorising body shapes isn't an exact science. There can be dramatic variation from person to person even within one specific shape.
Even so, there are 10 typical body shapes for the female form.
For most, it will take more than a glance in the mirror to work out which shape you are. Taking some quick and easy measurements is the best way to do this.
Measuring yourself is also handy when you're online shopping for clothes online and you need to refer to the size chart to get the right size.
How to Choose the Right Swimwear for Your Body Shape
Every woman deserves to feel confident on the beach, in the pool or even just in their own back garden. Right?
Whatever your body type, the key is creating a balanced silhouette by strategically choosing swimwear styles that highlight the right areas.
From triangles to rectangles, spoons to ovals, our guide will help you find the swimwear that's best suited to your shape so that you can feel confident and happy in the sunshine.
1. Hourglass
Firstly, if you have an hourglass figure, your silhouette is already naturally balanced and well-proportioned. (Lucky you!)
When it comes to swimwear, you should aim to accentuate your waist and legs by opting for high-waisted bottoms or a one-piece with a wrap waist.
2. Rectangle
If you have a rectangle shape, your body is beautifully proportional already. Any swimwear you buy should focus on accentuating the waist. To achieve this, add volume to both your upper and lower body while keeping it tight around the waist.
3. Triangle
As a triangle, the trick is to draw attention to your upper body, while keeping it understated for the lower body.
Pair darker bottoms with a strapless bandeau bikini top. Alternatively, try a tankini with a light or ruffled bust to allow this to take centre stage.
4. Inverted Triangle
The opposite is true for an inverted triangle body. 
The best swimwear for your body shape will take the emphasis away from your bust area, and instead highlight your lower body.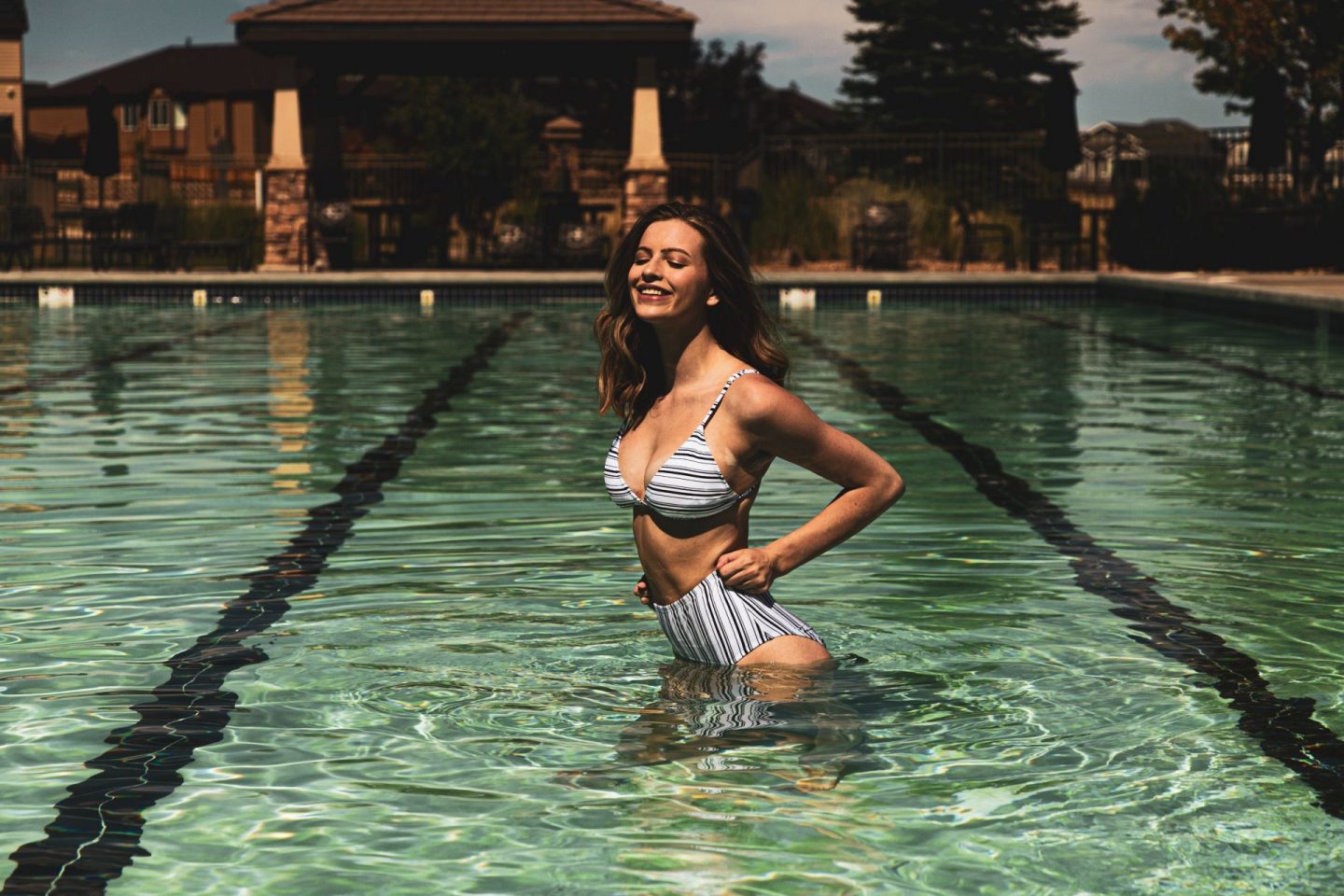 5. Diamond
Do you have a diamond shape? If so, the goal is to highlight your upper torso and waist area. 
A chic belted one-piece will do the job nicely. On the other hand, you could opt for a two-piece with a strapless top and high-cut bottoms.
6. Oval
Newsflash: all body types are perfectly valid and wonderful in their natural shapes. You should never feel that you need to minimise the space your body takes up.
Even so, if you want a little extra support for your tummy to feel comfortable and self-assured this summer, we get it. In this case, look for a silhouette-shaping one-piece.
7. Spoon
As a spoon, the idea is to pick bikinis and swimsuits that minimise the attention to your midsection. To do this successfully, draw the eye to your legs and upper body with key details.
8. Top Hourglass
The trick when finding swimwear for your body shape as a top hourglass? Search for styles that emphasise your waist and bring more balance to your top and bottom. 
9. Bottom Hourglass
If you have a bottom hourglass figure, go for swimwear that keeps the bottom half simple but adds volume to your upper body.
As with the top hourglass, emphasise your waist to maintain a balanced silhouette.
10. Athletic
Lastly, the beauty of having an athletic body type is that the world really is your oyster when it comes to choosing swimwear. 
We recommend you try out a bandeau top. Having said that, you could also experiment with plunging necklines, frills, cut-outs and prints – the bolder, the better!
The Importance of Finding the Right Swimwear for Your Body Shape
Finding the right swimwear for your body shape doesn't have to be difficult. Armed with this guide you're sure to find some new styles for Summer 2021 that make you look and feel great.
Remember that though we've presented the best options for your body type, you can — and should — wear anything you feel like you can conquer the world in.
Now all that's left to do is to grab some sunscreen and get yourself outside while the good weather lasts!
Katie Davies is the Yorkshire-based freelance writer who founded Trendy Tourist. Since 2017, she has written for over 100 companies on a range of subjects, from fashion to marketing. When she's not producing content, you can find her shopping, exploring a new place or sitting somewhere having a cup of builder's tea.