Hands up if you love the sun! We've been having a gorgeous spell of sunny weather in the UK recently, and doesn't it make you feel wonderful?
However, there is a downside.
While a little sunshine can be great for your health, too much can lead to sunburn, damaged skin and premature ageing. That's why a change of weather is a good time to change up your skin care routine.
We spoke to Annabelle Bourne, GlowBay founder and certified skincare expert, on how you can get glowing skin this summer in a safe and healthy way.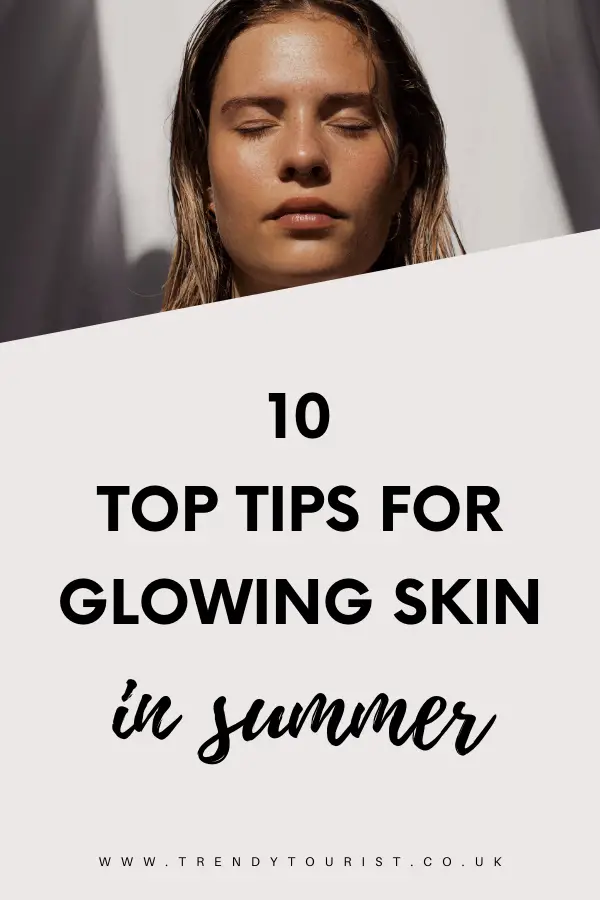 1. Switch to Lighter Formulas
Firstly, switching to lighter formulations of your favourite products will feel better for your skin and reduce breakouts. Everybody sweats when the weather's hot and heavy products can aggravate any current conditions and make them look worse.
Annabelle explains, "It's important to make sure you're getting the most out of your seasonal products. In summer, prioritise lighter, gel-based products and leave the thicker, more nourishing creams for winter."
2. Apply Sun Protection
Are you skipping the suncream? If so, it's time to change your ways. 
Recent statistics show that in 2019, just 22.2 million people in the UK used some type of sunscreen, which is only about a third of the population! Yikes.
Sun damage is the main cause of premature ageing, skin pigmentation and can have serious consequences for your health. Whatever your skin tone, skin care routine, skin type or the weather, you should apply SPF (at least factor 30) every day – especially if you're heading outdoors for a longer period of time.
This could be in the form of a moisturiser, tinted moisturiser, serum or designated sun lotion. Either way, it's better to be safe than sorry!
3. Incorporate Antioxidants
If you've overdone it on your lounger then adding antioxidants into your routine is a great way to repair your skin. After all, the sun can cause inflammation, leading to damaged skin and pigmentation.
Some antioxidants, such as vitamin C, can stimulate collagen production in the skin too, according to Annabelle: "They protect our skin from free radicals and do a really good job at preventing the breakdown of collagen and elastin, which leads to sagging and wrinkles."
And this is essential for healthy, youthful-looking skin that glows like J.Lo's.
4. Cleanse, Cleanse, Cleanse
Sweat, sunscreen and oils can all build up on your skin in warmer weather, so take the time to cleanse your face properly.
Use a cleansing oil or balm if you need to, and don't be afraid to double cleanse or use a cleansing tool. This way, you'll get rid of any oils, sweat, makeup or dirt on your skin.
"By incorporating skin devices to our daily routine, we solve several problems at once: improving circulation, unclogging pores and accelerating skin cell metabolism which all lead to a clear, younger-looking complexion," adds Annabelle.
Taking the time to cleanse daily will also leave you feeling refreshed and relaxed (which is never a bad thing!).
5. Check Those Ingredients
Some products in your beauty routine might make your skin photosensitive (i.e. more sensitive to the sun) which could lead to damage, discomfort and longer-term problems. 
In other words, be on the lookout when checking product labels or descriptions.
Retinols, glycolic acid, salicylic acid and hydroquinone can all make your skin more sensitive to the sun. This can lead to longer-term skin damage too. 
That's why it's so important to take the time to reassess your routine for summer and the ingredients that you're using.
6. Exfoliate Frequently
Exfoliating your skin is one of the underrated tips for glowing skin in summer (and all year round). Sloughing off dead, dull skin to reveal the renewed new skin underneath is the key to a natural, healthy radiance.
Exfoliation is also essential for avoiding blocked pores and flaky skin, especially in summer or when you travel. Once or twice a week, preferably with a chemical exfoliant rather than a scrub, is best for skin.
Some people prefer physical exfoliants and that's okay – there's no judgement here!
7. Keep It Moisturised
For dewy summer skin that makes you do the heart-eyed emoji every time you look in the mirror, you need to keep your skin moisturised. This includes your face and your body! 
The weather, environment, genetics and products that you use all affect how dry your skin is. Even if it's oily, you still want to use a moisturiser to keep it nourished and in great condition. 
Use a moisturiser that is lightweight, water-based and contains hydration-boosting ingredients like hyaluronic acid and ceramides for the best boost. These types of moisturisers can also feel cooling and refreshing on the skin. Win-win.
8. Opt for Light Reflecting Particles
Sometimes, you need to cheat that glow a little bit and there's nothing wrong with this. Say it with us now: products with light-reflecting particles are our friends!
Highlighters, BB creams and bronzer are all perfect for adding a glow using makeup.
It's not about glitter and looking like a disco ball (but if that's your vibe, then hey, go with it). It's more about adding a subtle shimmer, especially to the parts of your face and body that the sun naturally hits.
9. Stay Hydrated
If you thought you were going to get through an article about skin care without a recommendation to drink more water, you were wrong!
Healthy skin often comes from within and that includes staying hydrated. It's even more important in warmer weather or if you're exercising as you lose water from your body more quickly.
Make sure you're getting enough water daily to keep your skin, glow and health in check. You might be surprised at how much better you feel too.
10. Apply a Face Mask
One of our favourite tips for glowing skin in summer is to apply a face mask to instantly brighten your complexion.
A sheet mask won't have a long-lasting effect on your skin but if you're heading away or out for a special occasion then it can give you a temporary glow-up. Plus, it's refreshing, cooling and easy to throw in your luggage if you're travelling.
There are loads of different types of mask available but the key is to go for a hydrating option. Then relax. When it's time to remove it, you'll be left with highly-moisturised, goddess-like skin for summer.
Go Forth and Glow
Getting your glow on doesn't have to be difficult, especially not in summer. You might feel like you just want to skip the SPF if you're short on time and energy but it's not worth it. 
Sure, it might sound like a good idea now, but you're leaving yourself open to premature ageing, dry skin, sunburn and health issues in the long run. Not fun.
It's definitely a better option to take care of your skin and be safe while looking and feeling good with our tips for glowing skin in summer. Now get out there and enjoy the warmer weather!
Katie Davies is the Yorkshire-based freelance writer who founded Trendy Tourist. Since 2017, she has written for over 100 companies on a range of subjects, from fashion to marketing. When she's not producing content, you can find her shopping, exploring a new place or sitting somewhere having a cup of builder's tea.