Key West: an island city part of the stunning Florida Keys archipelago that's also the southernmost point in the United States.
Located closer to Cuba than to Miami, Key West is famed for its pasted-coloured, conch-style houses, historic sites, lively nightlife and beautiful beaches.
My partner and I arrived on the island in December 2020 engaged and left married, meaning that it fastly became a very special place in our hearts. In fact, even if we hadn't eloped there, I still think I would have fallen head over heels in love with Key West.
From golf carts being one of the main modes of transportation to its magical sunsets, Key West is a paradise that everyone deserves to explore at least once in their lifetime. And I want to give you the information you need to do exactly that (once international travel reopens, of course!).
Let's dive right in, shall we?
How to Get to Key West From the UK
Before we get into the unique things to do in Key West, you need to know how to get there. Obvs.
Although Key West does have its own airport, there are no direct flights from the UK at this time. (No surprise there, huh?)
The good news is that you can hop on a connecting flight through some larger U.S. cities, such as:
That said, I'd recommend flying to Miami (currently you can only grab a direct flight from Heathrow) and renting a car from one of the companies based in the airport. Then drive on to Key West, which takes approximately three hours and 20 minutes.
Why? Well, because it's one heck of a road trip. Not only do you get to see more towns and islands that make up the Florida Keys, but the views are unbelievable as the road leaves the mainland and you venture over the bridge on "Ocean Highway."
Trust me — it's totally worth doing.
How to Get Around Key West
Key West is the furthest southwest island in the archipelago known as the Florida Keys. If you do end up doing the road trip from Miami, it's easy enough to drive around the island. 
The truth is, things are quite spread out on the island. Depending on where you stay, it may make sense to have your own form of transport.
If you don't want to take a car, no problem. Some other ways to get around are:
Rent a scooter or golf cart (which is a widely accepted way of getting around the island and so much fun!)
Get a taxi
Use your hotel's shuttle (most hotels will offer this service for free to their guests)
Then the city centre is pretty walkable once you park your vehicle or get dropped off. Result!
Where to Stay in Key West
The island of Key West isn't huge so there are only a few key accommodation areas to choose from.
Historic District is the most central area where you can be in amongst all the action. Therefore, accommodation is naturally more expensive there.
New Town is in the northeast part of the island where you can find a lot of budget hotels and shopping centres. Given that it's further away from the action, you'd definitely need your own transportation if you were to stay in this area.
Smathers Beach is the largest public beach in Key West so there are plenty of accommodation options nearby. You can even check out the couple of hotels that are directly across the road for easy beach access. 
Honestly, it all depends on how you plan to spend your time.
What to See in Key West
There are many unique things to do in Key West that can fill at least a few days. Here are some of my favourite attractions.
1. Eat, Drink and Shop on Duval Street
Duval Street is the main strip in the city centre, and it's overflowing with shops, restaurants, cafes and bars.
Strolling up one side and down the other makes for an enjoyable, leisurely few hours. 
This street is also known for its live music venues and dancing, such as Sloppy Joe's, Willie T's and Irish Kevin's. In other words, it's a great night out!
2. Visit Ernest Hemingway's Home and Museum
Key West is home to The Ernest Hemingway House, which is where American writer Ernest Hemingway lived in the 1930s.
Situated at 907 Whitehead Street across from the Key West Lighthouse, the museum is open daily for walk-in visitors. It's quite interesting to see the spaces where Hemingway wrote some of his most famous novels — especially if you're a literary fan!
3. Take a Photo at Southernmost Point
Along the coastline at Whitehead Street and South Street, you'll find the Southernmost Point Buoy, which is a landmark that represents the southernmost point of the continental U.S. 
It's 18 feet above sea level and indicates the 90-mile mark to Cuba. This makes it a popular place for a photo, so make sure that you arrive nice and early in the day to get the best (and quietest!) shots.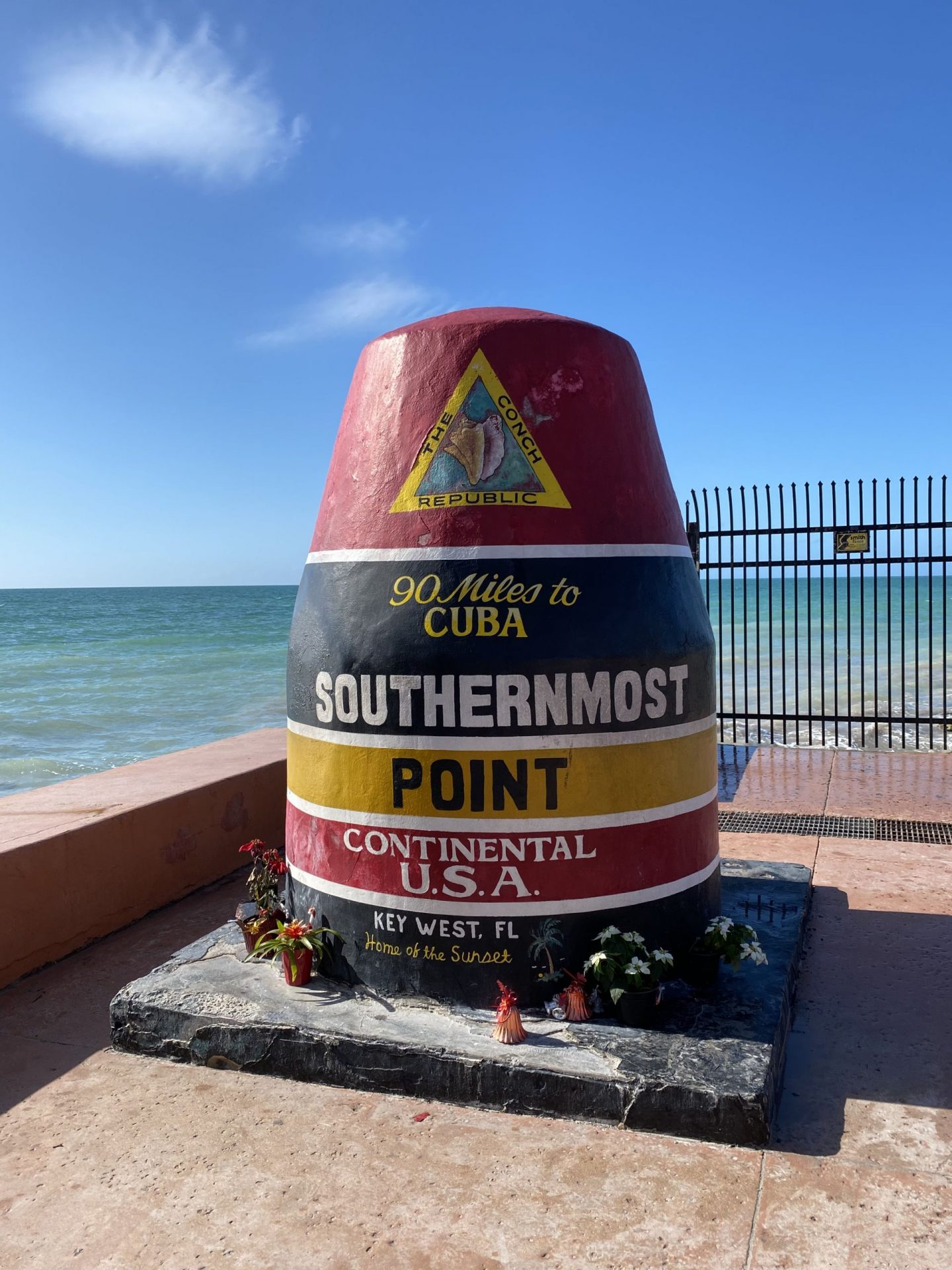 4. Sunbathe on Smathers Beach
Smathers Beach is located on the south side of the island along the Atlantic Ocean. As well as having white-golden sand and deep turquoise water, it's lined with the most gorgeous green palm trees.
The great thing about Smathers Beach is that it's half a mile long, which means that you don't feel like you're on top of people when sunbathing in your swimwear. Sure, it gets busy, but you can keep your distance too.
There are also water sports available for the more adventurous types.
5. Walk Around Fort Zachary Taylor Historic State Park
One of the most unique things to do in Key West is visit Fort Zachary Taylor Historic State Park.
A total of 54 acres, this natural historical landmark predates the Civil War. You can take a wander around the fort, which was built in the mid-1800s to defend the nation's southeastern coastline. 
In addition to exploring nature trails, visitors can access The State Park's most-loved beach. This provides opportunities for picnicking, swimming, snorkelling and fishing.
And did I mention that it's all extremely pretty?
6. Grab Yourself the Original Key Lime Pie
Near Mallory Square is where you'll find Key Lime Pie Bakery, which is where the original Key Lime Pie was cooked up in the late 19th century.
For those of you who may not know, this delicious dessert pie is famous for deriving from key limes. Key limes are smaller than regular limes and much more tart. In fact, they only grow in climates where the weather stays warm and doesn't dip below freezing temperatures, which is why they became popular in the Florida Keys.
In essence, it's a truly yummy treat that seems like it's even yummier when you get it directly from Key West!
7. Get Married!
Lastly, one of the best unique things to do in Key West is elope there. My partner and I had a sunset ceremony on Smathers Beach and it was honestly the most wonderful experience.
Fortunately, you don't need to have witnesses if you want to get married in the state of Florida. Therefore, it was just us, the officiant, the organiser, the photographer and the videographer — and it was so intimate and perfect!
It had been cloudy all day in the run-up to me walking down the (sandy) aisle. However, around 20 minutes before the ceremony, the sun came out and we were able to get some amazing pictures.
Being on that beach and saying my vows to the love of my life as the sun went down on another day in heaven is one of my favourite memories to date. I was on cloud nine for several days following our ceremony and I wouldn't trade that experience for the world.
Other Florida Keys Hotspots
As I mentioned earlier, you can take a road trip between Miami and Key West and come across several islands in the Florida Keys. If you have the time, it's worth exploring some of these islands (or at least some of the beaches!). 
We were pretty short on time so we just went to Sombrero Beach in Marathon (which is simply lovely with the most tranquil sea I've ever seen).
Other places that are supposed to be well worth visiting are:
Dry Tortugas National Park, which consists of seven islands west of Key West
John Pennekamp Coral Reef State Park in Key Largo
National Key Deer Refuge in Big Pine Key
Theater of the Sea in Islamorada
Some families and couples may end up staying in the Keys for up to two weeks so they can make the most of being in such a delightful place. (And I don't blame them, to be honest — take me back!)
Don't Miss Out on the Unique Things to Do in Key West
Key West is one of those hidden gems in the world where you could visit the island multiple times and still fall in love with it every time.
I feel so lucky and grateful that my husband (wink-wink) and I were able to go there and have our wedding ceremony amidst the pandemic — and have such a positive experience.
I can't wait to return for a wedding anniversary in the near future! It's one of those places that if you miss it, you truly miss out.