Going on holiday always feels exciting, whether you're 12 or 32. It allows you to unwind from the stresses and strains of everyday life, take a break from your responsibilities and reflect on what's important.
But, before you can hop in that car, board that train or take that flight, you need to get holiday ready.
After all, preparing your body and skin can put you in the optimal mindset for an amazing time away from home. You deserve a bit of pampering to look and feel your best so you can start your holiday off right.
That said, here's how I get holiday ready for every trip I take, which only elevates my excitement.
Get Holiday Ready With Your Body
First things first, there's the body prep in the weeks running up to the holiday.
1. Ramp Up the Exercise
We come in different shapes and sizes as human beings and we're all beautiful, but I personally feel better in my bikini when I've knuckled down with the exercise right before a trip. In fact, I like to improve my fitness levels prior to a holiday even if I know I'm not going to be in a bikini.
This ensures I'll have the energy and endurance to do everything I want to do while I'm away, whether it's full days of exploring or snorkelling.
Increasing the intensity of my workouts also helps with my mental health in the run-up to a trip. We all know that preparing to leave home for a while can be overwhelming, especially when flying overseas. 
Adopting a strict exercise regime in the weeks running up to the holiday clears my mind and boosts my mood. I also like to eat healthier to get the maximum physical benefits (diet and exercise go hand in hand). 
However, when it comes to body prep, do whatever makes sense for you and your lifestyle without sacrificing your everyday happiness.
2. Stay Hydrated
As well as eating clean, I like to up my water intake in the run-up to my trips and while I'm away, especially if I'm in a hot climate and losing more water due to perspiration.
Drinking at least eight glasses of water a day has many health benefits, including:
Reducing appetite
Combating fluid retention
Aiding weight loss
Fighting signs of ageing like wrinkles and dull skin
Flying to a different time zone? The more hydrated your body is before and during a flight, the less jetlagged you will feel when you arrive at your destination.
3. Go for a Manicure
To be honest, if my nails aren't looking pretty then I just don't feel ready to go away. A manicure can finish off your body prep like nothing else.
Plus, regular manicures have been shown to be beneficial for nail health, removing dead skin cells, encouraging new skin cell growth and hydrating them to keep them strong.
Bright, rich colours will complement a tan, whereas neutrals are more natural and timeless.
4. Go for a Pedicure
Similarly, it's a good idea to get a pedicure to improve your toenail health before you go away, especially if your toes are going to be on show. (Summer holidays and barefoot beach getaways, I'm looking at you!)
Sure, you can just get your toes painted in polish. Even so, opting for a pedicure can exfoliate the skin around your toes to rejuvenate your whole feet and truly get them sandal-ready.
Get Holiday Ready With Your Skin
Are you heading to a destination with extreme temperatures, i.e., somewhere very hot or very cold? Your skin would benefit from some TLC beforehand. To be fair, your skin would benefit from some TLC before any type of trip.
5. Exfoliate Your Body
Remove the dead skin cells from your body and stimulate healthy new cells by exfoliating your body before you go on holiday. Start exfoliating two to three times a week about a month in advance for top results.
You can also use a nourishing moisturiser to achieve radiant, hydrated and healthy skin that looks and feels great when you're in swimwear.
DK_GLOWY recently brought out their Ultimate All-Day Face and Body Nourishing Cream*, which I absolutely love. It:
Is rich and luxurious, designed to moisturise your whole body from head to toe
Contains natural ingredients like cocoa and shea butters, birch leaf extract, jojoba oil, sunflower oil and sumac tree wax, which have vitamins that boost your skin's natural defences
Has a melting, non-sticky texture, aligning with your skin's natural lipid balance so that it doesn't clog pores and cause blemishes
I recently came back from my honeymoon in the Maldives and used this cream in the run-up to the holiday, during and after. It made my skin so soft and glowy, and also locked in my tan for longer. Win-win!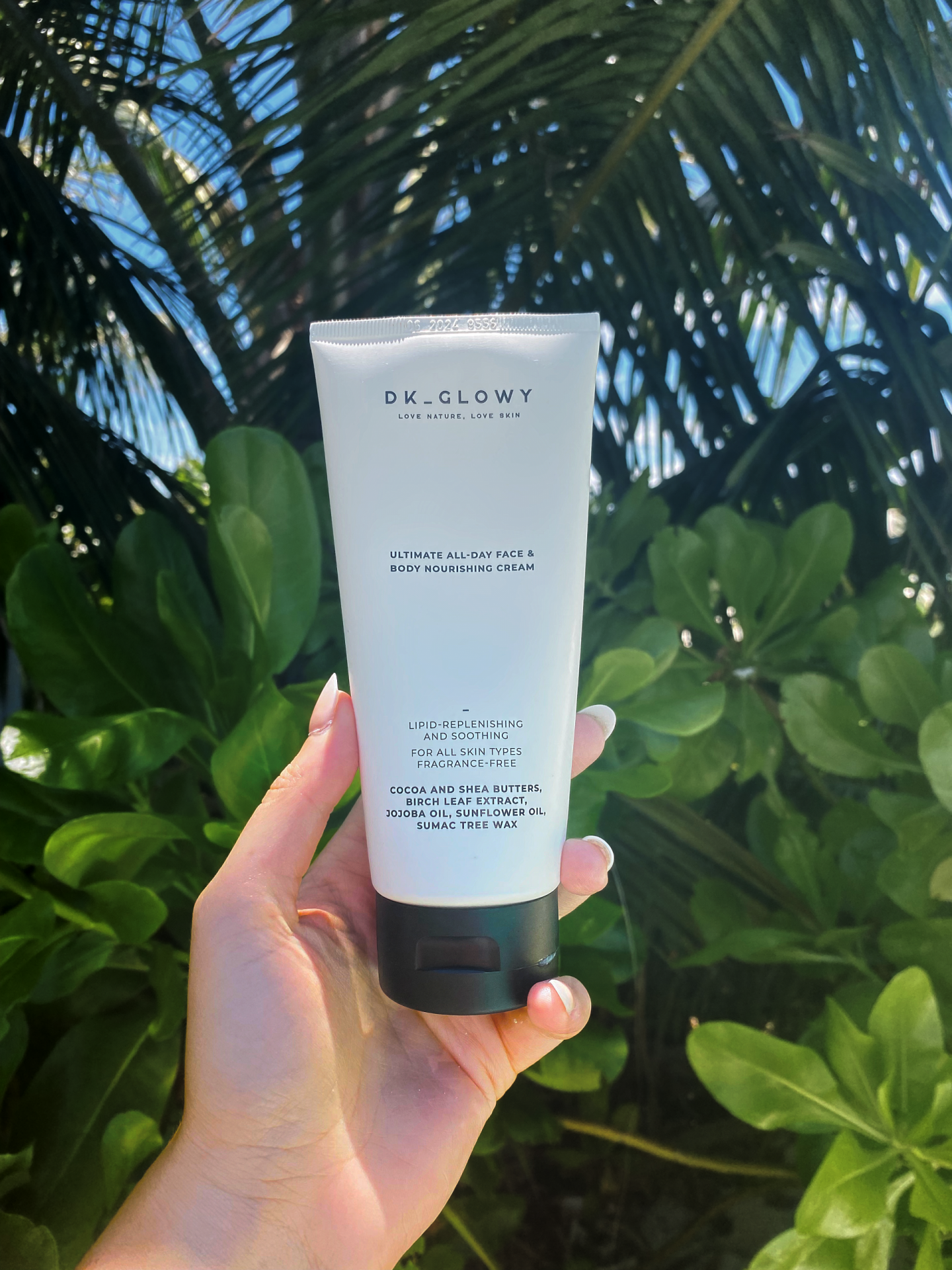 6. Remove Unwanted Body Hair
Whether it's through shaving, waxing or removal creams, if you're not resembling a baby seal right beforehand then are you even going on holiday?
Waxing is the most practical way of keeping the hair at bay for as long as possible while you're away. Alternatively, if you can afford it, laser hair removal may be an option so you don't have to worry about body hair ever again.
Just be sure to moisturise straight after removing body hair. This process can strip your skin of its natural oils so you need to put moisture back in to keep it smooth, hydrated and healthy.
Don't forget to tackle those brows too. I have sensitive skin and prefer to pluck but consider waxing, threading and/or tinting.
Heading to the sun and planning on wearing swimwear? If you do choose to wax any part of your body, book your appointment two to three days before your holiday so that any redness or swelling has time to decrease.
Get Holiday Ready With Your Hair
You don't really have to do anything with your hair before a trip. That said, these extra steps can improve your hair health significantly.
7. Get a Haircut
Getting a frequent haircut can improve the overall condition of your hair, removing any damage, promoting healthy growth and preventing split ends. Experts recommend trimming hair once every four months.
I personally like to get my hair cut right before a holiday so it's feeling as soft and looking as glossy as possible.
If you colour your hair, you can freshen up your colour too. But note that UV rays from the sun can break down the chemical bonds that are present in dyes, causing them to fade. Your hair can also lighten in the sun, so it may be best to leave your next colour appointment until after you get back.
8. Use Nourishing Products
Air conditioning or heating systems can have a detrimental effect on hair. Therefore, it's worthwhile getting your hair in a good condition before you leave for your trip.
Give it some extra attention by using a shampoo, conditioner, hair mask and/or treatment oil with moisturising ingredients that are specifically designed to hydrate hair. 
A couple of brands that are popular for nourishing hair are Olaplex, Moroccanoil and Kerastase. I currently dance between them so that my hair stays healthy and hydrated.
Get Holiday Ready With Your Packing
Let's face it, it's not just your body and skin that may need prepping for your trip. You also need to figure out what you're going to take with you.
9. Avoid Packing at the Last Minute
I realise this is easier said than done when you're a grown-up with a full-time job and responsibilities, but try to pack in plenty of time. By delving deep into what you want and need to take, making a list and putting the items to one side in advance, you can avoid the last-minute scramble to throw everything in the bag the night before your holiday when you really can't be bothered to do it (but you kind of have to now).
Yes, we've all been there.
By packing and doing the hard thinking beforehand, you can also avoid overpacking. (You know, by taking items you're really not going to wear or use and making your bag heavier than it needs to be.)
Curating your own travel capsule wardrobe and taking travel fashion staples that are versatile and will go with multiple options can be a game-changer. Look out for my new eBook coming soon where I discuss how you can curate a travel capsule wardrobe so you can take minimal pieces on your trips while maximising your style.
Final Thoughts
Getting holiday ready is a process — it's not something that can be done overnight so be kind to yourself by starting this process sooner rather than later. I actually begin holiday prep as soon as I can because it gets me so pumped for the trip and makes me feel my best when I'm on the trip (and helps me take the best photos!).
Having said that, work the steps into your schedule whenever is feasible for you. One thing's for sure: it's worth doing them so that you don't feel underprepared or overly stressed — and you can have the incredible holiday you deserve.
Pin this article and share with friends: