Getting out of town and going on a road trip with your pup can be an exciting and rewarding experience. From exploring new places to enjoying quality time together, travelling with your dog has so many benefits.
However, it does require some preparation beforehand to ensure that you and your pup have a safe and enjoyable journey. It also reduces stress — you don't want to have to frantically visit the nearest supermarket because you've forgotten something important, right?
Not to worry — I've got you covered. Here are some dog road trip essentials when it comes to tips and things to pack for a successful road trip with your furry friend.
Tips for Travelling With a Dog
First things first, there are some things you need to consider ahead of your journey.
Plan Ahead
Make a list of pet-friendly stops along the way and places to stay so there are lots of rest breaks for your pooch. Look for hotels or campgrounds that allow dogs, as well as parks and other outdoor activities that you can both appreciate together. 
Pack everything you think your pup will need for the journey, from plenty of water, snacks and toys. (But more on this later!)
Have leads and waste bags ready so you can take your pooch on walks and bathroom trips quickly and easily along the way. 
Bring bedding or blankets for your pup to relax on, as well as any medications or supplements that they may require during the trip. Speaking of medications, sure your dog is up to date with all of their necessary vaccinations so that they're in optimal health to be able to enjoy the ride.
Be Prepared for Things to Go Wrong
Although it's very unlikely, accidents can happen when you're travelling with your dog so it's important to be prepared. 
Bring along extra supplies in case of an emergency such as a spare lead and collar, as well as things to clean up after your pup while on the road. 
It's also a good idea to bring along a few additional toys or treats that can help distract your pup in case of an emergency.
Follow Safety Guidelines
When travelling with your dog, it's important to follow all safety guidelines to prevent any issues.
Make sure your pup is always secured in the car, either in a crate or with a seat belt harness. Take frequent breaks so that you and your pup can get out and stretch their legs. 
Keep up with your dog's routine as best you can so they have that continuity. Take breaks for meals and bathroom trips, and provide access to water frequently throughout the day.
And never leave your dog unattended in the car for an extended period of time. Temperatures can quickly rise to dangerous levels for your furry friend.
Have Fun
Most of all, have fun and enjoy your time together on the road!
Travelling with your pup is a great way to bond and create lasting memories, so don't forget to document special moments along the way. Whether it's taking photos, sharing stories or simply spending quality time together, a road trip with your pup can be an unforgettable experience.
15 Dog Road Trip Essentials: A Checklist
Here is the checklist of dog road trip essentials that can ensure a safe and smooth journey.
Essentials
1. Food and Water Bowls – Make sure you take food and water breaks regularly so that your dog is satisfied.
2. Dog Food and Treats – Don't experiment on the road, bring what your dog usually eats to give them a sense of home comfort.
3. Lead, Collar and Identification Tags – Take care of the safety of your dog and everybody else.
4. Dog Play Toys – Travelling can be boring and tiring even for a dog.
5. Waste Bags – You know what to do!
6. Towels and Drying Coats – You never know when you are going to need them, but you know you will.
Comfort Items
7. Bed or Blanket for Sleeping in the Car – The cosy feeling is very important for your dog while travelling so that they're comfortable.
8. Favourite Toys and Chew Items – This will make the journey even more enjoyable for your pooch.
Safety
9. Health Records, Medications and Flea Prevention – Hopefully you won't need these things, but it's handy to have them just in case.
10. First Aid Kit for Dogs – It's very unlikely that you'll need this either but including it in your doggy travel bag is a good safety precaution for them, and you too!
Grooming Supplies
11. Brushes, Combs and Clippers – Your dog might not be happy about these, but road trips can be messy and dirty so these might come in handy.
12. Shampoo and Conditioner – Again, you just never know!
Miscellaneous Supplies
13. Water Bottle and Bowls for Refilling – These are always handy.
14. Dog Sunscreen and Bug Repellant – Your dog may not need these but I'm including them on the checklist just in case.
15. Portable Fan to Cool Off Your Pet in the Car – This item is dependent on the time of the year, where you are and when you're going.
Post-Road Trip Care for Your Dog
We've talked about what to do before and during a doggy road trip, as well as the dog road trip essentials. Now, let's address how to make sure your dog is in the best of health post-road trip.
Keep your pet hydrated. During summer months, be especially vigilant about making sure they have access to plenty of water.
Take your dog to a veterinarian for a check-up after the trip to make sure there are no unusual health concerns that may have arisen.
Feed them nutritious meals and snacks. Road trips can be stressful, so it's important to provide your pup with the nutrition they need for energy and physical recovery. 
Make sure your pup has a comfortable place to rest after the trip. Give them plenty of soft bedding and access to a cool area that's free from loud noises.
Spend extra time with your dog when you get back home, playing games and giving them lots of love and attention. This will help them feel safe and secure after the long journey. 
By following these post-road trip tips, you can ensure that your pup is well cared for and has plenty of energy to enjoy all the fun activities you have planned.
Pin this article and share with friends: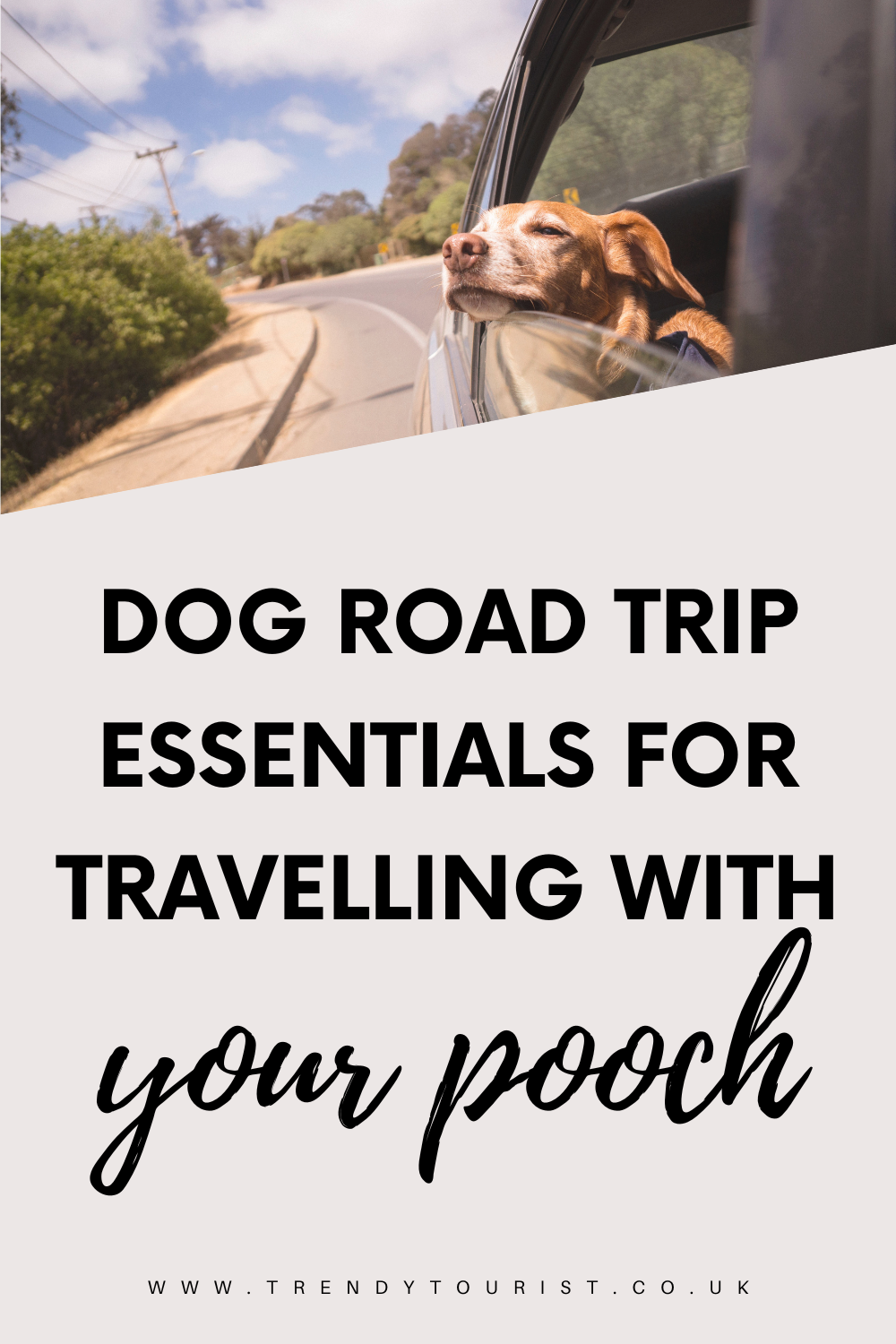 Final Thoughts
Planning a road trip with your dog allows you to spend quality time together in the great outdoors, explore new places and make memories that will last a lifetime. 
Just remember to follow safety guidelines and have my checklist of the dog road trip essentials on hand so that you don't overlook anything and have the best time. Your doggy adventure awaits!