The temperature is rising, travel restrictions have eased and summer is finally within reach. It can only mean one thing: it's time to book your next holiday or weekend break.
The problem is, whether you're travelling near or far, there's a lot to do before you can even start to think about sipping cocktails in the sun. 
Once you've picked out your destination, the next step in planning the perfect break is searching through the various types of accommodation.
Unfortunately, choosing holiday accommodation can be easier said than done. From budget-friendly hostels to luxury hotels, there are a lot of options out there, all providing totally different experiences.
With that in mind, here's my easy guide to choosing where to stay.
1. Hostel
The first step in deciding where to stay is to look at all the different types of accommodation available for your chosen destination.
It's important to go in with an open mind. You might think you definitely want to stay in an all-inclusive resort. However, this could mean compromising on location or limiting the opportunity to really get a feel for the local food, drink and atmosphere.
Wouldn't it be great if there was an inexpensive option that gives you all of this and more? Enter: the humble hostel.
Pros of Staying in a Hostel
Hostels have long been a favourite of regular travellers or those who tend to spend just a few days in a city before hopping on a plane to their next destination.
Let's be honest, the biggest advantage of staying in a hostel is the ultra-affordable price.
By staying in a dorm room you can find some of the cheapest accommodation prices out there. Even private rooms with ensuites are likely to run cheaper than a hotel room. 
Most hostels also include a full kitchen as part of the communal area. Therefore, you can save even more money by cooking yourself while having the chance to meet like-minded people from all corners of the world.
More often than not, hostels are located right in the centre of the action, meaning you'll get to save on accommodation and transport costs. This will leave more money in the pot for activities, excursions or even just another round of cocktails. Now that's what I call a win-win.
Cons of Staying in a Hostel
While hostels suit many, I understand they won't be everyone's cup of tea. 
For example, if you value privacy and quiet time on holiday, you might find it tricky to share facilities with lots of other people. Some hostels carry a party atmosphere, so it's well worth checking review sites and forums in advance if that's not your vibe.
It's also important to consider that there's a higher risk of theft in hostels simply due to the number of relative strangers living in close quarters. Although, this can be easily avoided by keeping any valuables near you at all times.
Ultimately, with lower prices comes lower-quality and poorly-maintained buildings and fewer amenities. As long as you're prepared for that, you'll be good to go!
2. Hotel
There are so many types of accommodation available, but if you're anything like the vast majority of holidaymakers, you're probably guilty of jumping straight to hotels.
Easily the most popular holiday accommodation choice, hotels come in all shapes and sizes with options to suit most budgets and requirements. 
A hotel won't be right for everyone; however, here are some of the key things to keep in mind.
Pros of Staying in a Hotel
If you want that home from home feeling during your travels, staying in a hotel is likely your best bet. Nowadays, chains can be found all over the world so by booking a Hilton room, for example,  you'll know what to expect no matter where you are.
The biggest pro of hotels is the virtually endless choice available. Whatever your budget or location preferences, there will almost certainly be a room for you.
Plus, with (often free) optional extras and upgrades like room service, maid service, food and drink packages and luggage hold for flights with awkward timings, you can pretty much build and customise your ideal holiday.
An often overlooked benefit of staying in a hotel is having use of the front desk. Need directions? Stuck for what to do? Want restaurant recommendations from someone who really knows the area? Just ask the reception staff to help you. 
Even the best and biggest itineraries can fail, so don't underestimate the power of advice from a local.
Cons of Staying in a Hotel
On the flip side, hotels tend to be more expensive than other types of accommodation. If you're on a stricter budget, you might have to compromise on some of your expectations.
They also don't really allow guests access to a kitchen or any type of kitchen facilities other than a kettle. (Having said that, some do offer a fridge and microwave which can be extremely handy.) You could end up blowing your funds if you have to eat out for every meal of the day.
Other things to consider are that despite the premium price tag, your room may be fairly small in size and you might find yourself at the mercy of noise from other guests. Note to self: pack earplugs…
3. Airbnb
Airbnbs have been steadily growing in popularity in recent years and are now handily located all over the world.
For the uninitiated, Airbnb is essentially an online marketplace that connects those looking to rent out their properties with people looking for somewhere to stay for a short period.
Tempted to give it a go? Here's everything you need to know before booking.
Pros of Staying in an Airbnb
The key benefit of staying in an Airbnb over a hostel or hotel is that you can opt for either a private room or an entire apartment/house. And the prices are surprisingly reasonable.
Eating out every single day can be a big drain on your overall holiday budget. Luckily, most Airbnbs give you access to either a private or shared kitchen so you can save some pennies by dining in.
A unique advantage of being a guest in an Airbnb is that you'll be able to get loads of information about the city and/or general area from the host.  Many provide pamphlets jam-packed full of restaurant/transportation/pub recommendations and are always just a message away in case you need anything else.
Cons of Staying in an Airbnb
When it comes to finding a good deal on Airbnb you'll need to have your wits about you as pesky hidden fees are everywhere.
Like anything, if it seems too good to be true, it probably is. So when searching for a place, keep in mind that the advertised price will go up once add-ons like service fees, cleaning fees, tax and sometimes even a security deposit join the party at the checkout. 
Another potential downside of Airbnbs is that some properties will require a minimum night stay. This is not exactly ideal when you're just looking for somewhere to stay for a couple of nights (although we haven't seen many with more than a two-night minimum!).
The lack of a loyalty scheme is also a drawback, as is the fact that hosts can cancel at any time. Add in the need to work around the host's (often unpredictable) other bookings when trying to arrange early check-in or late check-out and it's not for the easily flustered.
4. Camping
Ah, who doesn't love spending time in the great outdoors? 
Whether work is stressing you out or you're just feeling a little frazzled by the everyday, it can be such a relief to press reset and take some time out in the calming countryside. But as with any holiday accommodation, there are some things to consider first.
Pros of Camping
Let's start with the obvious benefit of camping: it's super budget-friendly.
Life can feel crazy at the best of times, so why not use your holiday time to get back in touch with nature and take a break from the noise of the city (or just your loud neighbours). There's something special about getting away from your daily routine. It's so refreshing to not worry about alarm clocks and reminders.
If you think you can cope without the internet, camping also provides a great opportunity to go offline for a few days. Don't worry, Wordle will still be there when you get home.
And if all else fails, who can say no to s'mores and snacks around the fire?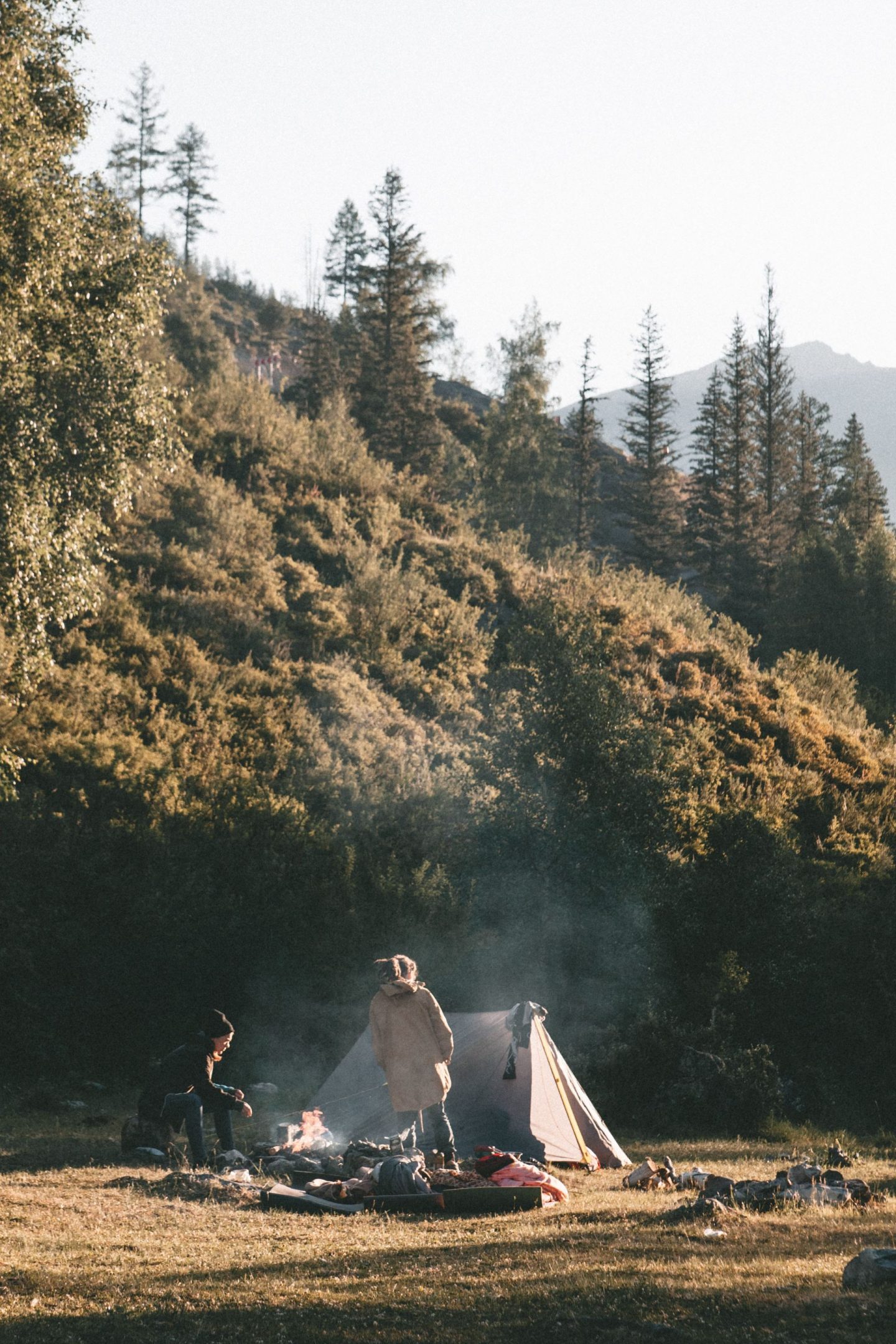 Cons of Camping
If you decide to go camping you'll need to be prepared for any weather, especially if you're planning a UK staycation. You might have a giggle if you get caught in a light drizzle but believe us, no one will be laughing if you're caught out in torrential downpour or find yourself in a leaky tent.
Speaking of tents, sadly they aren't known for providing people with the best night's sleep. So whether you're planning a longer trip or can see yourself becoming a regular camper, cut out the tossing and turning by investing in a cot. I promise it will be the best purchase of your camping life.
Likewise, shared showers and toilets might be a turn-off for some, as will the lack of a proper kitchen facility. Cooking beans over a fire is a camping staple but it can quickly grow old.
Finally, don't underestimate the bugs. To prevent any unfortunate itching or swelling, make sure to go armed with deterrents like bug spray and citronella candles.
5. Campervan or RV (Recreational Vehicle)
Travelling by campervan or RV is one of the best ways to both discover new places and see destinations you already know and love in a totally different light. Here are the main pros and cons to keep in mind.
Pros of Travelling Via Campervan or RV
Want all the benefits of camping without the less glamorous sides of it? Well, staying in a campervan or RV can give you the best of both worlds. Essentially, it's just mobile camping, so you can go wherever you want and stay at each destination for as long as desired.
Some vehicles come with full bathrooms and kitchens as well as plenty of space to chill out on those rainy days. In other words, you can take all your creature comforts on tour with you without any time-consuming packing and unpacking between destinations.
Not forgetting, you'll get front row seats to some amazing views both on the drive and at your chosen endpoint. Get ready to give your Instagram a glow-up.
Cons of Travelling Via Campervan or RV
The biggest drawback in travelling via campervan or RV is the rental price. Hiring out an RV isn't cheap (especially if it's just for two of you) and adding fuel costs on top will drive the price up even further.
Another thing to look out for is that when it comes to RV rentals there is often a mileage/kilometre cap. This determines how far you can drive it before paying additional charges per mile or kilometre.
Light sleepers or those who struggle to sleep in different beds may have a hard time, as campervan beds simply aren't as nice as other options on this list. And that's without taking into the difficulty in finding accommodation in city centres (let alone driving in them).
How to Decide Between the Different Types of Accommodation
When weighing up the pros and cons and deciding between the various different types of accommodation, it all depends on:
Budget – How much you can afford to spend on your accommodation, keeping in mind any extra fees
Duration – How long are you going for? Can you "make do" or is it a once-in-a-lifetime trip like a honeymoon?
Comfort Level – Some of us don't mind roughing it a little (hey, it's all part of the experience, right?), whereas, others prefer to be pampered
The Season – If it's winter, you may not want to camp or even have a campervan since these types of accommodation require you to be outside more
Flexibility – Can you deal with the fact that an Airbnb host may cancel your stay at any time? Or do you want the security of staying in a hotel?
Safety – In COVID times, would you prefer that your party keeps to themselves to reduce the risk? Or are you happy to be in a hostel mingling with different crowds?
Willingness to Drive – Would you rather take a break from driving? Or is someone in your party happy to drive a campervan or drive you to the camping site?
Think long and hard before you make you decision because making the wrong one could have an effect on whether or not you end up enjoying the trip.
Summing Up the Types of Accommodation
If you ask me, here's my advice for which types of accommodation may work best for you:
Choose a hotel if you're looking for a bit of luxury and looking after and you can afford these privileges (also if you don't want to have to worry about driving)
Choose a hostel if you want to meet other like-minded travellers, don't mind being around people throughout your trip or you're on a serious budget
Opt for an Airbnb if you'd rather keep to your party but you're looking for a budget-friendly option where you can make use of a kitchen
Go camping if you want to get back to nature and save pennies but don't mind a bit of hard work driving or putting your tent up and down!
Opt for a campervan or RV if you want to get back to nature and don't mind paying a bit more but still want a few luxuries (like your own space or your own toilet!)
If you like the sound of more than one of these, you could even do a hostel for two nights and then camp for the rest of the time, for example. Or splash out on a hotel for half your trip and book an Airbnb for the other half. 
It's all about what makes sense for your party. Either way, I'm sure you're going to have the best time. To travel is to live!