Las Vegas, Nevada: the 28th-most populated city in the US that's known as being one of the party capitals of the world.
Why? Well, because of their sheer amount of bars, clubs and events, of course. And the fact that there's always so much going on at once.
No matter whether it's your first, seventh or hundredth time visiting, every experience you have in the city feels unique and exciting. Especially when it comes to the partying scene.
As a result, be prepared for your time there to pass by quickly in a haze of jetlag, clubbing and alcohol!
This is precisely the reason why it's so important to live it up in Vegas (BABY) while you can.
New to the city? Not to worry. From bar-hopping on the strip to dancing the night away at a DJ event, read on to discover the Las Vegas clubs and parties that are considered some of the best in the world!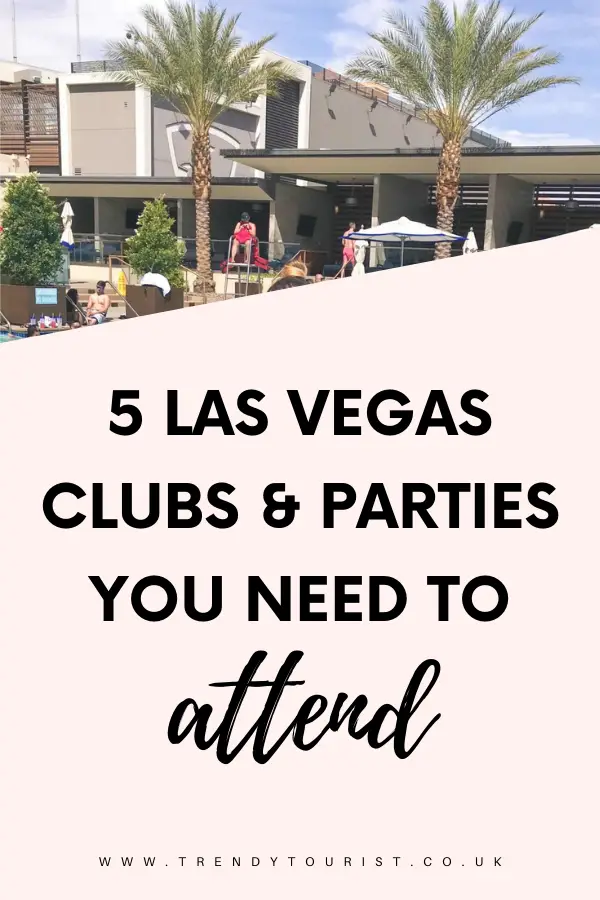 1. Omnia @ Caesars Palace
One of my favourite Las Vegas clubs and parties has to be Omnia.
From the rooftop terrace overlooking the strip to their revolving roof on the dancefloor, it's just a whole bunch of awesomeness from start to finish.
And the likes of Calvin Harris and The Chainsmokers often do DJ sets there, which means the atmosphere is always incredible.
Having said that, I'd recommend going on a Friday, Saturday or Sunday night to experience one of the best nightclubs Vegas has to offer.
2. Wet Republic Pool Party @ MGM Grand
Newsflash: heading to a pool party during the summer months is a rite of passage when you're in Vegas. 
And MGM Grand is home to the famous Wet Republic pool party, which takes place in its own section of the hotel complete with a bar, pool, palm trees and sun loungers.
Head there on a Monday or Thursday for the standard pool party experience, or on a Saturday if you want to catch one of their special DJ guests. (Thank me later!)
3. Intrigue @ Wynn
Another one of my favourite Vegas club nights, Intrigue takes place at the Wynn hotel.
The first time we went, my sister and I saw Marshmello before he got famous and he absolutely tore the place up. We've been a couple of times since and it's always been great!
In fact, Intrigue on a Wednesday night never gets old.
I particularly like the layout of the club. It's like a semi circle around the dance floor, but there's also an outdoor a terrace and pool area where you can dance the night away.
Two words: must do.
4. Hakkasan @ MGM Grand
Before it turns into a nightclub, Hakkasan is an Asian-fusion restaurant, which I've never personally experienced but I've heard good things about.
Then, when it becomes the club, it's super fun and often hosts world-famous DJs like Tiesto and Steve Aoki. 
Head there on either a Thursday, Friday, Saturday or Sunday night for one of the greatest nights out that you've ever had.
5. Surrender @ Encore
Lastly, there's Surrender, aka Intrigue's cousin. This is because Surrender is based in Encore, which is the sister hotel to Wynn.
Even though its indoor bar and dancefloor area is kind of small and intimate, the outdoor terrace is pretty significant in size.
In fact, the whole place feels very upmarket thanks to its many plush booths and red carpets.
When should you go? Well, Surrender's main night is Thursday. Having said that, the best nights there tend to be when they have guest DJs.
Las Vegas Clubs and Parties for All
The Las Vegas partying scene is one-of-a-kind.
That's why, no matter which Las Vegas clubs and parties you decide to check out, you're going to have THE TIME OF YOUR LIFE.
Even if you're not prepared to party every night, you just have to sample their renowned nightlife at least once.
And I guarantee you won't regret it.
Have you ever been to any of the Las Vegas clubs and parties? Which ones were your favourites?
Katie Davies is the Yorkshire-based freelance writer who founded Trendy Tourist. Since 2017, she has written for over 100 companies on a range of subjects, from fashion to marketing. When she's not producing content, you can find her shopping, exploring a new place or sitting somewhere having a cup of builder's tea.