Ad disclaimer: this post was sponsored by Prom Dress Finder. For our full privacy policy, please click here.
Full disclosure: I'm going to be 30 next year. (Gasp – I know, I can't believe it either.)
Even though I'm not yet 29, approaching the big 3-0 sure makes you reflect on life a little bit.
Sure, there's so much more that I'd still like to achieve in the next fifty years or so. That said, I'm a big believer in assessing where you've come from to get to where you're going next.
I mean, sometimes you have to take a step back to take three steps forward – right?
Whether you're also approaching a big birthday or just want to reminisce with me, read on for 10 life milestones I'm glad I've achieved in 10 years.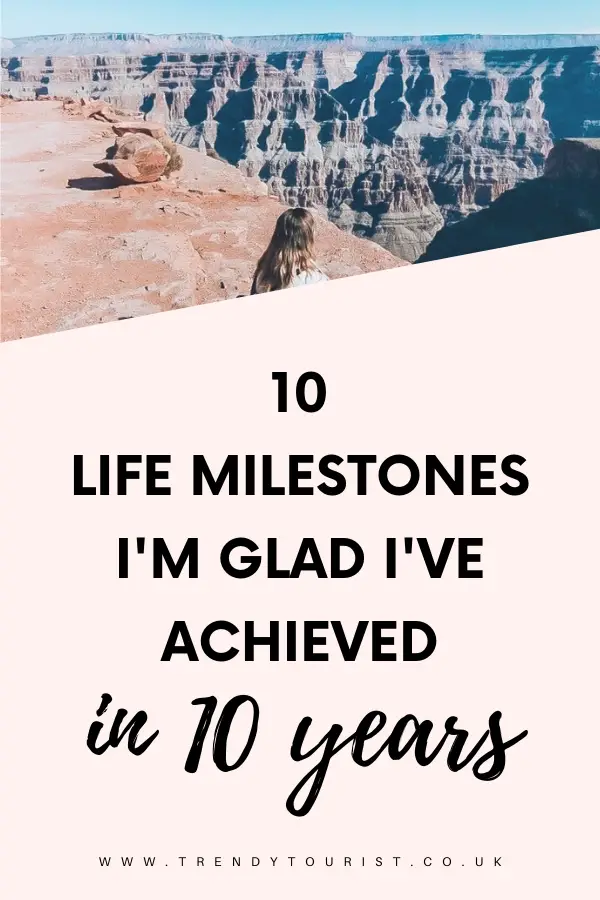 1. Graduated From Sixth Form/College
Life milestones 101: I understand that continuing with education isn't for everybody. However, I'm super glad I went to Sixth Form after finishing secondary school.
I mean, if I hadn't, I wouldn't have ever got my A-Levels, gone to university or experienced any of the jobs I've had.
Everyone who knows me personally knows that I found the two years I spent at Sixth Form challenging. It was a stark contrast from studying for your GCSEs with a limited amount of homework and commitments.
Having said that, it was all worth it in the end so that I could start my next adventure at Nottingham Trent University.
2. Attended My Year 13 Prom
Before I went to university, I had my year 13 prom, which is undoubtedly one of the best life milestones I've achieved thus far.
Sure, year 11 prom is great, but everyone is of the legal age to drink in year 13. And do you know what that meant? That's right – it turned into one heck of a party.
It was also lovely to see all my male school friends suited and booted and all my female school friends wearing pretty, grown-up dresses. (Click here to find a prom dress to suit you.)
Even though the music stopped at midnight in the hotel where our prom was held and we longed for the fun to go on for longer, it was such an amazing experience that I'll never forget.
3. Graduated University
Similarly, graduating from university was a big achievement as I wasn't sure if I'd get there in the end.
It's no secret that I didn't like my course to start with or my university experience in general. (To be completely honest with you – most of my first lot of flatmates were bullies.)
However, even though it was challenging, I persevered with both aspects and everything improved significantly by year two. In fact, by the end of my course, I could honestly say (hand on heart) that going to university was the best thing I'd done in my life thus far.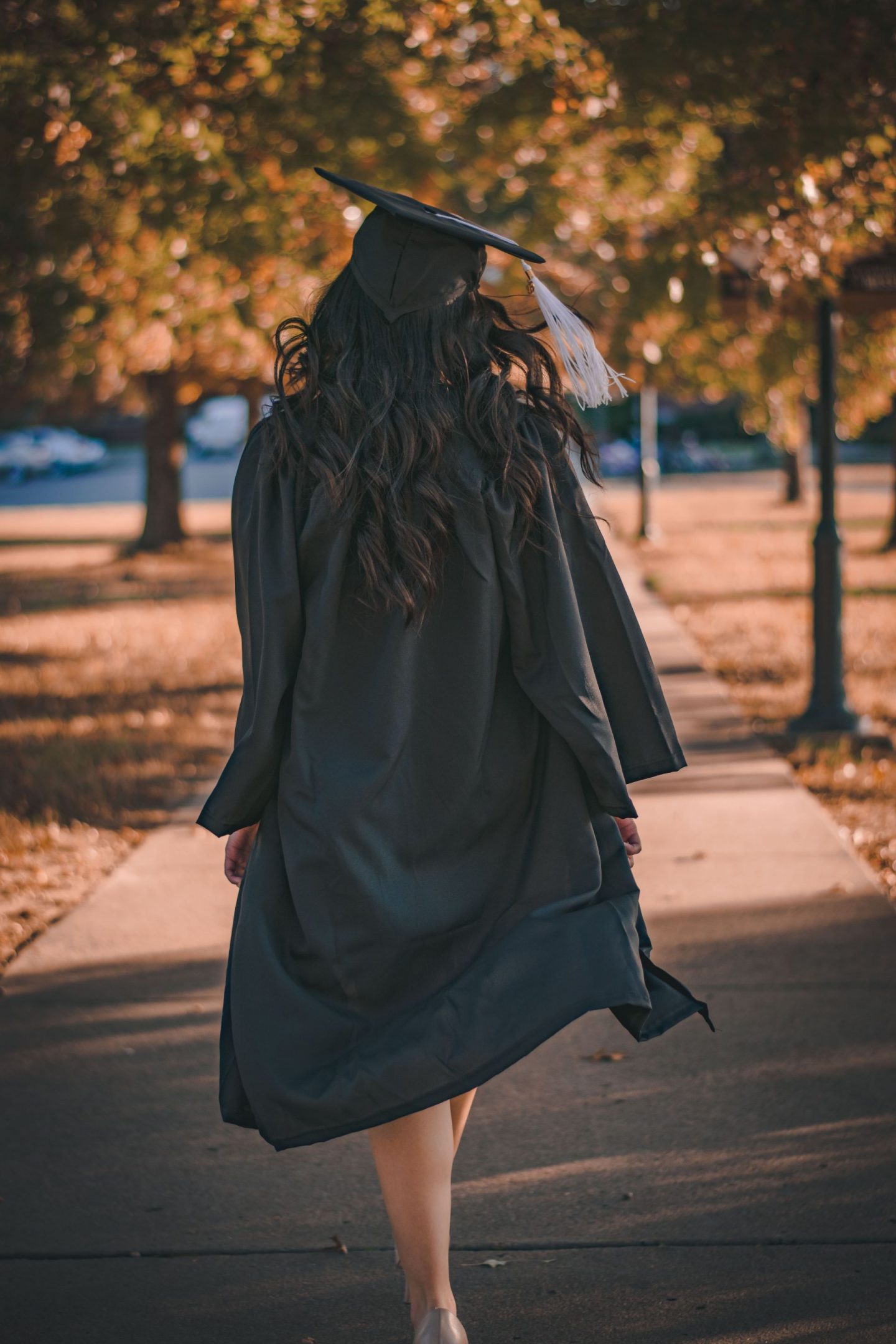 4. Lived Away From Home
In addition to progressing academically at university, I also developed some pretty substantial life skills.
Before uni, I'd never lived away from home, which I then went onto do post-university too with my first long-term boyfriend. I followed him to Milton Keynes (which is a completely different feel to my hometown of Wakefield) where I had my first experience of renting a flat with someone.
Adulting was hard, for sure, but it taught me a lot about myself and what I wanted out of this crazy journey we call life.
5. Had Office Experience
While I was living away from home in Milton Keynes, I had two polar-opposite office experiences in the marketing departments of two different-sized companies.
The first was working in an office of five people, and the second was working in an office of over 300.
Both jobs were instrumental in my professional development and gave me the skills I needed to start successfully climbing the career ladder.
6. Been Travelling (Numerous Times)
There's no denying that one of my best life milestones so far is my travels.
Made up of six trips respectively, I've been fortunate enough to venture to different corners of the globe and have a ton of incredible experiences—from washing elephants in the rivers of Thailand to hiking glaciers in New Zealand.
Even though I spent thousands of pounds doing all these trips, I wouldn't change them for the world. Who I am now is made of the people I've spent time with, the things I've seen and done and the conversations I've had along the way.
And do you know what? That's the stuff that money can't buy.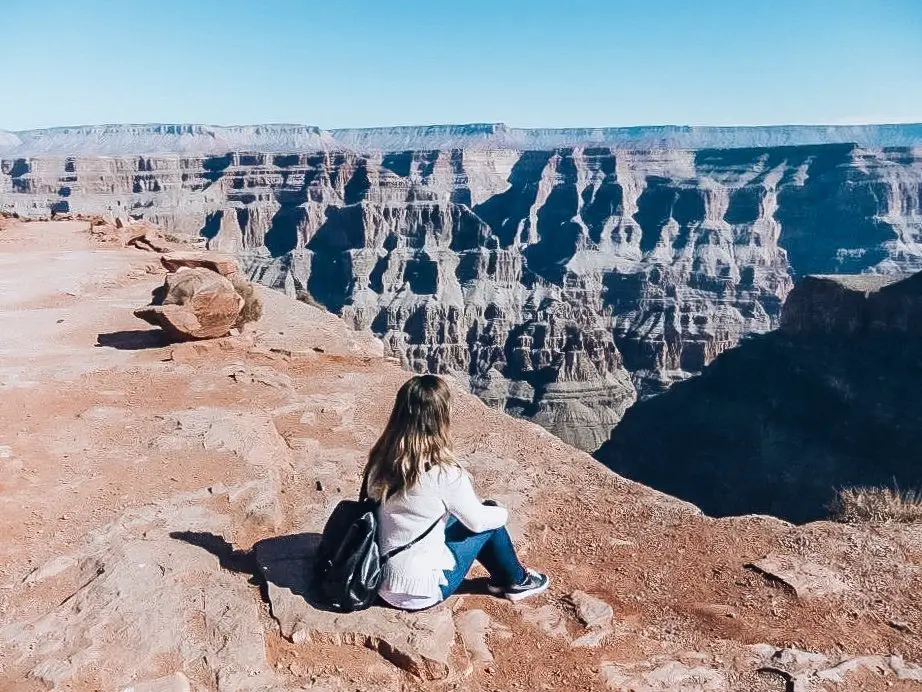 7. Prioritised My Friends and Family
Because my late teens and early twenties went by in a blur of: "who am I? What am I doing? Where do I want to go in my life?", I didn't realise how important my loved ones were until I hit 25.
I'd just come out of my first long-term relationship, I was going through a bit of a quarter-life crisis working in jobs that were unfulfilling and I didn't have a clue what was next for me.
Therefore, it was during this period that I had to lean on my friends and family more than ever. It made me realise just how bloomin' exceptional my tribe are – and now I make sure I never forget this.
8. Started My Business
One of my favourite life milestones thus far has to be starting my business. I was 26 when I got back from one of my travel trips where I had an epiphany about what I should be doing for work.
Looking back, it was kind of obvious. I mean, I loved blogging and writing, therefore, I should be doing it for a living – right?
However, dumbo over here only realised this in her late twenties – but at least she realised eventually. And I haven't looked back since.
9. Met My One
Well, I thought I'd better feature Nathan in this list at some point, otherwise, he'll get grumpy. JK.
It took me three failed relationships to find the guy that I'm adamant I want to spend the rest of my life with – but, boy, am I glad that I found him when I did.
Spoiler alert: I never believed people when they said: "oh, when you know, you know." I thought it was a load of BS. It turns out, they were right. I am now eating humble pie with my future husband by my side.
10. Lived Abroad
Finally, another one of my life milestones that has considerably rocked my world is still ongoing. That's right, I'm talking about my current situation in New Zealand, where I'm living and working until early 2020.
I always said I'd like to live abroad at some point in my life just to have the experience – and so far, it's definitely not a disappointment.
This is mostly because I picked a pretty decent place to do it in. I mean, not many people can say that they get to wake up to a mountain view every day. I'm one lucky girl, yo.
Embracing Life Milestones: the Good and the Bad
Even though it's easy to look back and be like, "oh, that experience was excellent and so was that experience," we have to remember that hindsight is a beautiful thing. After all, sometimes it's the most satisfying life milestones we achieve that are the most challenging to get to.
That said, keep in mind that it's often the bumpiest roads that lead to the most beautiful destinations, the messiest cookie mix that turns into the tastiest treats and the wildest ideas that become the best adventures.
Here's to the next ten years! Maybe I'll repeat this post and it'll be full of wedding photos, kids and who the heck knows?
What are the life milestones you're glad you've achieved so far? Which life milestones would you like to achieve in the future?
Katie Davies is the Yorkshire-based freelance writer who founded Trendy Tourist. Since 2017, she has written for over 100 companies on a range of subjects, from fashion to marketing. When she's not producing content, you can find her shopping, exploring a new place or sitting somewhere having a cup of builder's tea.