Ad disclaimer: this post was sponsored by The Personal Barber and contains affiliate links, which means I receive a small commission when you purchase the product at no extra cost to you! All affiliate links will be marked with an asterisk (*) and help us to run this site so we really appreciate your support. For our full privacy policy, please click here.
From Father's Day to his birthday, Easter to Christmas, there are plenty of opportunities throughout the year to show your Dad just how much you care for him.
That said, amongst the thousands of options across the internet, how are you supposed to find unique gifts for Dad that will last the test of time and not just get tossed into the bin at the first opportunity?
It's a challenge, that's for sure.
However, not to worry. I've done all of the research so you don't have to. Read on for 10 unique gifts for Dad that he will use and appreciate all year round.
1. The Personal Barber Subscription Box
The Personal Barber is a male grooming subscription service that focuses on the traditional razor and brush style of shaving. The company's main goal is to get men loving their shaving routine. (Pretty cool, right?)
Starting at £24.95, TPB's traditional shaving subscription box consists of their signature safety razor, shaving brush and a fun selection of shaving goods for the first man in your life to pamper himself until his heart's content.
If the thought of a subscription as a gift isn't doing it for you, no worries – you can opt one of TPB's one-off shaving kits instead.
2. NutriChef Portable Draft Beer Dispenser
How cool is this portable beer dispenser (*) for £48.99?
Whether your father is at home or on-the-go, this wondrous gift idea takes any beer can and pulls it through its tap system. As a result, it tastes like a freshly-pulled draft – and no Dad can argue with the genius of that.
3. Bose Augmented Reality Alto Sunglasses
What if there was a way to shield your Dad's eyes from the sun while letting him check his phone notifications? A way for him to look like a rockstar while wearing one of the world's latest innovative technologies?
Step forward the Bose Augmented Reality Alto Sunglasses, which are available to pre-order now for £199.95.
Featuring built-in Bluetooth speakers, these smart frames will allow your pops to listen to music or a phone call on the go, without other people being able to hear. You can also buy them in the Rondo style, which has circular as opposed to rectangular lenses.
Merging the digital and physical worlds never looked so good.
4. WOLF Meridian Watch Winder
Is your papa like mine and has about ten different watches to his name? Then this should be one of your ideal unique gifts for Dad.
Available in the Black, Blonde or Burlwood colour-way for £333.39, the Meridian Watch Winder by WOLF (*) ensures that his mechanical watches are running on time so he has no excuse not to make the train for work or be late to your weekly father-daughter brunch.
And this is a gift that everyone can enjoy.
5. Lauhonmin Personalised Guitar Pick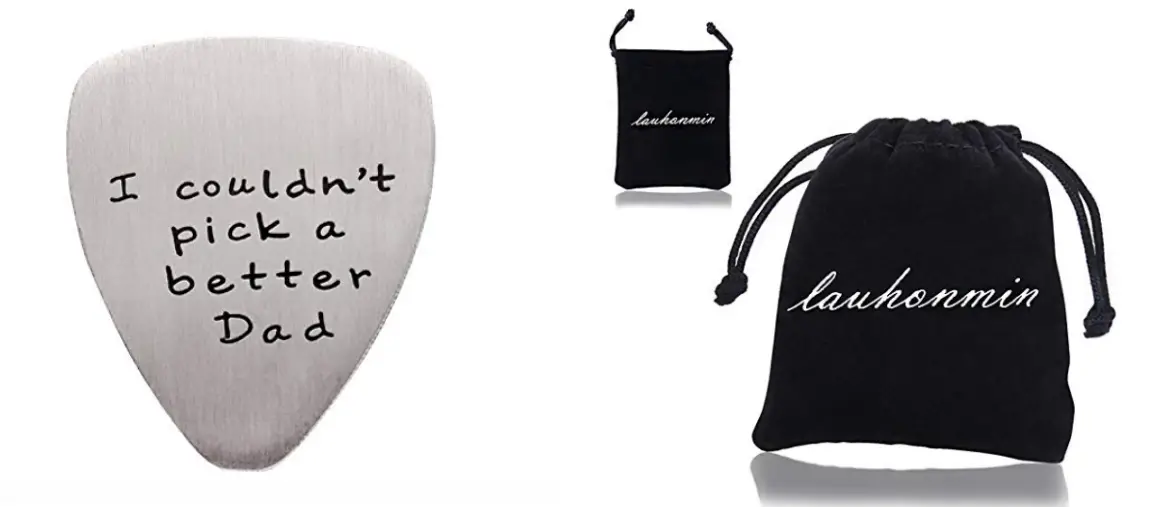 Does your old man play the guitar? One of the most super cute, yet super affordable, unique gifts for Dad is the Lauhonmin Personalised Guitar Pick (*).
Made from stainless steel, for just £8.99 you can choose from five different styles that will remind your pa of you every time that he's got that musical feeling.
6. Crosley Radio 'Nomad' Turntable
If you're looking for retro-inspired, unique gifts for Dad, then look no further!
This cool 'Nomad' Turntable by Crosley Radio (*) costs £167.11 and will remind your papa of days gone by. The dynamic full-range speakers will help him get the most out of his vinyl collection while also being able to take advantage of its portability.
Awesome, huh?
7. Spa Collection Personalised Bath Robe
Is it just my Dad or does yours live in his dressing gown too?
If it's about time he got a new one, why not invest in this handy Personalised Bath Robe by Spa Collection (*) for £24.95. Made from 100% Egyptian cotton, it comes in 11 different colours and you have the ability to personalise it through lettered embroidery on the left-hand chest area.
Did someone say cosy and stylish?
8. SRXWO Men's Pocket Watch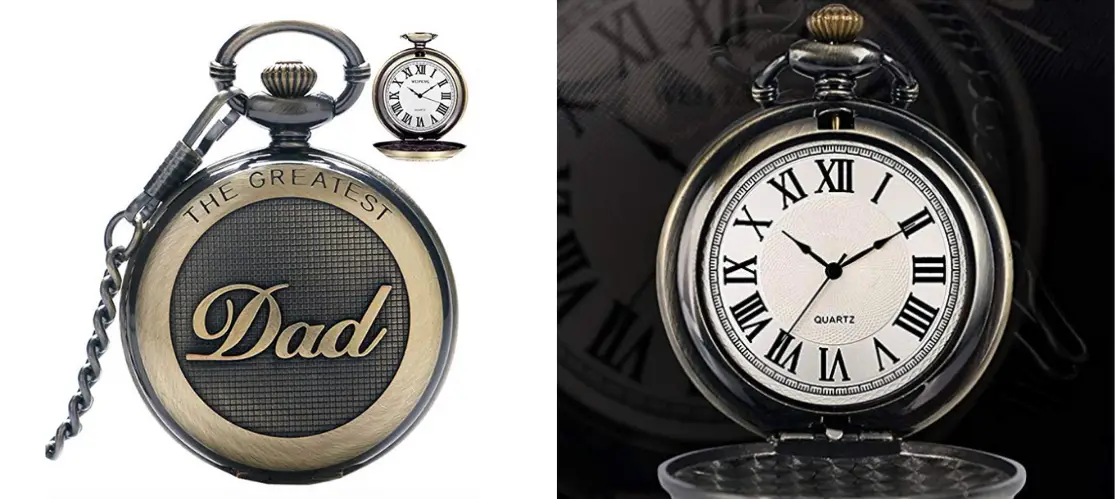 Another swish retro idea when it comes to unique gifts for Dad, the SRXWO Men's Pocket Watch (*) costs just £8.95 and will satisfy even the most hardcore vintage fan.
And a bonus? This endearing option is inscribed with the words "The Greatest Dad" and comes packed in a gift box for your convenience.
9. Native Union Wireless Charging Station
Does your Dad struggle to keep his phone battery charged up? Or does he need a condensed area to place all his daily essentials? If you answered yes to either question, your pappy might benefit from the Native Union Wireless Charging Station (*).
Available in Brushed Black or Brushed Silver for £167.10, he can keep his charging needs under control and hold his collectables at the same time with this distinctive yet practical power station.
10. Maxwell Scott Personalised Travel Holdall
Finally, does your father travel a lot for work or play? If so, one of the best unique gifts for Dad is this luxury Personalised Travel Holdall by Maxwell Scott (*).
Featuring a detachable shoulder strap and an external slip pocket, this high-quality leather bag is perfect for a short trip as it's cabin size, meaning it has a capacity of 17 litres.
You can even emboss your Dad's initials on your purchase in either gold, silver, copper or blind (no colour).
Either way, this is undeniably a gift that's guaranteed to impress.
Investing in Unique Gifts for Dad 
Even though it might be more of an investment in terms of time and money, it's important to grab your Dad something special for his birthday/Father's Day/Christmas (delete as appropriate).
And not just something special – but something thoughtful that he will treasure all year round.
After all, he deserves it. And can you imagine how good it'll feel to see the smile on his face when he opens it? That's totally worth the hard work, in our opinion.
What do you think of these unique gifts for Dad? Which is your favourite?
Katie Davies is the Yorkshire-based freelance writer who founded Trendy Tourist. Since 2017, she has written for over 100 companies on a range of subjects, from fashion to marketing. When she's not producing content, you can find her shopping, exploring a new place or sitting somewhere having a cup of builder's tea.