Disclaimer: this article contains affiliate product links, which means we receive a small commission when you make a purchase at no extra cost to you! All affiliate links will be marked with an asterisk (*) and help us to run this site so we really appreciate your support.
There's one shoe that we just can't get enough of at the moment. It first arrived on the style scene last Spring/Summer — and this year, it's made a comeback to rival the popularity of the new Kardashians TV show.
Step forward, square toe strappy heels.
These beauties are sometimes kitten-heeled, sometimes vibrant or neutral in colour, and sometimes a sling-back or mule…but always fabulous.
The Benefits of Square Toe Strappy Heels
The best thing about square toe strappy heels is that they're incredibly versatile. You can wear them for bottomless brunches, date nights, family meals out, parties — the list is endless.
Oh, and did we mention that they add a touch of luxe to any outfit?
We also love these sandals because:
They're comfy for city strolling or bar hopping
They can come with a low heel height so fellow tall gals can join in the fun
They transcend seasons and one pair can be worn for multiple Spring/Summers to come
In other words, square toe strappy heels can be an investment, but it's an investment that would pay off in the long run.
How to Wear Square Toe Strappy Heels
Like we mentioned, you can wear square toe strappy heels for a number of different occasions. That said, we love to wear ours with:
High waisted jeans, a crop top, cami or bodysuit and a blazer for bottomless brunch
Mini or midi dresses for nights OUT out
Midi or mini skirts with a tee for smart-casj
A crop top and flared trousers for date night
Tailored trousers and a suit jacket for the office or a business meeting
Even if you're not massively into keeping up with the latest trends, all you have to do is put on a pair of square toe strappy heels to instantly update your wardrobe for SS22.
10 Of Our Fave Picks for SS22
Here are our current favourite picks from the high street that won't break the bank.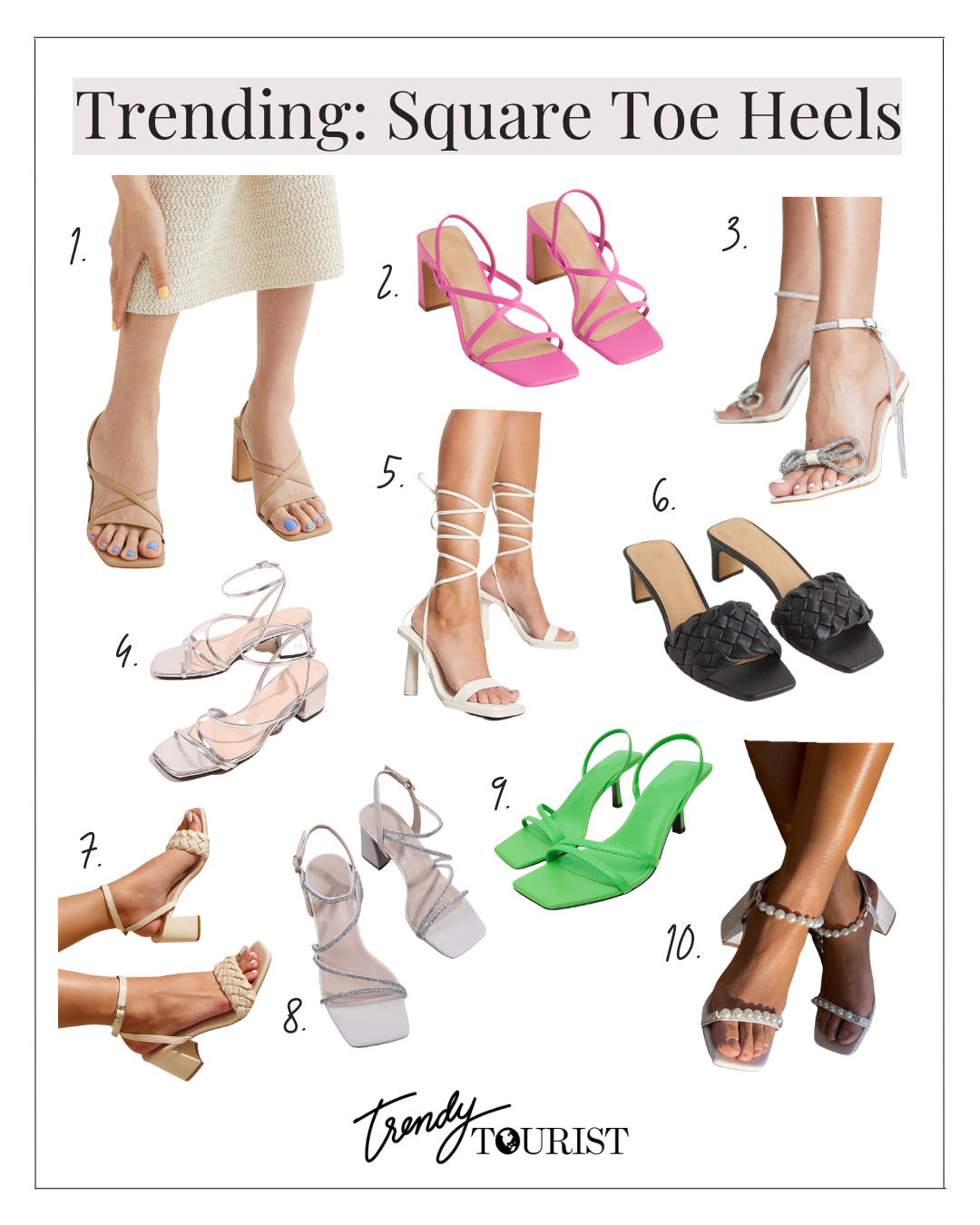 Pin this article and share with your friends:
Which do you like best?
Katie Davies is the Yorkshire-based freelance writer who founded Trendy Tourist. Since 2017, she has written for over 100 companies on a range of subjects, from fashion to marketing. When she's not producing content, you can find her shopping, exploring a new place or sitting somewhere having a cup of builder's tea.