The trench coat is an iconic piece in the fashion world with origins dating back to the early 1820s. 
Over the years it has evolved to become a staple in every modern working woman's wardrobe, especially in springtime. After all, this is an ideal outer layer when the temperatures are too mild for a winter coat but not mild enough for no jacket whatsoever.
As spring is just around the corner, you may have seen the humble trench doing the rounds on your Instagram feed. I don't know about you, but I'm obsessed.
Whether you like the idea of wearing one for everyday or smart-casual occasions, let's take a look at how to style a trench coat to create timelessly chic outfits for spring and beyond.
Pin this article and share with friends:
The History of the Trench Coat
Initially, the "mack" was a rain-repellent garment developed by Macintosh and Hancock's for men to wear outdoors while riding, shooting, fishing and serving in the military. John Emary brought out a new-and-improved version under his company Aquascutum in 1853, closely followed by Thomas Burberry in 1856.
The original fabric was purposefully waterproof, heavy-duty and breathable for all-day wear in all weathers. Then Burberry developed gabardine fabric in 1879, which involved weatherproofing individual strands of cotton and wool fibres for optimum breathability. And the rest, as they say, is history.
In terms of design, the traditional trench coat had:
A caped back to allow water to drip off
A storm flap at the shoulder to provide ventilation 
Buttons at the neck as protection against poison gas
It was double-breasted and belted at the waist with adjustable cuffs and a warm, removable lining. The idea behind the beige colour was to camouflage the wearer.
Hollywood then began to romanticise the trench coat in the 1960s and it became popular amongst men and women. Think Humphrey Bogart in Casablanca, Audrey Hepburn in Breakfast at Tiffany's, and Meryl Streep in Kramer vs. Kramer.
Nowadays, the trench coat is available in a myriad of styles, lengths and colourways. Designers and high street brands alike play with the original details and fabrics to create fresh, updated versions of a much-loved classic.
Case in point: the Camel Belted Mac* by New Look with its check revere collar and back panel. I'm in love!
How to Style a Trench Coat
The great thing about a trench coat is that it's such a versatile piece that you can dress up or down for any occasion.
How to style a trench coat 101: stick to neutral-coloured separates like grey, black, white, navy and beige for enduring elegance.
For Everyday Occasions
Grabbing a coffee with a friend, running errands or heading to the shops? Don't forget your trusty trench to add a touch of luxe to your casualwear.
Team it with other spring wardrobe staples, such as a Breton stripe top and tailored wide-leg trousers, and your favourite trainers for an effortless, elevated look.
Product details:
Trench coat as before
Amazon Miss Lulu Backpack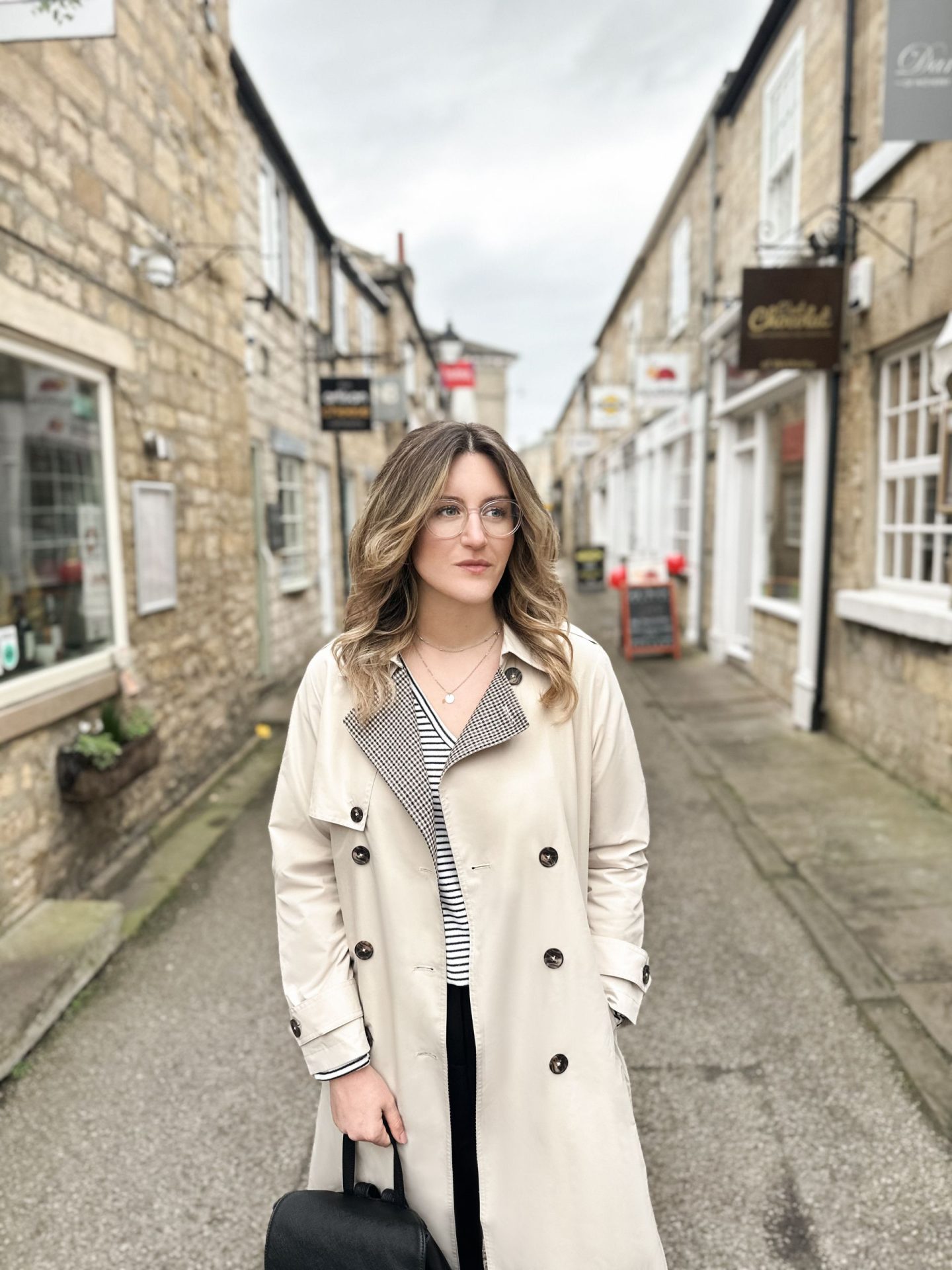 For Smart-Casual Occasions
If you have a date night or nice lunch scheduled in the diary, the trench coat is breathtakingly beautiful alongside a pretty blouse tucked into high-waisted slim-leg jeans.
Opt for brogues or loafers if you have to walk far or get public transport, or dress up the ensemble further with pointed court shoes for extra style points. Either way, finish it all off with finesse by adding a layered necklace, small hoop earrings and stacked rings that will stand out for all the right reasons.
Product details:
Trench coat as before
Vintage bag
For Dressy Occasions
Having a few bevvies with the girls? Doing a bottomless brunch with family? The trench coat is easy to throw on top of a dressy outfit for fancier occasions.
A midi shirt dress is another spring wardrobe staple that you can don for work or play (just swap office-friendly boots for heeled sandals). To up the ante, add a quilted double-chain strap bag, statement earrings and other bold jewellery for a sophisticated, occasion-appropriate aesthetic.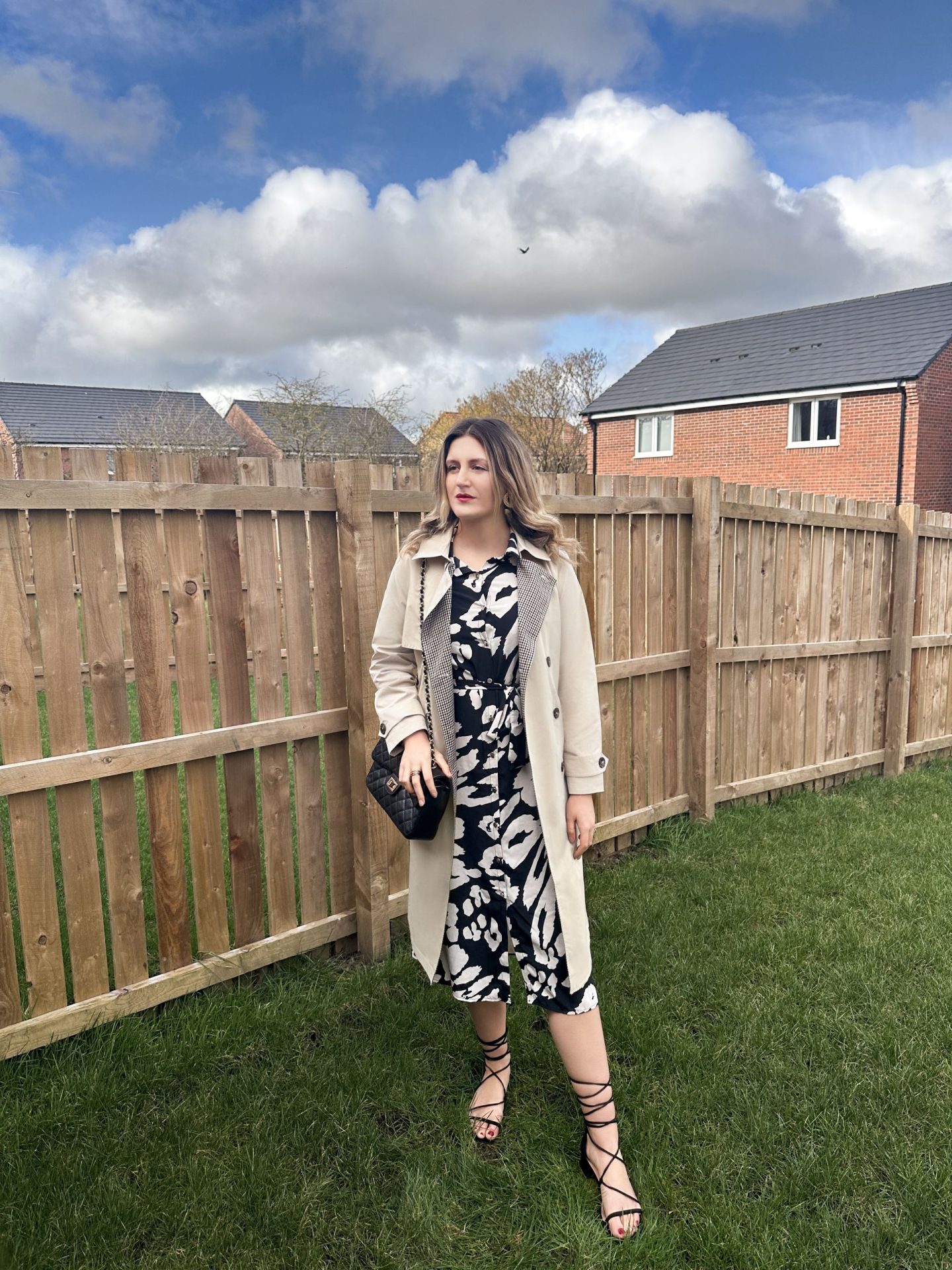 Product details:
Trench coat as before
Shein Wraparound Tie Heeled Sandals
Vintage bag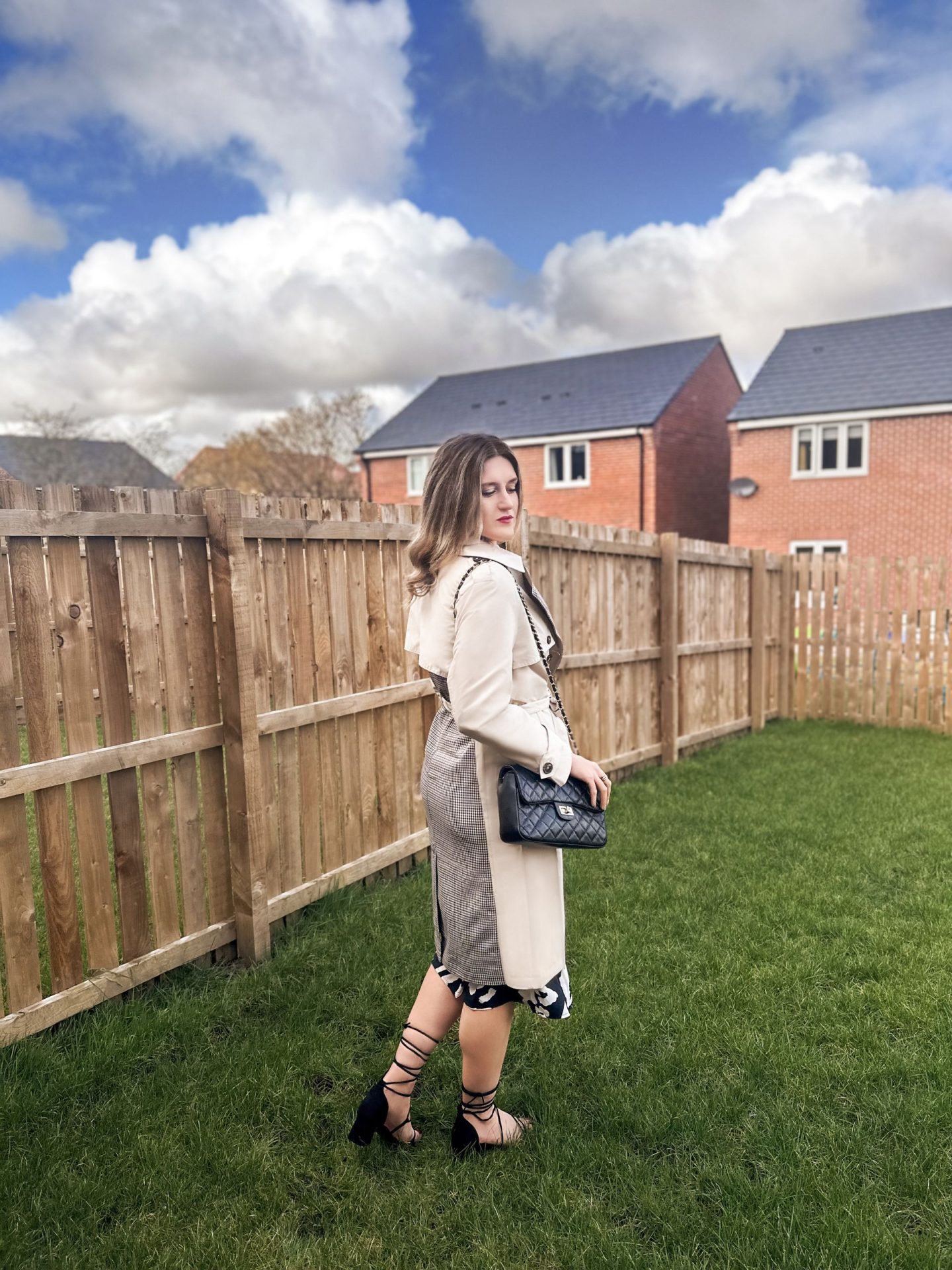 Final Thoughts
The trench coat is a timeless wardrobe staple that can be worn for numerous occasions and never goes out of style. However, figuring out how to style a trench coat to create a polished look that transcends seasons can be challenging in a trend-driven society.
Above all, remember that neutrals are your besties, and smart, minimal pieces can make maximum impact.
Which is your favourite look in terms of how to style a trench coat? Lmk in the comments!