You just can't beat a bottomless brunch. Breakfast food, unlimited alcoholic beverages for a couple of hours, good company — what's not to like?
But, for a social event such as this, it can be difficult to know what to wear. Do you go dressy for post-brunch bar-hopping? Do you go casual for hours of sitting? And how do you make sure your outfit is weather-appropriate when you live in the UK and you can sometimes get four seasons in one day?
Well, there's no right or wrong answer. Even so, I've been on a fair few bottomless brunches in my time so I've got some inspo for you. Whether it's autumn/winter or spring/summer, here are the best bottomless brunch outfit ideas for your next occasion.
Autumn/Winter Bottomless Brunch Outfits
If it's rainy, cold and/or snowy, you need a dressy yet practical outfit that suits the weather. Try these 3 on for size (no pun intended).
1. Tailored Blazer and Long Bottoms
You can't go wrong with a tailored blazer and leggings or trouser combo for an autumn or winter bottomless brunch. I like to wear my blazer over a long-sleeved top or bodysuit, but a camisole may suffice if it's freezing outdoors but boiling hot in the bars (as it tends to be).
Bottoms-wise, faux leather leggings or trousers look effortlessly chic with a tailored blazer. Alternatively, you could opt for coordinating suit trousers, whether they're wide-legged or tapered.
Either way, team your elegant ensemble with heeled sandals or boots, a designer-inspired handbag and statement jewellery for a smart-casual effect that will turn heads.
Just make sure you don't forget your warm outer layer! I love a fluffy teddy coat but a midi pea coat would also work wonderfully.
Product details:
2. Midi Dress
When it's chilly, you kind of want to cover as much skin as possible (which is totally understandable). That said, a midi dress can make for a cute bottomless brunch outfit.
Yes, the bottom of your legs will be out, but you can always wear skin-coloured tights if you're not brave enough to go bare. 
Opt for a long-sleeved version with a pretty print for something gorgeously girlie. You could even wear a thermal top underneath if it's particularly chilly and no one would ever know!
As before, heeled boots or sandals and statement earrings and/or necklace are the way forward to finish off your outfit with finesse. Amp up the glamour with a clutch and lipstick that coordinates with your dress.
Product details:
3. Long Sleeved Top With Mini Skirt or Shorts
Another option for an autumn/winter bottomless brunch outfit is a fitted top or bodysuit with a mini skirt or shorts. Either way, I personally struggle to do this one without black or nude tights. (This Grandma would be very cold, even with a coat!)
I'm currently into AW22's long-sleeved bodysuit and checked mini skirt look, a la Cher from Clueless. Just add knee-high heeled boots for a powerfully preppy appearance.
On the other hand, swap the skirt for faux leather high-waisted black shorts. You could even add a blazer over the top for more of a boss-babe vibe.
As always, a designer-inspired handbag and sparkly earrings and/or necklace will add a touch of sophistication for the occasion.
Product details:
Spring/Summer Bottomless Brunch Outfits
When the weather is warmer, you have a little more flexibility for your bottomless brunch outfit. However, we're talking about the UK with unpredictable temperatures, so you may want to still take a light jacket!
Here are a few of my fave spring/summer bottomless brunch looks.
4. Tailored Blazer and Jeans or Shorts
A tailored blazer doesn't just slay for autumn/winter brunches. I also adore it for a spring/summer event, especially when paired with light blue denim in the form of jeans or shorts.
Wear a cami or racerback bodysuit underneath to lighten up the colour palette for a fresh, summery aesthetic. Then add heeled sandals or wedges, a fancy handbag and bold jewellery to look perfectly put-together and attract compliments.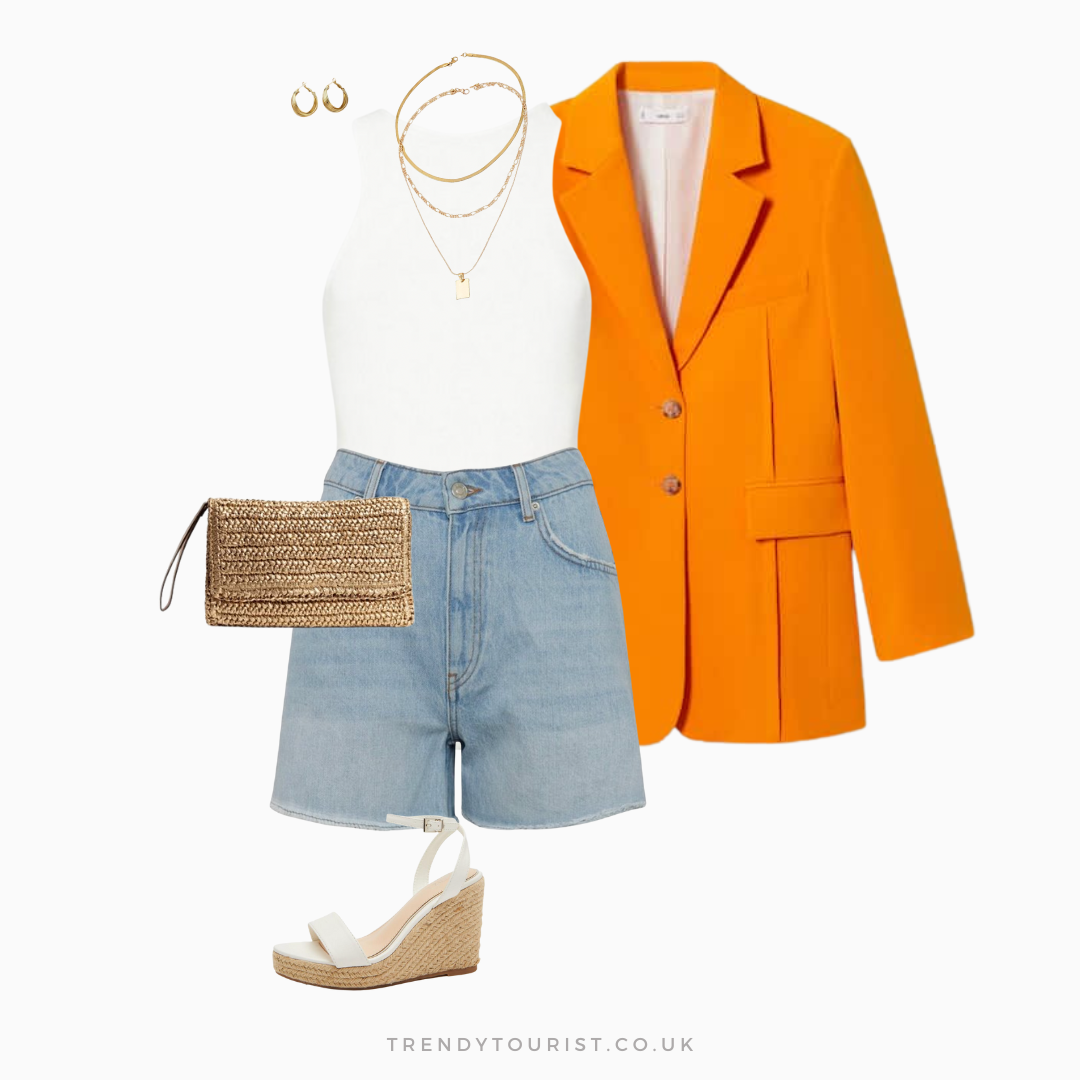 Product details:
5. Mini Dress
One of the easiest bottomless brunch outfits for spring/summer is a mini dress that you can just throw on in a hurry. Strappy, short sleeve, long sleeve — anything goes, as long as it's in a bright colour or print.
I personally think the strappier the better, especially when you team your hero piece with equally as strappy sandals.
Add a dinky bag with a short handle or two, big earrings and even bigger hair and you're good to go! You can also layer up with a blazer or lightweight faux leather jacket if there's a cool breeze.
Product details:
6. Crop Top and Skirt
If it's a hot summer's day in England, you're going to want to wear as few clothes as possible. This is when the crop top and high-waisted skirt combo is ideal.
I'm a fan of co-ords, but if you don't like the matchy-matchy look, you can stick to one more prominent piece and one more understated. For example, a white crop top with a patterned skirt or an embellished crop top with a simple black skirt.
Either way, add high heels, a layered necklace, hoop earrings and a quilted handbag to luxe up the look.
Product details:
7. Short Sleeve Top and Trousers
Another popular bottomless brunch outfit for warm weather is a short sleeve, crop top or sleeveless top with suit trousers or wide-legged trousers. This will ensure you feel as cool as you look for those hotter temperatures, but you can always add a matching blazer if necessary.
A neutral-based ensemble looks super fresh for summer. However, if you're into dopamine dressing, popping hues (like hot pink or tangerine orange) are encouraged.
Team this two-piece with heeled sandals or wedges, a metallic clutch and dressy jewellery for a playful yet poised appearance.
Product details:
Final Thoughts on Bottomless Brunch Outfit Ideas
There are many routes you can go down when coming up with your next bottomless brunch outfit. Check your weather app in the days running up to the event and see what your brunch buddies will be wearing for inspo.
My top tip is to start with one smart key piece that you want to show off, like a tailored blazer, and build your look around that. You can dress it up or down depending on how fancy the restaurant is and if you're going OUT out afterwards.
Need more help putting together your next bottomless brunch outfit? Check out my virtual styling services and the "Trendy Event" package. Together, we'll build a look you love.
Pin this article and share with friends: