Even though Christmas Day is on the same date each year, it does have a habit of sneaking up on us. Amidst all the preparation when it comes to food, accommodation, activities and gifts, your Christmas Day outfit can get put on the back burner (naturally). Then before you know it, the big day is around the corner and you don't have a clue what to wear.
Whether you're staying at home, heading to your parents' house, going to the pub or even on holiday, I've got you covered. Here are the best Christmas outfits for every type of scenario, which require minimum effort to put together but still make maximum impact.
1/2/3. All About the Pyjamas
Firstly, who says that you have to get out of your pjs for lounging around your house if you don't want to? I find that a festive set can get you in the Christmas mood while ensuring optimal comfort.
However, the long satin variety (with piping) are a little bit more sophisticated if you're in front of family members that you don't see often. Team them with some furry slippers and a cute headband to keep your hair out of your face while you're opening prezzies.
I love!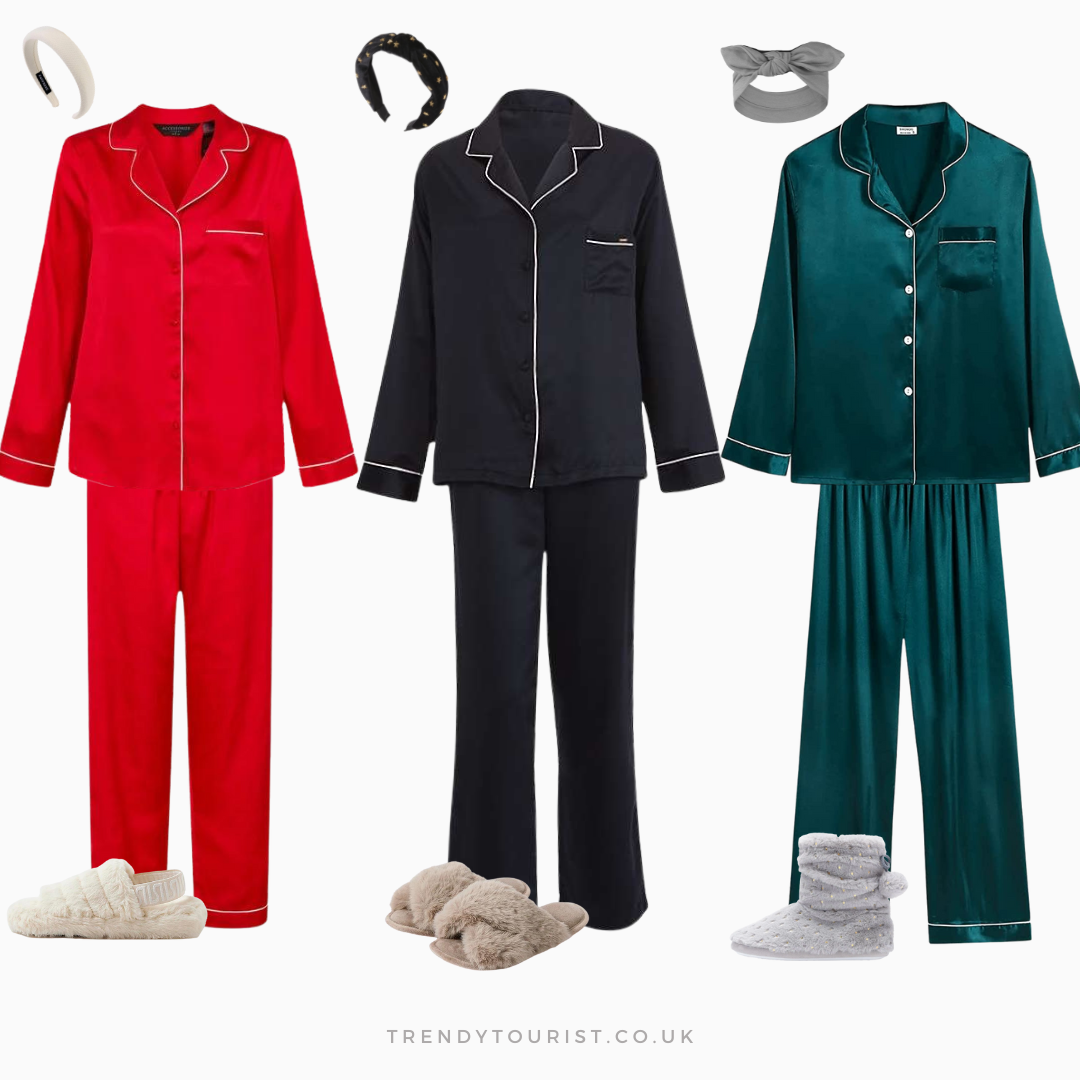 Product details:
4. Comfy Loungewear
Want to show that you've made a bit of effort without sacrificing the comfort of pyjamas?
A knitted co-ord would work perfectly if you have to spend time in a hot kitchen for a traditional Christmas at home or at a family member's home. Whether it's a jumper and skirt or jumper and trousers, this combo is soft and warm but has a bit of stretch for dancing to your favourite Christmas songs.
Bed socks or fluffy slippers optional (although highly encouraged). You could even add some jewellery to chic up your loungewear pieces.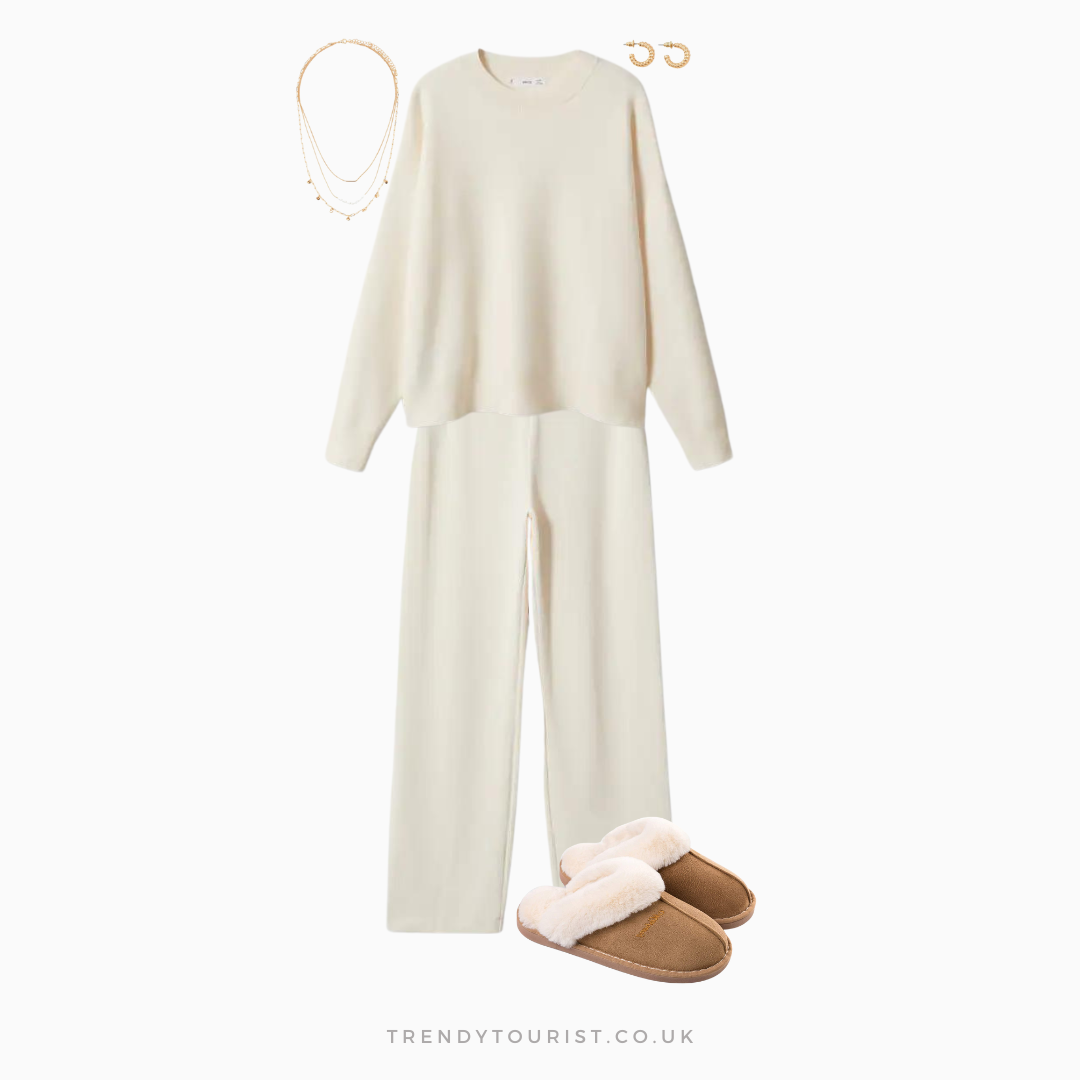 Product details:
5. Cute and Casual
This is one of the best Christmas outfits for a laid-back day at home or if you have to travel to a number of different houses within 24 hours. It also works if you usually dress up a bit but it's too cold or snowy and you decide you'd rather be comfy (without losing style status).
There's no better way to get into the spirit of the occasion than by pulling out your fave Christmas jumper. Amp up the ante by grabbing a pair of glittery leggings, or stick to the classic kind for simplicity.
Finish off your adorable aesthetic with a quilted coat, matching bag and trainers for travelling.
This effortlessly cosy look would also work well for a Boxing Day walk when teamed with winter woollies. That said, if you're going off the beaten path, you'd need to swap the trainers for practical boots or wellies.
Product details:
6. Dressy Knitwear
Full disclosure: I'm in this camp when it comes to Christmas Day outfits. I always go around to my parents' house and there are six of us (plus a dog) so I feel like I want to look nice without sacrificing comfort.
Try a knitted maxi dress to nod to Autumn/Winter 2022/23 trends while keeping toasty. A belted version will define your silhouette while bare legs or nude tights will keep it flirty and youthful.
Add mid-heel boots and a small handbag for going to and from houses (or roaming around a hotel if you're spending the big day in another city). Then don't forget a sparkly headband to polish off your outfit with poise.
Product details:
7. Smart-Casual Sophistication
Faux leather leggings are an AW22 key piece that I'm obsessed with this time of year. They're great for keeping warm but also have mass style appeal. Oh, and did I mention how comfortable they are?
Choose their trouser counterparts to amp up the dressiness, especially when paired with a sequin blouse and statement necklace. Add pointed court shoes and chunky hoop earrings for an elegant yet easygoing ensemble.
Product details:
8. Fancy and Festive
Finally, if you want to go all-out with your Christmas Day look, no one is stopping you. In fact, if you can't do it on the big day then when can you really?
By all-out, I'm talking about a shiny or sparkly dress (tights optional depending how brave you're feeling and whether you have to go outdoors at any point). For instance, this Mango satin number says Christmas in one powerful party piece.
Add heeled sandals for a fancy Christmas party and a coordinating metallic clutch to create a stunning seasonal aesthetic that's sure to impress the crowd you're with.
Product details:
Final Thoughts on the Best Christmas Outfits
Whatever vibe you're feeling this festive season, the best Christmas outfits will ensure you're properly dressed for the big day. It's about finding the balance between being comfy and fashionable so you can have fun without having to worry about what you're wearing, and celebrate in style.