There are some luxury holiday destinations where the sand is a bit finer, the water is a bit more turquoise and the hotels are a bit more lavish compared with other areas of the world. You know the type — they are all over your Instagram feed promoted by your favourite influencers, and they look like they're right out of a picture book.
The problem is, these luxury holiday destinations are expensive. Unless you've just got married and been given a honeymoon fund by friends and family, you'd have to win the lottery to visit them.
That being said, if you can afford it, here are the 5 luxury travel destinations that you should put on your travel bucket list. I've already been fortunate enough to visit two, but if I won the lottery, I'd visit both again and then the other three also.
Let's dive right in.
Pin this article and share with friends: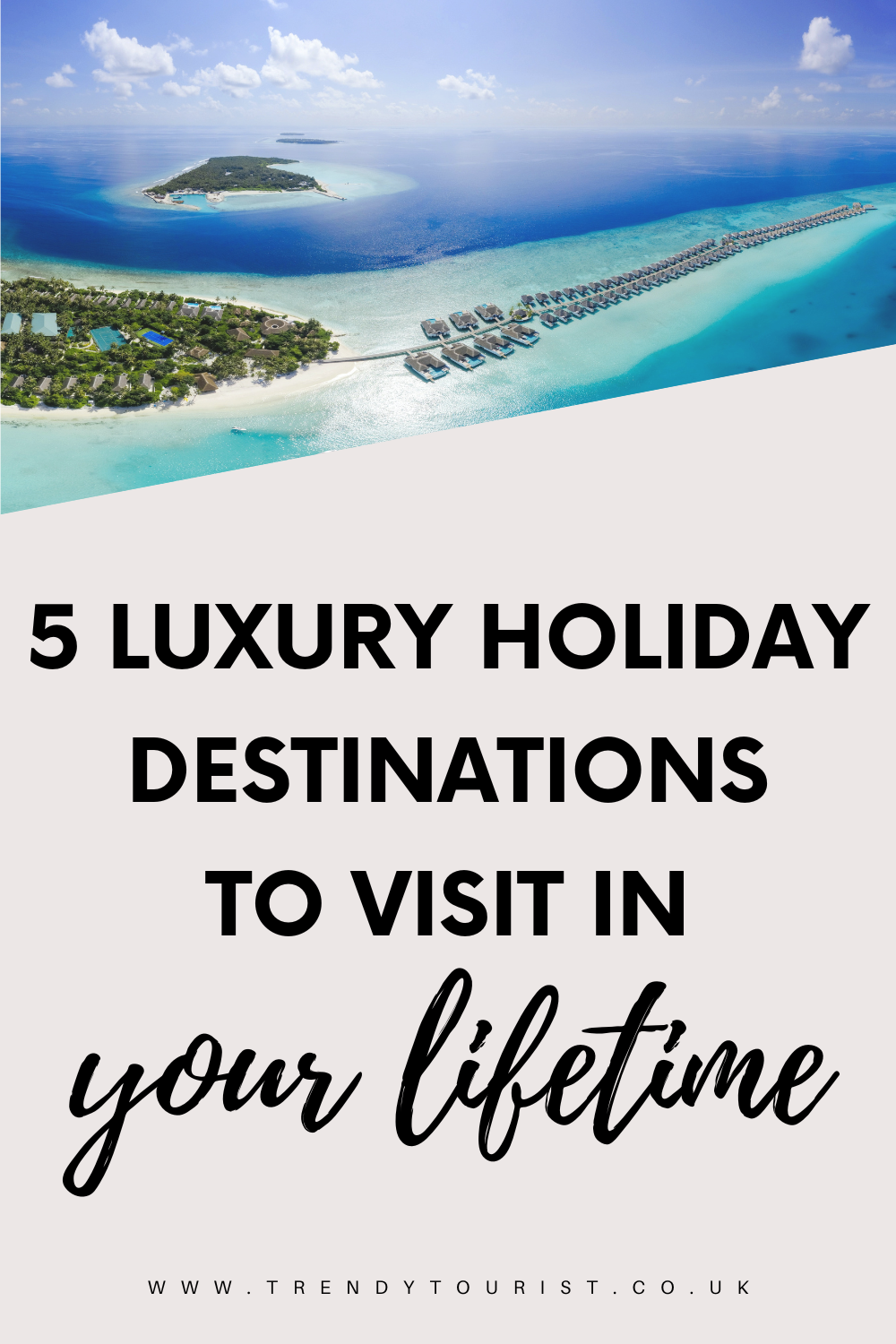 1. Hawaii
Luxury holiday destinations 101: Hawaii. 
The world's largest island chain and the only US state completely made up of islands, Hawaii has the ability to captivate visitors with unparalleled natural landscapes that simply leave you speechless. As well as sunbathing on the secluded beaches, you can go on adventurous tours through the rainforest or around the volcanoes, creating a once-in-a-lifetime holiday that perfectly mixes relaxation and activity.
Choose from the six major islands that all have their own distinct personality: Kauaʻi, Oʻahu, Molokaʻi, Lānaʻi, Maui, and the island of Hawaiʻi. I've visited Oʻahu on a family holiday previously and I fell in love with it, so it'd be my dream to visit some of the other islands with the hubby!
Like I said though, it's pretty difficult to do Hawaii on a budget. The flight to get there from the UK will have multiple stopovers and take around 24 hours. The majority of the accommodations on the individual islands are super luxurious too and leave absolutely nothing to be desired.
2. Bora Bora
Bora Bora is, without a doubt, one of the most luxurious vacation destinations in the world. If you want to spend a few days here, you'd have to dig deep into your pocket. 
I mean, the flights alone may upset your bank balance somewhat. Bora Bora is located in the middle of the South Seas and is not exactly easy to reach. The shortest route for Brits involves at least two stopovers – Los Angeles and Tahiti – before you arrive in the Society Islands archipelago of French Polynesia.
Then there are the hotels on the island where luxury and exclusivity reign supreme. The cheapest accommodation per night is around £90 for a double room, but these are budget hotels rather than luxury resorts.
Bora Bora is famous for its overwater bungalows where you can sleep directly over the turquoise blue water and jump straight in when you wake up for a morning swim. These are also ideal for honeymoons; after all, you can enjoy complete privacy and devote yourself entirely to being together.
3. Maldives
Hubby and I feel very lucky that we got to visit the Maldives for our honeymoon and we found it completely breathtaking. This country is situated in the Indian Ocean and is made up of 132 resort islands, so there are plenty of choices when it comes to accommodation.
The colours of the sand, sea and greenery are so rich that you feel like you've stepped into a movie or an oil painting.
I would love to go back, but the Maldives is classed as one of those luxury holiday destinations that are challenging to do on a budget. This is because:
Many of the resorts are located on private islands, providing guests with exclusive access to beaches, lagoons and other natural wonders.
The Maldives is famous for its overwater bungalows, private decks and direct access to the ocean, offering guests a unique and opulent experience.
The hotels tend to provide top-notch amenities, such as world-class spas, fine dining restaurants and recreational activities like snorkelling, diving and surfing.
The fact that the Maldives is a remote location also adds to its exclusivity and makes it a popular destination for high-end travellers seeking privacy and seclusion. It's not totally unreachable though (you can fly direct from Heathrow or via the United Arab Emirates from Manchester); the journey would just take you between 12 and 15 hours.
4. Mauritius 
Mauritius is often referred to as the Maldives' sister as it looks and feels quite similar. (Or so I'm told this, as I'm yet to visit!)
This island nation is located in the Indian Ocean off the coast of Southeast Africa. It consists of the main island of Mauritius, as well as several smaller islands, and is well known for its beautiful beaches, lagoons, coral reefs and tropical forests.
Mauritius is a popular tourist destination with water sports, hiking opportunities and wildlife tours aplenty. It has a myriad of luxury resorts, which tend to be situated on secluded beaches and offer superior amenities and services.
Do you have to spend a lot to go to Mauritius? Not necessarily. 
Unfortunately, it's a long flight that usually takes between 14 and 16 hours. However, there are many guesthouses, hostels and budget hotels on the island that offer affordable accommodations. It just depends on whether you want to do your Mauritius holiday in style.
5. The Italian Lakes
Lastly, the Italian Lakes are one of those luxury holiday destinations closer to home but can still cost a fortune. A series of glacial lakes located in northern Italy near the Switzerland border, the Italian Lakes are surrounded by picturesque mountains, charming towns and historic villas.
Lake Como is perhaps one of the most-loved Italian Lakes known for its stunning scenery. There's a reason why George Clooney has a house here!
From boating, hiking and cycling to exploring historic towns, museums and cultural attractions, there's a range of things to do in the Italian Lakes. The flight to Milan won't take long from the UK, but here are some reasons why this destination is considered pricey:
There are countless hotels, resorts and villas that offer high-end amenities such as spas, fine dining restaurants and personalised services.
The Italian Lakes region is famous for its gourmet food, including delicious local cheeses, cured meats and world-renowned wines like Barolo, Chianti and Amarone.
There are exclusive activities and experiences on offer, such as private boat tours, hot air balloon rides and wine-tasting tours.
You can stay in budget-friendly accommodation if you wanted to, but the cost of activities and food may mean you need a fair bit of spending money.
Final Thoughts
These luxury holiday destinations offer a truly unforgettable experience for those who are looking for an escape from the ordinary. 
From the crystal-clear waters of the Maldives to the awe-inspiring mountain scenery of the Italian Lakes, these places offer something truly special for every type of traveller. Whether you're looking for relaxation, adventure or cultural exploration, all 5 are worth considering for a special vacation in the future.
Now I just need to win the lottery so I can indulge in the finest things in life!