Skiing is a popular winter activity that people of all ages and skill levels can enjoy. If you're planning a ski trip soon, it's important to check that you have everything you need to make the most of the slopes.
Not only is warm, dry and comfortable clothing essential, but it helps if it's cute too! (Instagram skiing selfie, anyone?)
Whether you're a first-timer or frequent skier, here's what to pack for a ski trip so that you're prepared for the best trip ever.
1. Skis and Boots
What to pack for a ski trip 101: skis, poles and boots.
Of course, you don't have to take your own skis, poles and boots with you— you can rent them from your ski resort instead. However, if you're not travelling too far from home and you're a regular skier, it may be cheaper to take your own gear.
If you're flying, the good news is that skis (or a snowboard), poles and boots all count as one checked bag.
Either way, make sure all your ski gear is comfortable and in good condition so that your time on the slopes is safe and fun. Note that your ski boots should fit well and provide ankle support to help you stay stable and in control at all times.
2. Clothing
Layering is key when it comes to dressing for a ski trip.
Start with a moisture-wicking base layer, such as thermal underwear, a thermal top and thermal leggings, to keep you dry and warm. Don't forget your ski or snowboard socks, which aren't overly thick and won't restrict your blood circulation.
Add a mid-layer, such as a light fleece or jumper, to provide insulation without causing you to overheat.
Finish off with a waterproof and breathable outer layer, such as a ski jacket and trousers or a ski suit.
Whatever you wear needs to feel soft and comfortable on the body, while allowing for maximum movement. It's a good idea to avoid cotton fabric as it takes a long time to dry out when it gets wet from snow or sweat.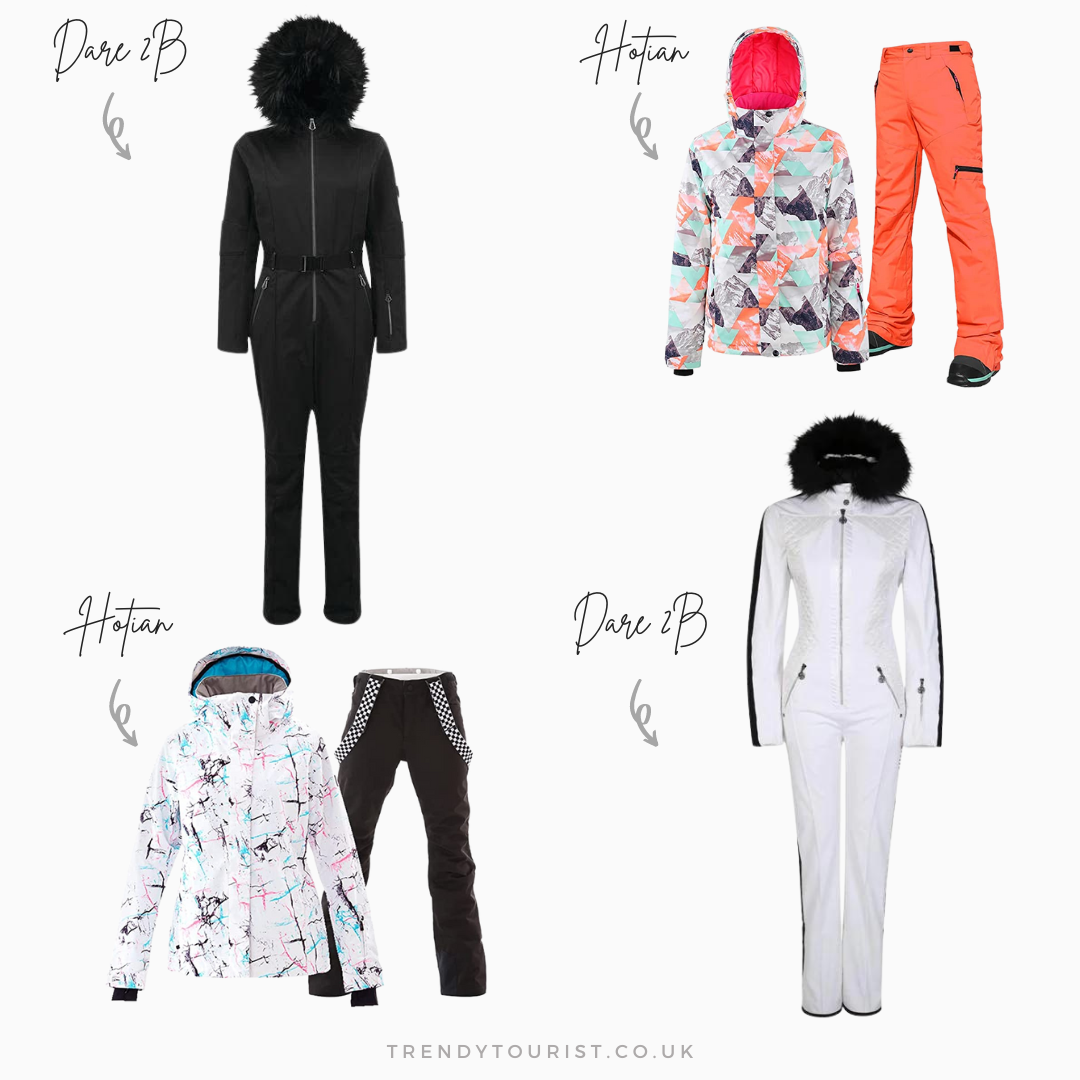 Product suggestions:
3. Warm Accessories
While skiing, it's important to keep your head, hands and neck warm to prevent heat loss from your body. Given that your body loses heat faster from your head than any other part of your body, wearing a warm hat makes sense.
Similarly, waterproof and insulated gloves or mittens help to trap body heat and prevent cold air from getting in. 
A neck gaiter can also protect your face and neck from the sun and cold wind, reducing the risk of sunburn or skin damage.
4. Ski Goggles and Helmet
Skiing involves high speeds, difficult terrain and the risk of collisions with other skiers, trees or rocks. That's why safety should always be your top priority.
Both ski goggles and a helmet are must-haves. Wearing a helmet can provide vital protection for your head, reducing the risk of injuries.
Likewise, ski goggles are ideal for providing clear vision on the slopes and preventing eye strain and fatigue. As well as enhancing your ability to see contrast, they protect your eyes from wind, snow and harmful UV rays.
5. Safety Essentials
Taking an emergency whistle and first aid kit is a worthwhile safety precaution that can help you and others in case of any skiing accidents. (Touch wood!)
An emergency whistle can help you alert others if you're in trouble, lost or injured. You can hear this loud, distinctive sound over long distances, which enables you to call for help even if you are far away from others.
Skiing can be a risky sport, and accidents can happen even to the most experienced skiers. A small first aid kit is handy to have in an emergency. It can provide you with the basic supplies you need to treat injuries such as cuts, scrapes, bruises or fractures until professional help arrives.
6. Snacks and Water
Skiing is a physically demanding activity so you need to keep your energy and hydration levels up.
That said, pack some energy bars and snacks, such as trail mix or dried fruit, to stay fueled. Also, bring a water bottle to remind yourself to drink plenty of water throughout the day.
If you don't fancy taking a hard bottle, you're not alone. Many skiers opt for hydration bladders, which are compressible water bottles with a tube that can be worn underneath your ski jacket.
Although this makes perfect sense in principle, a hydration bladder can be uncomfortable on lifts if it's filled up to the top, so you may only want to fill it halfway.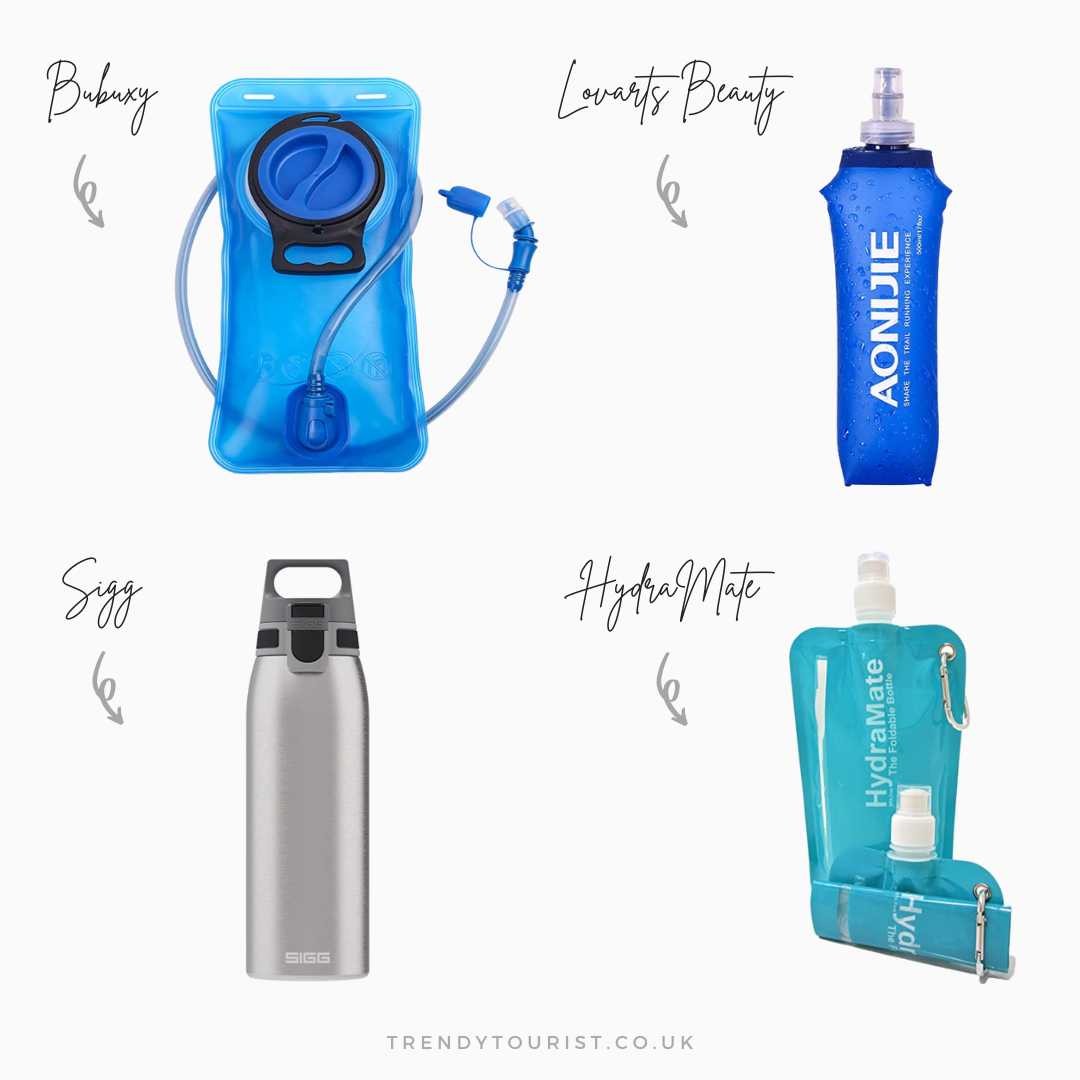 Product suggestions:
7. Backpack
As well as your suitcase(s) with all your ski gear, you may want to pack a backpack to hold all your skiing essentials while you're on the slopes.
Some skiers may solely opt for a hydration bladder so they don't have to carry extra weight while skiing. They can choose to leave snacks at the resort to grab during a break.
Having said that, some skiers may want to take a backpack with them on the slopes, especially if they're planning on going further afield. In this case, choose a sturdy yet lightweight option that has padding so it's comfortable to wear. A backpack with a capacity of around 20 to 30 litres is usually sufficient for a day of skiing.
8. Daily Necessities
What to pack for a ski trip that you may also want to put in your daypack? Some of these essentials include:
Cash and cards
Camera
Tissues
Maps and trail guides
Ski cable lock (if you plan on leaving your equipment at the slopes)
If you still don't like the idea of carrying a backpack, make use of your zip pockets on your ski clothing. You just may have to get creative stuffing them to avoid looking like the Michelin Man.
x
9. Sunscreen, Lip Balm and Other Toiletries
In addition to taking all your beauty essentials (like deodorant), if you're wondering what to pack for a ski trip in terms of toiletries, let me break down what else you need.
Sunscreen: The sun's rays can be intense at higher altitudes, and the reflection of the snow can increase exposure. Choose a broad-spectrum sunscreen with a high SPF and apply it every day to properly take care of your skin.
Lip Balm: The cold, dry air can be harsh on your lips, causing them to become chapped and cracked. Bring a lip balm with SPF to keep your lips hydrated and protected from the sun.
Moisturiser: The cold air and wind can also cause dry skin. Pack a moisturiser enriched with nourishing ingredients that will keep your skin hydrated and prevent irritation.
Hand Sanitiser: Ski resorts can be crowded. Make sure that you carry hand sanitiser to keep your hands clean and reduce the risk of catching germs or viruses.
Painkillers: It's not uncommon to experience muscle soreness or minor injuries during a ski trip. It's a lot of hard work on the body, after all. That's why packing some ibuprofen or paracetamol makes sense to help manage any pain or discomfort.
10. Entertainment
Lastly, a long day on the slopes can be tiring, so reward yourself with some entertainment for the evenings or while you're on a break. 
If you're having a digital detox or struggling with the WiFi connection, why not go old-school with an interesting book, deck of cards or portable music player. Remember, rest will be just as productive as the skiing itself!
Pin this article and share with friends:
Final Thoughts
Deciding what to pack for a ski trip can be challenging, especially if this is your first rodeo.
Following these tips will ensure that you have all the essentials you need to brave the weather conditions, stay safe and comfortable, and make the best possible memories. Enjoy the slopes!