Spring is pending and I'm already getting excited at the prospect of warmer temperatures, earlier sunrises and later sunsets.
Spring is also the season of renewal and rejuvenation, and with it comes the desire to refresh our wardrobes and incorporate lighter, brighter pieces that align with the weather.
To help you build a stylish and functional spring wardrobe that you'll love, here are the 8 key pieces you need.
Pin this article and share with friends:
1. A Trench Coat
Spring wardrobe staples 101: the lightweight trench coat, which is already having a bit of a moment on the social media scene — and rightly so. This is a timeless piece that can be dressed up or down and adds a touch of sophistication to any outfit.
A neutral variety, such as beige or camel, creates a chic everyday look when worn over jeans and a t-shirt and trainers. Alternatively, throw yours on over a knitted dress or a tee and midi skirt with heeled boots to elevate it for a smart-casual occasion.
Product details:
2. A Breton Tee
A Breton t-shirt is a wardrobe staple that originated from Brittany, a region in France. It's characterized by its distinctive horizontal stripes, typically in navy and white, with a round neckline.
The classic design is versatile and can be dressed up or down to incorporate a nautical-inspired charm to any outfit. I love to wear mine under my trench coat with wide-leg trousers and trainers, or with straight-leg jeans over heeled boots to up the ante.
Product details:
3. Wide Leg Trousers
Speaking of wide-leg trousers, these are a comfortable and stylish alternative to jeans. Choose a neutral hue such as black, navy or beige for an ageless aesthetic or opt for a bold colour for a statement-making outfit.
Wide-leg trousers also pair perfectly with a tee for those warmer spring days when you want to wear something a bit more lightweight.
If it's a little chillier, tuck a buttoned-up cardigan or thin jumper into them and add a heavier coat. For an effortlessly edgy aesthetic, add chunky brogues and plenty of attitude.
Product details:
4. White Trainers
The great thing about white trainers is that they can be paired with just about anything, from jeans and a t-shirt to a sundress. There's something about the colour white that feels refreshing too, which makes these shoes a must-have for spring.
Look for a comfortable pair with a clean, minimalist design for maximum versatility.
Product details:
5. A Thin Jumper or Cardigan
A thin jumper or buttoned-up cardigan provides the perfect balance of warmth and comfort in the cooler weather. The lightweight fabric allows for layering without feeling heavy or bulky, making it the ideal choice for spring days that can be warm one minute and chilly the next. 
Again, if you choose a neutral option, such as beige or light grey, you can team it with a variety of other spring wardrobe staples for endless outfit combinations.
I like to tuck mine into a high-waisted skirt with heels for date nights or smart dinners, but then it also looks stylish with jeans and trainers for a more casual vibe. Either way, a thin jumper or buttoned-up cardigan is a fashionable yet functional piece for spring.
Product details:
6. A Midi Dress
A midi dress is another of my spring wardrobe staples. The midi length, which falls between the knee and ankle, means it has flexibility for a variety of occasions, from casual outings to more formal events. 
The flowing, feminine silhouette of a midi dress flatters the figure and provides a comfortable and stylish option for warm spring days, especially when you pick a neutral hue, like black, navy or beige. Florals and other loud patterns are popular options too, which reflect the new life that spring brings.
Dress yours up with heels and statement jewellery for work or play, or simply team it with trainers and a denim jacket for a more casual look. 
Product details:
7. A Denim Jacket
A denim jacket never goes out of style and can be worn with just about anything, which makes it a wise investment for your wardrobe. A blue wash is classic, whereas a lighter wash is more casual and brighter for warmer temperatures.
Denim jackets are made from durable yet comfortable fabric and can be layered over a t-shirt or jumper for added warmth when it's a bit chilly outside. Its versatility means that you can pair yours with wide-leg trousers or leggings for everyday wear, or dress it up over a skirt or dress to create a contemporary smart-casual aesthetic. 
Either way, you're guaranteed to look and stay cool in the spring/summer seasons.
Product details:
8. Sunglasses
Spring can bring bright, sunny days and glare, making sunglasses an essential item to protect your eyes from harmful UV rays. They also help to reduce eye strain, making them a must-have for outdoor activities such as hiking, gardening or just enjoying time outside.
In addition to their practical benefits, sunglasses are also a fashionable accessory that can add a touch of glamour and take your outfit to the next level.
From aviators to cat-eyes, oversized to round frames, there is a style of sunglasses for everyone. Personally, I don't think that you can go wrong with seventies-influenced aviator or Wayfarer-inspired frames that will last the test of time.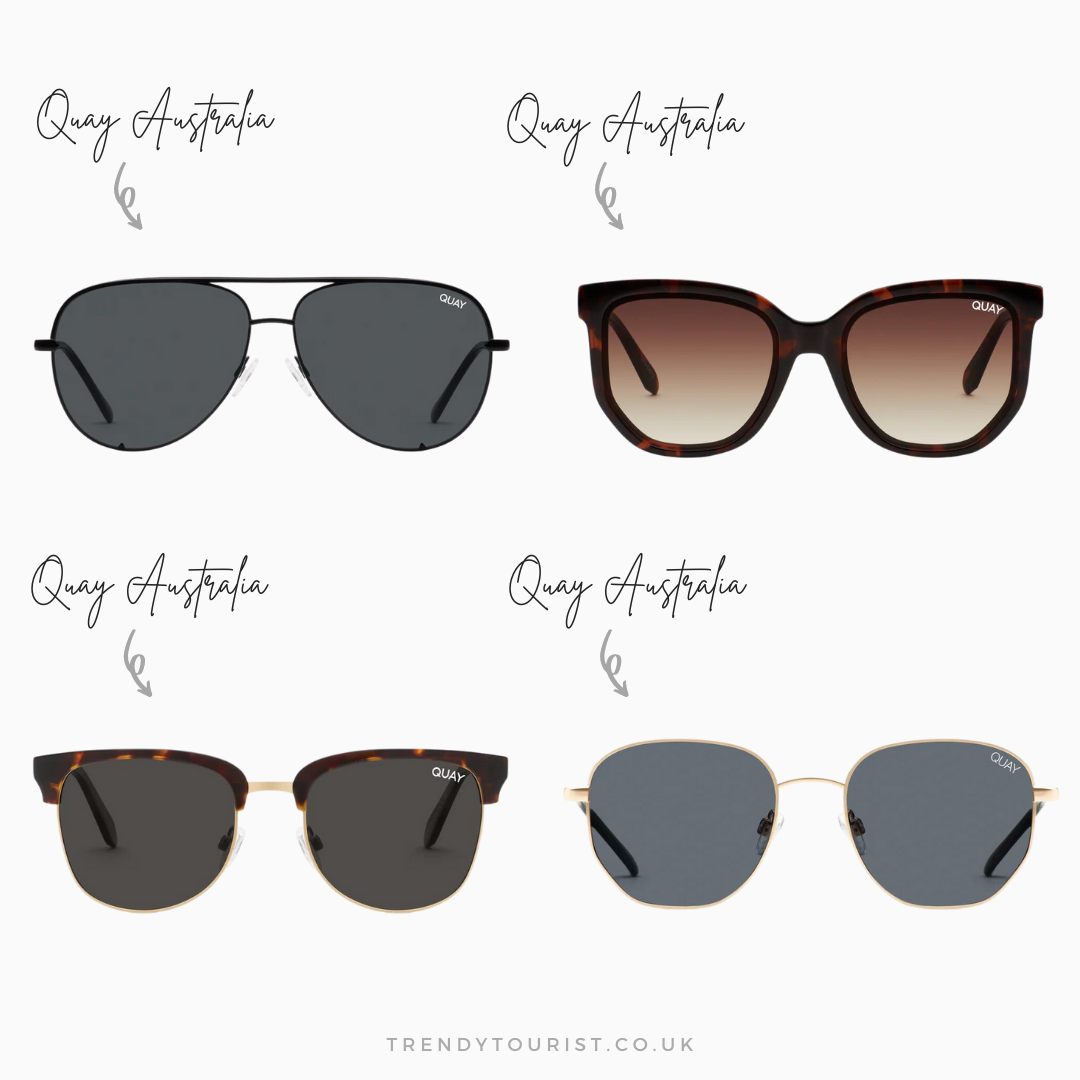 Product details:
Final Thoughts on Spring Wardrobe Staples
These 8 key pieces will help you to build the spring wardrobe of your dreams — full of opportunities to mix and match depending on your mood.
From the casual and comfortable denim jacket to the sophisticated trench coat, play around with different options to create countless outfits that are functional yet fashionable for any occasion.
Do you already own these spring wardrobe staples? Which ones are you loving for this season? Lmk!