Sun, sea and sand — we all dream of a holiday where we can lay out all day, get some much-needed vitamin D and do nothing apart from sip fruity cocktails and eat good food.
(I got to do that on my trip to Dubai very recently and it was bliss!)
However, it can be difficult to know what to wear for a beach holiday. You want to be appropriately dressed and feel comfortable as the temperatures heat up, but you also want to look bougie. After all, this is perhaps your one summer holiday for the year so you want to feel your best and take the best photos for your camera roll. Right?
Not to worry — I've got you covered. Here are some beach outfits you're going to love for soaking up that sunshine in style.
Pin this article and share with friends:
Casual Beach Holiday Outfits
What to wear for a beach holiday 101: comfy outfits that are just as cute as they are casual. Try these 3 on for size (no pun intended!).
Mesmerising Maxi
A white maxi dress is a summer holiday staple, whether you're headed to Santorini or Santa Monica. Throw yours on over a navy swimsuit with espadrille sandals and a striped navy beach bag for a sailor-themed aesthetic that's nothing short of adorable.
Finish everything off with a huge straw hat for practicality and some quirky blue-stone earrings for a fresh take on fabulous beachwear.
Product details:
Sunny Stripes
Tap into dopamine dressing and pair a bright-coloured co-ord with a straw hat, espadrille sliders and a corresponding straw bag. Bonus points if the co-ord is made from linen or a linen blend to keep you feeling as cool as you look.
Oversized vintage-style sunnies, layered beaded necklaces and hoop earrings complete the effortlessly elegant ensemble.
Product details:
Neutral Glamour
Whoever said that beige had to be boring? When combined with classic black, it creates one heck of a stylish beach outfit. 
Opt for a black swimsuit under a loose black short sleeve shirt with linen trousers and designer dupe slides. Use brown-toned oversized sunglasses and a beach tote to add dimension to the look, along with statement gold jewellery for some warmth and sass.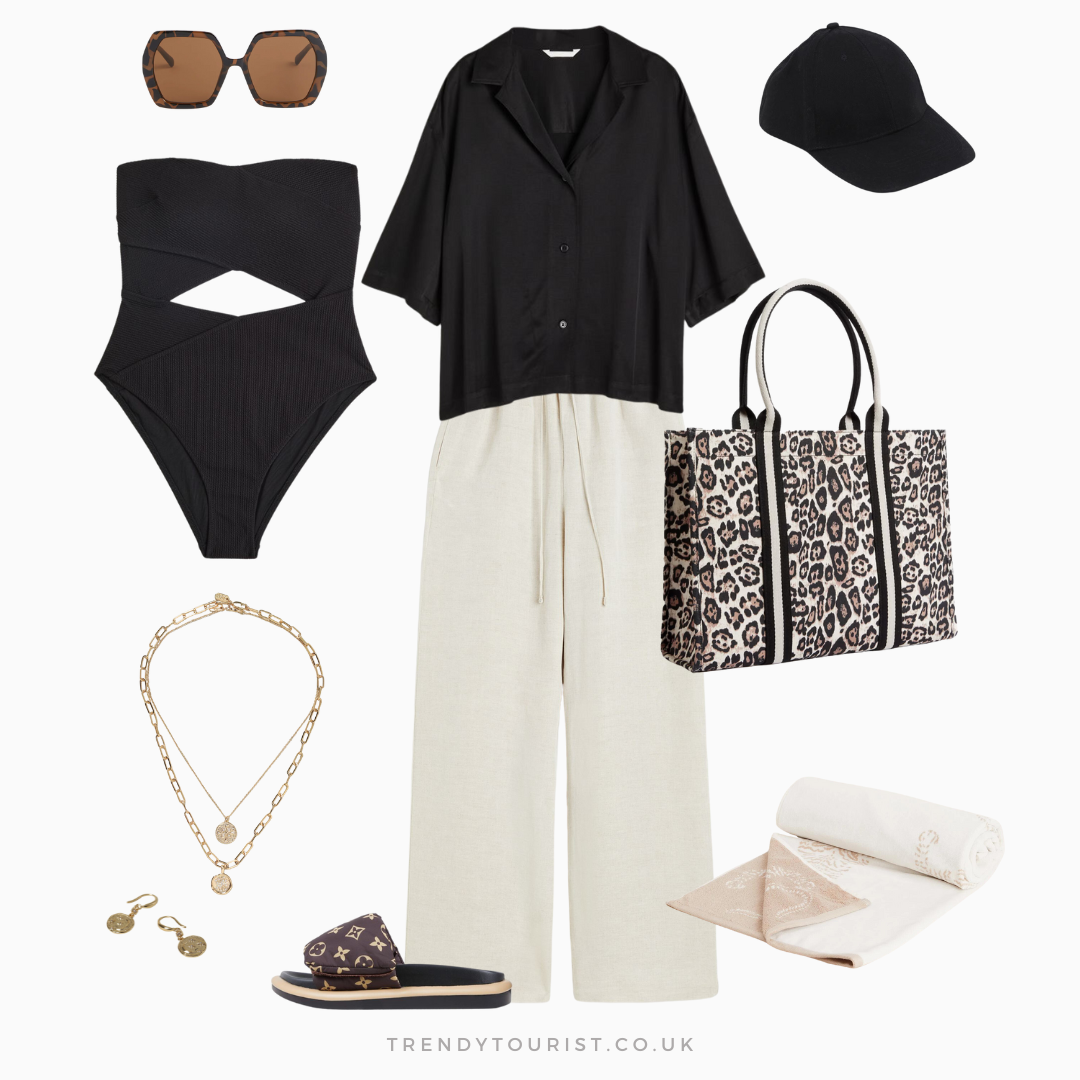 Product details:
Bougie Beach Holiday Outfits
Sometimes you need a beach look that's a little more bougie. You know the types of occasions — a pool party, a beach club or maybe just a fancy resort. In this case, girl, these 'fits are just the vibe.
Beach Cowgirl
Nothing screams "holiday party girl" quite like a metallic co-ord over a crochet bikini. Choose any colour palette you like, but light neutrals ensure that the aesthetic comes across as classy instead of tacky (and who doesn't love white, cream or beige with a tan?).
Add playfulness to your beach-babe ensemble with a straw cowgirl hat, shell jewellery and vintage-inspired sunglasses. Yeehaw! Now where are those cocktails?
Product details:
Sophisticated Two Piece
You can't beat a plain black triangle bikini for laid-back luxe, especially when it's teamed with a neutral-printed co-ord and the strappiest of strappy black sandals.
Add a large straw bag that aligns with your outfit's colour palette, textured hoop earrings and oversized sunglasses for an elevated beach look that will cause other sunbathers to stop and stare.
Product details:
Pretty in Blue
Love a bit of colour in the summer? Throwing on a sun dress requires little effort and can make a big splash for your event, especially when combined with a strappy swimsuit in a baby blue hue.
Accessorise this pretty aesthetic perfectly with a knot headband, mirrored sunglasses, large hoop earrings and layered necklaces.
Then don't forget a designer-inspired straw bag and espadrille wedges for a touch of chic on a beautifully bright curation. Stomp stomp, baby.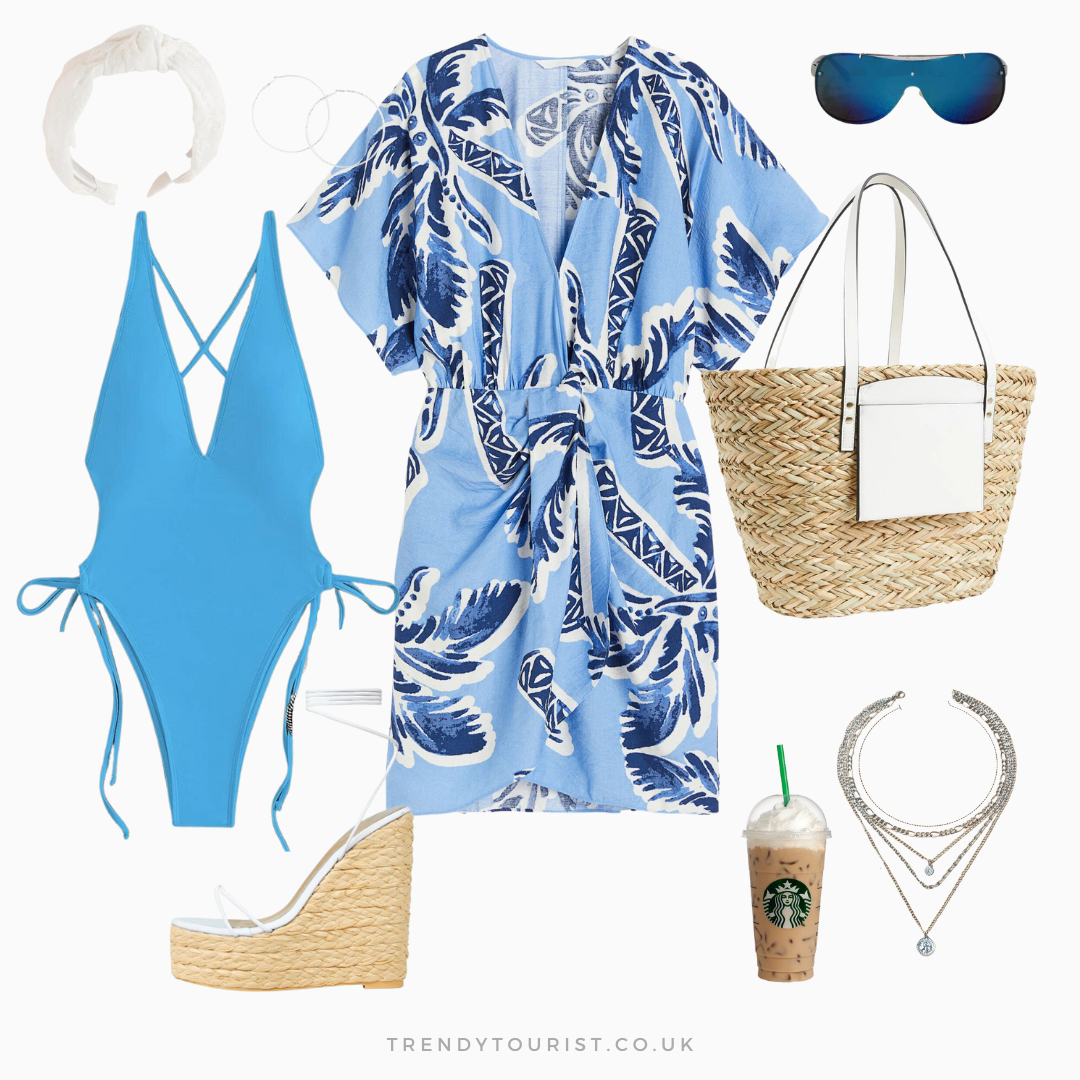 Product details: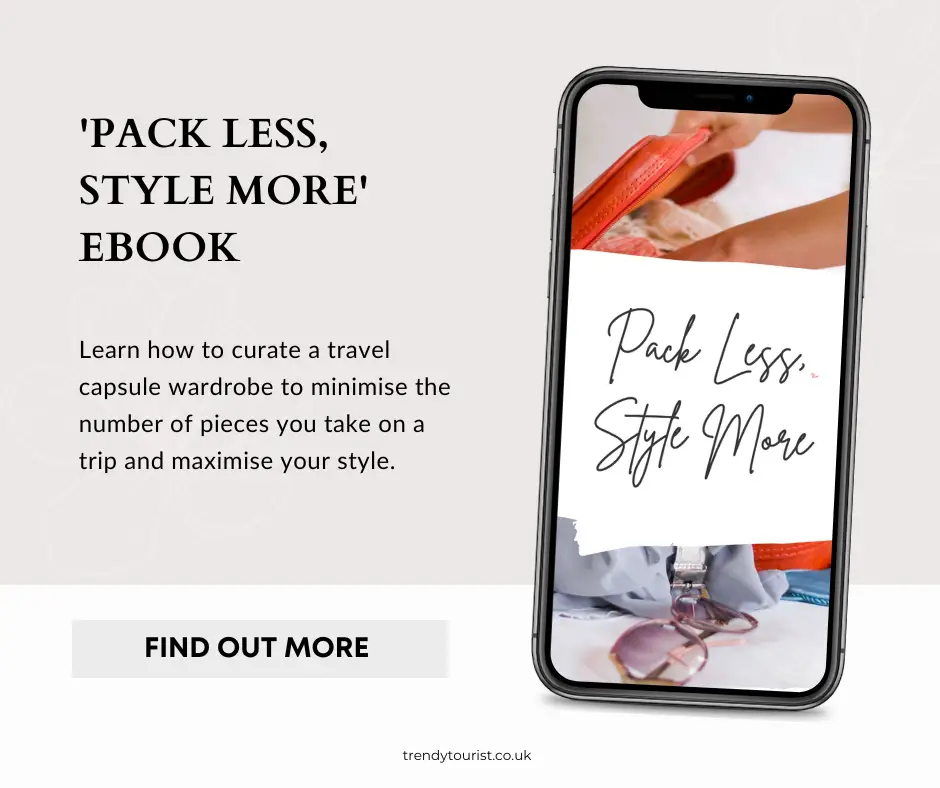 Final Thoughts on What to Wear for a Beach Holiday
When a vacation is approaching and you're running out of time, it's easy to start freaking out that you don't have the right beach attire. I get it.
Keep in mind though that less is more when it comes to beach looks (and not just in terms of fewer clothes to stay cool when the weather is warmer). Rather, simplicity is the way forward, avoiding fussy fabrics, prints and colourways.
This way, you can put in minimal effort but still make maximum impact. Have a great holiday!