If you follow me on Instagram, you'll know that my hubby and I recently went to Paris. It was our first-ever trip to the French capital and we absolutely fell in love with the city, having endless fun and eating incredible food from start to finish.
Paris is known as the City of Love and for good reason, with romantic architecture, outdoor restaurant tables designed for two people to sit shoulder-to-shoulder, and pretty sights that make you do the heart-eyed emoji.
It was a trip worth waiting my whole life for and I'd go back again in a heartbeat. However, we only had four days in Paris so you can imagine how busy we were trying to see everything in such a short space of time.
It was tough, but we did it. It helped that we researched what we wanted to do and created an itinerary beforehand. If you're heading to the city anytime soon, I'd like to share our itinerary for how you can spend 4 days in Paris and have the time of your life!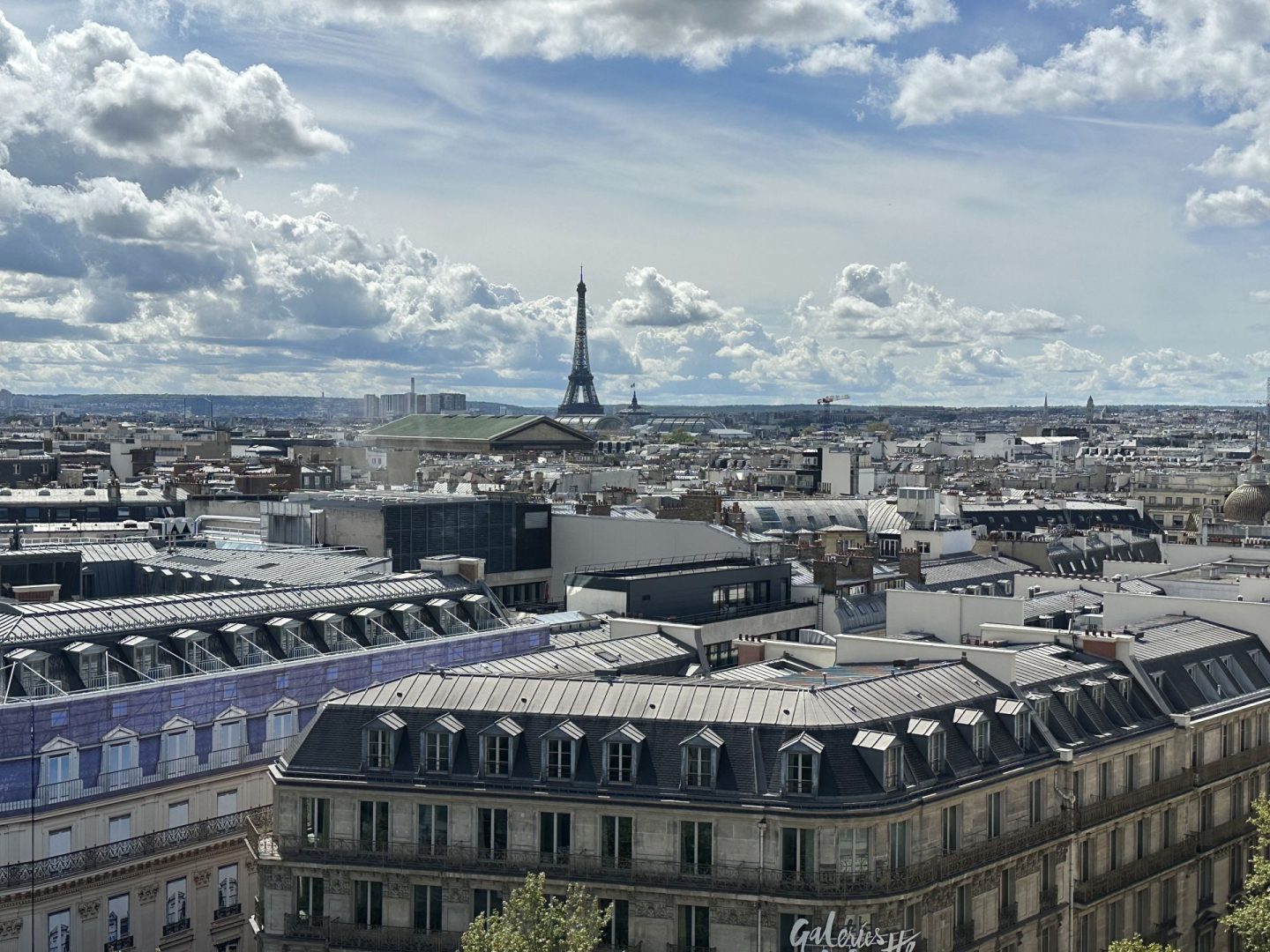 Trip Itinerary for 4 Days in Paris
For argument's sake, let's assume you have already made your way to Paris, checked into your accommodation and are raring to go.
Day 1 of 4 days in Paris
Start your first day off right with breakfast at Cafe de Flore, which is known for its rich hot chocolate and yummy pastries.
Louvre
Afterwards, take the Metro to the Louvre Museum where you can easily spend a few hours wandering around the exhibitions. 
A couple of Louvre tips:
Buy your tickets online in advance to avoid queuing for hours
Use the back entrance via the Louvre Carrousel shopping centre to avoid the huge queue for advanced tickets at the front entrance
If you want to see the famous Mona Lisa, head straight to the painting as soon as you enter the Louvre to avoid the crowds later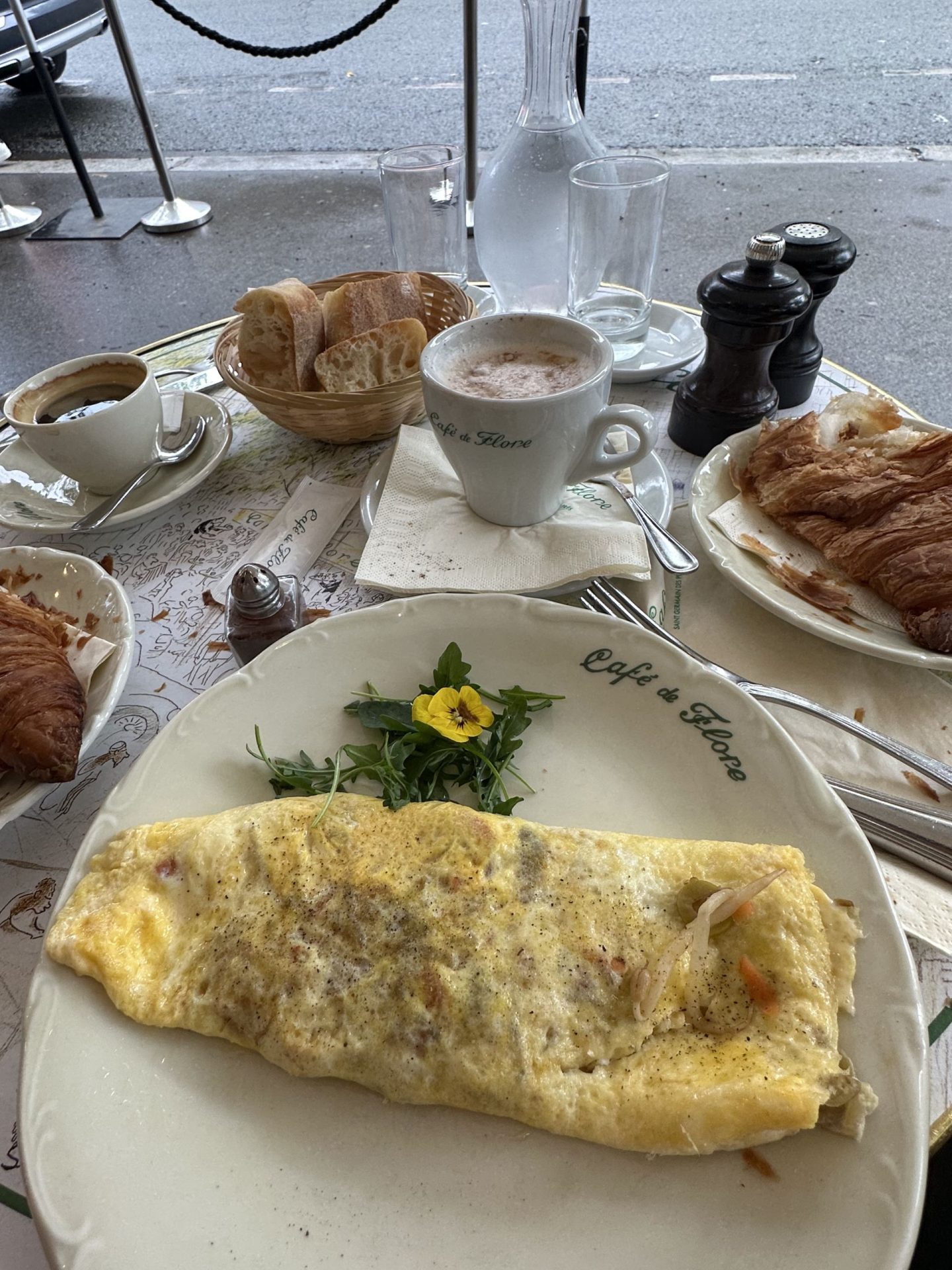 Next, Emily in Paris fans can head to Place de Valois in the 1st arrondissement near the Louvre. Here you can check out Galerie Fountain Patrick, which features as Emily's workplace (Savoir) in the show.
Then you can stroll through the Palais-Royal Garden (with free entry) before popping into a cute cafe or deli on L'Avenue de l'Opéra for lunch.
Galeries Lafayette
After lunch, continue roaming up L'Avenue de l'Opéra on foot, stopping in the odd shop before you get to Galeries Lafayette. This is an old department store that has a rooftop terrace where you can get a rather good view of the Paris skyline.
A bonus? It's free to enter, so you don't have to pay for the Arc de Triomph or Eiffel Tower viewpoints if you don't have the funds.
Once you've finished shopping until your heart's content, head to one of the Big Mamma Italian restaurant chains for dinner. We tried to get a reservation for influencer-favourite Pink Mamma but couldn't, so we ended up going to East Mamma instead.
It was a fantastic meal with plenty of flavour, charm and a unique menu. I had the truffle pasta and it was one of the best pastas I've ever tasted! Nathan had a pizza and it was also très bon (very good).
At this point, you should be feeling satisfied enough with your first day in Paris (and a belly full of food) to head back to your hotel and sleep well in preparation for day number two.
Day 2 of 4 days in Paris
Get up early and out of your hotel at 9am so you can make the most of your second day. Find a cute cafe near your hotel to have an authentic Parisian breakfast. Or, head straight over to Montmartre via the Metro and go to the super popular Carette tea rooms in Place du Tertre.
Montmartre
Start sightseeing at La Basilique du Sacré Cœur (it gets busier the later it is in the day) and marvel at this Roman Catholic church dating back to 1875. It's also free to enter if you don't mind queuing!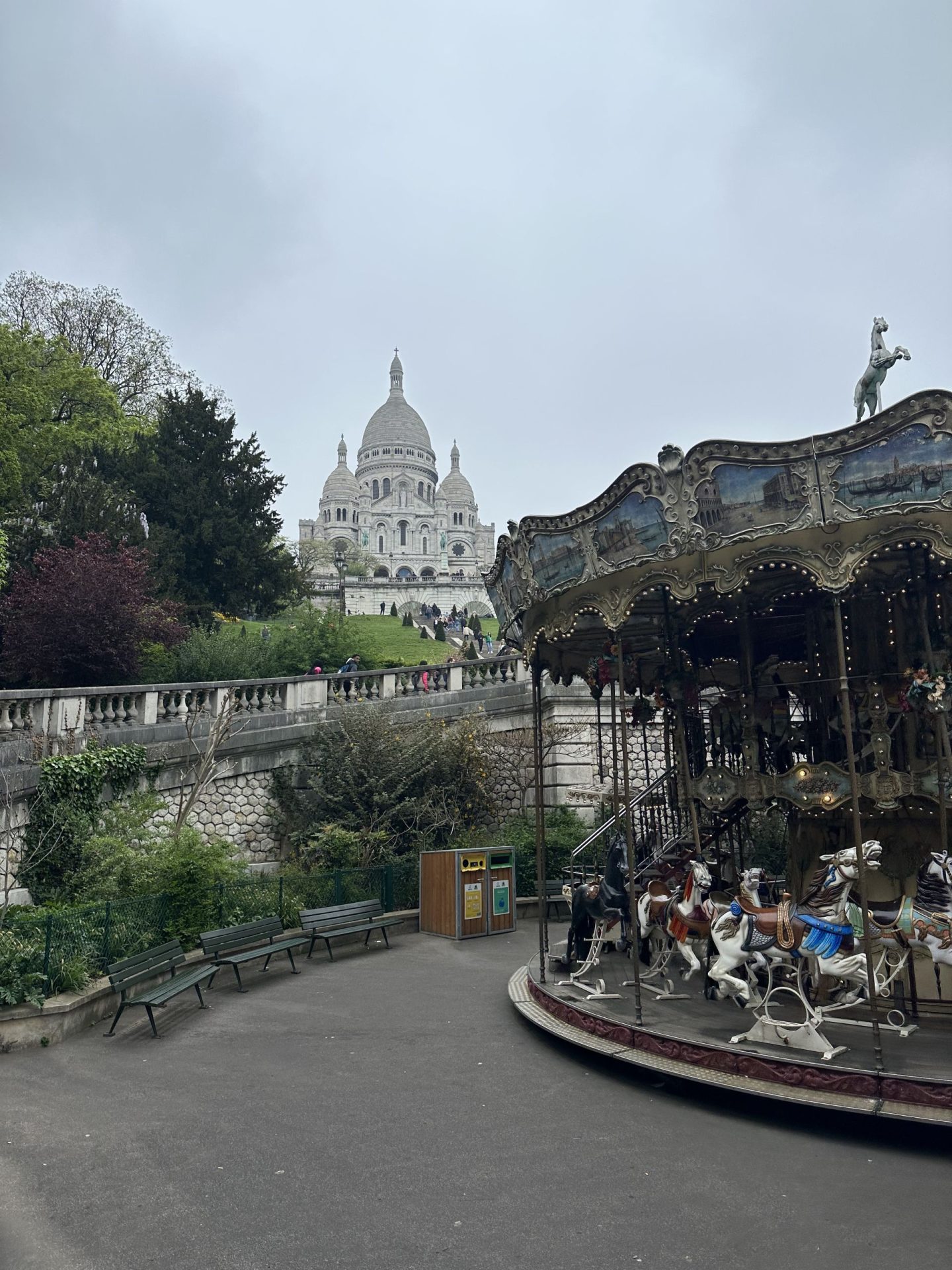 Then wander the charming streets of Montmartre and be entranced by the cobbled back streets and colourful architecture. If you opted out of Carette in favour of a different breakfast spot, roam around Place du Tertre and watch talented artists create masterpieces right in front of your eyes!
Emily in Paris fans can also head to Place Dalida, at the intersection of Rue Girardon and Rue de l'Abreuvoir, where the Savoir mattress shoot took place. It's such a picturesque photo spot.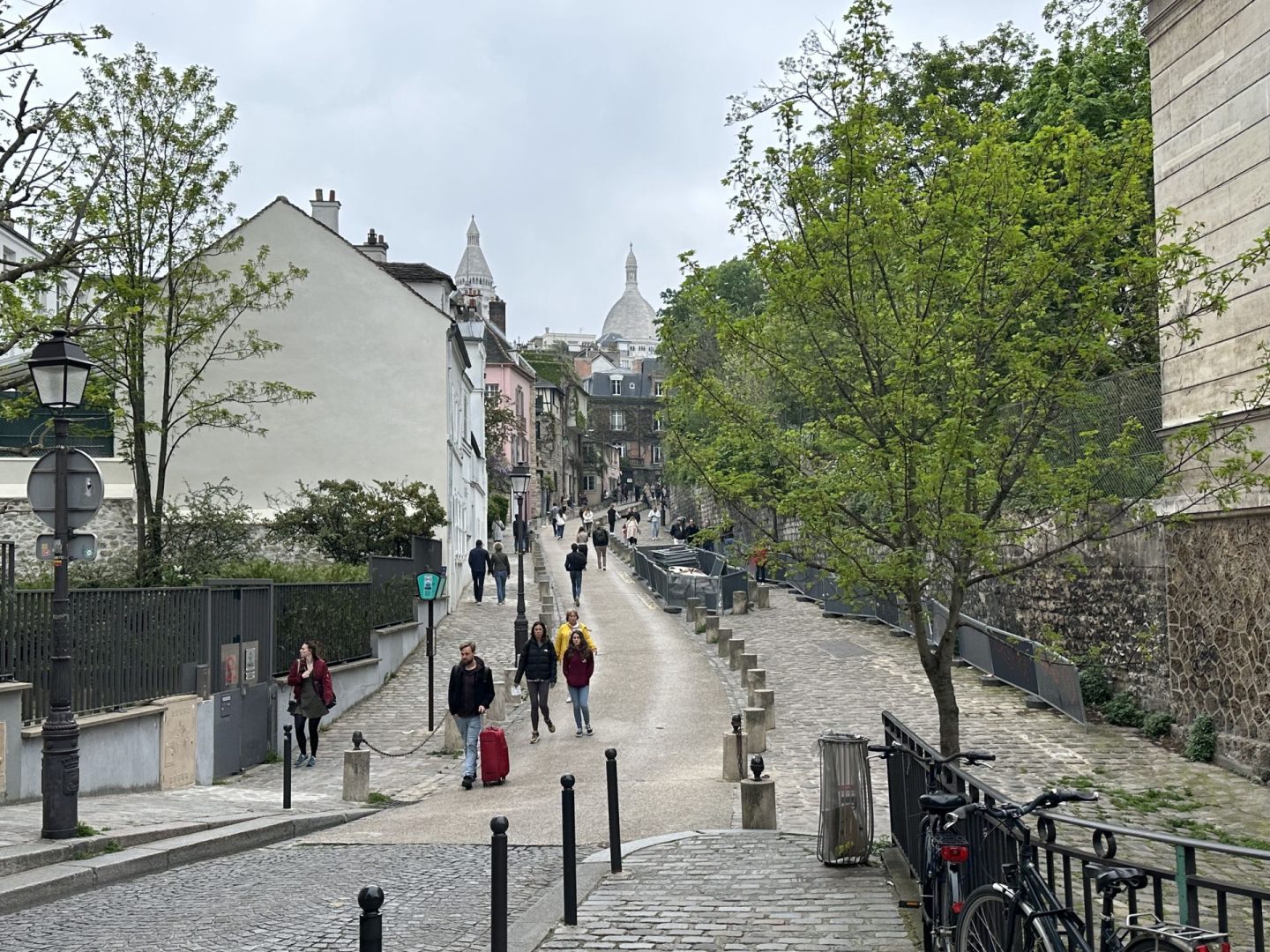 From there, go check out the Moulin Rouge (just to say you've seen it more than anything else — the cost to see a show there is extravagant!). FYI, cross the road for the best photos rather than standing directly in front of the building.
Arc de Triomphe
Next, hop on the Metro to the bottom of the Champs-Élysées and walk towards the Arc de Triomphe. First, you'll walk through a pretty park and then you'll hit plenty of shops and restaurants along the way. Stop in one of these restaurants for lunch before you arrive at the Arc de Triomphe.
The next part is a bit of a challenge: try and get a photo of yourself in front of the Arc de Triomphe without any cars, bikes or buses in the background. Not everybody realises that the Arc de Triomphe is actually on a roundabout — and it's crazily busy with traffic throughout the day.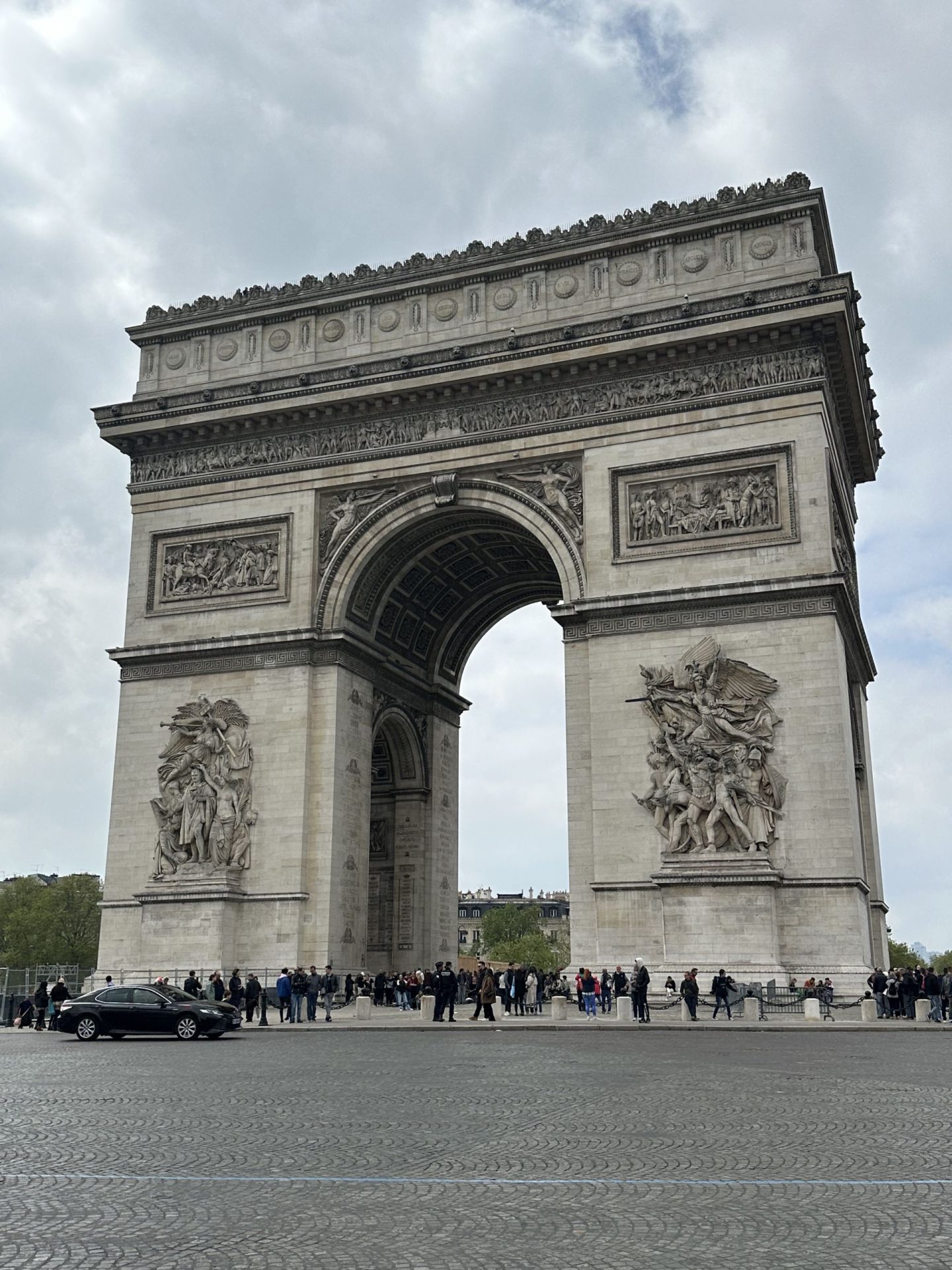 From the Arc de Triomphe, you can head to the Canal Saint-Martin area for a leisurely stroll along the water. This is an area of Paris that isn't as touristy and we were recommended it by my orthodontist. I'm so glad we checked it out!
Hubby and I were there early evening when the sunshine was out and we sat along the edge like everybody else to soak up the rays. We then went for a drink in local hotspot Chez Prune before heading back to our hotel where we dropped in a nearby restaurant for dinner.
Day two = done.
Day 3 of 4 days in Paris
Another early start awaits you on day 3 of this Paris itinerary so you can avoid the crowds at Château de Versailles.
Château de Versailles
Book tickets online in advance to grab your entry time, but keep in mind that you'll still have to queue upon arrival. (Well, we did.)
Our entry time was 11am and I highly recommend going earlier as the place was already packed by this time. We had a quick breakfast at a cafe near our hotel so I recommend you do the same (or even just grab something at the hotel before you leave if you got a B&B option).
Take the RER train to Château de Versailles if you're staying in central Paris (it's easier and cheaper than a bus or taxi). When you arrive, it's a short, signposted walk to get to the former royal residence, which is considered one of the greatest achievements in French 17th-century art.
I love looking around old palaces/manor houses and this one certainly didn't disappoint! The gardens are also beautiful but cover a lot of ground. In other words, you can spend a lot of time there if you wanted to.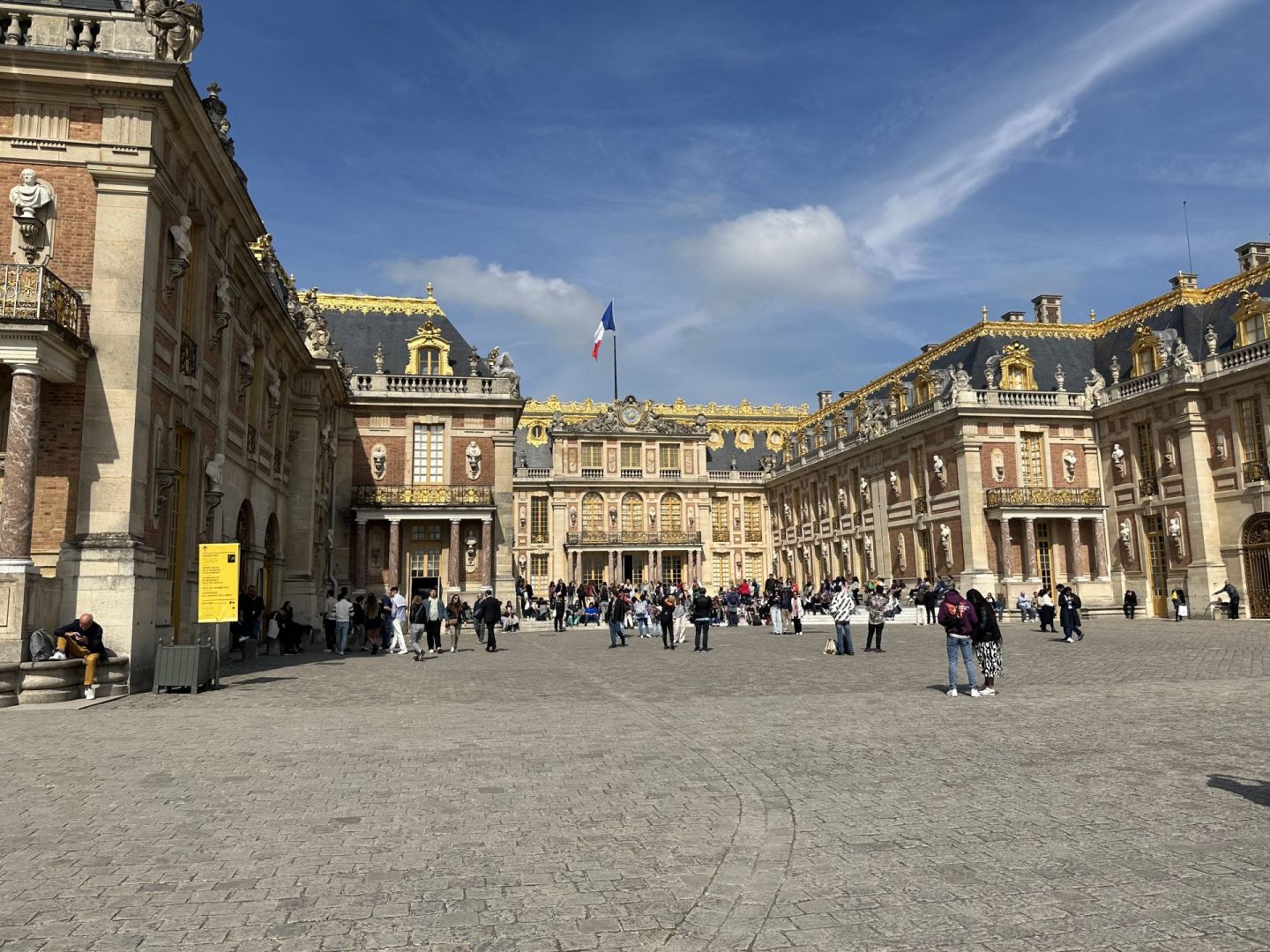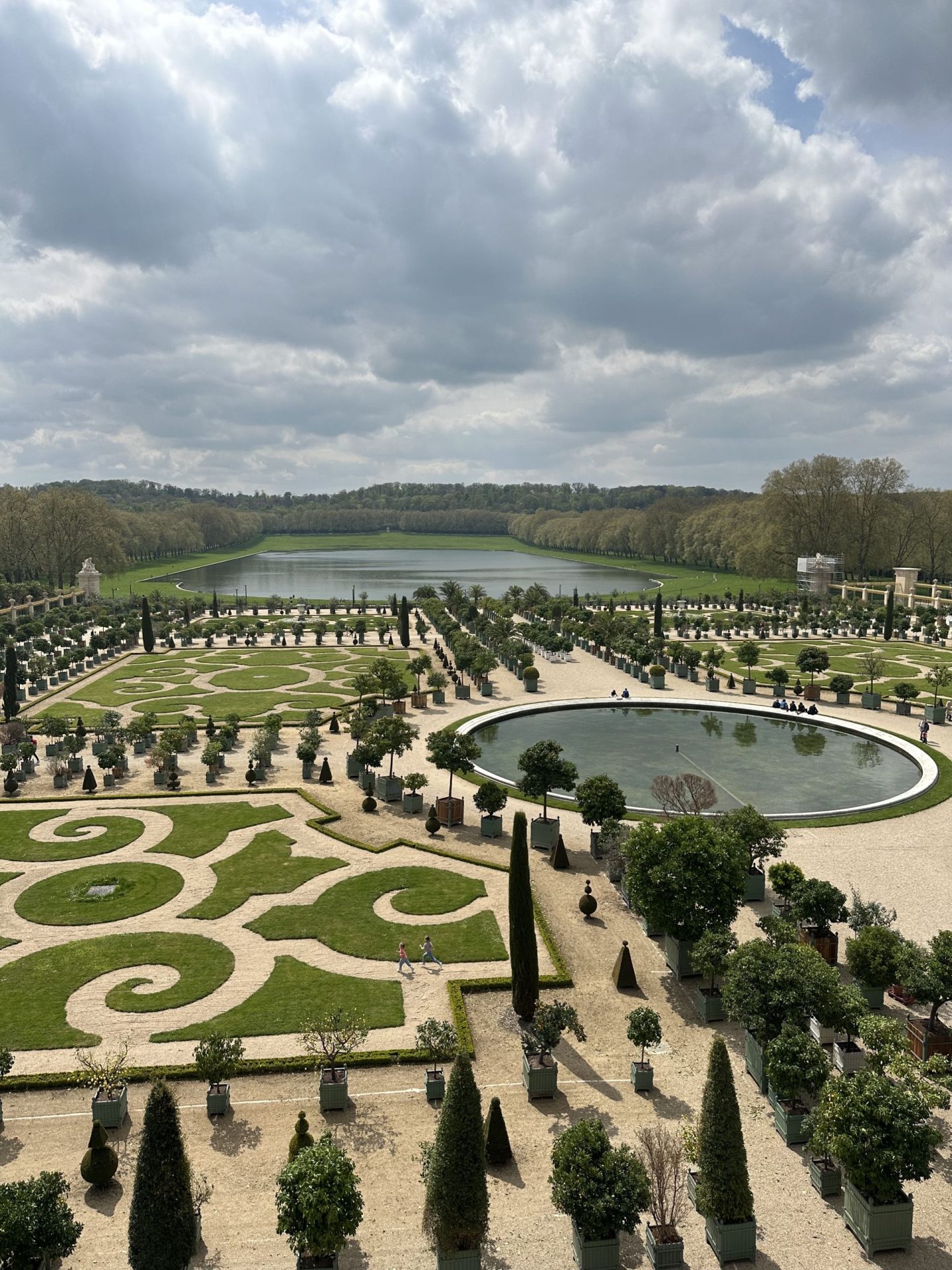 Hubby and I had to keep moving to be able to fit in everything on our list with us only having 4 days in Paris. However, it's completely up to you whether you decide to linger (I wouldn't blame you if you did!).
We had a quick bite to eat in Angelina (there's a restaurant and cafe within Château de Versailles) before moving on. I'd seen the famous hot chocolate on Instagram for dunking pastries into and I just had to try it.
Unfortunately, we weren't given the cream to have with it (and we didn't realise we were supposed to have it with cream until later) so we didn't have the full experience. (Make sure you stir in the cream so it's not as rich!)
Eiffel Tower
Afterwards, we took the RER train back to central Paris and hopped on the Metro to get up close and personal with the Eiffel Tower. You could decide to go up it here (again, book your tickets in advance as they only have a limited amount on the door). Alternatively, if you're short on time like we were, you could just head to some of the top photo spots and call it a day.
For the best pics, I'd recommend these streets:
Avenue De New York
16th Arr Av De Camoens
There's also Rue de l'Université but this tends to be crowded with people at most points of the day. We went there anyway and got some photos but be prepared for chaos!
For dinner, do yourself a favour and head to Chez Janou, the cutest French bistro serving Provençal-style dishes with a chocolate mousse dessert to die for. (Trust me.)
That said, it's notoriously difficult to get a reservation there. You can go before the kitchen opens at 7pm to try and get one of the first tables.
Nathan and I got there at 6.30pm and we were already too late — every table was full! We had to wait two hours until we got sat down (but we spent it drinking wine at the bar so it wasn't all bad). It was definitely worth it in the end!
On the way back to your hotel, stop off at an Eiffel Tower viewpoint so you can see it sparkle in the dark. The lightshow lasts five minutes every hour on the hour from dusk until 11.45pm — and it sure is spectacular.
Day 4 of 4 days in Paris
You're probably going to want to be up early (again) on your final day to make the most of the time you have left in Paris. Have breakfast at your hotel or take the Metro to the Latin Quarter near Luxembourg Gardens where you will find tons of quaint cafes.
Luxembourg Gardens
Once you've had your last Parisian brekkie (sob), mosey on through Luxembourg Gardens and have a little sit down on the green chairs by the water in the centre. (If the sun is out, you could get a nice tan here!)
Emily in Paris fans are then going to want to hit up Place de l'Estrapade near Luxembourg Gardens. This is the square where you can find Emily's apartment block and Gabriel's workplace Terra Nara, which is actually a small family-owned Italian restaurant.
Afterwards, take a stroll through the Latin Quarter area, where there are plenty of winding and narrow cobbled streets to get lost in. Swing by the Panthéon, which opened in 1790, before heading to your last landmark — Notre Dame Cathedral.
Notre Dame Cathedral
As you cross the bridge over the Seine River, stop and listen to the buskers, who usually attract quite a crowd! Then marvel at the French gothic architecture in all its glory.
Construction for the Notre Dame cathedral started in 1163, if you can you believe it? 1163! Sure, it's still damaged from the fire in 2019, but that doesn't make it any less stunning.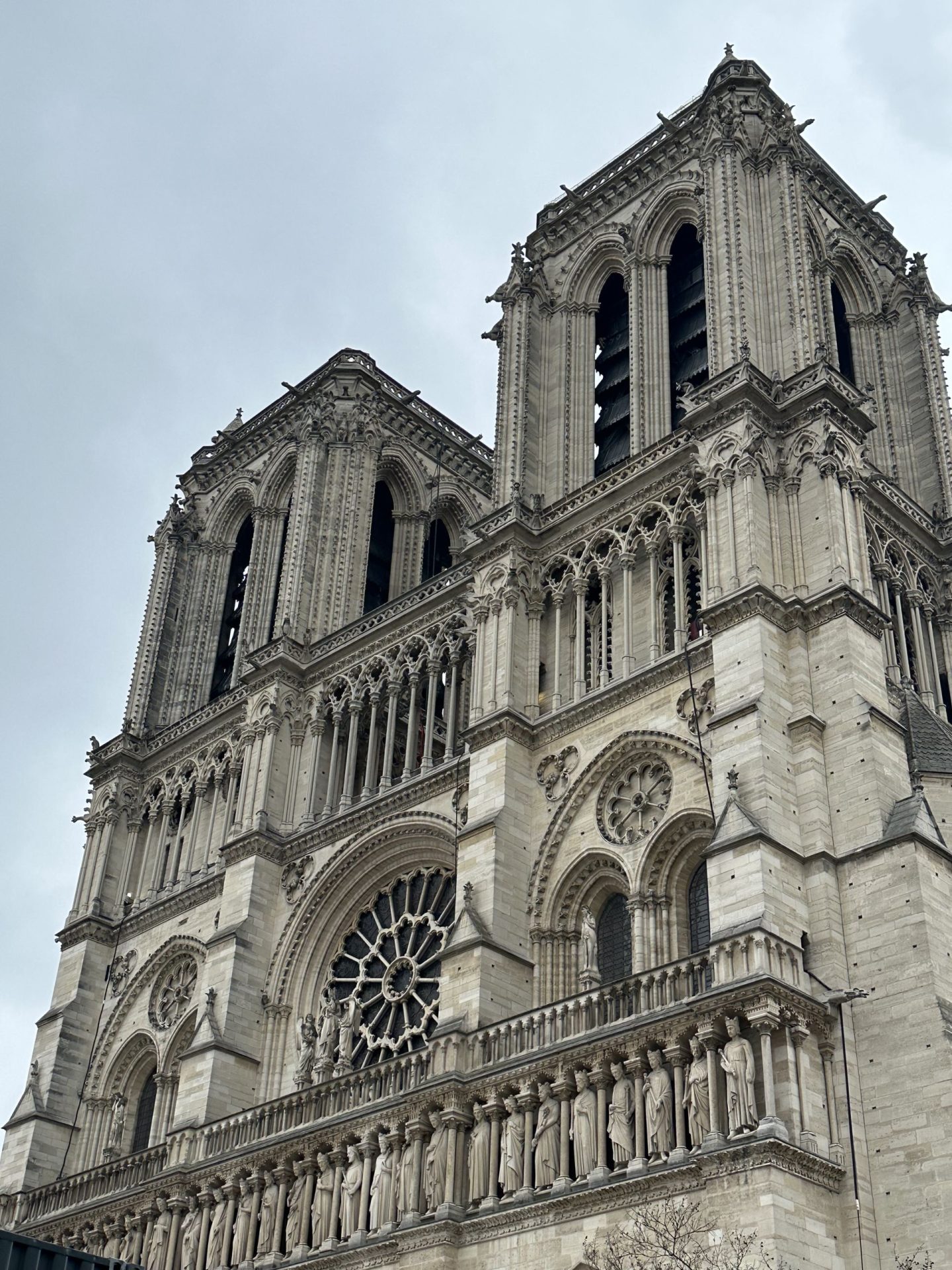 As a final activity, stroll along the Seine and perhaps get a crêpe, baguette or pastry from one of the many stalls. Sit and eat on the river as you contemplate how beautiful and wonderful the city is before you leave it.
Then it's time to travel back to your hotel to pick up your luggage and head to the airport or train station. Say au revoir to Paris, and bonjour to memories that will last a lifetime.
5 Key Things to Know Before You Go
Now that you know how you're spending 4 days in Paris, let's just rewind a sec. There's some stuff I want to tell you that I think will help you have a smooth, stress-free trip.
1. Pick the Best Method of Transportation For You
Getting the Eurostar train from St Pancras station in London is a popular way to get to Paris at the moment. It takes 2 and a half hours and is apparently really straightforward (if you live in and around London).
For us northerners, it may make more sense to fly to Charles de Gaulle Airport. Nathan and I flew from Leeds-Bradford airport and the flight was only an hour. Easy-peasy.
2. Don't Be Afraid of Taking the Metro
The Metro in Paris has a bad rep but we had nothing but pleasant experiences. It's the cheapest and quickest way to get around the city — just be sure to wear an across-the-body bag and keep it fastened in case any pickpockets are operating in the area.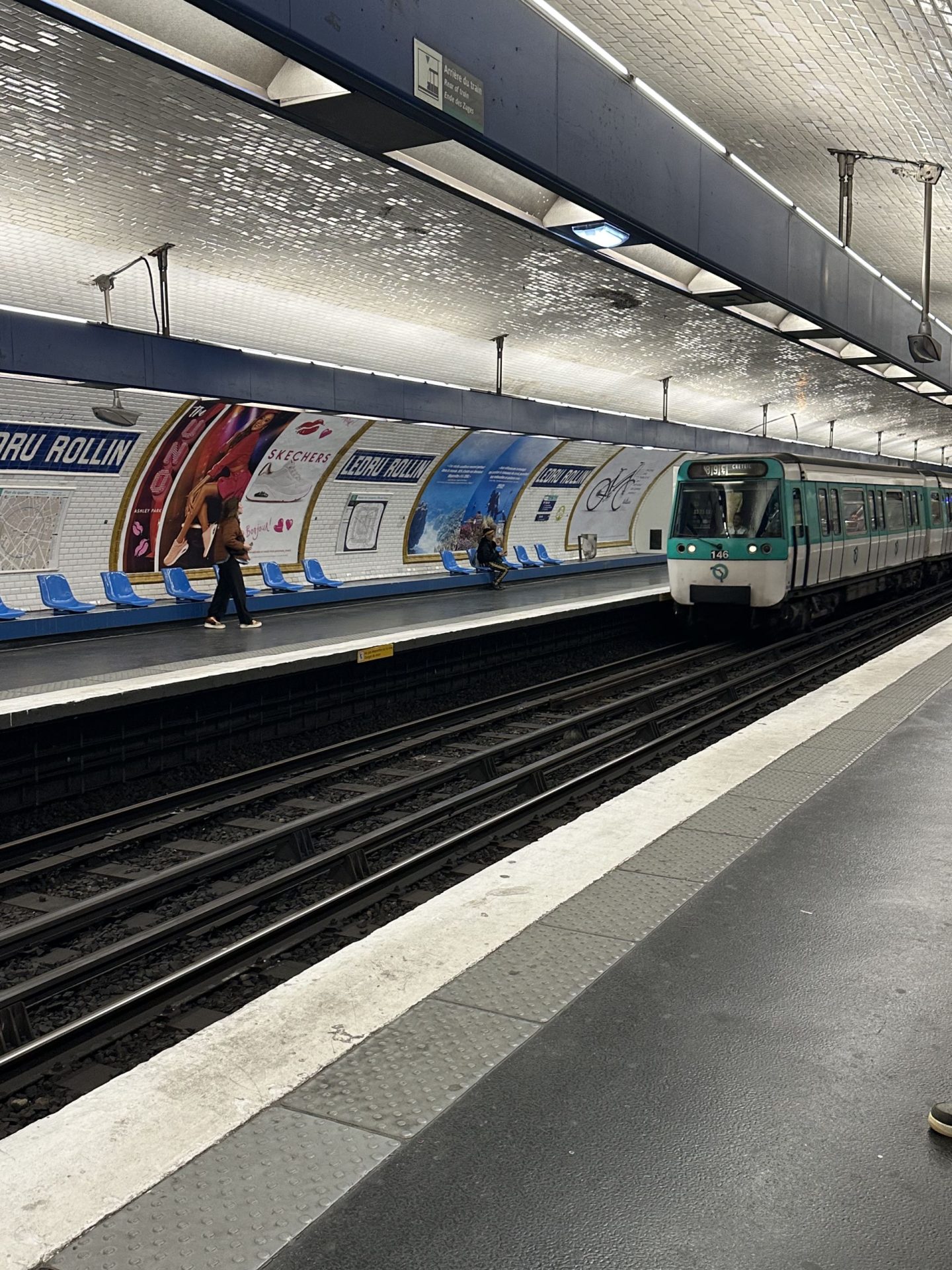 3. Lift the Lever to Exit the Metro
Speaking of the Metro, the doors don't just open when you reach your stop. Instead, you have to lift the lever on the door to be able to get off. (You'll thank me later that I've saved you from that panic.)
4. Grab the Paris Visite Pass
If you do want to get the Metro/RER everywhere, you can get unlimited journeys by buying a Paris Visite pass for the number of days you're in Paris and the zones that you need to cover. (For reference: you need zones 1-5 for the airport and Château de Versailles.) It's €74.30 per adult for 5 days but we found it to be worth every penny!
5. Use the Language
You will get treated differently in shops, cafes and restaurants if you greet people in French rather than in your primary language. It's a well-known fact that Parisians appreciate it if you try to speak their language (even if you only know the basics), so be sure to brush up on your French before your trip.
Pin this Paris itinerary for later:
Final Thoughts on Your Four Days in Paris
Let's face it, your 4 days in Paris are going to go quickly — ours did! There's just so much to see and do that the time passes by in a whirlwind. But my goodness, is the place special.
In fact, whether it's your first time visiting or you're already a pro, you can do everything on this Paris itinerary and still enjoy yourself. Hubby and I are already preparing our return.
However you decide to spend your time there, I hope you have the best time! And let me know what you get up to in the comments — and bon voyage