Disclaimer: this post contains affiliate links, which means I receive a small commission when you purchase the product at no extra cost to you! All affiliate links will be marked with an asterisk (*) and help us to run this site so we really appreciate your support. To read our full privacy policy, click here.
If you loved the fun fusion of retro maximalism and neutral minimalism that made up the Spring/Summer 2020 fashion trends, we've got some great news for you.
Autumn/Winter 2020 is bringing us more of the same (with a few extra details thrown in for the Christmas party season!).
Some of the SS20 mega movements are even sticking around. (We're talking about leather, all-black ensembles and puffed sleeves, to name a few!)
That said, to be honest, we're more excited about the following 10 new fashion trends for AW20.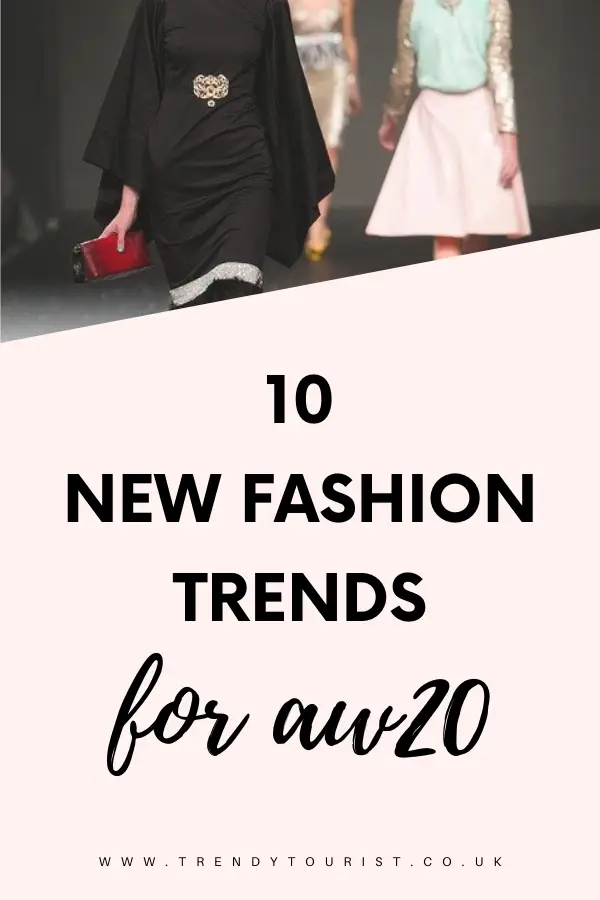 1. Check It Out
New fashion trends for AW20 101: checked patterns.
In fact, checks were seen on practically every catwalk from Dries Van Noten to Saint Laurent, Miu Miu to Dior, in a multitude of hues.
Whether you choose to don a timeless tartan, summer-like gingham or a more season-appropriate heritage option, one thing's for sure: any check goes.

(*)
2. Jewel Tones
Forget pastels — jewel tones are back in full force for AW20.
Oh, and did we mention that they're a wonderful way to brighten up your winter wardrobe?
Emporio Armani initially paved the way with super-smooth emerald and sapphire velvet suits. Then there was Preen showcasing ruby red frocks perfect for a festive-themed party.
Too bold for your personal style? Not to worry. You can always throw on your favourite LBD with some jewel-coloured shoes or accessories.
Sorted.

(*)
3. Pretty Ponchos
Sure, not all heroes wear capes. However, according to Marie Claire, they do at fashion week.
That's right — the poncho has returned for AW20. And this time, it's cooler than ever.
From checked and classic wool options at Celine to oversized and luxurious silk versions at Roksanda, it's all about using your outerwear to outshine this season.

(*)
4. Mesmerising Metallics
Speaking of shimmer, an old Autumn/Winter favourite is back on the fashion map for AW20.
Last year, sequins reigned supreme. Although, this year, designers have favoured metallic leathers and accented details a la JW Anderson.
Models were also sent down the Marco de Vincenzo runway in lame fabrics and matte beading.
Essentially, for your next wintry night out with the girls or your partner, think: the glitzier, the better!

(*)
5. Puffer Coat Chic
Remember puffer jackets being everywhere for AW19? Well, they're going nowhere fast.
And they've just had an injection of luxe.
Case in point: the quilted black hero piece at Chanel, or the chic camel variety at Max Mara.
Well, what can we say? The puffer coat is warm, snugly — and now undeniably chic.

(*)
6. A Tassel Affair
A few seasons back, we all lusted after tassel earrings that blew up in popularity thanks to the blogosphere.
Think of that level of hysteria and multiply it by 100, because tassel clothing is about to dominate the style scene.
The fluffy coat with fringed hems at the Bottega Veneta show has been fondly nicknamed "the jellyfish coat."
Likewise, Roksanda's finer-tasselled jumpers and skirts were making fashionistas everywhere do the heart-eyed emoji.
Whether you wear it in the form of a statement separate for nighttime affairs or pick a one-piece to create a cute and a casual look, always remember one of this season's mantras: fringe is fabulous!

(*)
7. Ruffle It Up
We couldn't get through a list of new fashion trends for AW20 without mentioning feminine detailing.
In addition to the puffed-sleeves-princess look extending from SS20, ruffles are also coming in hot.
Think: tulle and chiffon structures at Giambattista Valli coupled with off-the-shoulder elements at Loewe that equal elegant romance.
On the other hand, do you fancy yourself as a bit of a rock chick? Be inspired by Louis Vuitton and pair a ra-ra skirt with a biker jacket for a fiercer take on the trend.
Either way, it's a win-win!

(*)
8. Lady in Red
Sure, an influx of merry red isn't a new notion for the Autumn/Winter season.
Having said that, we don't think we've ever seen it so prominent and so garish at this time of year.
From vivacious vinyls at Maison Margiela to soft satins at Alexander McQueen, the designers made it very easy to fall in love with red for AW20.

(*)
9. The Belted Blazer
Wondering what the new fashion trends for AW20 are in terms of tailoring? Well, wonder no longer.
The blazer dress may have started to show up all over social media just a couple of months ago. But it's about to take a fresh form thanks to designers such as Carolina Herrera, Michael Kors and Jil Sander.
Step forward, the belted blazer.
Whether long in length or shorter, this idea adds a ladylike touch to the typical androgynous suiting trends.
And we're obsessed.

(*)
10. Skirt-Suit Bougie
Lastly, speaking of making suits more womanly, you can say goodbye to the traditional trouser and hello to the bourgeois skirt!
It's about injecting upper-middle-class style into your usual tailored aesthetic but in ageless hues. 
Feeling stuck? Take inspiration from Michael Kors, Victoria Beckham and Gabriela Hearst, who championed beige, grey and black skirt suits on their catwalks.
Now go show your office that you mean business.

(*)
Getting to Grips with the New Fashion Trends for AW20
The great thing about most of the new fashion trends for AW20 is that they're not just pretty — they're also practical.
Whether your personal style is more playful or serious in nature, there's something for everyone to get on board with.
What are some of your favourite new fashion trends for AW20? Which ones will you wear?
Katie Davies is the Yorkshire-based freelance writer who founded Trendy Tourist. Since 2017, she has written for over 100 companies on a range of subjects, from fashion to marketing. When she's not producing content, you can find her shopping, exploring a new place or sitting somewhere having a cup of builder's tea.